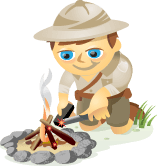 Do you use LinkedIn to connect with new prospects?
Are you looking for better ways to network with LinkedIn?
The right third party applications can save time and automate your LinkedIn experience.
In this article you'll discover applications that will help increase your LinkedIn communication and productivity.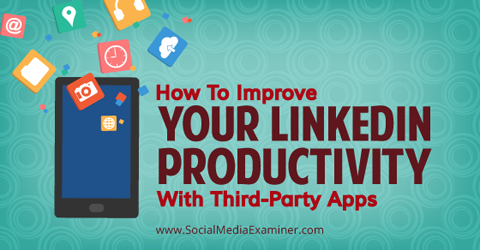 Listen to this article:
Where to subscribe: Apple Podcast | Google Podcasts | Spotify | RSS
#1: Evernote
Using Evernote is like having your office in your pocket.
Using Evernote along with LinkedIn makes it easy to connect with new people, back up your information at any time, streamline communications and write content on the go. It allows you to write notes, take pictures, record audio and more when you're on the move. What's more, you're able to sync your content when the app is installed on your computer and your mobile devices.
Then everything is available with a few taps of your finger, no matter where you are.
There are free and premium versions of Evernote. To start with the free version, just go into your app store and download and install it.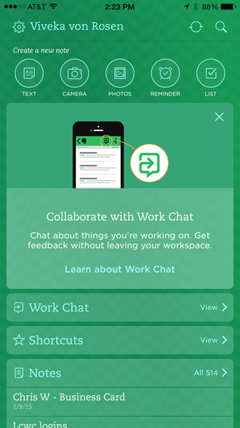 To connect Evernote to LinkedIn, go into the Evernote Mobile app and click on Settings. For iOS, go to General, and then click on Camera.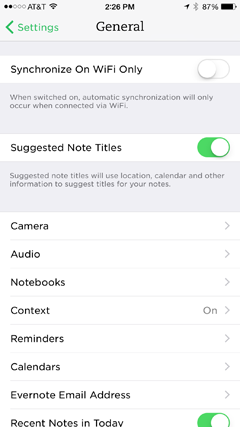 Next, select Business Cards.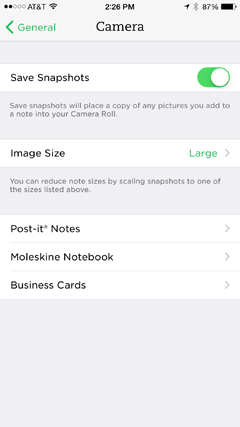 Enter your email and password, and sign into LinkedIn.
Android users need to click on Settings and Camera, and then sign in.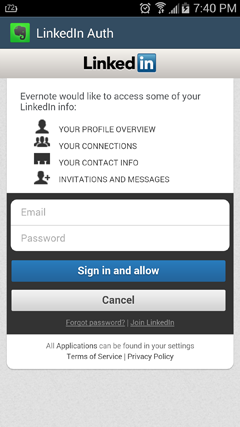 Your Evernote and LinkedIn are now connected. You can disconnect them at any time.
Get Your FREE Course: Web3 for Beginners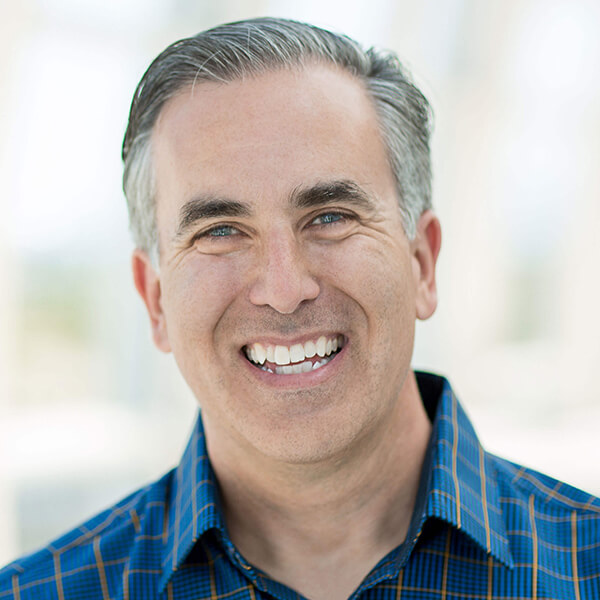 Curious about Web3, but don't know where to start or who to trust?

Introducing Web3 for Beginners, a course taught by Michael Stelzner, the founder of Social Media Examiner.

Learn the basics of Web3 and apply it to your business with this FREE comprehensive course.
CLICK HERE TO GET FREE ACCESS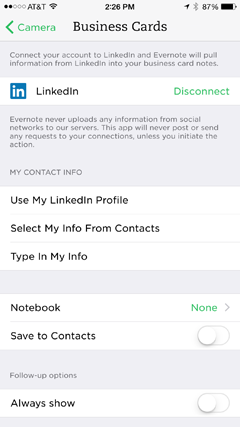 1. Scan Business Cards
LinkedIn used to have a really great tool called Cardmunch that allowed you to take pictures of business cards, then send an invitation to connect on LinkedIn via the app. They never were able to get it to work efficiently with Android, so they discontinued the app last year.
Evernote has a similar feature that allows you to snap a picture of a business card, and then ask that connection to join you on LinkedIn (unfortunately with no customized messages). This works on both iOS and Android devices.
First, go to the Evernote home screen and click on Camera. Then take a picture of the business card.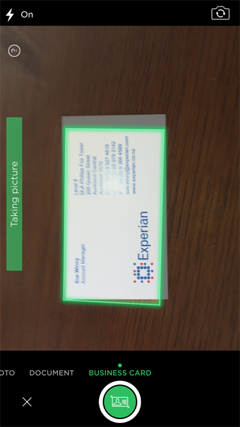 Evernote will pull in the information and ask if you want to connect on LinkedIn.
After you connect, email your info to your new connection, scan another card or click Done.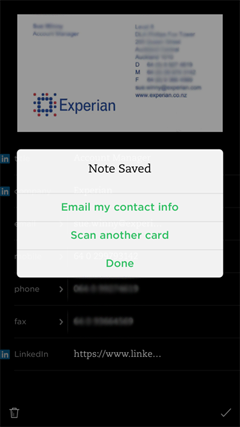 Now you can easily enter all of the business cards you gather at events (such as Social Media Marketing World 2015) and expand your network.
2. Save Original and Boilerplate Material
Another way to use Evernote with LinkedIn is to create written templates for customized invitations and invitation responses, whether for someone you know, someone you just met or a person you met in a group. You can also prepare responses to common questions, so they're ready to go whenever you get requests.
Note: You can't send a customized invitation with Evernote. However, if you use the LinkedIn Mobile app, you can send a customized invite and use Evernote to find and copy the text.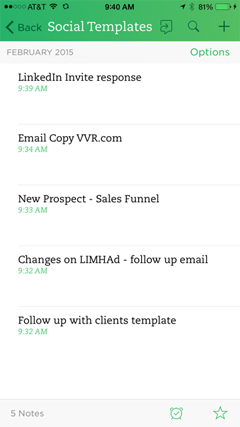 If you find it's much easier to "write" your blog posts using voice recognition, Evernote makes the process easy, efficient, convenient and accurate.
I am rarely sitting in front of my computer when I am inspired to write a post. But even if I'm standing in line at the airport I can grab my phone, click on Evernote and in a few moments have the initial copy for a post. Then I can repurpose many of those blog posts as LinkedIn Publisher posts.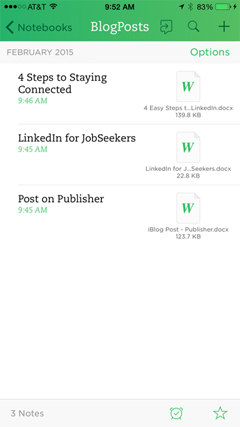 Sure, you can write LinkedIn invitation and message response templates, as well as other content, and then save them to Dropbox, Box.net or Google Drive. However, Evernote is my choice, because everything's in one place: you can create and save documents in the app. It's also easier to search Evernote, which saves you time.
Combining Evernote and LinkedIn means you'll never forget to make connections, you'll never be at a loss for words and you'll be ready whenever content creativity strikes.
#2: IFTTT
IFTTT (If This, Then That) allows you to automate functions between different third-party apps. When you automate certain functions for LinkedIn using this app, it saves you an enormous amount of time and will help increase engagement. The automations between apps are called recipes.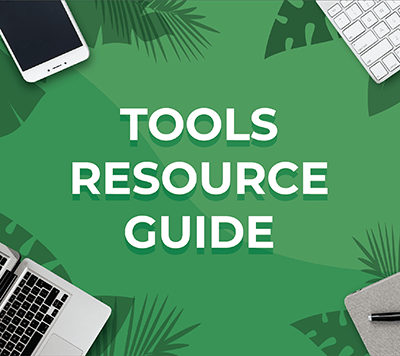 Looking for something to make your life easier?
Discover the tools we recommend to drive engagement, save you time, and boost sales across your entire marketing funnel or business.
Whether you need help planning content, organizing social posts, or developing your strategy, you'll find something for every situation.
FIND YOUR NEXT FAVORITE TOOL
Go to your app store and download and install IFTTT.
After you sign up and launch, click on the Recipe icon (the mortar and pestle).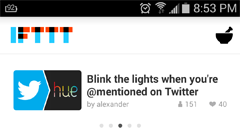 Go to the recipe search by clicking the "+" sign, and type in "LinkedIn."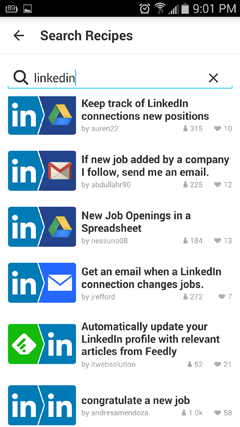 After connecting, you'll see a bunch of recipes available to use for LinkedIn.
Understand IFTTT Recipes
There are many tasks IFTTT will automate for LinkedIn.
For example, IFTTT will automatically send new LinkedIn connections an email right after they accept your invitation. Edit the message to say what you'd like. I recommend a very brief thank-you. If you have some free resources your new connections might find useful, share the link, and most importantly, ask how you can be of service to them. This is not the place to pitch your product or service. Get to know them first.
The only downside of this recipe is that there are few formatting options, so put what you want to say in one easy-to-read paragraph.
Another option is to set up IFTTT to send people congratulations on a milestone, such as a work anniversary, birthday or new job. This is a great way to automate top-of-mind awareness with your connections. One of my clients landed a $3 million government contract after congratulating a former client on his new title. You never know where a little engagement can lead.
To add a recipe, just click on the one you want. The first time you click on a recipe, you'll have to grant access to LinkedIn. In this case, we'll do congratulations on a new job.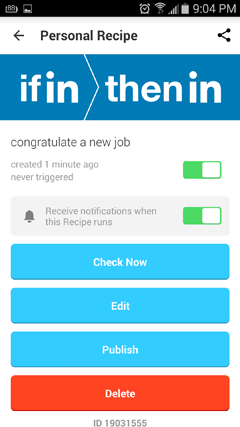 Select Edit to customize the message.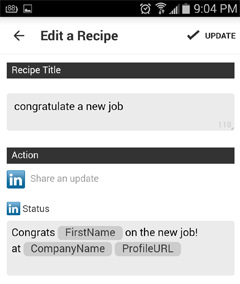 When you're satisfied with the message in your recipe, click Publish.
#3: LinkedIn + Evernote + IFTTT
While Evernote and IFTTT work well on their own, you can combine them to do cool things on LinkedIn, such as write and send updates or back up data.
Go into the IFTTT recipe search, and enter "Evernote" and "LinkedIn."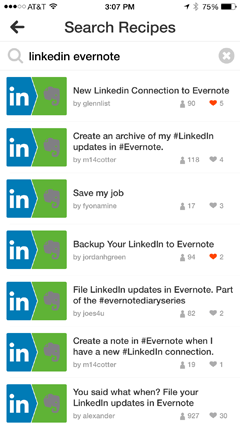 Edit the recipes you want to connect your apps and customize.
1. Write and Share Updates
One recipe lets you set up Evernote to write and share updates directly to LinkedIn.
After you write the update in Evernote, click on the three dots at the bottom right of your screen.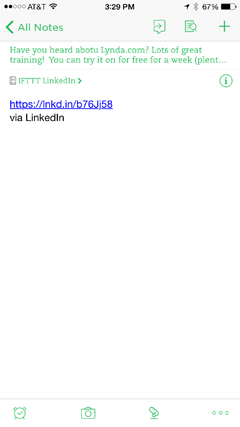 This will open a box below your update. Select LinkedIn as the destination.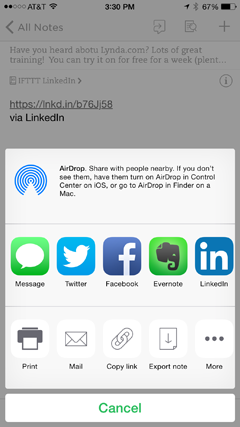 Click Share.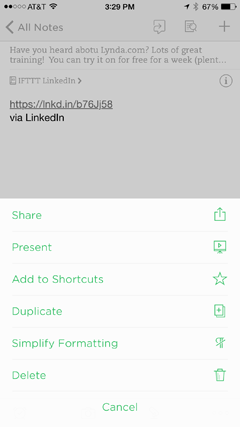 When you have downtime, write a bunch of updates that are ready to share at any time.
2. Archive Updates
Additionally, you can create an archive of your LinkedIn updates, so you can reuse them or use them on other platforms. This easily accessible content library also gives you a visual inventory of what you've posted, and serves as a topic reminder for blog posts and additional social media updates.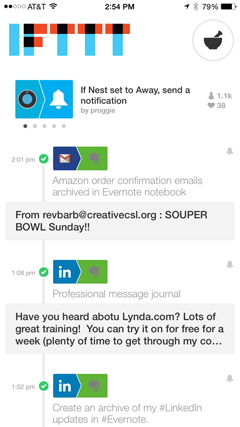 Plus, if you use a scheduler like Hootsuite or Oktopost, this archive serves as a library of tweets and updates you can schedule and use at any time.
3. Back Up Your Contacts and Profile
Perhaps the best use of the dynamic trio recipes is the ability to back up LinkedIn contacts and information on Evernote to keep your information safe and available on all devices.
This is important because even though LinkedIn has a connections back-up tool, it's very glitchy. Since LinkedIn shut down its API, to use your contacts with other apps, you need to export them out of LinkedIn and then import them into the new application.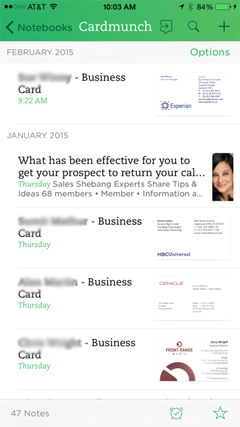 Also, back up other content such as your profile information. When you have a copy of your profile in Evernote, you can use it for other applications that need your bio or work information.
The best part is that using a recipe from IFTTT is automated, so you always have the most current information backed up in Evernote.
Conclusion
LinkedIn is a wonderful platform if you want to stay in front of your connections. Its mini-CRM system is okay, but these tools improve it.
Combine LinkedIn with third-party apps such as Evernote and IFTTT to save time, increase engagement and accessibility, and to save and protect your data. It makes your work better, faster, easier and more effective.
What do you think? Have you tried Evernote and/or IFTTT with LinkedIn? What do you use this combination for? What are your favorite IFTTT recipes? What other third-party mobile apps do you like to use with LinkedIn? Please share your thoughts and recommendations in the comments.
Get Your FREE Course: Web3 for Beginners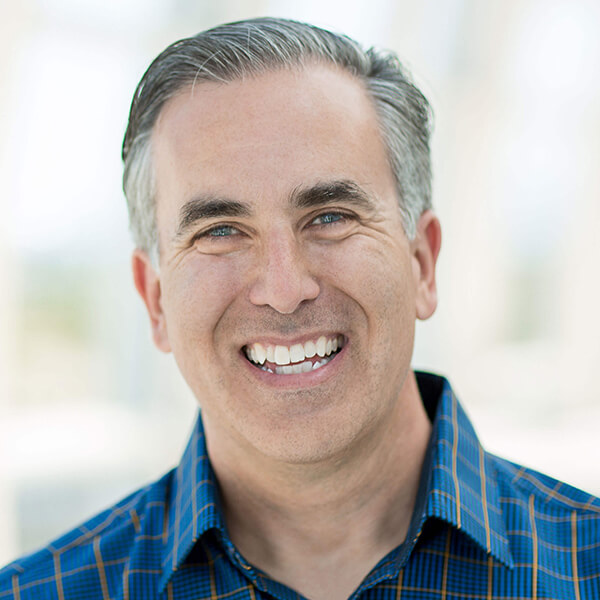 Curious about Web3, but don't know where to start or who to trust?

Introducing Web3 for Beginners, a course taught by Michael Stelzner, the founder of Social Media Examiner.

Learn the basics of Web3 and apply it to your business with this FREE comprehensive course.
CLICK HERE TO GET FREE ACCESS