Wondering how to get more exposure for your brand on TikTok? Have you considered a TikTok challenge?
In this article, you'll learn how to use TikTok challenges for your business.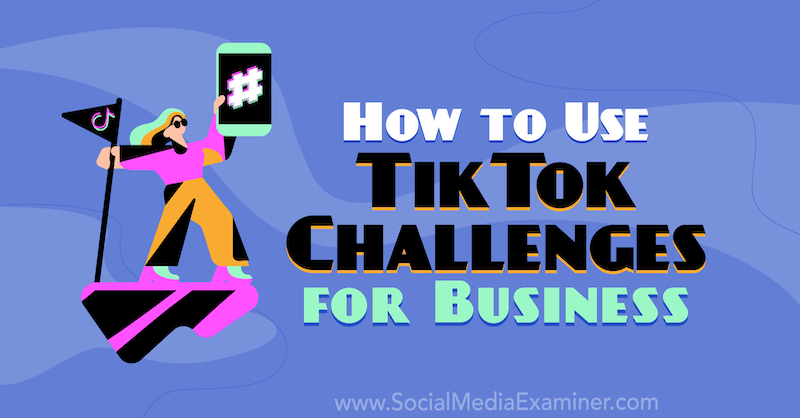 What Is a TikTok Challenge?
TikTok is quickly becoming the social media platform of the moment, with recent statistics showing the app has now been downloaded over 1.5 billion times globally. And while TikTok advertising is still gaining traction, there's plenty of opportunity for brands of all sizes to run a new form of campaign centered around what's known as a TikTok challenge.
If you've been on the internet for a while, you'll recognize classic memes like an "arrow to the knee" (Skyrim), cereal guy, and "Brace yourself, winter is coming," just to name a few. TikTok challenges are inspired by meme culture.
Memes are ingrained in social media marketing, with more brands than ever jumping on the meme bandwagon when they spot an up-and-coming trend. Think back to earlier this year—did you post something for the #DollyPartonChallenge when that went viral? I sure did.
Most social media memes consist of a combination of text and imagery to convey an idea or theme, but TikTok has brought with it (continuing what Vine started) a new type of meme: video memes.
TikTok challenges, both organic and sponsored, are often a combination of three elements: text, sound, and movement (usually a choreographed dance). They can be started by individuals, usually TikTokers or influencers with many followers, or by brands that have invested in TikTok advertising.
Generation Z, the largest demographic on TikTok, grew up in the golden era of the internet and have a knack for identifying trending memes and recreating them. It's what has made TikTok and TikTok challenges so appealing to this younger audience. For brands that want to appeal to Generation Z, TikTok should be a priority, and with it, TikTok challenges.
The driving force behind the creation of any good challenge is the sound, or audio element. TikTok offers a variety of sounds on the platform to choose from, as well as custom sounds created and uploaded by users, both influencers and everyday users of the app.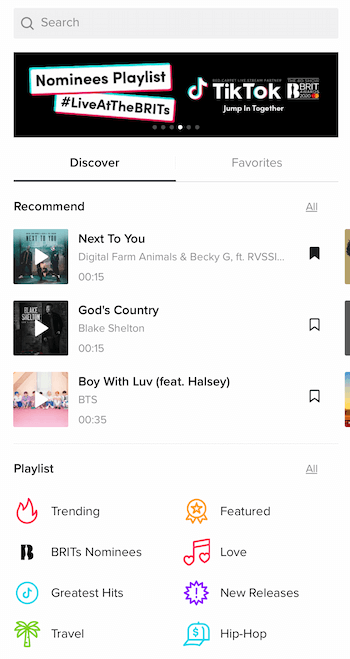 Some of the best TikTok sounds are pulled from movies, viral YouTube videos, and music (including chart-topping hits and indie songwriters). The #Frozen2Challenge videos are a perfect example of a snippet of sound from a movie being used to create a TikTok video meme.
Now let's look at how you can get started with TikTok challenges.
#1: Participate in a Popular Existing TikTok Challenge
There are plenty of unbranded, organic TikTok challenges that businesses can jump on board with as a method of "trend jacking" to attract followers and potential customers.
Just like recreating the Dolly Parton challenge, you can gain TikTok clout simply by creating a video based on a trending challenge. To make an impact with organic TikTok challenges, it's important to keep an eye out for burgeoning trends so you can create your own video in a timely manner.
Here are three ways to find a challenge that fits your brand:
Look on the For You page: When you sign up for a TikTok account, your For You page will already be filled with suggestions for content you'll enjoy. This page will change over time as you begin following accounts, kind of like Instagram's Explore page.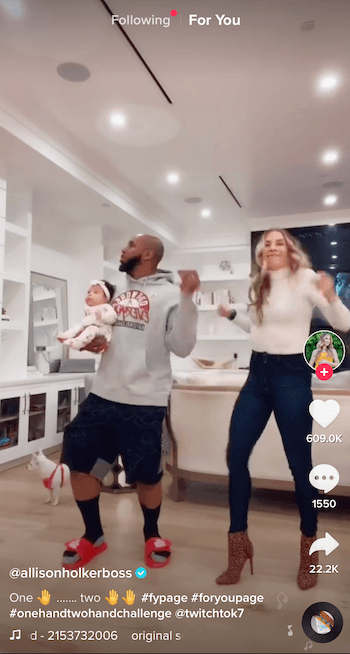 Checking in with your For You page regularly (and making sure to follow TikTok influencers your target market follows) will help you identify up-and-coming challenges that are worth recreating on your business account.
Look at trending sounds on TikTok: Another way to find trending TikTok challenges is by going to the Sounds section of the app. Here, you'll see a list of the top trending sounds. After tapping on a sound, you'll see videos that have been created using that sound.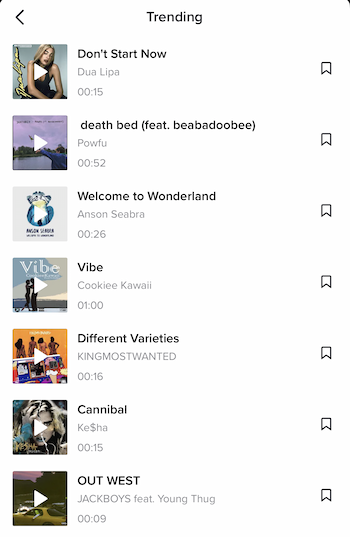 Look through the videos using those sounds and see if any share common elements. Watch for repeated movements like dance moves or editing tricks.
Watch TikTok compilations on YouTube: Jenna Marbles, an early YouTube star and a seeker of strange challenges (she turned her hair into a hot wheels track twice), has recently started sharing her own TikTok compilations. This type of content is really heating up on YouTube and it's only just beginning.
To save time as a social media professional or business owner, you could check out a couple of the top TikTok compilations for inspiration and research. You'll probably get a laugh out of it, too!
Tips to Film Your TikTok Challenge Video
If you're looking to participate in an existing organic TikTok challenge to grow your following, don't fall into the trap of always going with your first concept. There are multiple different ways you can interpret a meme that's relevant to your audience. It's your job to come up with the most entertaining option.
Make a list of potential concepts and run them past people on your team. Film a couple, edit them together, and compare them. Go with the one that gets the most laughs while remaining relevant to your target audience.
When you film your TikTok challenge video, there are two ways to go about it.
The first option is to use TikTok's video functionality to record your content while the pre-selected TikTok sound plays through your phone speakers. This approach is especially useful if you're lip-syncing to a song or movie clip.
Your other option is to film your video using a DSLR or your standard smartphone camera. I filmed a TikTok challenge submission using this method and found it quite difficult. The video required a lot of takes to get the movement in sync with the audio from the Daft Punk song.
If you're participating in an organic TikTok challenge, make sure to use the same audio clip as other challenge videos. You can find this out by looking at the bottom of videos in the TikTok challenge hashtag.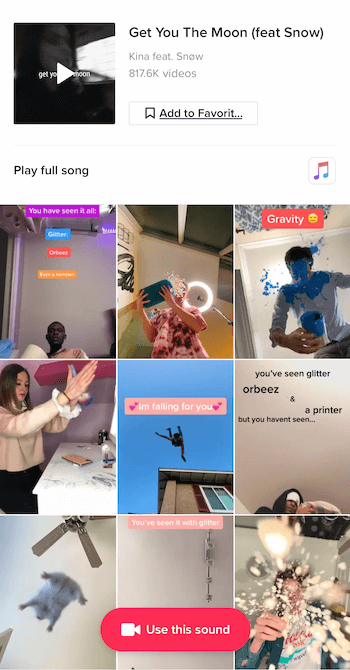 When editing your content, be mindful of the sound levels in your original video (background noise). You don't want the TikTok sound to be drowned out by people talking in the background or a noisy coffee machine.
TikTok has a variety of video editing tools that let you add filters, stickers, text, and video transitions that will enhance the overall quality of your challenge video.
Some challenges even incorporate a particular TikTok video effect, like the example at the end of this article.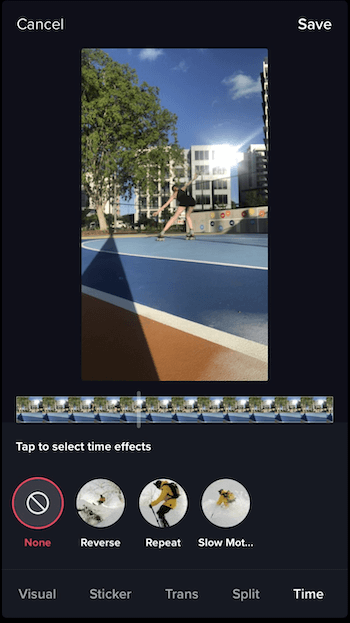 #2: Launch Your Own Branded TikTok Challenge Campaign
A crucial element of developing your own TikTok challenge is context. While there are plenty of rolling-on-the-floor-laughing video memes you might create with movie sound clips, make sure you've got the context right.
For instance, if you're promoting your skincare products to women in Generation Z, consider using clips of recent chart-topping music that have a theme of beauty or female empowerment. Or make a list of the fandoms and movies with a beauty theme that your target audience would have grown up watching that will be nostalgic for them—think Mean Girls and The Princess Diaries.
Short sound clips from existing content with context to your industry and audience can take your TikTok challenge idea from "meh" to "wow" in an instant.
Plan Your TikTok Challenge Campaign
When planning your branded challenge campaign, first consider the main objective. Do you want to let your target market know you're on TikTok so you can gain followers? Are you hoping to drive sales for a new product you're launching?
Decide what your main campaign objective is and what methods you'll use to track success—everything from Google Analytics goal completions to total uses of an exclusive promo code.
Once you're set on your objective, think about how you'll promote your challenge. Here are some of your options:
Work with TikTok directly to promote your branded challenge to the masses, starting from $150,000 a day.
Run a TikTok influencer marketing campaign. With this approach, you work with larger accounts to recreate your TikTok challenge within the day of posting it on your own brand account to create a thunderclap effect.
Turn your TikTok challenge into a competition. To illustrate, offer a prize (or multiple prizes) to randomly selected creators who follow your competition entry rules. Your competition entry methods should include posting a video with your TikTok challenge hashtag at a minimum. Before you go down the competition route, be sure to read up on TikTok's promotions guidelines.
Using what you know about meme culture and what you've learned from the top branded TikTok challenges, come up with a few different concepts for your challenge. When you've narrowed down your list of options, come up with challenge hashtag ideas that correlate with the message of your meme.
Pro Tip: Be sure to do your research on TikTok before settling on your final choice of TikTok challenge hashtag. While it's still early days, your hashtag idea may have already been taken.
Plan Your TikTok Challenge Content
Now that you have a clear idea of what you're hoping to get out of your TikTok challenge, it's time to work out how to tell an entertaining story through your video. You have to get to the point fast and create something repeatable.
It's important to keep imitation in mind. If you make your challenge too difficult for people to recreate (i.e., too high of a budget or too many dance moves), your target market is less likely to participate in the challenge, ultimately diluting the effectiveness of your campaign.
To visualize this, let's take a look at an organic TikTok challenge that swept the platform thanks to influencers and everyday people posting their own videos imitating the meme. In the video below, Karen Sutherland, a PR and social media lecturer, participates in the challenge with a video that mimics the player selection screen that usually appears in video games.
If you analyze this challenge, it's easy to see why it was a success. Due to the demographic split of TikTok users, you can assume that most people on the platform have played a video game before. The sound used in the video was uploaded by a TikTok user, but it only gained popularity once it was paired with the up-and-down movement that mimics the way digital characters are displayed on most player selection screens.
The video meme comes full circle and becomes repeatable when text is added to indicate the characteristics or abilities of the "player" in the video. In this case, the player is known to be a University Lecturer, as identified in the black-and-white text at the top of the text overlay.
Choose a TikTok Sound
Your TikTok challenge sound could be your own original sound or a sound clip from a pop-culture staple like a movie or TV show you've come across on the platform. Consider the movies, viral videos, and hit songs that feature words and phrases that make sense for your industry.
Choreograph Your TikTok Challenge Movement
It will look a bit strange if there's no focal point in your challenge. Whether it's a person, a group of people, a pet, or an inanimate object like Haribo's gummy bears, you need to decide on the star of your video.
If you want your challenge to be easy for others to recreate and for it to truly take shape as a video meme, it's best to make your focal point an individual person or a small group of two to three people.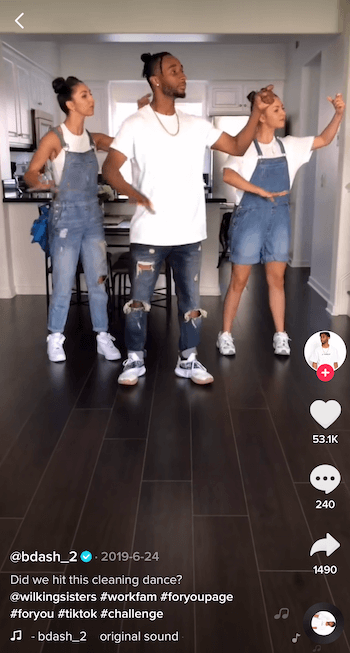 The people (or inanimate objects) in your video will also need to be moving. It could be a slight movement or a short choreographed dance. Get creative for this part!
Create and Publish Your TikTok Challenge Video
Once you've got your movement, sound, and concept ready to go, you're ready to start filming. It may take you a while to get the perfect shot but it'll be well worth it in the end.
When you're happy with your video (or multiple short video clips), jump into the editing tools to start creating your masterpiece. While you could edit your videos using professional video editing software, your challenge will be more relatable and feel more native to the platform if you use the in-app editing tools.
You can save your TikTok videos (and video captions) as drafts until you're ready to post them. When the moment arrives, just go to your drafts section and make sure you add a few hashtags—and most importantly, your TikTok challenge hashtag! Then tap Post.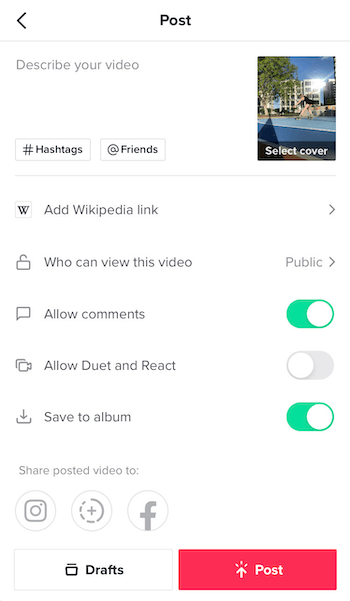 Conclusion
Overall, TikTok presents an exciting opportunity for brands looking to engage with and attract a Generation Z audience. The app is continuing to grow in popularity globally and is a platform that can help you gain relevance with the next generation of consumers.
Now that you know what a TikTok challenge is and the different ways you can get involved as a brand, from trend jacking to running an advertising campaign, you're well-equipped to start creating content on TikTok.
What do you think? What types of challenges has your business participated in? Will you create your own challenge? Share your thoughts in the comments below.
More articles on marketing on TikTok: