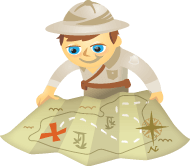 Wondering how live video can help you make money?
Looking for ways to increase the return on your investment in live video?
In this article, you'll discover six ways to develop leads and boost sales using live video.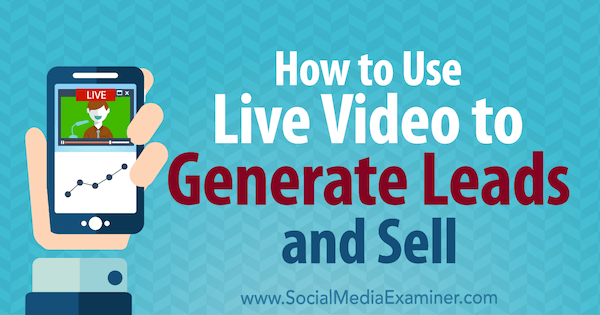 #1: Generate Leads via Teasers and Prompts
The popularity of live video makes it a great way to find leads. To attract potential leads, promote your live video with a catchy title or appealing topic. Then as you cover the topic in the video, structure the presentation so it leads viewers into your marketing and sales funnel and takes advantage of the interaction that live video offers.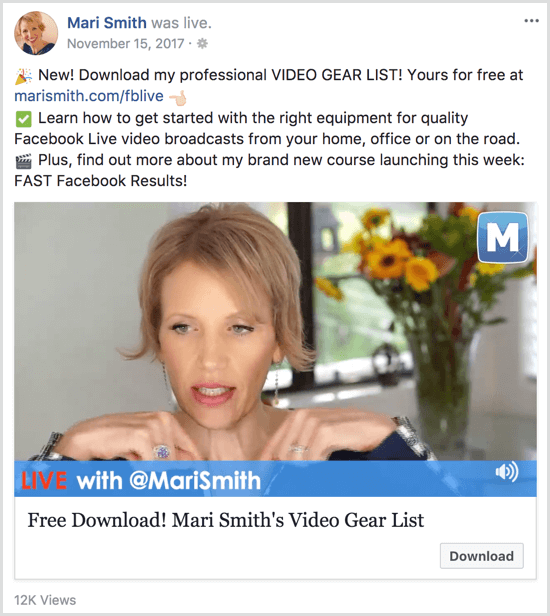 When you structure a live video, you want viewers to stay until the end when you typically pitch your product or service. For example, as you introduce the live video topic, explain what you plan to discuss. But somewhere in the introduction, say something like, "If you stay until the end, I'll give you my 10 secrets to…" because that promise will entice viewers to keep watching and hear your pitch or offer.
Further, as you lead up to the end-of-video pitch, use qualifying prompts to determine which viewers you or your sales team should follow up with. Ask your audience to respond through a live chat bar. You can say, "Type 'Let's do this' if you're excited for this video!" or "Type 'I'm interested' if you want to learn more about this offer."
In other words, live video allows you to ask your audience if they're interested in the product or service you have to offer. This tactic will help you follow up with the right people after the live video ends and make more sales. Moreover, when people watch your video and interact with you, they're more likely to buy your product or service.
#2: Offer Discounts and Promotions During Your Video
This one is a no-brainer for most sales channels. But sometimes a live video host forgets to offer viewers a special discount or promotion. These incentives are important because video sells products online better than images do.
For instance, at the end of this Facebook Live video, Chalene Johnson shares a free offer for viewers who purchase her PUSH journal: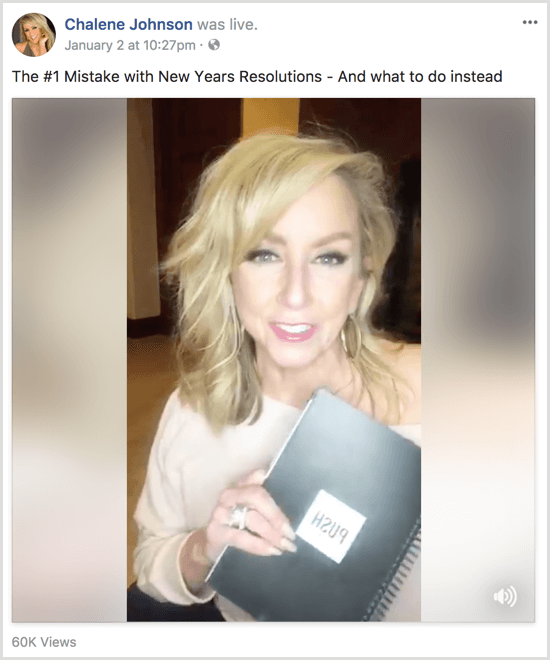 Not only does an offer reward your viewers, but the exclusivity appeals to them too. Don't miss out on this obvious opportunity to snag more sales than you might without a special offer or discount. You're hosting the live video, so you might as well make the most of it, right?
In fact, for Americans, discount offers are one of the top three factors that determine where they shop. (The others are price, and shipping cost and speed.)
#3: Sell a Recording of Your Live Video
When you create a live video that sells a product or service, you're likely stuffing the video with valuable information. Why not turn your live video into its own product afterward and make the most money from your efforts?
To repurpose video content, you need software and time to edit the video. Mac users have access to iMovie, which comes with macOS. Both macOS and Windows users can edit video using a tool like HitFilm Express.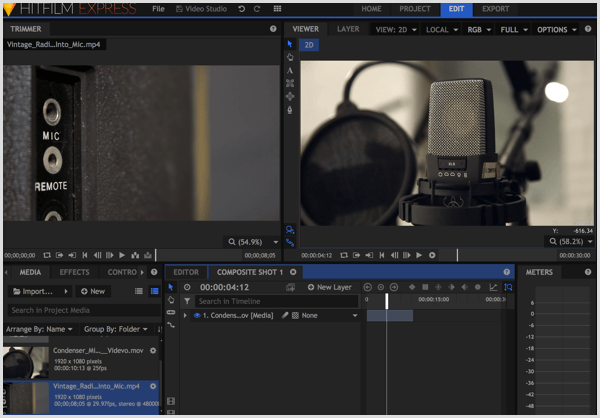 To package your video, you can add your edited recordings to a library of digital content that only paying users can access. To sell the content as an ecommerce product, you can build an online store with a service such as BigCommerce, Magento, or Shopify. Ratings of the different services give you a quick price and performance comparison of the features.
To demonstrate, Facebook Ad IQ Academy offers access to its video courses at different price points.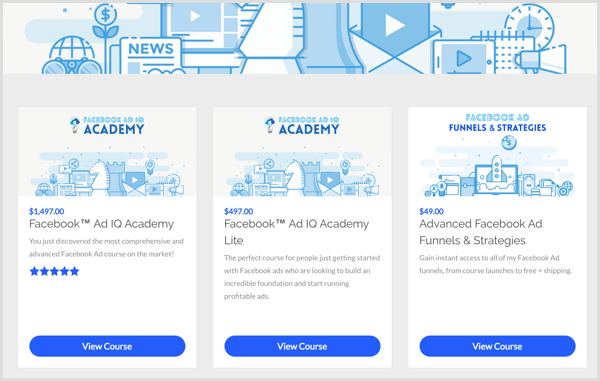 As you consider how much to charge for your video, make sure you account for the costs of video streaming from your own website.
Finally, when you have a store for your site, you want to plan for customer support. You might share a support email address or phone number on the website where you're selling the content. As you grow your video offerings and store, you can consider paying someone to run customer support for you.
#4: Pitch Your Products via Live Demonstration
You don't have to wait until the end of a live event to sell your product. Often, the best time to sell your product is when you have your audience's full attention during the live video presentation. Although you shouldn't clutter your presentation with heavy-handed pitches, you can explain what's awesome about your product and why people might be interested.
Product demos are a great way to offer useful tips and how-to information. For an excellent example of pitching products via a demo, check out the live Facebook videos from Benefit Cosmetics. Notice how they subtly point to the product they're offering without coming off as too pushy. You want to strike the same tone: offer your product but provide tons of valuable information as well.
#5: Charge for Access to a Live Video Event
When most people think about live video events, a single word comes to mind: free. However, you don't have to make your event free. If you have a big enough audience with enough hype, you can charge a bit of money.
Depending on who your audience is and how well you've branded yourself as an expert, consider charging somewhere between $20 on the low end or a few hundred dollars on the high end. This price point will make you money and ensure that only the most committed leads arrive for the event.
To charge for a live event, all you need is to create a sign-up button, set a price, and choose a streaming service or content delivery network (CDN) that allows you to share the live event with ticketholders only. DaCast and SproutVideo offer these services at price points that suit different types of businesses.
But the bandwidth can quickly become an issue if you're not careful. For instance, 1,000 viewers tuning in for 1 hour to a stream broadcasting at 1,000 Kbps will use around 500GB of bandwidth. That's no small amount of data transmission. If you need help with high-definition video resolution or wrapping your brain around video bit rate, check out a third-party service like Zoom.
#6: Find Affiliates or Sponsors for Your Live Video Content
After you build an audience for your live video content, try making money via affiliate mentions or asking people to sponsor a live event. PolandbananasBOOKS on YouTube includes affiliate links in their video descriptions.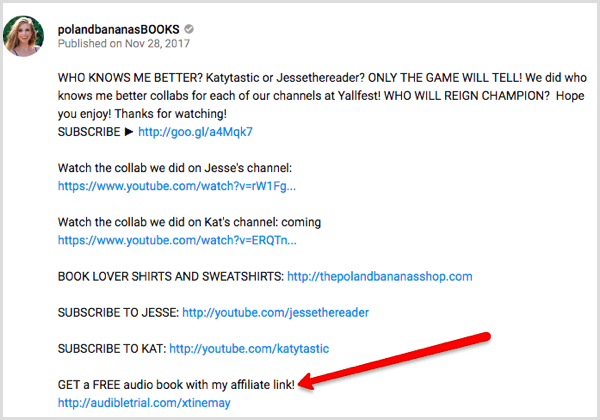 With sponsorships, you promise to mention your sponsor to your audience during the live video event. Sponsorship is a common model for podcasts, radio shops, and other types of content. Why not on your live video event as well?
To illustrate, Lewis Howes, founder of The School of Greatness podcast, always has a sponsorship mention at the beginning and end of every episode. Listeners don't mind because they know that's how he makes his money. Your audience probably won't mind either.
Remember that you need to disclose affiliate links and other sponsored content. Tell your audience you want to take a moment to talk about your sponsors, and then either have an affiliate link setup or collect money for those mentions beforehand.
Conclusion
Although live video is often freely available on social media, you can make money from your efforts in several ways: pitch during the live video, generate leads on-air, offer discounts, sell edited recordings, charge to access a live video event, and use ads and sponsorship.
By using a combination of these options, you'll be prepared to earn a return on your investment in your live videos.
What do you think? How has live video affected your social media marketing? Do you plan to change the way you go live based on these tips? Please share your thoughts in the comments.