Need more leads but don't have the budget to run ads? Looking for an organic LinkedIn prospecting process that works?
In this article, you'll discover how to use LinkedIn Messages to develop relationships and sell.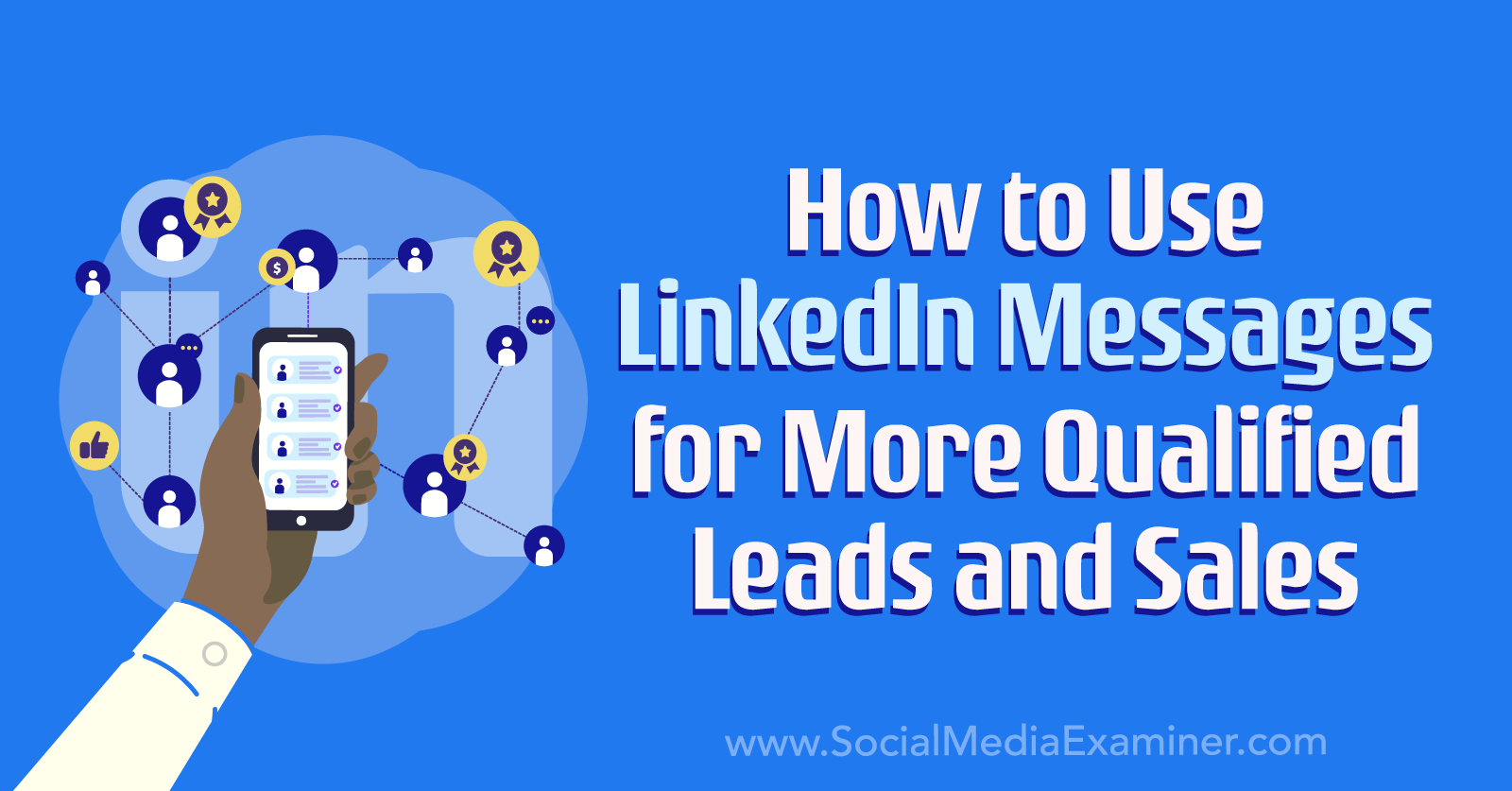 The Power of LinkedIn Messaging for Connecting With Prospects
Do you want to make six-figure sales on LinkedIn?
Yes, you really can sell on LinkedIn. In fact, you can sell with just the LinkedIn Messaging feature and nothing else.
Likes, comments, and shares are vanity figures that can disappear overnight. Messaging will help you make sales and keep customers for a long time to come. Here's how…
So what makes a LinkedIn Message so effective?
LinkedIn might have a less-glossy image than other social networks. It's definitely seen as a platform for work, not play. You won't find novelty filters, dance choreography, or comedy skits here.
But one thing that LinkedIn does really, really well is messaging.
When it comes to selling on social media, the money is in the mailbox. On LinkedIn, that means you can talk to decision-makers, industry leaders, and C-suite execs, all through the built-in Messaging inbox.
Let's get one thing out of the way, though: this is not a spam strategy. Sure, some people use the Messaging feature on LinkedIn to spam. They'll open a generic message with "Hey" and then go straight for the hard sell. They'll confuse you with irrelevant or unhelpful offers, and demand too much in return. They're probably spending a lot of money to send thousands of InMail messages.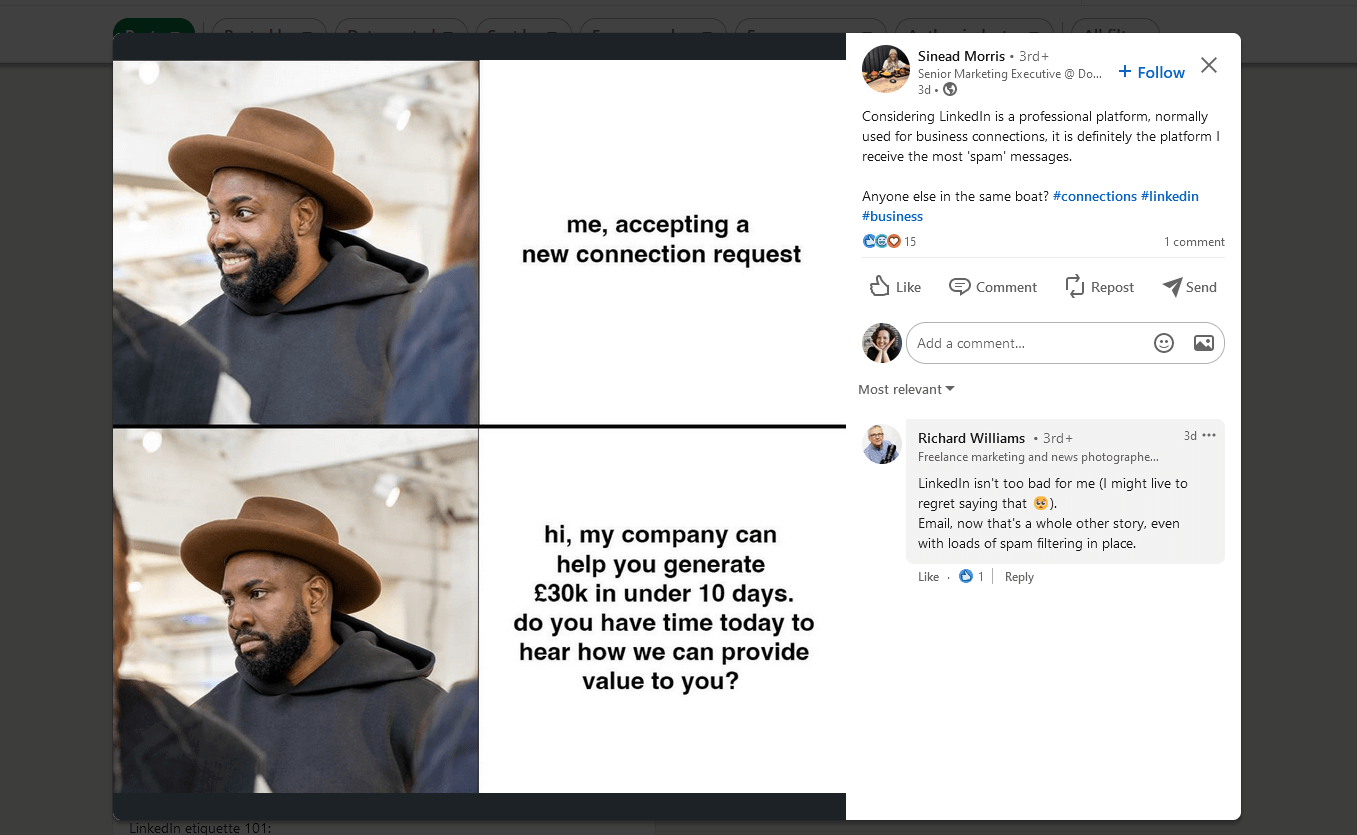 They're wasting their time and money. Those scattershot, impersonal spam messages you see have very low conversion rates.
We're talking about a different approach: messaging real people and treating each one like a real person. This value-driven, human approach can earn you a conversion rate that's closer to 40%.
LinkedIn Messaging Magic
The LinkedIn Messaging Magic strategy has been tested and refined since 2012. That's over a decade and hundreds of thousands of messages, all working toward the perfect strategy to sell on LinkedIn.
The basic goal is to pitch to sales prospects without making them feel like you're pitching. With one simple, friendly message, you'll:
Prequalify sales prospects so you don't waste their time—or your own.
Get permission to pitch so your prospects feel empowered and positive about buying from you. Even if they don't buy today, you'll have permission to keep the conversation going.
Demonstrate expertise and value so you stand out from the competition.
Speak with your real voice, setting up a friendly conversation that's in tune with your brand.
But before we get into the details of the script, let's talk about how to find and message your leads.
How to Find Leads on LinkedIn
LinkedIn is like Google for B2B sales and marketing. It holds data on almost a billion professionals all over the world. It's the best tool there is for finding qualified leads and targeting your messages to LinkedIn members.
LinkedIn's basic search function is pretty good at finding people based on their job title or industry. But if you really want to get the most out of LinkedIn Messaging Magic, you'll need to go a bit further.
Sales Navigator (from $79.99/month) is a LinkedIn add-on that gives you extra search data, detail, and CRM tools.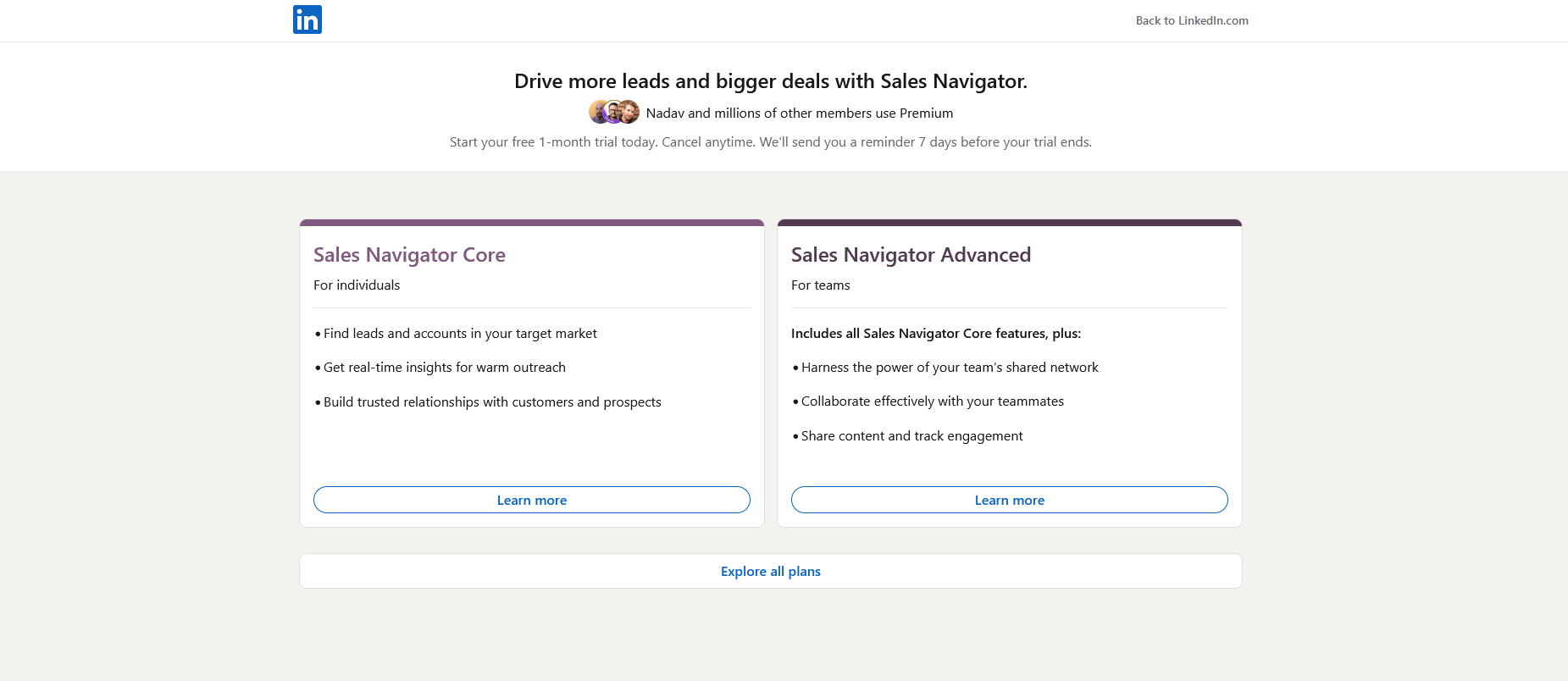 You can set and save searches with multiple parameters such as job title, location, company size, duration in role, and school, and then match your messaging to that exact buyer persona.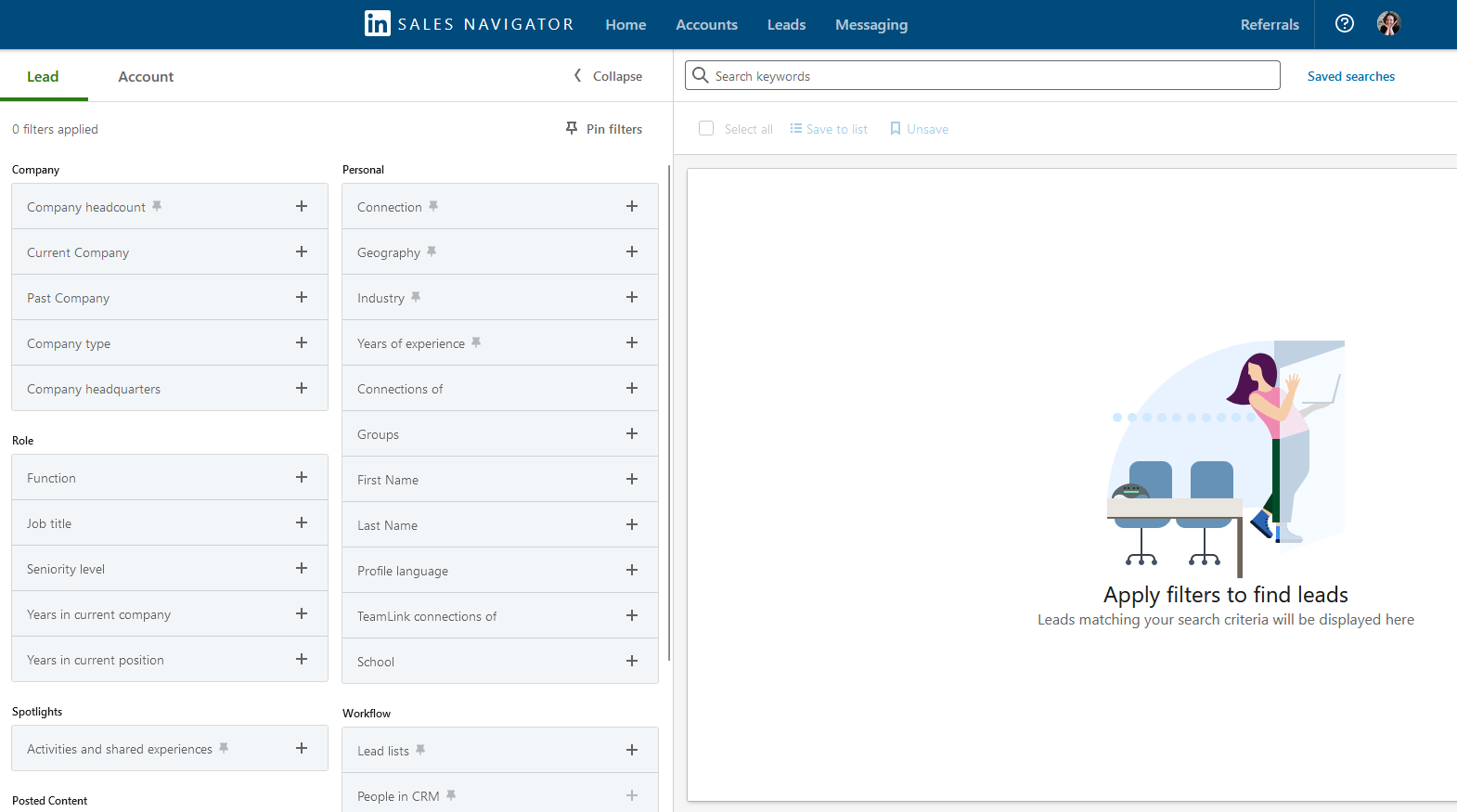 From those searches, you can create and curate lists of sales prospects. You can make notes about individual people such as when you last spoke or how they responded, and even integrate the data with your own CRM.

Then you can use the LinkedIn Messaging Magic approach to contact those potential clients and make sales via a private message.
There's just one issue to bear in mind. Sales Navigator can gather a huge amount of information but doesn't LinkedIn have limits on how many cold messages you can send?
Here's exactly what you need to know about those limits, plus a few tips for maximizing your outreach.
You can send up to 100 messages a day to someone who's a first-degree connection.
Similarly, you can send messages to second- and third-degree connections if they have a Premium account with open profile enabled. Look for the Premium symbol (a gold LinkedIn logo) on their profile to see if this is an option.
If you have a Premium account—which you will, if you've set up Sales Navigator—then you can send InMail messages to second- and third-degree connections. The number of InMails you can send per month depends on your specific plan. You can also pay to top up your InMail credits, and whenever someone replies to your InMail, you'll get that credit back.
You can message fellow LinkedIn group members for free, regardless of whether you're connected or not.
You'll want to use all of these options to message as many leads as possible. The whole point of using Sales Navigator and the Messaging Magic script is to scale your outreach as much as possible.
But there is a limit. Don't be tempted to use third-party tools to automate your outreach. LinkedIn is happy for you to work with Sales Navigator and message lots of people but its spam algorithms are hostile to any messaging automation, at least for now.
LinkedIn Messaging Magic in Four Steps
Now you've got your list of hot leads from Sales Navigator, let's get into the details of the Messaging Magic script.
In just one message, you'll:
Qualify the prospect.
Offer value.
Ask permission.
Take the pressure off.
Your goal is to send a brief, friendly message that puts the prospect in control. If they feel like they're choosing to talk to you, then they'll respond much better.
#1: Qualify the Prospect
Hopefully, you've already found the perfect prospect through Sales Navigator. But as well as doing your research, you're going to double-down by asking each LinkedIn member to qualify themselves.
You do that by opening with a question. Here's an example:

X can be any topic or benefit that's relevant to your niche and what you're selling. Your ideal buyer is going to think "Yes, I want that! I care about that!"
#2: Offer Value
Now you've got their attention, you have to demonstrate that this conversation is worth their time.
How do you do that? With content.
Content is the currency that buys people's time, interest, and engagement. It proves your value and shows prospects that they can trust you. Best of all, it can give them a quick win. Something like a playbook, template, or demo can give your sales prospects an instant, positive result.
So the next sentence in your message will read something like:

#3: Ask Permission
By this point, your prospect should be invested in the conversation but you need them to actively buy in. You need their permission to keep going.
The key here is to make that permission as simple as possible. Ask them for a single keyword or even an emoji reaction. Make it something that they can do with a single tap. The easier it is, the more people will say yes.

Got a positive response? Now you're going to have to do a little backend work.
Go to their LinkedIn profile or their listing in Sales Navigator, and grab their contact details. Fill out the landing page for your free content on their behalf, then drop them a message to let them know they can check their inbox.
#4: Take the Pressure Off
There's one last line in our Messaging Magic script. This is where you make sure the prospect feels in control. You're going to take all of the pressure off so the decision is theirs.

Ideally, you'll get that yes or thumbs up and you'll send the content through. But if they don't respond or they're not interested?
Don't worry, you can still follow up. Because you opened the conversation with a friendly tone, asked for permission, and took the pressure off, it's OK to come back. You just need to change things up a bit.
After a few days, message them again with a similar script. But this time, offer a different topic or content format. You can keep following up from time to time with a different offer until something clicks. Then you'll be ready to move to the next stage.
Always, always follow up. The big mistake that many marketers make is giving up too soon. You should keep following up until you get a sale, a hard no, or absolute ghosting for a long period of time.
How to Follow Up
Let's recap. You've found a lead in Sales Navigator, sent them a message (or three), and successfully offered them some valuable content with your magical sales script:
Hey [Name], I'm curious, are you interested in [X]? The reason I ask is, I have a free [book/demo/webinar/masterclass] about [X]. If you'd like to check it out, just reply "Yes" or give me a thumbs up and I can send it your way. If you're not interested, no worries! Hope you have a great day.
They've opted into your email form and received the course, podcast, webinar, or eBook you offered them.
Now you're going to develop the connection even further with a personalized follow-up message.
This is where the LinkedIn mobile app is your best friend. On desktop, you can send a written direct message, maybe with a picture or GIF attached. On the app, you can do so much more.
You can send voice memos, videos, photos from your gallery, photos taken in the moment, and more. This is the perfect tool to send a personal message. Audio and video clips in particular will help you to make a real connection.
Send a quick, friendly clip that reiterates your value and encourages them to keep the conversation going.
Here's a 30-second sample script:
Hey [Name]! You can see me here in my office. I just wanted to put a face to the name and check in. Can't wait to hear your thoughts on [content]. Let me know if you have any questions and look forward to hearing your thoughts.
Use their name, speak in your natural voice, and add any other personal details that seem like a good fit. Check their profile and Sales Navigator notes to see if there's anything you can connect on. Remember: everyone's favorite topic is themselves.
As the great Dale Carnegie once said: "Your ideal prospect does not care about you. They do not care about me. They care about themselves morning, noon, and after supper." So let them talk about themselves!
To maximize the effect of your follow-ups, it's a good idea to keep a spreadsheet to track each prospect. Note down:
When you first messaged them
When they first replied
Any follow-ups that were necessary
When you sent the content
When, and whether, you've followed up
Tracking this information will make you more effective on an individual and campaign level. Individually, you'll soon figure out what works for each specific lead. On a campaign level, you'll realize which topics and content types are most likely to get a good response. You can even test variations on different scripts until you perfect your own LinkedIn Messaging Magic strategy.
Other Notes From This Episode
Where to subscribe: Apple Podcasts | Google Podcasts | Spotify | YouTube Music | YouTube | Amazon Music | RSS
✋🏽 If you enjoyed this episode of the Social Media Marketing podcast, please head over to Apple Podcasts, leave a rating, write a review, and subscribe.
---
Stay Up-to-Date: Get New Marketing Articles Delivered to You!
Don't miss out on upcoming social media marketing insights and strategies! Sign up to receive notifications when we publish new articles on Social Media Examiner. Our expertly crafted content will help you stay ahead of the curve and drive results for your business. Click the link below to sign up now and receive our annual report!