Want to develop a loyal and engaged following on Facebook? Wondering what types of content develops community?
In this article, you'll discover how to develop communities with Facebook.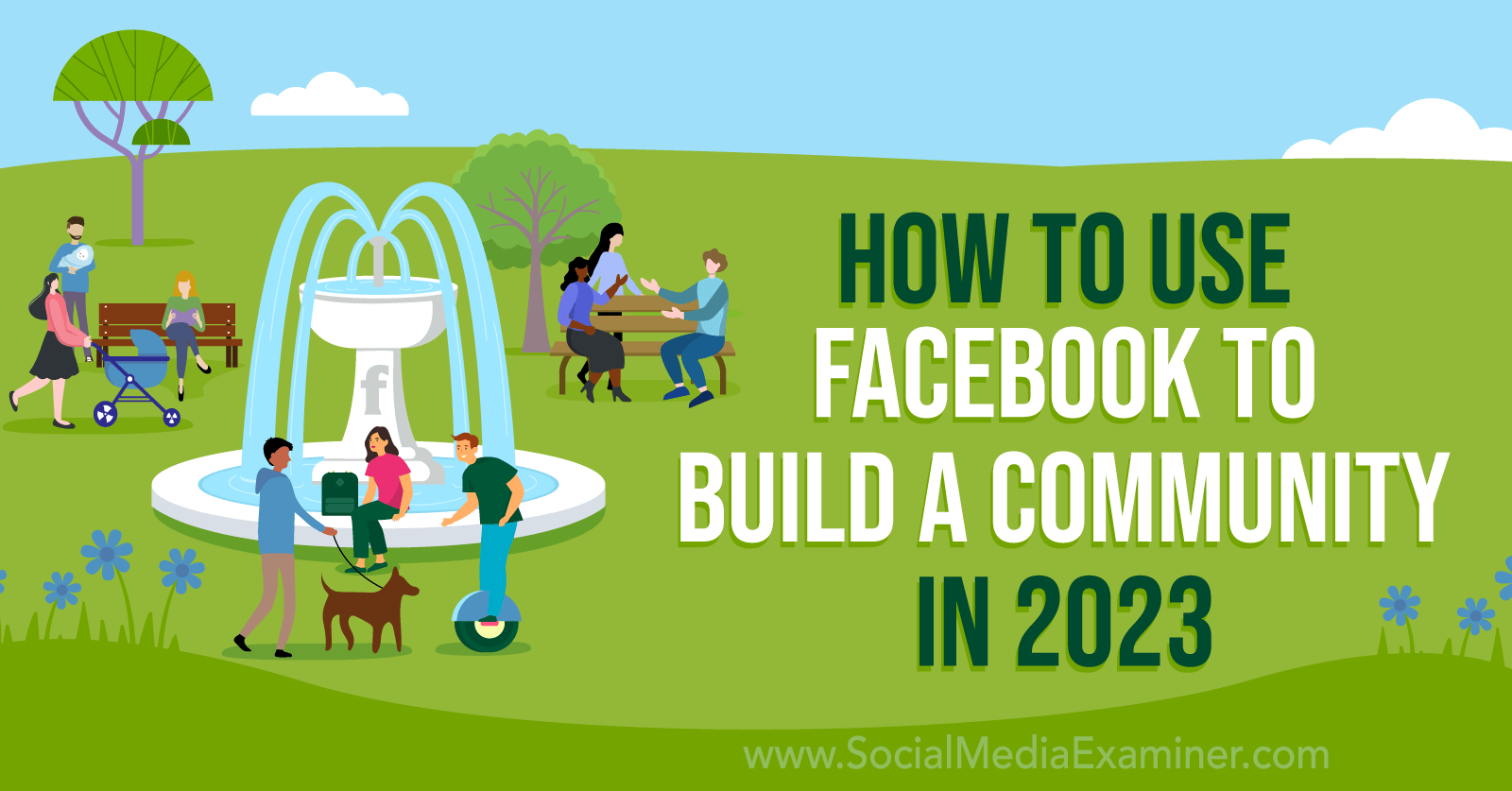 Your Community Is Already on Facebook
Facebook is bigger than it has ever been. According to Meta's official data, daily active users have reached almost 2 billion. Across the Meta family of apps, it's more than 3 billion. Reels is the fastest-growing type of content—more than 140 billion reels are played on Facebook and Instagram each day.
Those astonishing numbers show that although Facebook may no longer be the newest kid on the block, there are still ample opportunities for social marketers to find exposure, engagement, leads, and conversions.
It's fashionable to say that Facebook is on the way out. But as Ben Thompson comprehensively argued in his article, Meta Myths, that's just not true.
Facebook is still the biggest social network in the world. Facebook Ads are still the most targeted advertising that money can buy. And the only reason that growth has slowed is that, well, there are only so many people on the planet.

What's true is that the model for ads and engagement has changed. Authentic, organic connections with your audience have become more important than ever.
How Facebook Marketing Is Changing
Which metrics matter on Facebook?
For social marketers, it used to be about follower numbers, reach, and post views. Facebook itself encouraged content creators to obsess over these kinds of vanity metrics.
As the focus shifts from individual users to communities, different metrics have become important. Your reach and follower count are still useful data, but for real results, you should focus on your engagement rate, group activity, and conversion rates above all else.
That shift is reflected in how social marketers are using the platform. For example, it used to be essential to have a business page that was pumping out content every day. But now, many business owners keep their Facebook page operating at a minimum level. Their time and energy are focused on Facebook Groups instead.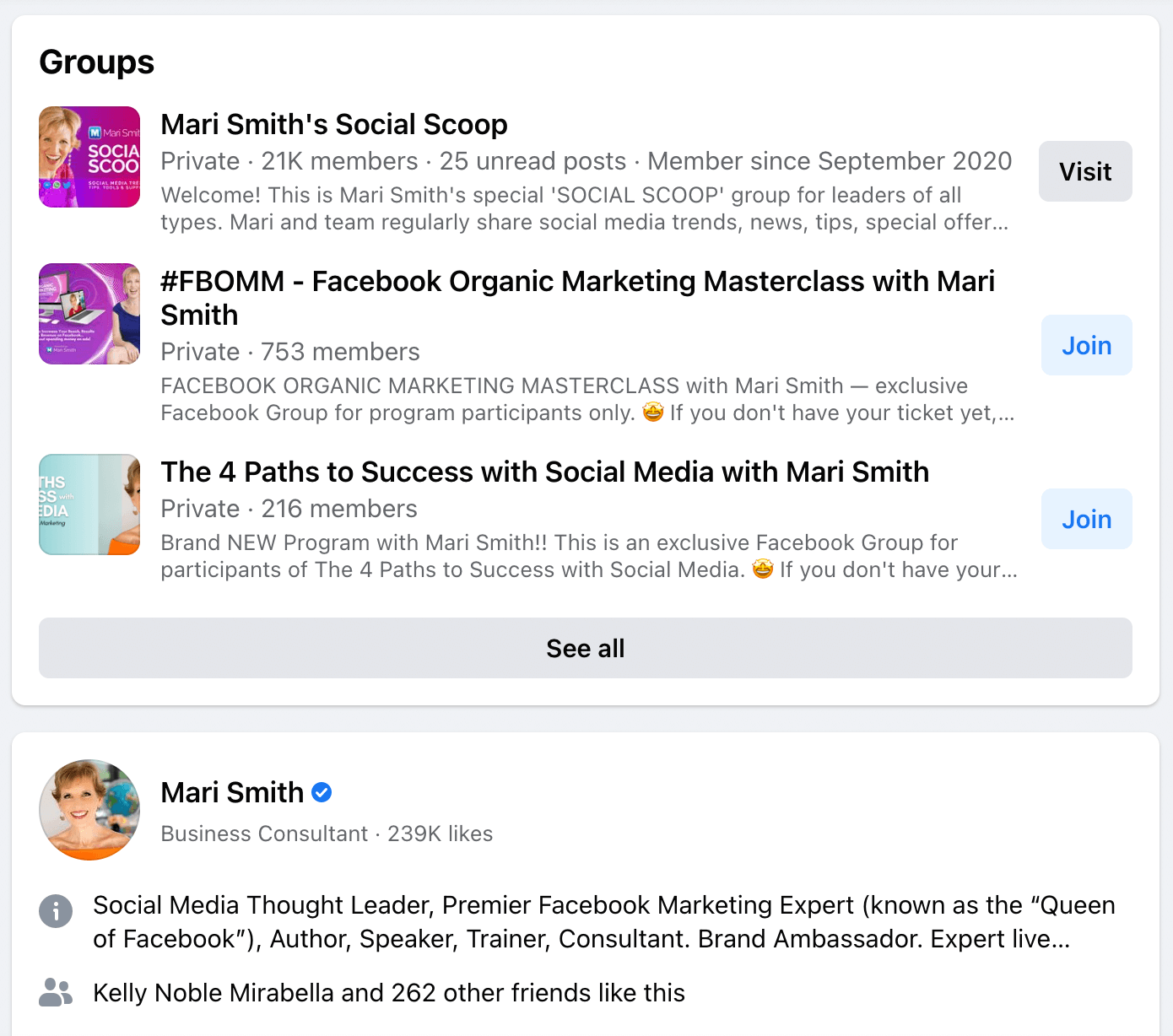 The Facebook Algorithm in 2023
Facebook and its related apps—including Instagram, Messenger, and WhatsApp—have also shifted their focus.
In the past, the algorithm was designed to show people content from their friends and the pages they followed. But it has changed over time to a "discovery engine" model, where the algorithm suggests content based on people's interests, viewing history, and behavior.
Your Facebook news feed is now up to 15% recommended content. On Instagram, the proportion is even higher, and Mark Zuckerberg has said that Meta aims to double those figures by the end of 2023.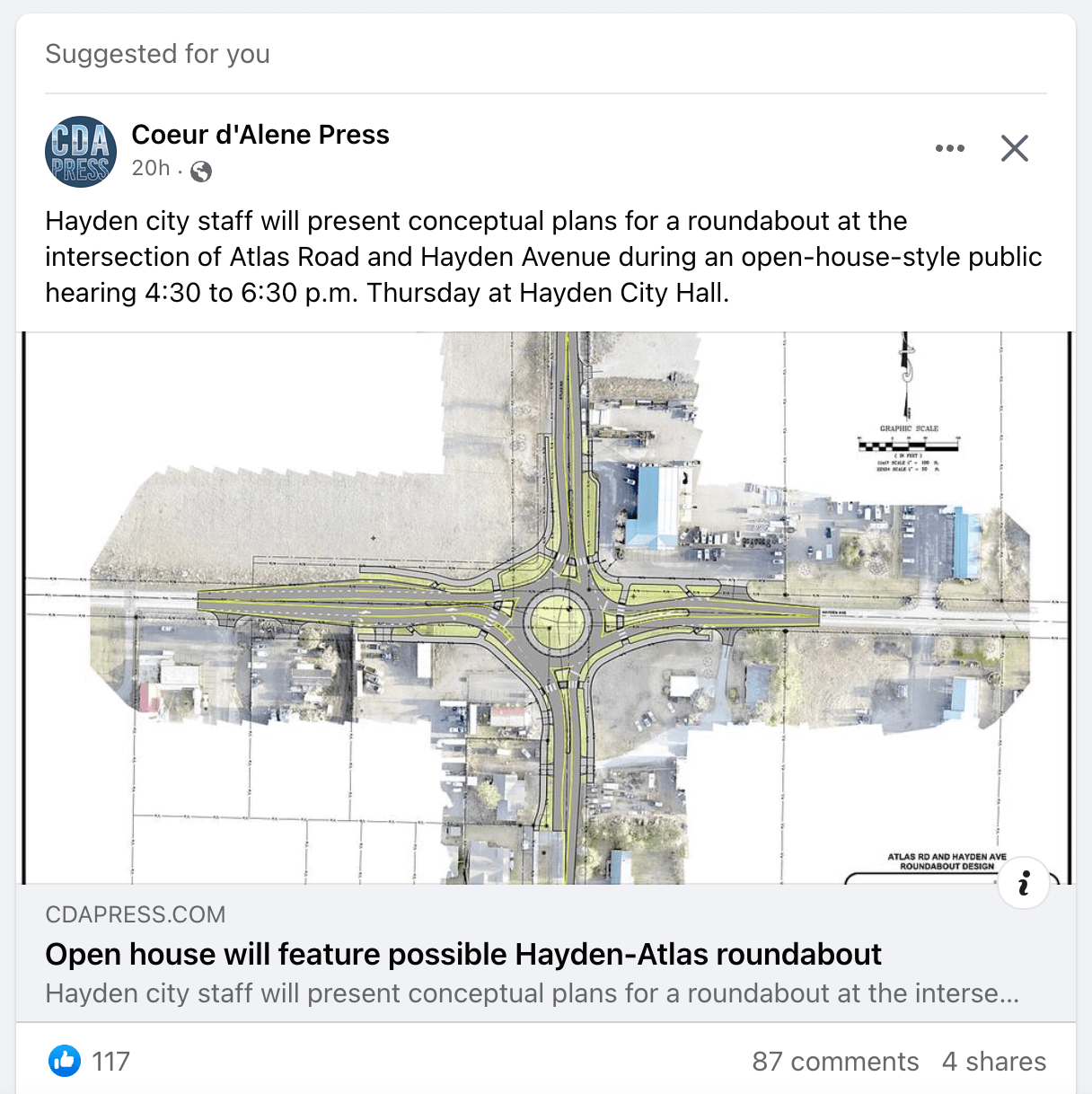 The new discovery model means that marketers have to create highly engaging content if they want to achieve any organic reach. That's partly why we're seeing the unstoppable rise of Reels and meme pages; content that focuses on engagement and watchability.
It also means that people are increasingly turning to groups for relevant, familiar content. Users have learned that groups are a safe space from the whims of the algorithm. And marketers have learned that groups can give them the perfect mix of reach, engagement, and loyalty that leads to more conversions.
In the next few sections, we're going to explore how to develop your Facebook community through Facebook Groups, as well as using Reels video content to connect with users.
How to Develop a Community on Facebook
There are three keys to developing a community on Facebook:
Relevance. Creating spaces and sharing content that's useful, interesting, and valuable to your audience.
Response. Building a positive feedback loop of engagement by always responding and reacting to user activity.
Groups. Creating a dedicated space where your audience can find and interact with you, and each other, instead of getting lost in the algorithm.
Relevance
Developing a community on Facebook starts with creating a genuine relationship with your audience. How do you do that?
By becoming their most trusted, go-to, always-reliable source of expertise in your niche.
If you're a fitness coach, you have to become their favorite trainer. If you run an online course, you have to become their first source of information. If you sell baby food through an online subscription, you have to become the authority on infant nutrition and development. And so on.
You show this expertise by posting content that's valuable, relevant, and consistent. Your content needs to be all of those three things to start building a community.
Response
The content you put out is important but it's not the whole story. Remember, reach and views matter less than they used to. Focus on quality instead of quantity.
If your engagement rate has dropped, slow down your post frequency. Focus on valuable content and responding to user replies.
Use first names when you reply to a comment. Call the user by name and sign the comment with your own name, too.
Make sure that every comment or post in your Facebook groups gets a reaction within a certain period of time.
Keep a list of "top contributors." Facebook gives this flair to group members who post and comment often. Every few months, share a post to praise and thank your most active members.
Facebook Groups
Facebook Groups gets its own section in this discussion because it's just so valuable for developing online communities.
As well as being a reliable hub for content, groups let you have in-depth conversations with your audience. They even enable members of your audience to talk to each other, which is a key part of a truly self-sustaining community.
Here are just a few ways that you can build community through Facebook Groups:
Offer exclusive content for group members to show your value.
Get feedback from group members. They're your most dedicated fans!
Use a different, more personal tone from your Facebook page or other marketing materials. Groups should feel friendly, close, and informal.
Offer exclusive deals to encourage sales (and cover any running costs for the group itself).
In the next section, we'll get into the detail of setting up and running your Facebook group.
How Facebook Groups Work
If you're a social marketer using Facebook in 2023, then you should be fully focused on driving new viewers, followers, and customers to your Facebook group.
The call to action on your Facebook posts and business page should be an invitation to join your group. You can worry about sales and conversions once you've got people signed up and engaged as group members.
There are several different approaches you can take to running a Facebook group. You could run a group that's just for fans and followers of the brand…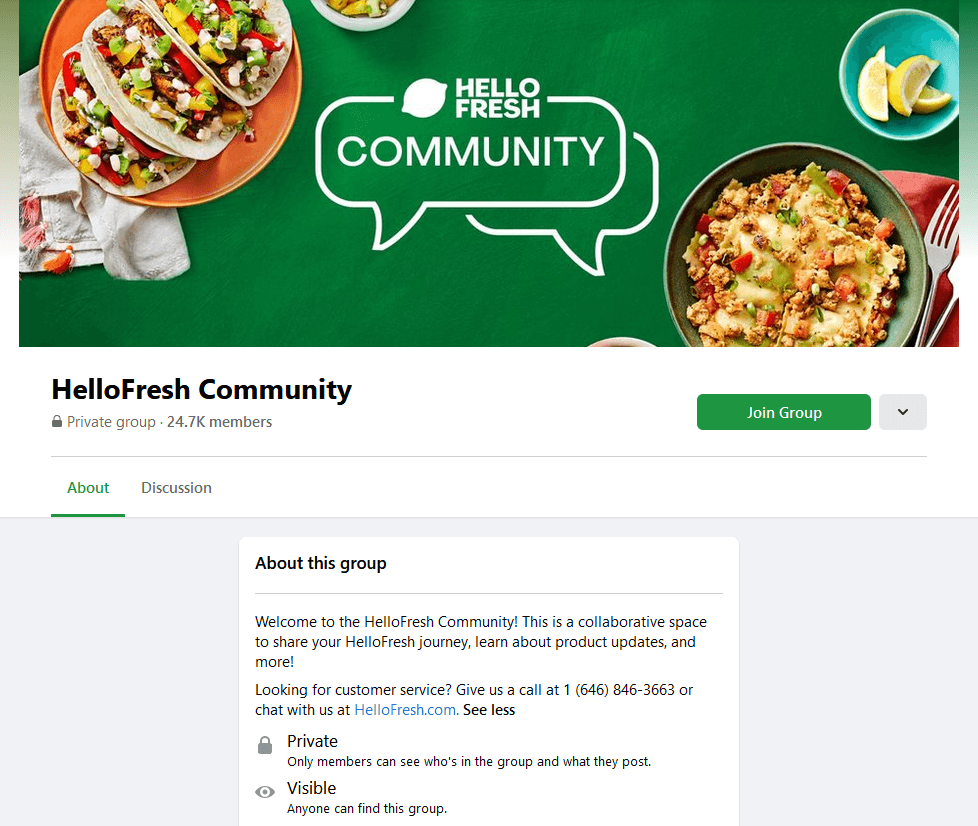 You could run a specialist, expert group to support product users…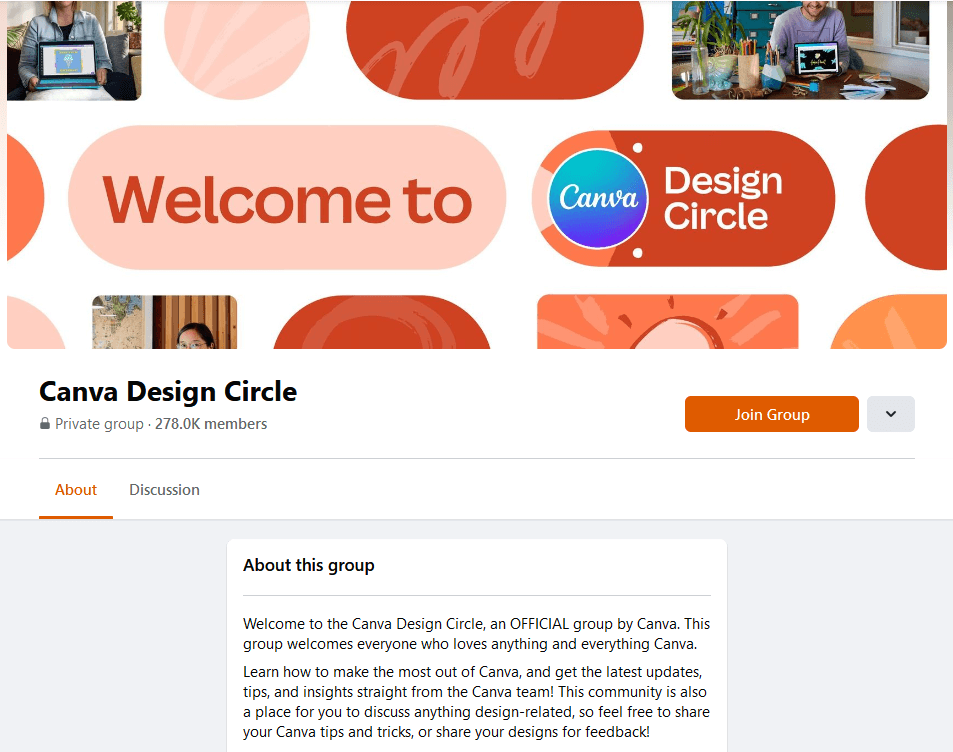 You could run a members-only group that offers exclusive content and networking opportunities to users who've already bought a product or paid for a service…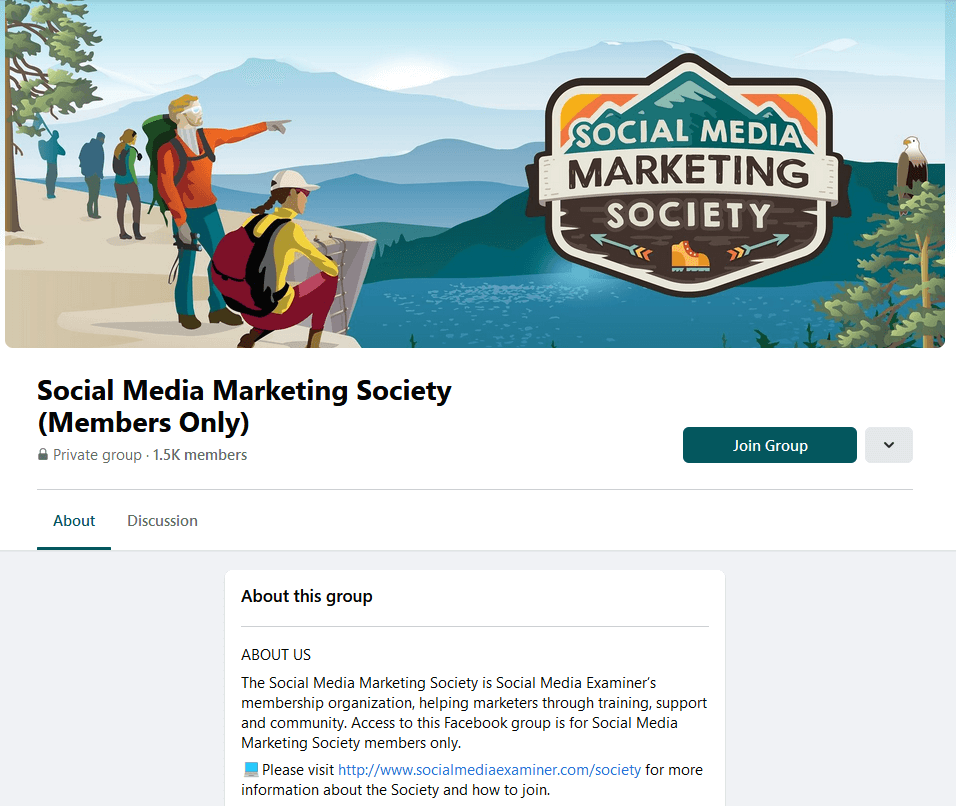 Or you could run all of the above! Facebook groups are extremely flexible, as we'll see below, with lots of different options for group visibility and moderation. We'll also take a quick look at other available social platforms for group marketing.
#1: Choosing a Facebook Group Type: Public or Private?
You can choose to make your Facebook groups public or private.
In a public group, anyone can view posts and a list of members. The group is also visible to search engines. Facebook is testing an option for public groups to even accept posts from non-Facebook users! They're a great way to broadcast information and start growing a community.
Private groups have a private members list and only members can post or comment. Often, new members have to request to join and you can ask them qualifying questions to make sure that they're your target audience.
You can also use group questions for further lead generation. For example, when someone joins a private group for product users, you could ask them for their email address as an entry question. Then you'll be able to nurture that lead through both email campaigns and group interactions.
#2: Moderating Your Facebook Group
It's important that everybody in your Facebook group feels safe, welcome, and included. That's where moderation and moderators come in.
Here are some tips to set you up for success:
When you create the group, use one of Facebook's templates to set rules and expectations.
Have zero tolerance for spam, self-promotion, and any offensive content. Don't be afraid to ban disruptive members.
Discourage people from sharing content outside the group. This helps to maintain an intimate, exclusive feeling.
Try to recruit moderators from the community itself, whether they're volunteers or paid. Give them training, guidance, and support.
Train your moderators to spot buying signals and reach out to people who seem ready for your products or services.
Whenever someone contacts you to report inappropriate content, respond personally to thank them and offer your support.
Some of these rules might sound strict. But they'll help you maintain the kind of friendly, focused group that will get results.
#3: Creating Content That Promotes Community on Facebook
Once your group is growing, you'll need to keep it active with regular posts of interesting and useful content. Here, we'll focus on video posts, questions, and special features for groups.
Video Posts
Facebook—like every other social network in 2023—is all about short-form vertical video. Most reels are under 90 seconds; you can go up to 3 minutes in videos that you post elsewhere.
The most important metric for your video content is the retention rate. Are people watching all the way through? Experiment with different video lengths and watch for the point where people consistently drop out, then make content of exactly that length. Your retention rate will rise and the algorithm will reward you accordingly.
Here are some other ways that you can boost engagement with your video content:
You can also experiment with where you create and post videos. Try using Meta Business Suite or Creator Studio to create reels, instead of the native Reels tool. That way, you'll be able to post vertical video in your main feed or group feed as well. Test whether your videos get more engagement as reels or posted on the main feed.
Use Streamyard or Ecamm to film livestream videos. These get very high levels of interaction. Show the comments on-screen and respond to your viewers in real time.
Don't worry if your livestream audience is small at first. Lots of people will watch on catch-up, too.
Set up a chatbot to start conversations in Messenger whenever someone comments on your videos.
Questions
Asking questions is a great way to spark conversations in your community and keep your group regularly active.
Try these tips to get even more engagement:
Use Facebook's option to add background color to your posts so they stand out.
Brainstorm a list of questions and post them two or three times a week to get consistent reach and interactions.
Share links to relevant content in the comments section if it's really useful. Just be aware that links can restrict the reach of a post.
Follow the conversations that happen in the comments and respond to every one.
#4: Special Features for Groups
Lastly, groups have some special features that help you develop a community on Facebook. Here are the most important tools you should be using.
Community chats are like private DMs that include the whole group. This enhances the close, friendly feel of a group community.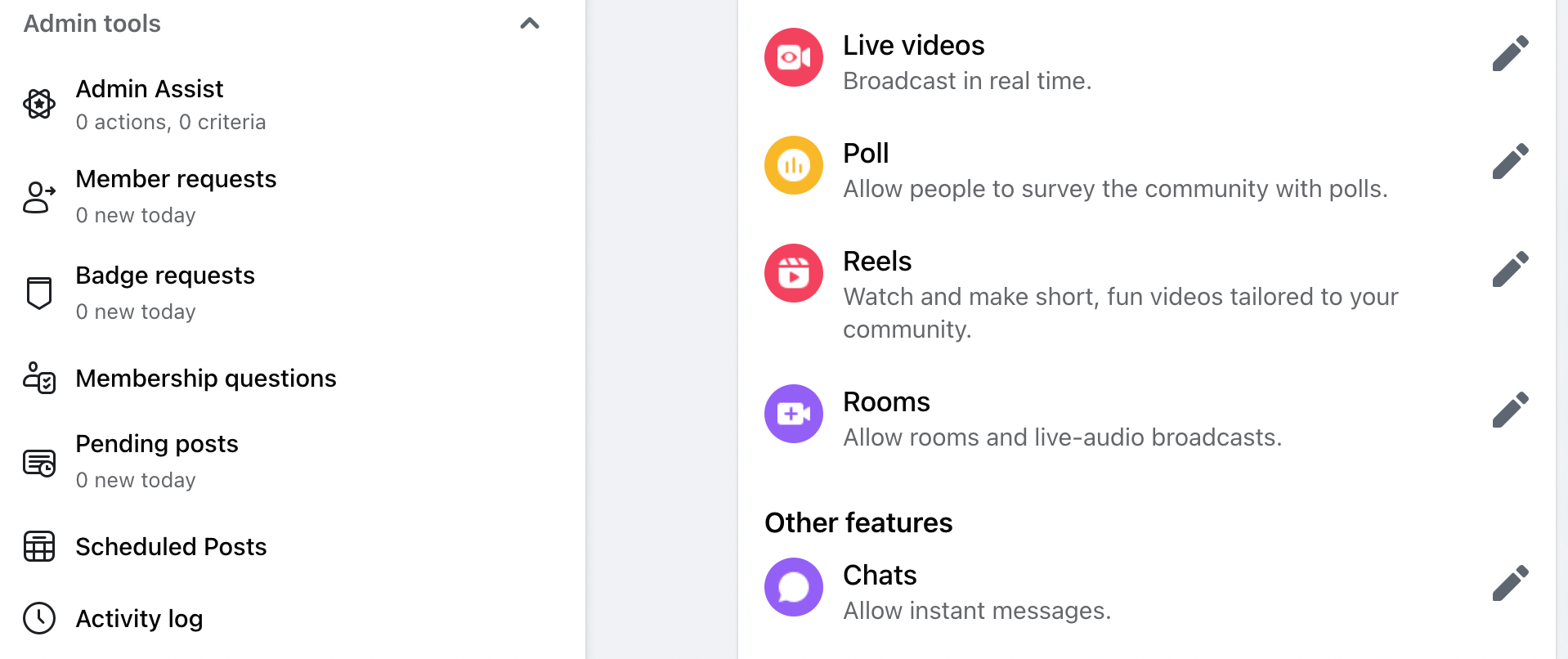 Feed channels are sub-groups within your main Facebook group, a bit like Discord channels. They can include audio chats, too.
The @everyone tag, just like tagging @everyone or @here on Slack, will send a notification to every member of the group. This is a powerful tool but it can be unpopular. Only use it when it's definitely valuable such as notifying people that a live event is about to start. Facebook limits you to one @everyone tag per day.
Both Meta and marketers are leaning heavily into groups in 2023. So we can expect to see even more features that will help you start conversations, build connections, and create a self-sustaining community on social media. Now is a great time to make Facebook Groups part of your social media strategy.
#5: Alternatives to Facebook Groups
So far, we've mostly discussed Facebook Groups. But there are other social networks out there that are specifically geared toward groups. Some of them are even designed for marketing to groups.
If you're not keen on Facebook, try one of these:
Mighty Networks is an all-in-one platform for creating courses, memberships, and groups.
Circle is a community platform aimed at brands and online creators.
Thinkific is a great platform if your main offer is an online course.
Kajabi is another popular choice for masterclasses and coaching.
Slack is a popular choice for B2B and software companies.
Discord can help you reach audiences with a younger demographic or specific interests such as gaming.
Telegram is a mobile app, like WhatsApp, but with more options for privacy, broadcasting information, and starting group discussions.
Other Notes From This Episode
Where to subscribe: Apple Podcast | Google Podcasts | Spotify | RSS
✋🏽 If you enjoyed this episode of the Social Media Marketing podcast, please head over to Apple Podcasts, leave a rating, write a review, and subscribe.
---
Stay Up-to-Date: Get New Marketing Articles Delivered to You!
Don't miss out on upcoming social media marketing insights and strategies! Sign up to receive notifications when we publish new articles on Social Media Examiner. Our expertly crafted content will help you stay ahead of the curve and drive results for your business. Click the link below to sign up now and receive our annual report!