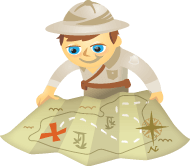 Need more qualified leads from Facebook?
Have you used Facebook lead ads?
With the arrival of Facebook Zero, pages will effectively see little or no organic reach without some form of ad budget. The money you spend needs to show a return.
In this article, you'll discover how to use Facebook lead ads to collect and download email and mailing contact details from Facebook users.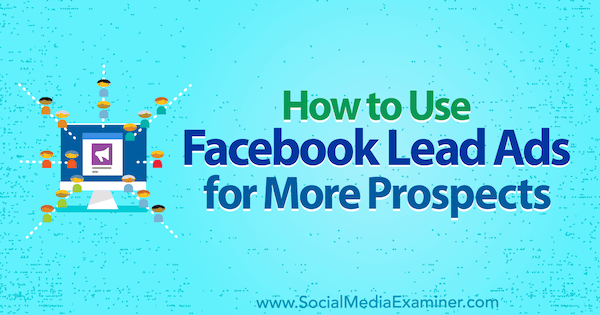 How Lead Generation Ads Work
Facebook and Instagram lead generation ads are designed to deliver email addresses directly to your database. Unlike other ad types, lead ads include a contact form for people to fill out if they're interested in your product or service. You can then use that information to follow up with them.
Facebook pre-populates the lead form with user information they already have. Because the ad does most of the work of filling in the data, users are more likely to complete the form, delivering you a new lead.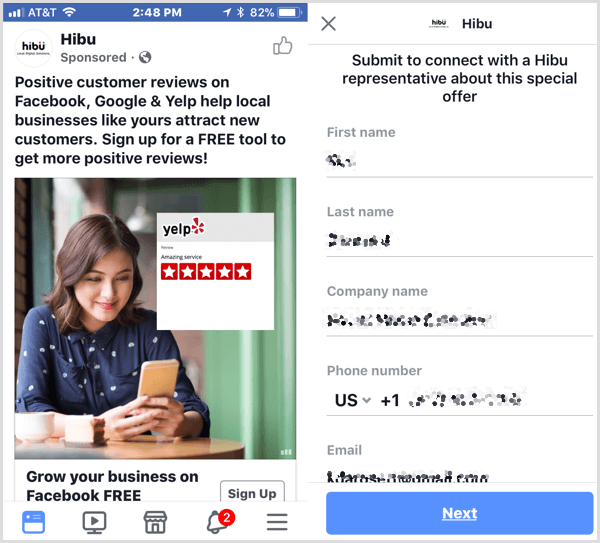 Lead ads contain two integrated elements: the ad and the lead form, which is hosted by Facebook or Instagram. On the lead ad's contact form, you can request an email address and other contact information from the people who click your ad. When you create the form, you can choose from a variety of questions or create your own custom questions.
After leads are captured, Facebook lets you download them manually or you can connect to a CRM such as MailChimp or Salesforce.
#1: Choose an Offer for Your Lead Ad
People need a good reason to part with their personal information, so choose an enticing lead magnet that will appeal to your target audience. Offer something exclusive that solves your prospect's problem.
Lead ads are typically used for the following offers:
Newsletters, white papers, playbooks, cheat sheets, free downloads, and more
Inquiry forms for membership or an exclusive offer
Applications, pre-orders, or signups
Signups for deals, coupons, or offers
Registration for conferences, events, or webinars
Competitions, votes, or surveys
Quotes (e.g., insurance quote)
Automatic quotes for a product – screening questions allowing for a solution to be proposed
Test drives – info-gathering questions aimed at providing a test drive of a suitable car, for example
Sampling – typically used for B2C product sample requests
Get creative with your lead magnet. Think beyond the classic freebie download approach to find something that works for your company and your potential customers.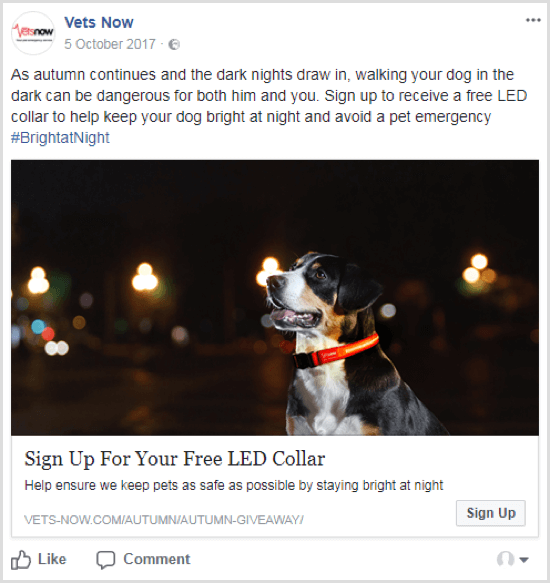 Pet Emergency Service Vets Now ran a great lead gen campaign last fall. They offered a free flashing collar to dog owners. The campaign's objective was to capture information that would help the company better target an upcoming holiday campaign. It was so successful that they ran the ad for only a few days and with a minimal budget.
The ads were targeted to a lookalike audience of Vets Now's existing email list (mainly historic, organic signups) and a lookalike audience of those who have visited dog-related content on the website. In just 4 days, the campaign resulted in 377 leads and a reach of 11,504. The cost was $0.27 per lead form and the ads had a superb relevancy score of 9. The entire campaign cost about $100.
#2: Decide What Information to Ask For
When planning your lead gen campaign, you must decide what information to ask for on the lead form. Typically, the more questions you ask, the less likely people are to complete the form, so include only need-to-know questions on your form.
Facebook lets you choose from options like email, name, phone number (Instagram only), address, date of birth, gender, company name, and more. In addition, you can add up to 15 custom questions on the form.
Below is the lead form that Vets Now used for their campaign. The company asked for a physical address so they could mail the free collar to the user. Ask for that level of detail only if the address is essential. And, of course, you can easily target the ad to a specific geographic location so people from outside your area don't see it.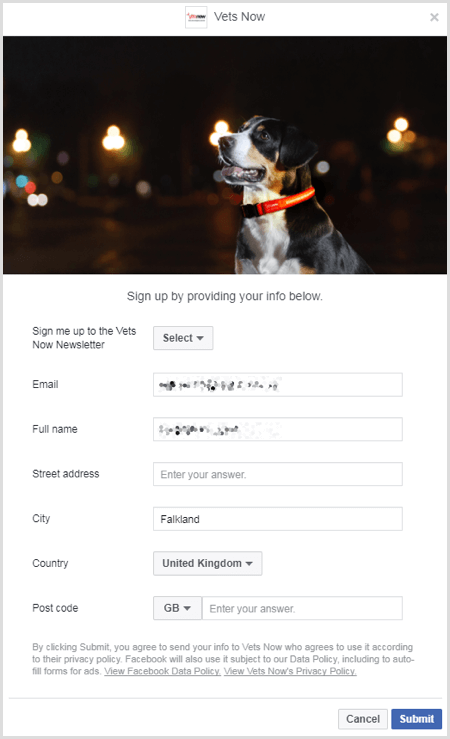 For the campaign below, FreeAgent asked for only an email address because that's all they needed to meet the objectives of their campaign.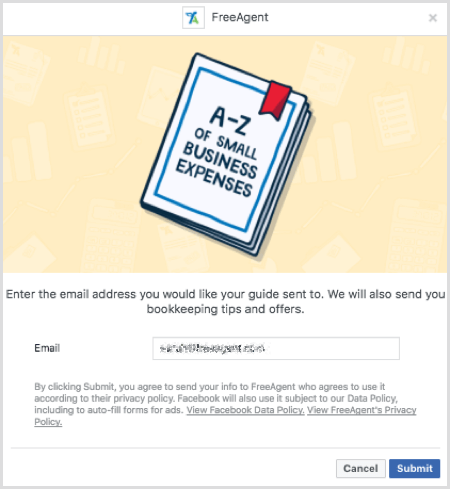 After users submitted the form, the screen displayed a confirmation message that their freebie was being sent.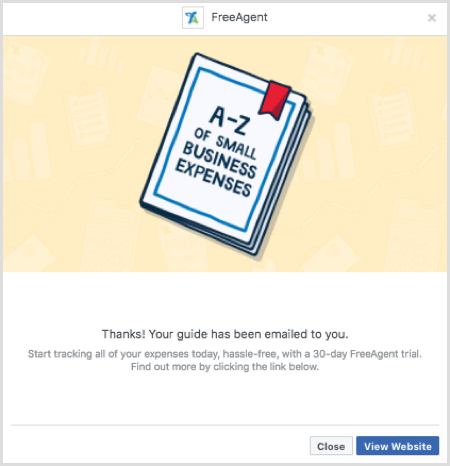 #3: Create Your Lead Ad
Before creating your ad, you need to pull together some information, permissions, and assets, including:
The URL for your company's privacy policy. If you don't have a privacy policy, write one and post it online.
An image for the ad. You also have the option to use the Shutterstock images free of charge during the ad creation process. Make sure you comply with the 20% text rule, unless you're prepared to pay extra and get less reach.
Text for the ad.
The information you plan to ask for on the lead form.
An idea of whom you'll be targeting. If these are custom or lookalike audiences, set them up.
You can create your lead ad either from your page or from Ads Manager. These steps walk you through how to use Ads Manager.
Create a New Campaign
In Ads Manager, click Create Campaign, name your ad set, and choose the Lead Generation objective. Select the Create Split Test checkbox if you want to do split testing.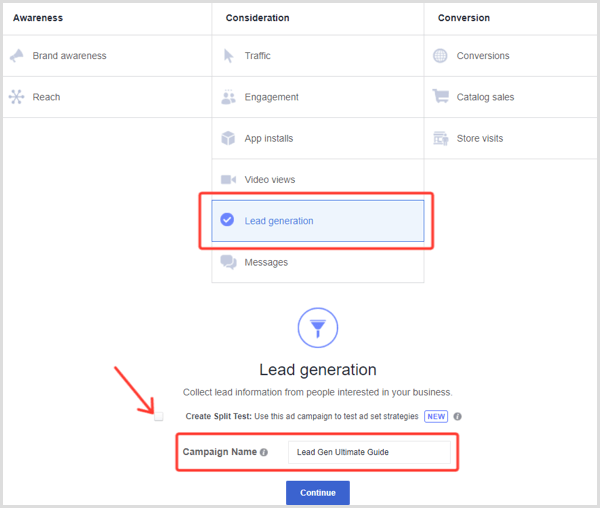 Set Up the Ad Set
Now you're at the Ad Set level. Name your ad set (I recommend using words to describe whom you're targeting) and select the Facebook page you're collecting leads for. Agree to the Terms and Conditions if you haven't already done so. Then choose your budget and schedule.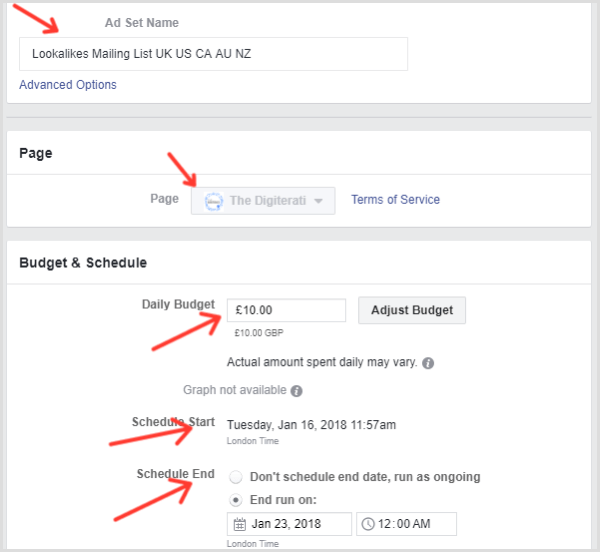 Choose your audience and placements as you would for other ad types. Note that you must target people over 18 with lead ads. In this example, I'm including and excluding some custom audiences.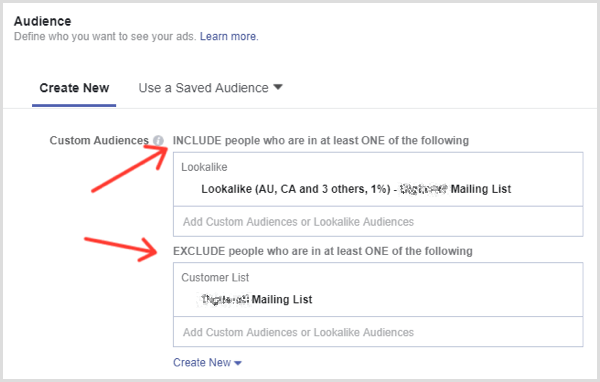 You can also layer in demographic, interest, and behavioral targeting instead of or on top of your custom audiences.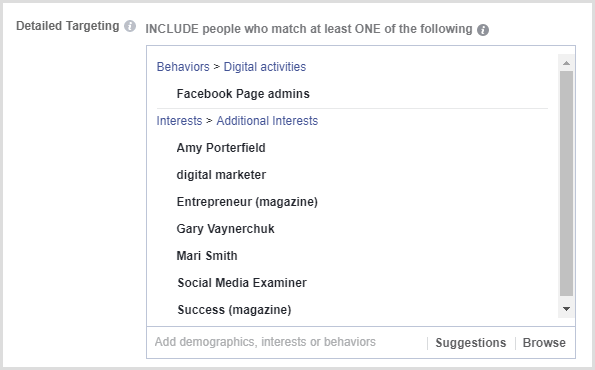 With the Connections option, you can target your Facebook fans and other variables if you want. This is helpful if you want to get email address details, too; however, this needs to be in a separate ad set from your other targets. I suggest you add a custom audience of your existing database to the exclusion list with all ad sets because you already have those email addresses.

Choose the Ad Creative
Click Continue to move on to the Ads level. Choose an ad name and under Identity, select your page and your Instagram account, if applicable.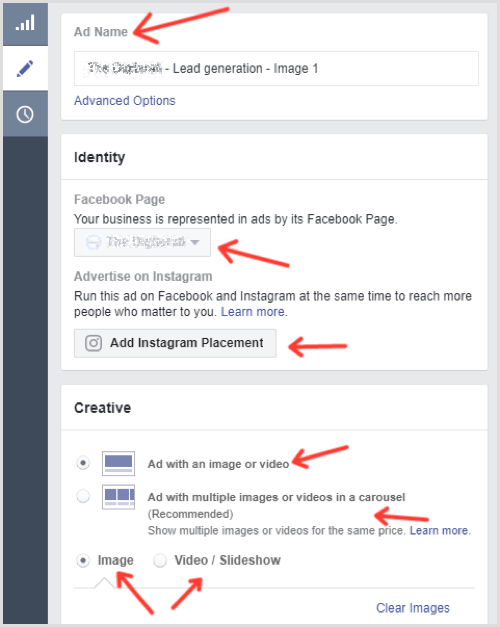 Select an ad format and upload your videos and images. You can use a broad range of creative assets in lead ads: a static image, carousel, panorama or 360 photo, or video.
Images should be in JPG or PNG format with an image ratio of 9:16 to 16:9. Carousels can include from 2 to 10 cards, and static images and video. Remember with carousels, you get the option to write copy under each card. The usual specifications for carousels apply.
Next, add a headline and text. Headlines are limited to 25 characters and link descriptions can't exceed 30 characters. Remember that copy can be truncated in some placements.
Also choose a CTA button. You can choose from six options: Sign Up, Subscribe, Learn More, Apply Now, Get Quote, and Download.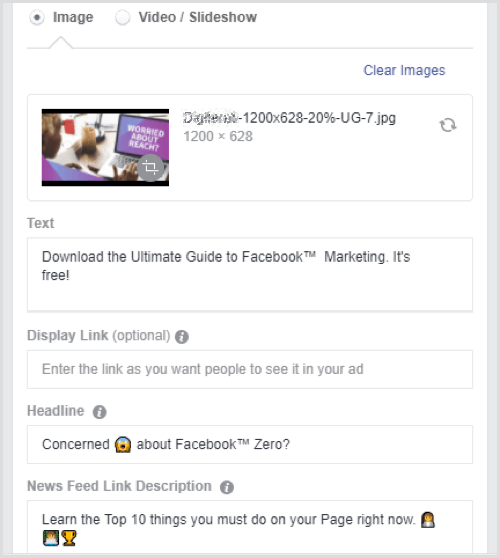 Tip: You'll notice some emojis in this example. To add emojis to your ad copy, create a personal Facebook post (set the target audience to Me Only) and add your emojis. Then copy and paste the post with emojis into your ad.
You can create up to six ads at once by uploading multiple images. If you don't have an image, you can choose one of the stock images.
Click Show Advanced Options to add the Facebook pixel.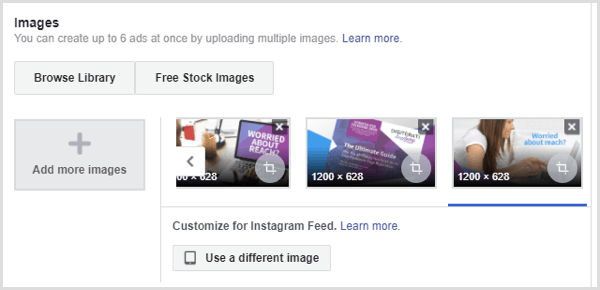 Here's one variant of the example ad: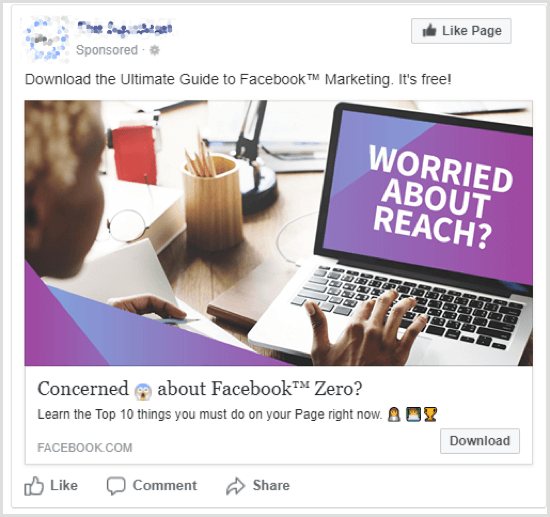 Create the Lead Form
In the Lead Form section, click + New Form to create a new lead form, or click Duplicate to select a form you've previously created. Alternatively, select a draft and edit a lead form you've previously saved.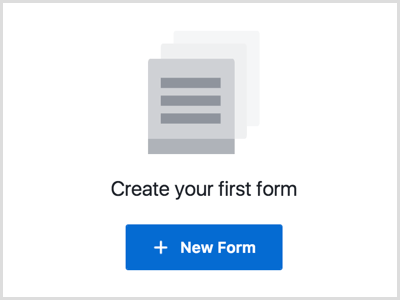 If you need to create a new form, click the pencil icon in the top left (it's currently called Untitled Form) and give your lead form a name.
On the Content tab, click Intro (Optional) and toggle the button to add an introduction screen to your lead ad. Type in the headline, choose an image, and enter information about your product/download under Layout.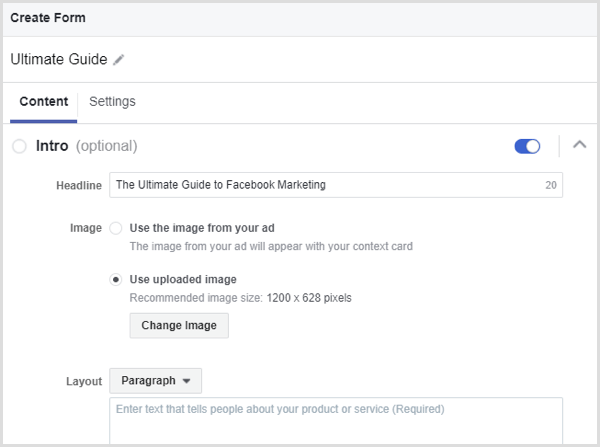 You'll see a preview of the ad on the right.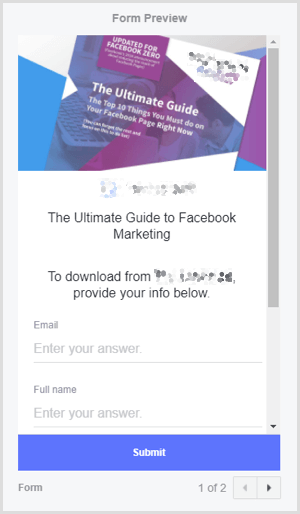 Click Questions, and then customize the headline or use the one that Facebook suggests.
Check the boxes for the information you want to collect from users on your form. To add custom questions, click + Custom Questions at the bottom of the screen.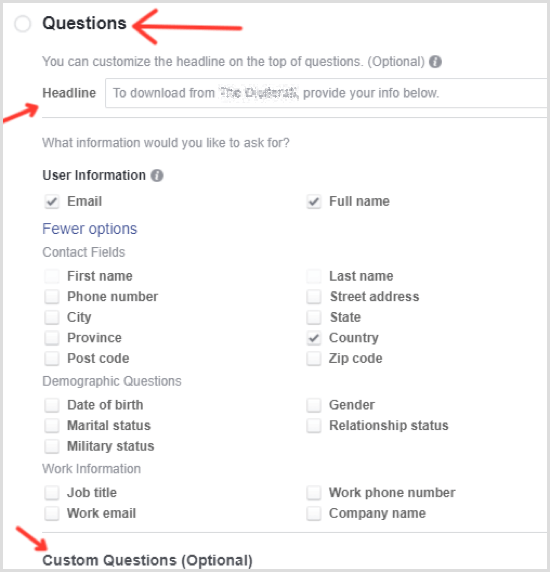 If you're modifying an existing lead form, click Finish. If this is a new lead form, click Privacy Policy and add a link. Add a custom disclaimer if needed.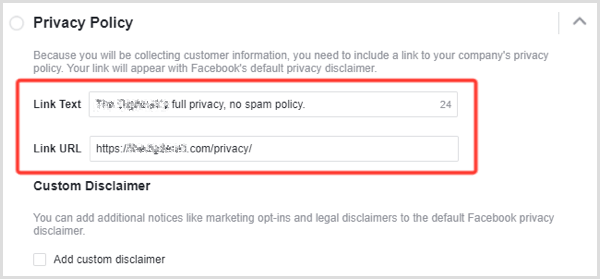 Here's a variant that includes an image and some custom text. It's a good idea to add an image of what users will receive when they sign up. You can choose a paragraph of text or bullet points in the layout field. It's always good to reinforce the benefits of clicking the Submit button.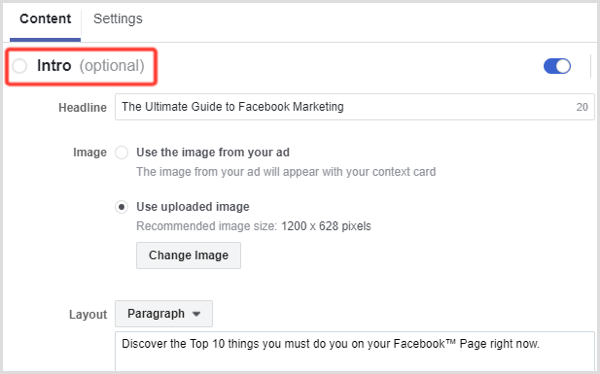 Click Thank You Screen to customize the screen that users see after they submit the lead form. You can choose a headline, description, button type (to send people to a website or to access a download), and the CTA.
Here's how it looks if you're sending people to your website: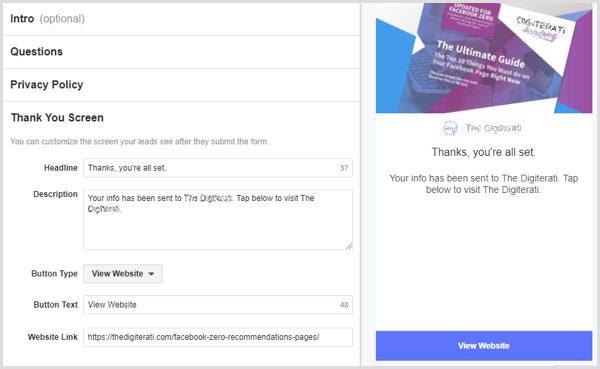 Here's the option to provide a Download button for your freebie: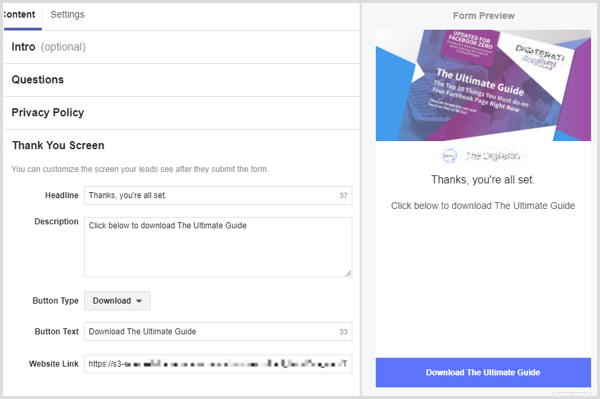 Click at the bottom of the form preview to see how your form will look. Click Finish to complete your lead form or click Save to return to it later.
When you're ready for the ad to go live, click Place Order. Your ad will now go into the approval process, which you'll be familiar with from other campaigns.
#4: Download Your Data Capture
If you've integrated your leads with your CRM, you'll get them delivered directly to your CRM system. If not, you'll be able to download a CSV file from Ads Manager, which is where you can also see your results.

Facebook supports a large number of CRM and email systems: MailChimp, Salesforce, Zapier, Zoho Social, HubSpot, and more. To integrate your data capture with your CRM, return to your Facebook page, click Publishing Tools at the top, and click Leads Setup on the left.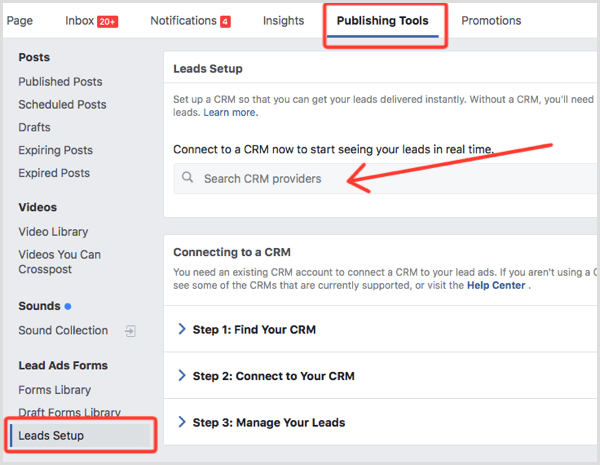 If your CRM or email software isn't supported by Facebook lead ads, you can either manually download the CSV file from Facebook and upload to your CRM, or use a bridging app such as LeadsBridge to sync the data. LeadsBridge is easy to use and starts at $260 a year. You can test drive it by signing up for a 7-day free trial.
Conclusion
Facebook and Instagram lead generation ads are designed to easily collect email addresses and other information from users. The lead ad consists of an image, video, or carousel followed by a lead form when the user clicks the ad. Obviously, you need to dangle a nice incentive to encourage users to provide that information.
Lead ads are simple to set up and with the right creative assets, they can deliver warm leads for your business.
What do you think? Have you tried Facebook lead ads? If so, how have they worked for your business? Please share your thoughts in the comments below.