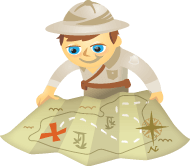 Do you want to create your own business podcast?
Do you have the passion and drive to make it happen, but you're just not sure where to start?
Keep reading for 4 tips to set you down the path of podcasting success.
Why Podcasting?
Podcasting is a unique tool that allows you to deliver relevant, on-demand and targeted content to a massive, worldwide audience.
What's special about podcasting beyond its reach is that, unlike any other social platform, it allows you to connect with your audience on a personal, one-on-one level during a time when they are looking for hands-free, audio-only content.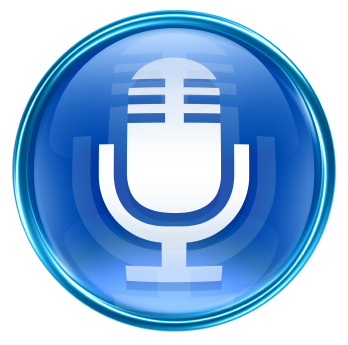 Pat Flynn of The Smart Passive Income Podcast, who was recently profiled for the success he's had with his podcast, stated, "I've been able to make a much deeper connection with my audience. When I go to conferences, the first thing people who meet me say is, 'I love listening to your podcast.'"
A podcaster's ability to create a show that consistently delivers high-quality content to a captive audience, like Flynn does, will determine his or her success.
Here are four steps you can take to set yourself up for podcasting success.
#1: Buy Recording and Editing Equipment
There are a lot of different types of equipment and software out there for recording and editing your podcast. As you can imagine, they range in price from free to really expensive. However, one of the many great things about podcasting is its accessibility—whether you have $100 or $10,000 to spend doesn't matter.
Here's what you'll need to get set up.
A Microphone
One option is to simply use the built-in microphone on your computer to record your podcast. While you will definitely be forfeiting some of your audio quality by going this route, it is possible.
The Logitech ClearChat Headset is a low-cost option ($26.78) and a big step up from your computer's built-in microphone. This headset will connect straight to your computer via USB.
Get Your FREE Course: Web3 for Beginners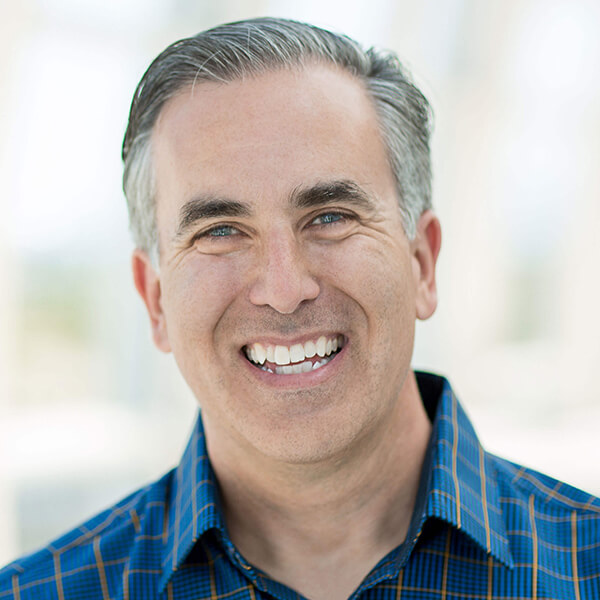 Curious about Web3, but don't know where to start or who to trust?

Introducing Web3 for Beginners, a course taught by Michael Stelzner, the founder of Social Media Examiner.

Learn the basics of Web3 and apply it to your business with this FREE comprehensive course.
CLICK HERE TO GET FREE ACCESS
If you're not willing to forfeit your audio quality on any level and have some money to spend on a high-quality microphone, the Heil PR-40 is a great option that will cost you just around $300.00. This microphone functions via an XLR connection, not via USB, and thus requires that you also purchase a mixer.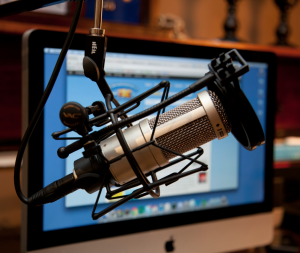 A Mixer
A mixer allows you to manipulate the audio signals, dynamics and frequency of your recording. While a mixer is not a requirement, it is an important piece of equipment to have if you want to provide your audience with high-quality audio.
If you're going to purchase a mixer, an all-in-one is the way to go. The PreSonus FireStudio Project is a great option and allows you to record audio on two separate tracks, which is a huge benefit if you plan on doing interviews. With this, you can silence out background noise and easily edit both sides of the interview. The Presonus Firestudio mixer runs around $400.00.
Recording and Editing Software
Recording and editing software is required because this is what actually allows you to record, edit and convert your audio into an MP3 file.
Much like the microphone equipment, there is a free option and an option that costs money.
Free options: Mac users can use GarageBand while Audacity is available for PC users.
Paid option: Adobe Audition is a top-notch recording software program that has amazing capabilities. If you do not subscribe to an Adobe software package like Creative Cloud, then you can check out package options or simply purchase access to Adobe Audition alone for $19.99 per month.

Use Adobe Audition to easily edit an audio file on two separate tracks.
What about recording calls if you have guests on your show?
Great question. Skype is ruling the airwaves by giving you the capability to place audio-only or video calls anywhere in the world from your computer for free. If you do use Skype to place your audio or video calls, then you should also be using either Ecamm Call Recorder (Mac) or VodBurner (PC) to record your session. These products range in price from $29.25 to $99.95.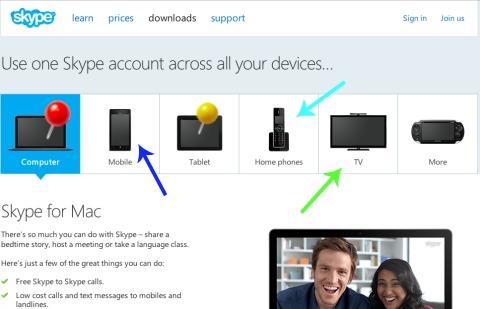 Once your call is complete, you can easily upload the file to your recording software to edit and convert it into an MP3 file.
#2: Create Powerful Intros and Outros
If you listen to podcasts, then you know some of them have great intros with music and voice-overs to introduce the show and the host. You have two options here: you can either create an intro yourself, or you can hire someone to create it for you.
Create Them Yourself
Now that you have the right equipment, you can record your own intro and outro! For a fun music background, you can search and purchase royalty-free music on sites like The Music Bakery and Pond5.
Hire Someone to Create Them for You
Music Radio Creative (high-end), Voice123 (medium-end) and Fiverr (low-end) are all great options if you're looking to hire someone to record an intro or outro for you.
Record Your Intros and Outros
Part of recording and editing your audio involves splicing in some important, relevant clips before and after your actual episode—especially during the first few months that your podcast is live.
As your podcast grows and you have a better feel for your audience, you can be the judge of how often and how long your intros and outros are.
During the first few months, you should utilize your intros and outros to provide your audience with straightforward information about your podcast and key calls to action (CTAs) that are about 60 seconds in length.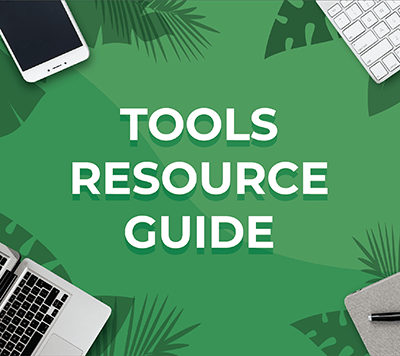 Looking for something to make your life easier?
Discover the tools we recommend to drive engagement, save you time, and boost sales across your entire marketing funnel or business.
Whether you need help planning content, organizing social posts, or developing your strategy, you'll find something for every situation.
FIND YOUR NEXT FAVORITE TOOL
Month one: Provide straightforward information about your podcast
Explain your goals and the mission of your podcast. This will allow your audience to get to know you and determine whether your show is right for them.
Tell your audience what they can expect in terms of consistency and the format of the show. How often will you publish an episode? Will it be an interview format, or a free-form talk on a topic or person of interest?
Month two and beyond: Present key calls to action
iTunes will determine whether you have a top-ranked podcast, bottom line. We'll explore this in a lot more detail later on. For now, know that having ratings and reviews is huge when it comes to your ranking in iTunes. Ask your audience for help: "Hey guys! If you enjoyed listening to this podcast, I would really appreciate your 5-star rating and review in iTunes. You can find me by going to the Podcast home page in iTunes, and then searching for [your podcast's name]."
Advertise your opt-in offer by directing people to your website and explaining the benefits they'll receive by going there. Do you have a resources page or a show notes page they can visit? What about a free offer if they opt into your email list?
You have an engaged, interested audience. Talk to them about the products and services you offer that will benefit them.
#3: Tag, Upload and Submit Your MP3
Tagging is an important step in the process. In the same way that Google and Bing use keywords and tags for their search engine returns, iTunes also uses similar keywords and tags for their returns.
Tag Your Podcast
Tagging isn't just about keywords, though.
You should also include your artwork (which should be a 1400 x 1400 pixel image), the show title, a description of your episode and copyright information so that your podcast is easily recognizable across all platforms.
A great software download you can get for free, which includes a very simple form you fill in to tag each episode, is the ID3 Editor.
Once you download this software, it will allow you to easily search for your MP3 file straight from your computer, open it within the editor itself and then fill in the information.
Enter the title, artist and album information for your episode.
In the Comments section, give a description of the episode, including any keywords you'd like to use.
Be sure to include your copyright information.
If you click the little white arrow, then the title and artist information will prepopulate for you.
Click on Pictures to upload your podcast artwork (again, 1400 x 1400 pixel image).
Click on Lyrics to fill in the description one more time to be sure it's showing everywhere you want it to be.
Click Update and your MP3 is tagged!

The ID3 Editor allows you to tag each of your episodes and upload your artwork that will appear on iTunes.
Upload Your Podcast to Major Directories
A media host is a necessary expense for creating a podcast because it's what will enable you to submit your podcast to the major directories like iTunes.
LibSyn is one of the leading and most trusted media host providers out there. Not only will LibSyn host your files, they'll also publish your podcast and give you access to their unlimited bandwidth.
There is a monthly charge based on your usage (plans range from $5 to $75), and it's well worth it when you consider the alternative of hosting your own media files on your website, which could eat up your bandwidth and slow down your website's speed.
Setting up your LibSyn account is quick and easy:
When you sign up with LibSyn, you'll receive a username and password.
Once you log in, be sure you set up your show details, including your show title and description, which is the information that will show up on iTunes.

Be sure to include keywords in your title, show slug and description in LibSyn for maximum exposure.
Your show title and description are very important, as these will help your podcast get found in different directories. Add keywords to your title that you want to rank for within iTunes for a huge plus.

Submit Your Podcast to iTunes
Once you have your podcast set up in LibSyn, you can go in and grab your RSS feed code and submit it to the iTunes store.
Great news: you'll only have to submit your RSS feed code to iTunes once; after you've been accepted to the iTunes store, they will automatically pick up your feed from LibSyn each time you upload a new episode.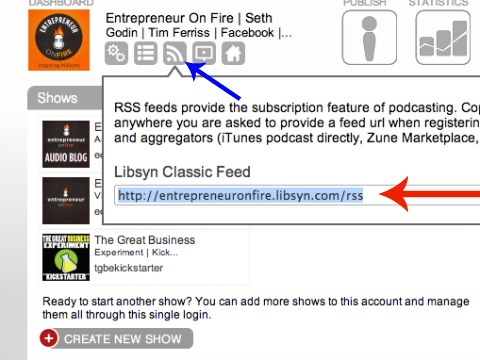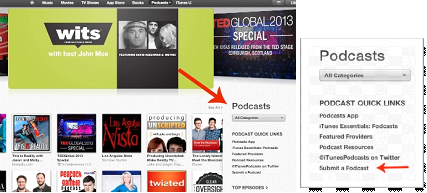 #4: Achieve Top Ranking on iTunes
Don't underestimate the power of iTunes when it comes to growing and monetizing your podcast, as this will be the pivotal platform in determining whether your podcast succeeds or fails.
The eight weeks that follow the launch of your podcast are very critical. During this time, you have the opportunity to be featured in the iTunes New and Noteworthy section. This section is THE place you have to strive to be.
Here are the criteria you need to meet to have a good shot at being featured in the iTunes New and Noteworthy section:
Your podcast was released within the last eight weeks.
You have managed to receive a substantial number of downloads.
People have subscribed to your podcast in iTunes.
You have 5-star ratings and reviews.
Once you're featured in this section, you'll be reaping the benefits of organic traffic to your podcast, increased download and subscriber numbers and multiple reviews and ratings.
Combined, these benefits will help you get featured in other sections on iTunes like What's Hot and Top Podcasts, beyond your first eight weeks of publishing.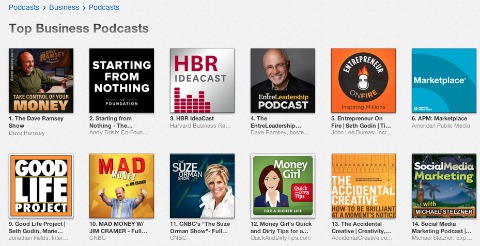 Your Turn
All of the equipment, tagging, uploading and iTunes features aside, it does take a very strong platform and a loyal audience to sustain a top-ranked business podcast. So, beyond the steps listed here to help you create a top-ranked business podcast, remember to continue building that platform and stay true to your authentic self.
In creating a podcast, you will be joining pioneers who are staking a claim in this exciting new world and experiencing an incredible journey every day.
What do you think? Are you interested in creating a podcast of your own? If you've already started, what has been your experience? Let us know in the comments section below!
Get Your FREE Course: Web3 for Beginners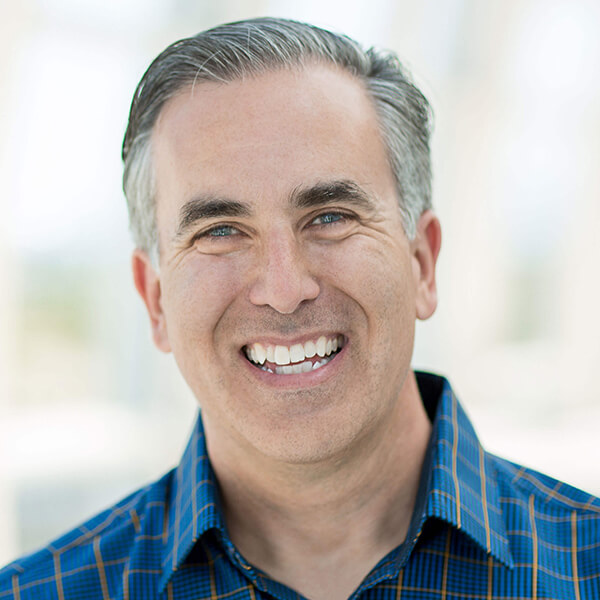 Curious about Web3, but don't know where to start or who to trust?

Introducing Web3 for Beginners, a course taught by Michael Stelzner, the founder of Social Media Examiner.

Learn the basics of Web3 and apply it to your business with this FREE comprehensive course.
CLICK HERE TO GET FREE ACCESS