Are you trying to get more local customers? Have you tried Facebook video ads targeted to your local market?
In this article, you'll discover how to use Facebook video ads to reach customers in your area.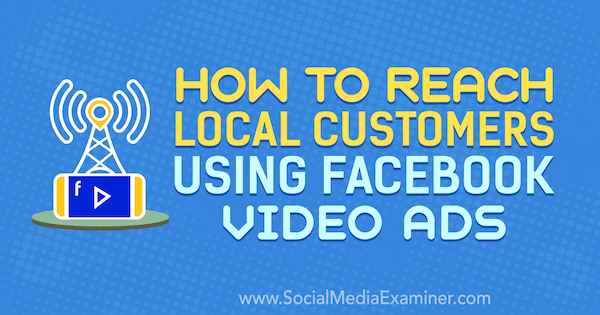 Why Local Businesses Struggle With Facebook Advertising
In my experience working with hundreds of local business owners, the number-one mistake they make with advertising on Facebook is thinking they can just create an ad offering some sort of discount (i.e., 20% off), boost that out, and the flood gates will open. They're spending money on ads so they'll see some sort of return, right?
Wrong. Advertising, when you break it down, is simple: Deliver the right message to the right person at the right time. Achieve that and you'll have an incredibly successful advertising campaign. Fail to achieve that and you won't see any results.
Why doesn't the above approach work? Let's think about consumer behavior. When you watch YouTube, Hulu, or TV, how do you feel when you see an ad trying to sell you something? You're annoyed, right?
We don't like ads. We don't like it when strangers try to sell us stuff. We don't know, like, or trust them—three things required for a sale to happen. So, as a Facebook advertiser, how can you advertise to people in your local area without annoying them? Let's look at how you can use Facebook video ads to deliver content your local market will want to engage with.
#1: Publish Micro-Video Content to Facebook to Answer FAQs
Think about what content you consume when you scroll through your own Facebook news feed. Chances are, you're watching videos on topics that you're interested in, find informative, or consider entertaining. Guess what? If you're doing that, your potential customers are too.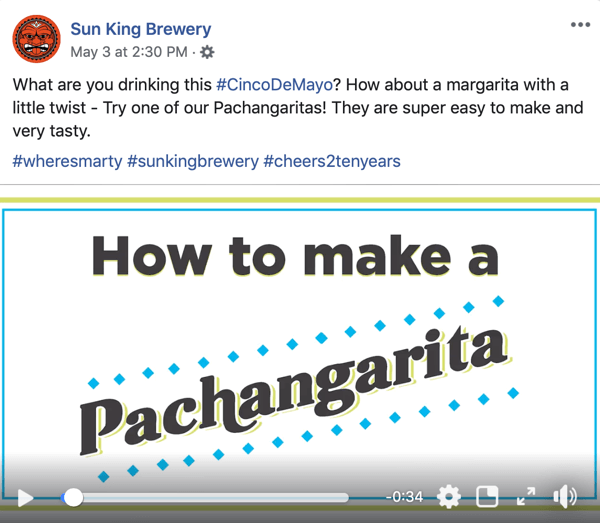 If you stick a salesy Facebook ad in their face, you're just going to annoy them. You need to create content they'll want to consume. Serve them ads that provide value. Make their lives better. Improve their experience on Facebook. Deliver a message they want to see.
The first stage of any successful Facebook campaign has everything to do with content. You need to create content people want to see when they scroll through their Facebook feed—content that builds trust.
To build a simple content strategy for your Facebook marketing, ask yourself these three questions:
What questions do customers ask you most?
What problems are they currently facing?
What phrases might they search for on Google?
List as many answers to these questions as possible. You should be able to get 50–100 answers from these three questions alone.
For example, here's a list you might put together by answering the first question above:
How much does PRODUCT cost?
What are the benefits of using SERVICE?
Who else offers SERVICE?
Is SERVICE really worth it?
What does PRODUCT help with?
What are the potential negatives from using PRODUCT?
What are your hours of operation?
Why is SERVICE so expensive?
Why is PRODUCT so cheap?
Whom can SERVICE help?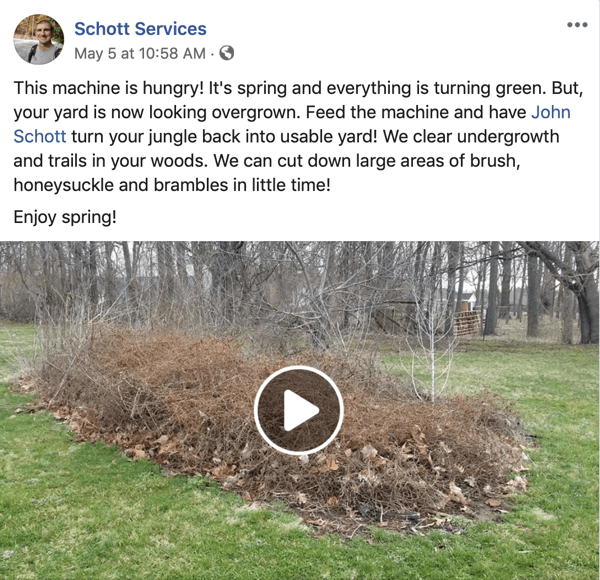 Get Your FREE Course: Web3 for Beginners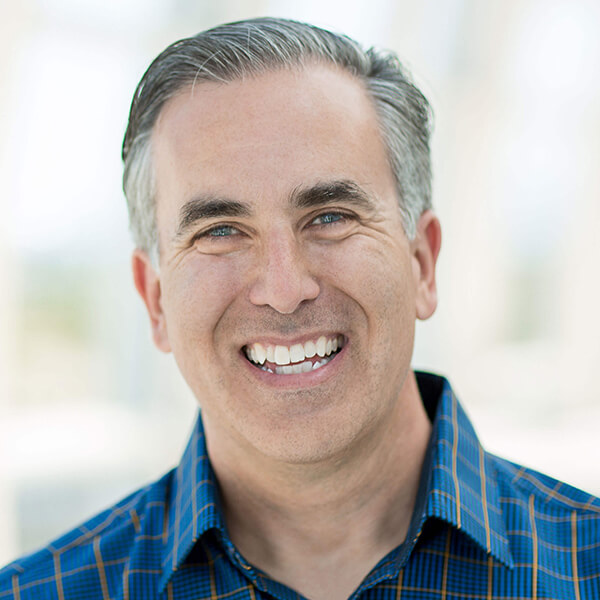 Curious about Web3, but don't know where to start or who to trust?

Introducing Web3 for Beginners, a course taught by Michael Stelzner, the founder of Social Media Examiner.

Learn the basics of Web3 and apply it to your business with this FREE comprehensive course.
CLICK HERE TO GET FREE ACCESS
You'll use these questions to form the basis of your Facebook content strategy. If you're always asked these questions, you can guarantee other people are asking them too, or typing them into a Google search. If you're not providing the answers, your competitors probably are.
Once you've gathered this information, create 1-minute videos to provide the information people are asking for. Use the questions as the video titles. The videos don't need to be super-professional or polished; you can record them using your smartphone.
Simply start creating short pieces of video content and sharing them on Facebook. While these short videos may not go viral, you're helping people solve specific problems, which is the type of content that will generate leads and sales for your business.
#2: Promote High-Performing Content to Your Local Area With Facebook Video Ads
Once you've started creating and sharing your videos on Facebook, you want to ensure the right people see them. What's the point of spending time creating content if nobody sees it?
That's where Facebook video ads come into play. But you don't want to just run ads that aimlessly promote all of your content; you need to be methodical about it.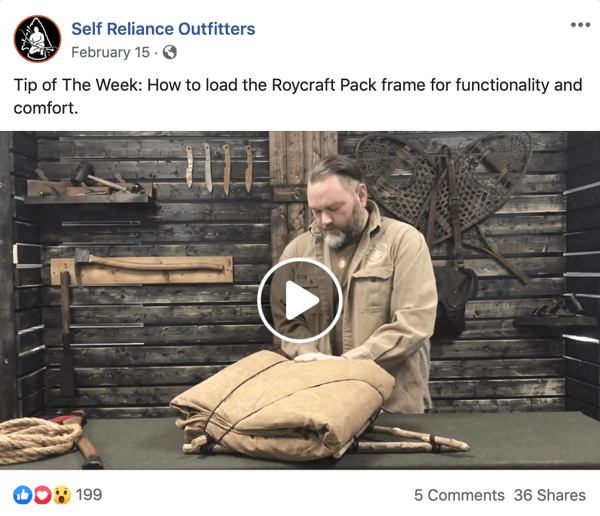 Facebook will encourage you to promote every post you make. They'll say, "Your post isn't performing well… Boost it and reach more people!" or "Your post is performing well… Boost it and reach more people!"
But you don't want to do that. Instead, focus on spending money and promoting your best-performing posts—those that perform well organically. If a post performs well organically, advertising is like adding fuel to the fire.
So how do you decide which posts have performed best? As you start to share content regularly, you'll get a good feel for what works and what doesn't by looking at indicators such as the number of likes, comments, and shares.
The metric you want to pay the most attention to is the Average Video Watch Time. To access this data for your videos, go to your Facebook page and click on More and then choose Publishing Tools.

Once your page's Publishing Tools opens, click Video Library on the left side of the page. You'll then see all of the videos you've posted on your page.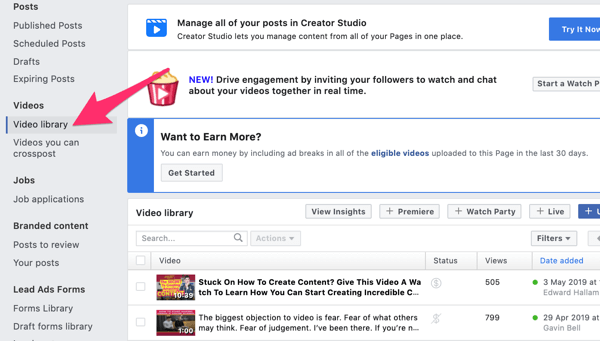 Click one of the videos to see the average watch time for it. Once you click on a video, a pop-up window will appear that shows the analytics for that video, including the average watch time.
The average watch time for a video on Facebook is 6 seconds, so if your videos are being viewed for 7-15 seconds, you're doing well. People are spending more time than average consuming your content, so you may want to promote these videos. If your watch time is above 15, that's excellent, and you'll definitely want to promote those videos.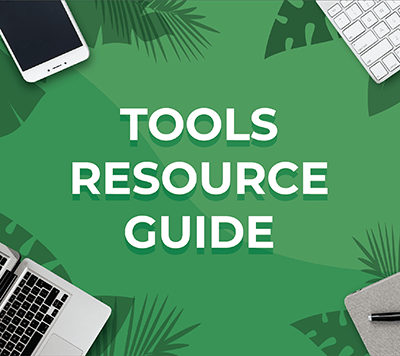 Looking for something to make your life easier?
Discover the tools we recommend to drive engagement, save you time, and boost sales across your entire marketing funnel or business.
Whether you need help planning content, organizing social posts, or developing your strategy, you'll find something for every situation.
FIND YOUR NEXT FAVORITE TOOL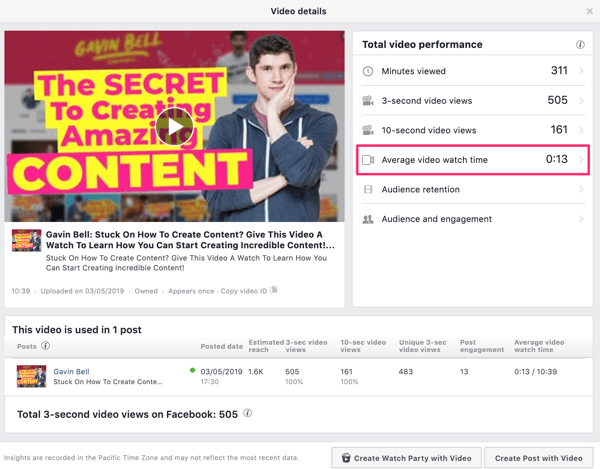 When promoting your local business's top-performing content on Facebook, create a radius around your business location and choose your demographic targeting.
However, don't add any interest targeting. Going broader with your targeting works well on Facebook for now. When you do this, you leave the heavy lifting to Facebook, asking them to find the right people rather than you trying to do it yourself—and they're better at it.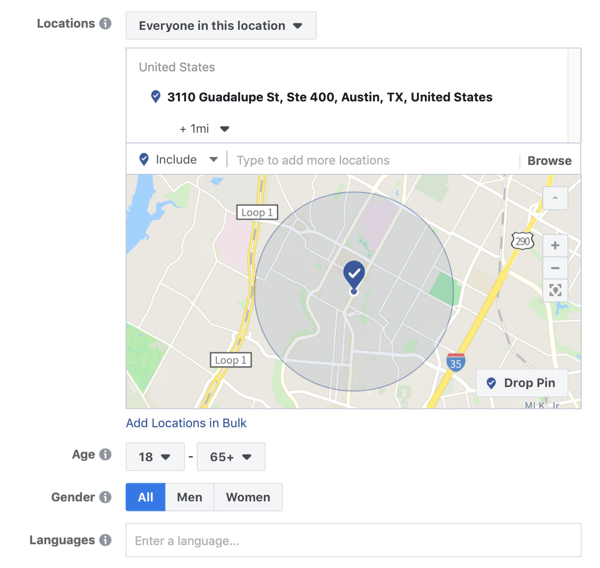 #3: Retarget Facebook Video Viewers With a Free Offer
As you start to create and promote your videos on Facebook, that content will start gaining hundreds and possibly thousands of views. Not only that, they'll be relevant views based on the content ideas you developed above and your ad targeting.
These results are great for building your local brand, but you need to bring the people who've engaged with your videos deeper into your business. You can do this by offering them something for free, such as a guide, consultation, or webinar. The goal is to draw these video viewers into your business to give you a sales opportunity.
To set up a Facebook retargeting ad campaign, first you need to create a Facebook custom audience of people who've watched your video. To do this, open Facebook Ads Manager and click on the three-line menu icon in the top left of your screen. Once the main menu opens, hover over All Tools and select Audiences under Assets.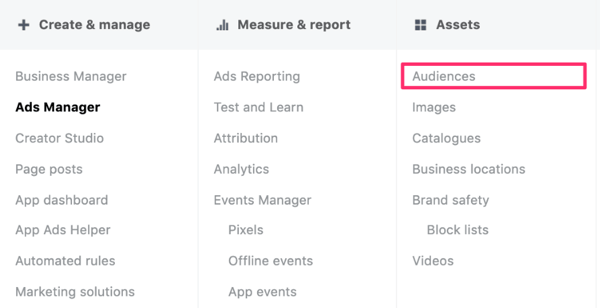 This takes you to your Audiences dashboard, showing all of the custom, lookalike, and saved audiences you've created. To build your new audience, click on Create Audience and select Custom Audience from the drop-down menu.

In the Create a Custom Audience window, you'll see a lot of different options to choose from as the source for your audience. Because you want to focus on users who've viewed your Facebook videos, select the Video option.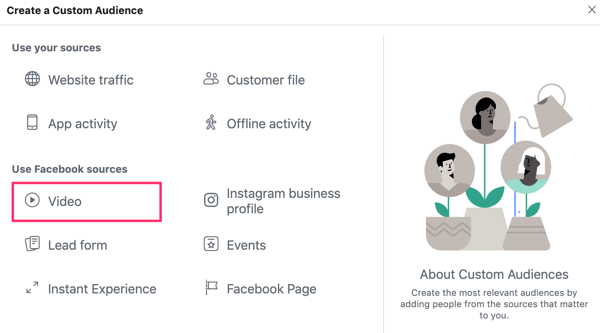 In the video engagement custom audience window that opens, Facebook asks you to define the audience you want to target.
From the Engagement drop-down menu, choose the length of time that this audience watched your video. The options range from at least 3 seconds to 95% of your video or more. I typically like to choose People Who Have Watched at Least 25% of Your Video because that's a signal that people have shown some interest in your content.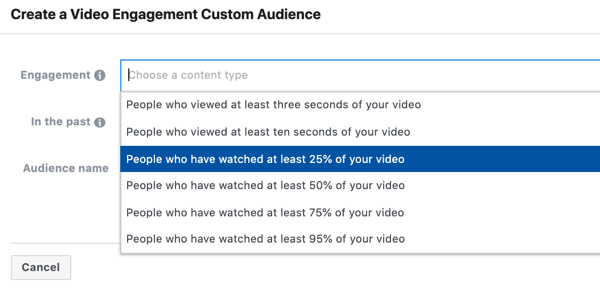 After you've chosen the viewing length, click Choose Videos to select the videos that this audience has engaged with.
In the Select By drop-down menu at the top of the window, select the Facebook Page option and choose the page to which you posted the content. Then check the boxes next to as many videos as you'd like to use. In the image below, I selected two videos. Once you've made your selections, click Confirm.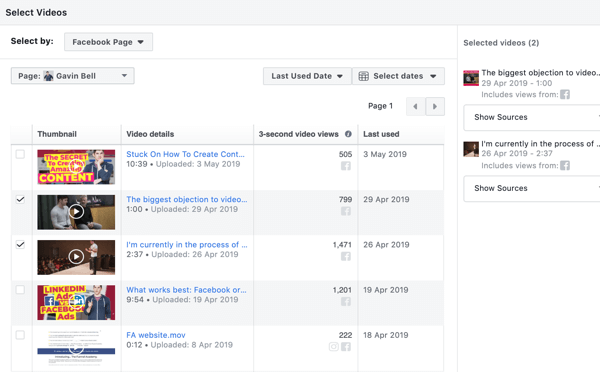 Now type in a descriptive name for your audience and click Create Audience in the lower-right corner of the window, and voilà—you've created your video views custom audience.
Now, when you set up your Facebook ad campaign and choose your targeting, simply select the custom audience you just created. Facebook will only target people who watched the videos you selected when you created this audience.
Conclusion
I'm sure by now you recognize the importance of creating content and using video in your Facebook advertising campaigns. Now you have an advantage because there are so many local businesses out there that are still not doing this.
I call this the VF method, which stands for "value first." Put yourself in the customer's shoes: If two businesses are fighting for your business, will you work with the company that provided value before making an offer or the company that rudely interrupted you and went straight for the sale?
The majority of advertisers spend their money promoting offers and discounts only to see their efforts not work, and then claiming Facebook ads don't work for them. But as you know, advertising is simply about delivering the right message to the right person at the right time. Because you're a local business owner, you know your target market (your local area) so you have one piece of the puzzle already solved.
Now you just need to create relevant content for your audience on Facebook and get it out there to the people in your local area. Once you do that, you can expect to become an authority in your area, which hopefully will result in more leads and sales generated than ever before.
What do you think? Will these tips help you drive more local foot traffic to your business with Facebook video ads? What types of videos do you plan to create? Share your thoughts in the comments below.
More articles on promoting your local business on Facebook:
Get Your FREE Course: Web3 for Beginners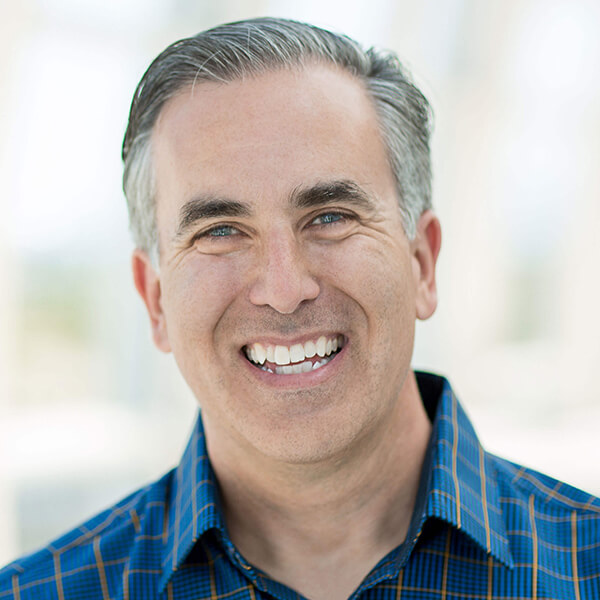 Curious about Web3, but don't know where to start or who to trust?

Introducing Web3 for Beginners, a course taught by Michael Stelzner, the founder of Social Media Examiner.

Learn the basics of Web3 and apply it to your business with this FREE comprehensive course.
CLICK HERE TO GET FREE ACCESS