Do you want more warm leads from LinkedIn? Wondering how to use LinkedIn to schedule more calls or meetings with new leads?
In this article, you'll discover how to use four LinkedIn marketing features to nurture leads.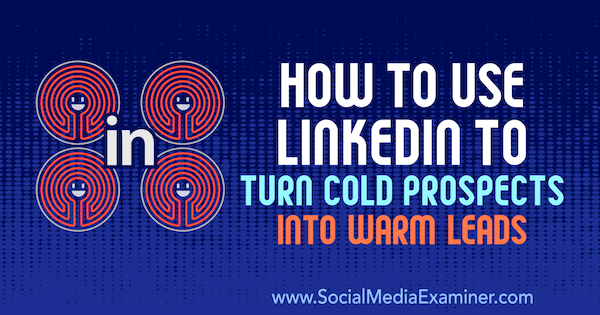 #1: Recommend a Group Post for More Exposure to All LinkedIn Group Members
In the past, LinkedIn groups have had a kind of ghost-town feel. Instead of fostering connection, networking, and engagement, they were a den of self-promotion. As part of LinkedIn's efforts to change this, groups are now part of the main LinkedIn platform instead of a side feature. It's now easier to access them from the home page, and your group conversations have more visibility in the main feed.
LinkedIn groups used to allow group owners to deliver announcements to all group members via group messaging. Now group members will be informed of group updates and conversations via LinkedIn notifications in the LinkedIn app and on the home page.
Although groups have had their drawbacks, they're fantastic positioning tools, even if your group doesn't yet have the engagement you want to see.
As a group owner, it's easier to stay top of mind because LinkedIn has a feature that lets you control which posts are promoted to your members. To recommend a group post, make sure you're logged in as an admin to the group. Then navigate to the post you want to promote.
Click the three dots in the upper-right corner of the post. From the drop-down menu, select Recommend This Post.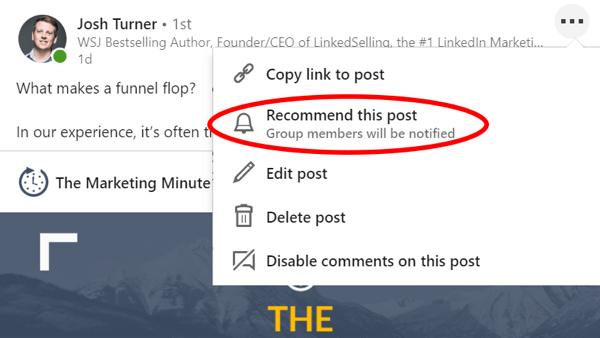 In the pop-up window, click Recommend to finalize your post recommendation.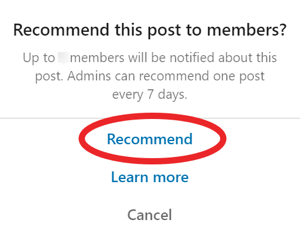 You can use this handy feature to create a weekly roundup of interesting group posts, share announcements about important information or events, and highlight interesting or trending conversations. It's a great tool to keep your group members in the know and stay top of mind.
Remember, familiarity begets trust. The more group members see your name, the better. Now that your recommended posts show up in LinkedIn's main feed, members will be more aware of what's happening in the group, and hopefully will visit and participate more often. In other words, this feature can help turn your group into a thriving community.
#2: Invite Connections to Follow Your LinkedIn Company Page
Editor's Note: This feature has not been fully rolled out and may not be available to all users.
A new LinkedIn feature lets you invite your connections to follow your company page, making it an incredibly easy way to grow your following.
To use this feature, navigate to your LinkedIn page. Under the Admin Tools drop-down menu, select Invite Connections.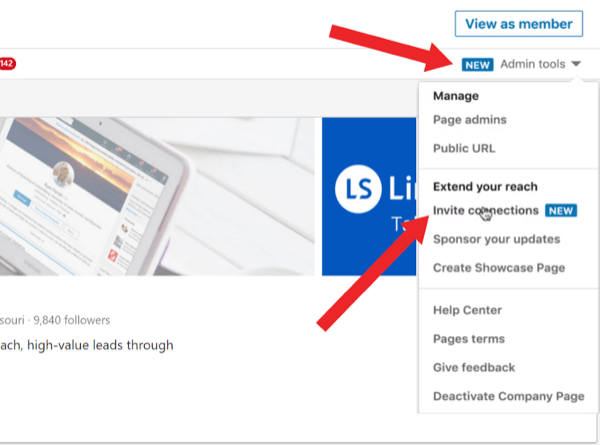 In the pop-up window, you'll see a list of all of your connections. Unfortunately, there's currently no way to filter your contacts.
Select each person you'd like to invite to follow your company page and then click Invite Connections.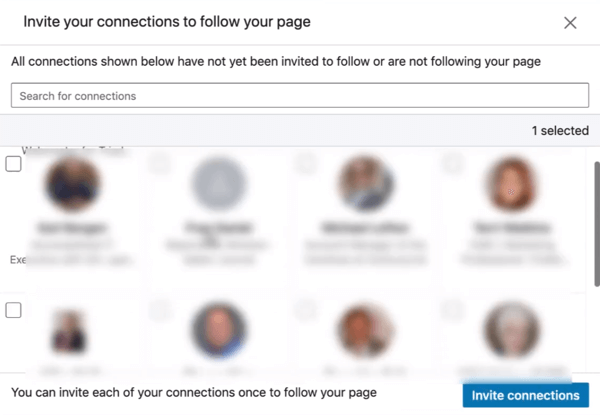 #3: Share Curated Content From LinkedIn Content Suggestions
Another way to attract prospects on LinkedIn is to regularly post content that they're interested in. LinkedIn has stepped up their game to help with this by providing a Content Suggestions feature for company pages. It's a quick and easy way to source new content to share with your followers.
To use this feature, navigate to your LinkedIn page and click the Content Suggestions tab.

In the pop-up window, select your industry and a few simple demographics about your audience (your ideal prospects). Once you've filled out the audience information, click View Content Suggestions.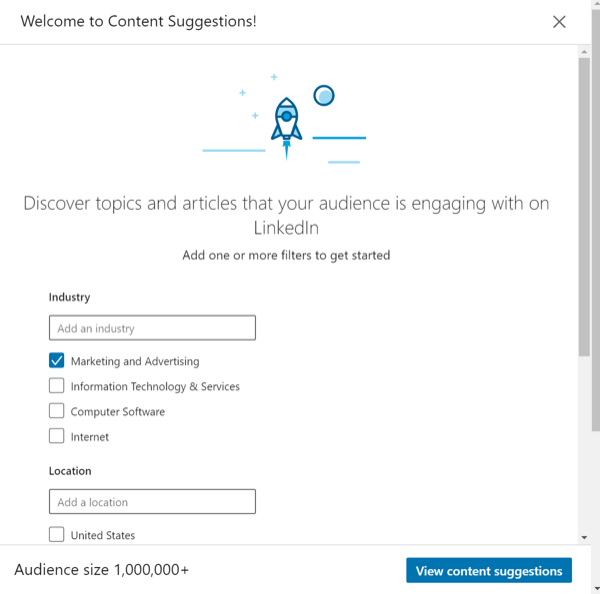 LinkedIn then shows you trending content from the last 15 days based on your selected industry and audience demographics. Not every content suggestion will be a winner so choose what you share wisely. It's important that the content is relevant to your target audience.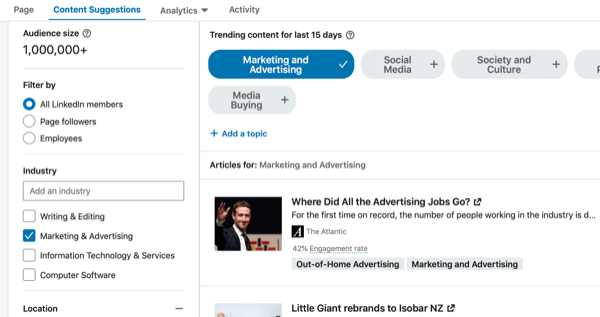 #4: Customize LinkedIn Messaging to Build Relationships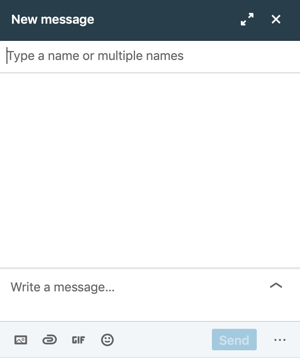 Building real relationships with prospects takes time, but LinkedIn's features make the process a little easier. What's most important is that you prioritize strategic relationship-building. This is especially critical if you're promoting a high-end offer (whether it's a service, bulk product offer, or the like). Typically, the higher the investment (whether time or money), the higher the trust level has to be.
The more that people see you online and come across your name, business, content, and work, the more they'll begin to trust you. Building relationships can entail all of that, from sending messages and sharing content to emailing prospects—anything that builds authority and trust.
When there's trust, the entire sales journey is easier and faster. And you often get better clients who are typically happier and more satisfied with your work, and maybe even stay with you longer. It's a win-win for everyone.
So how do you build trust with your prospects on LinkedIn? LinkedIn Messaging is an ideal way to make connections and build strong relationships with prospects. But to find success, you have to use the right type of messaging with your prospects.
Flooding their inboxes and pushing sales immediately will only turn them off. If you want a response, you need to provide value, approach the relationship naturally, and ask questions. You can provide value by sharing content that helps them solve a problem and ask questions that get them thinking about things that will lead them to the next step, which in most cases, is booking a phone call.
A one-and-done messaging approach on LinkedIn will most likely fail. We've had the most success with a series of (typically 4+) messages before asking about booking a consultation. We call this our multi-touchpoint nurture campaign. You'll want to test and tweak this approach for your business, but it looks something like this.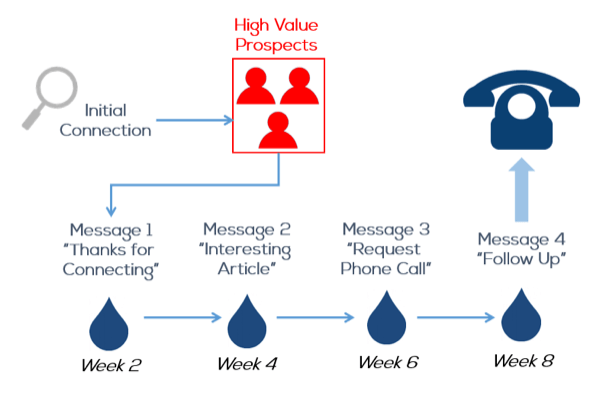 Initial Connection: Send a Connection Request
Whenever you send a LinkedIn connection request, always click Add a Note to customize the invitation.

Here's an example of the kind of note we add (notice there's no selling):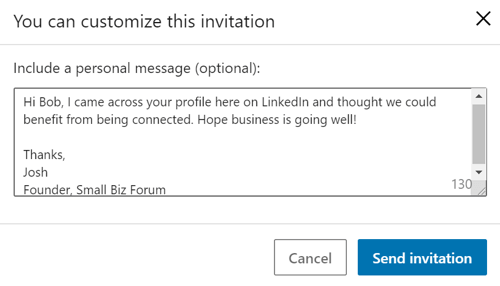 Message #1: Thank the Prospect for Connecting + Value Add
Hey Bob, 
I just wanted to drop you a quick note and say thanks for connecting with me on LinkedIn. I'm looking forward to keeping in touch.
I wanted to make sure you also received my invitation to join the Small Biz Forum.
Here's the link to the group, should you be interested: 
[LINK]
I look forward to seeing you there.
Take care,
Josh
Message #2: Share a Link to a Quality Resource (Third-Party Content—Article, Webinar, Video, etc.)
Hi Bob,
I hope business is going well for you. I came across this article that I thought you would be interested in. It talks about how to create scripts and messaging campaigns that will entice your prospects and get them on the phone with you.
You can check it out here: [LINK]
There's a ton of great info in there including the two questions that your headline needs to answer to avoid killing the conversion rates.
I'd love to hear any thoughts you have on it.
Take care!
Josh
Message #3: Request a Phone Call
Hi Bob,
I'm trying to get to know my connections on LinkedIn a little better so we both might benefit from being connected. We've been crossing paths on LinkedIn for the past couple of months and I'd love to schedule a quick call.
Would you have a few minutes to chat next week? How does Friday, March 15, in the afternoon sound?
Thanks,
Josh
Message #4: Follow Up
Hey Bob,
A few weeks ago, I sent you a message checking to see if you were open to chatting on the phone. I thought I would check back in with you to see if you were interested. As I mentioned before, I'm just trying to get to know my connections on LinkedIn a little better so we both might benefit from being connected.
I'd like to schedule a call with you. If that's not possible, I'd love to open up some dialogue with you over email. Please let me know if Tuesday morning, April 8, would work for you. I hope to hear from you soon.
Thanks,
Josh
Conclusion
These LinkedIn features and tactics will help you look more professional, be consistent in your messaging, and stay top of mind so prospects will know whom to turn to when they need your services.
What do you think? Which of these tactics will help you close more business on LinkedIn? What other tips can you suggest? Share your thoughts and advice in the comments below.
More articles on LinkedIn marketing: