Are you thinking of launching an NFT collection? Wondering how to partner with other NFT communities to improve your launch?
In this article, you'll discover how to launch NFTs with collaborations.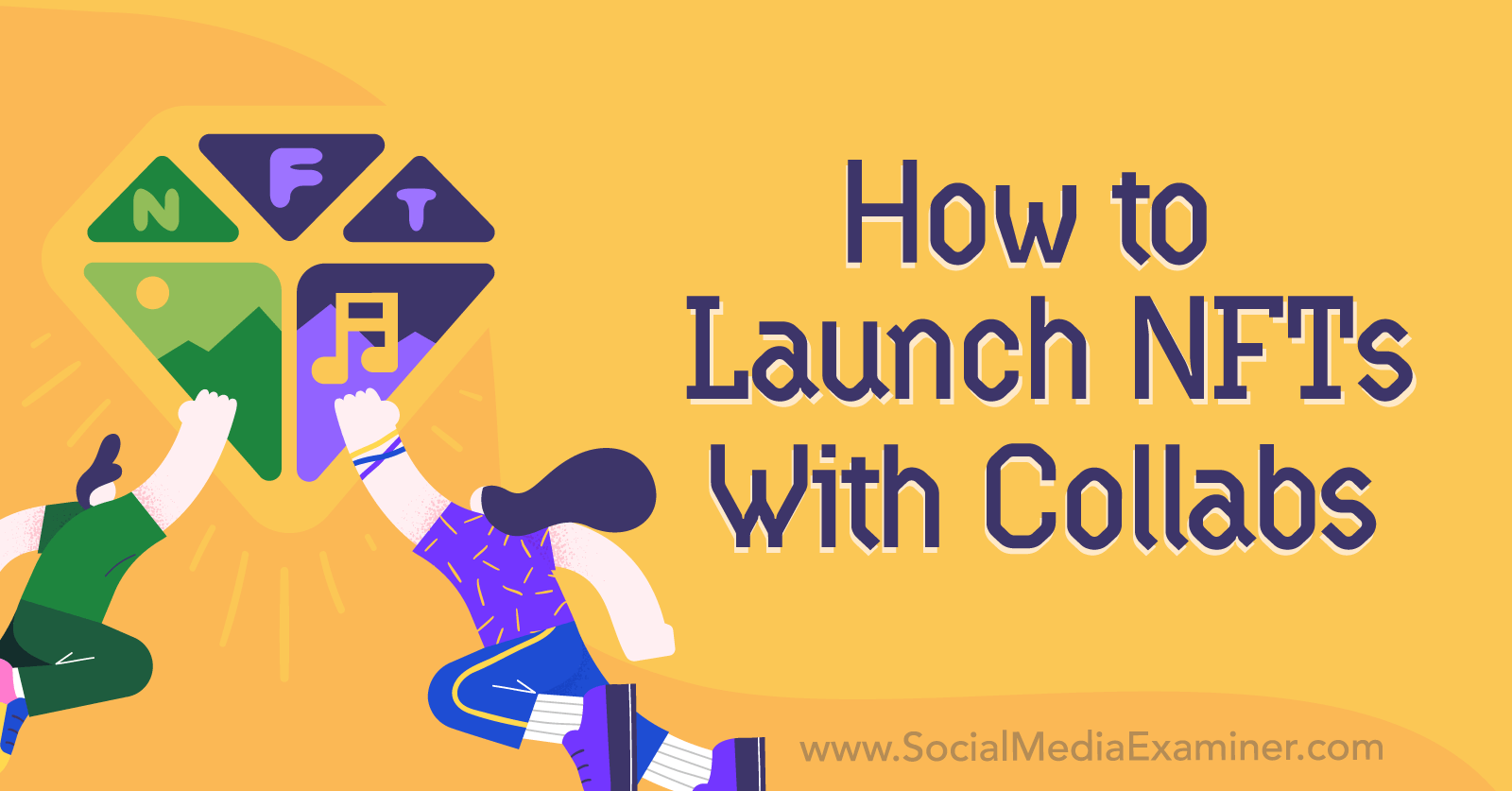 What Do NFTs Really Mean for Businesses, Marketers, and Developers?
If you're on the fence about starting an NFT project, getting clarity on a commonly misunderstood point can help you decide whether to move forward.
That common misconception is that NFTs are simply monkey jpegs—digital artwork, if you will, that holds no function beyond aesthetics.
In reality, an NFT can be issued to represent ownership of a digital asset you own. Many of us are already familiar with and using digital assets without thinking of them as such; for example:
Amazons Prime membership
Movies on Apple TV
Skin in a video game
Tokens for Clash of Clans
What makes NFTs distinctly different from these traditional digital assets?
Traditional digital assets are siloed because they exist in walled gardens. You might have a Prime membership and token on Clash of Clans but Amazon can't see if you have Clash of Clans tokens and vice versa. They can't work together to deliver enhanced value. But, what if they could…
NFT assets bring that interoperability into play in a permissionless environment.
Today, if you want to build something that interacts with Amazon's API or build an app for Appstore, you have to get permission from Amazon.
If you want to build something to interoperate with anything on the Ethereum (ETH) blockchain, there are no permissions required.
For example, CryptoKitties was one of the first blockchain-based gaming NFT projects built on ETH.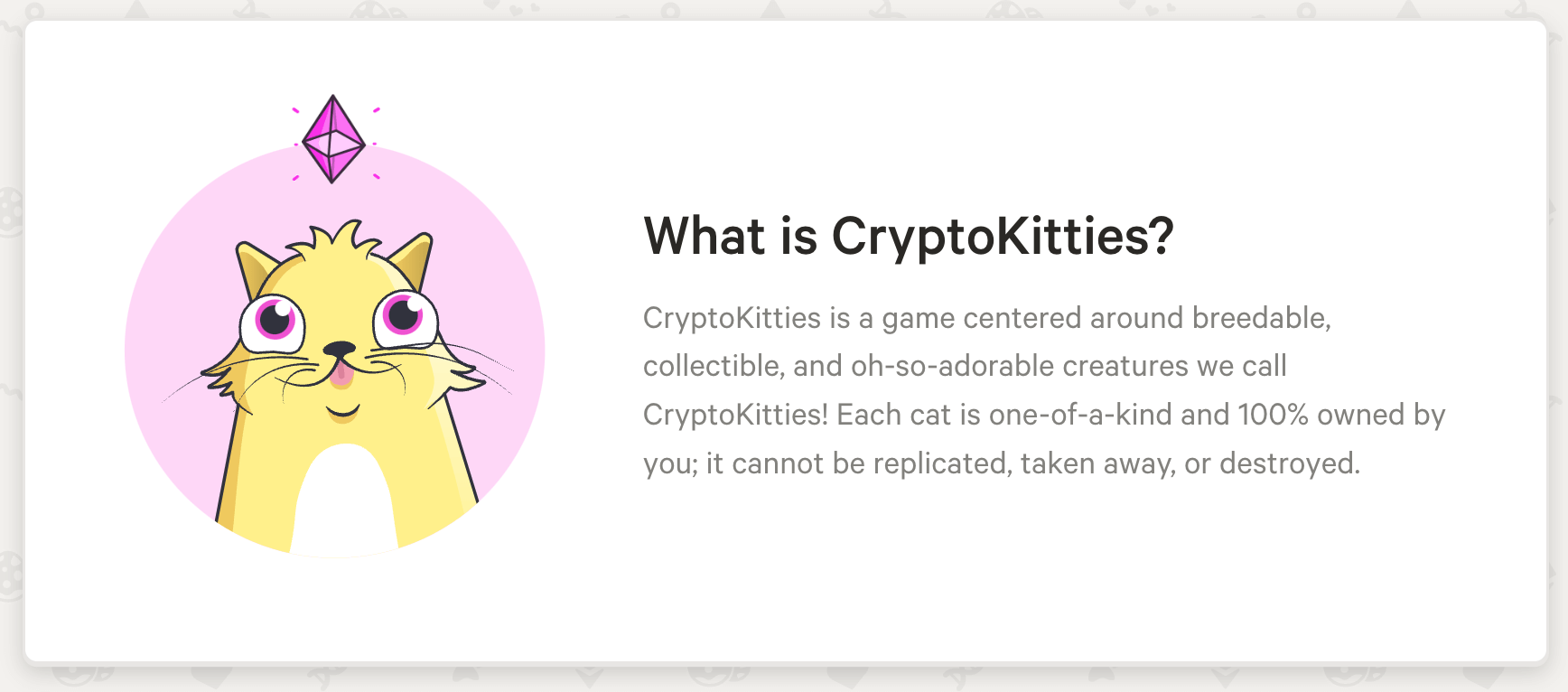 The project sold 1,000 NFTs. About 3 months after the CryptoKitties launch, a similar NFT project called CryptoDragons emerged. The only way to mint a CryptoDragon NFT was to connect your wallet and feed it a kitten, which destroyed the Crypto Kitty forever.
CryptoDragons was built to interoperate with CryptoKitties and could do so because both projects are on the ETH blockchain—no permissions needed.
That interoperability creates an interesting world of possibilities and puts a spotlight on delivering value and utility that will prompt holders to retain an NFT.
Another attribute of blockchain technology is its public nature. Everyone can see whether you hold a specific fungible or non-fungible token in your wallet, and businesses can use this to their advantage by targeting only people who hold a specific token.
#1: 3 Types of NFT Buyers You Need to Know
Broadly speaking, there are three types of people who buy NFTs: flippers, collectors, and super fans.
Keep in mind that these groups aren't mutually exclusive; one person typically functions across more than one category at any given point in time.
Successful NFT releases will have people from each of these groups involved at various stages. You'll want to give flippers and collectors your attention during your NFT launches.
NFT Flippers
Flippers are people who buy an NFT for one price with the goal of selling it for a higher price.
The knee-jerk reaction for many is, "I don't really want flippers in my community."
However, flippers represent liquidity and efficiencies in the market that are important to a launch. If you're launching 1,000 NFTs and every person who buys one keeps it, there's no trading volume in your project. Trading volume is part of what puts a project on the OpenSea leaderboard.
Flippers are also instrumental in growing visibility and creating hype in other Discord communities because they're always talking about the new hot project.
NFT Collectors
Typical collectors are just what they sound like— people who buy NFTs and want to hold them for the mid- to long-term or maybe even forever, and their motivations for buying an NFT are very different from the motivations of flippers.
While a flipper will buy 20 NFTs at 0.02 and flip them all for 0.03 to make 0.18 ETH and call it day, collectors are likely to hold onto your NFT for longer while looking for one nice trade here and there. Collectors also tend to focus on the traits of a collection and the various intricacies behind the community.
Case in point, Chromie Squiggles. If you show a Chromie Squiggle NFT to someone who's not in NFTs, they'll probably chuckle but if you show one to someone who likes Chromie Squiggles, you'll get an entirely different reaction.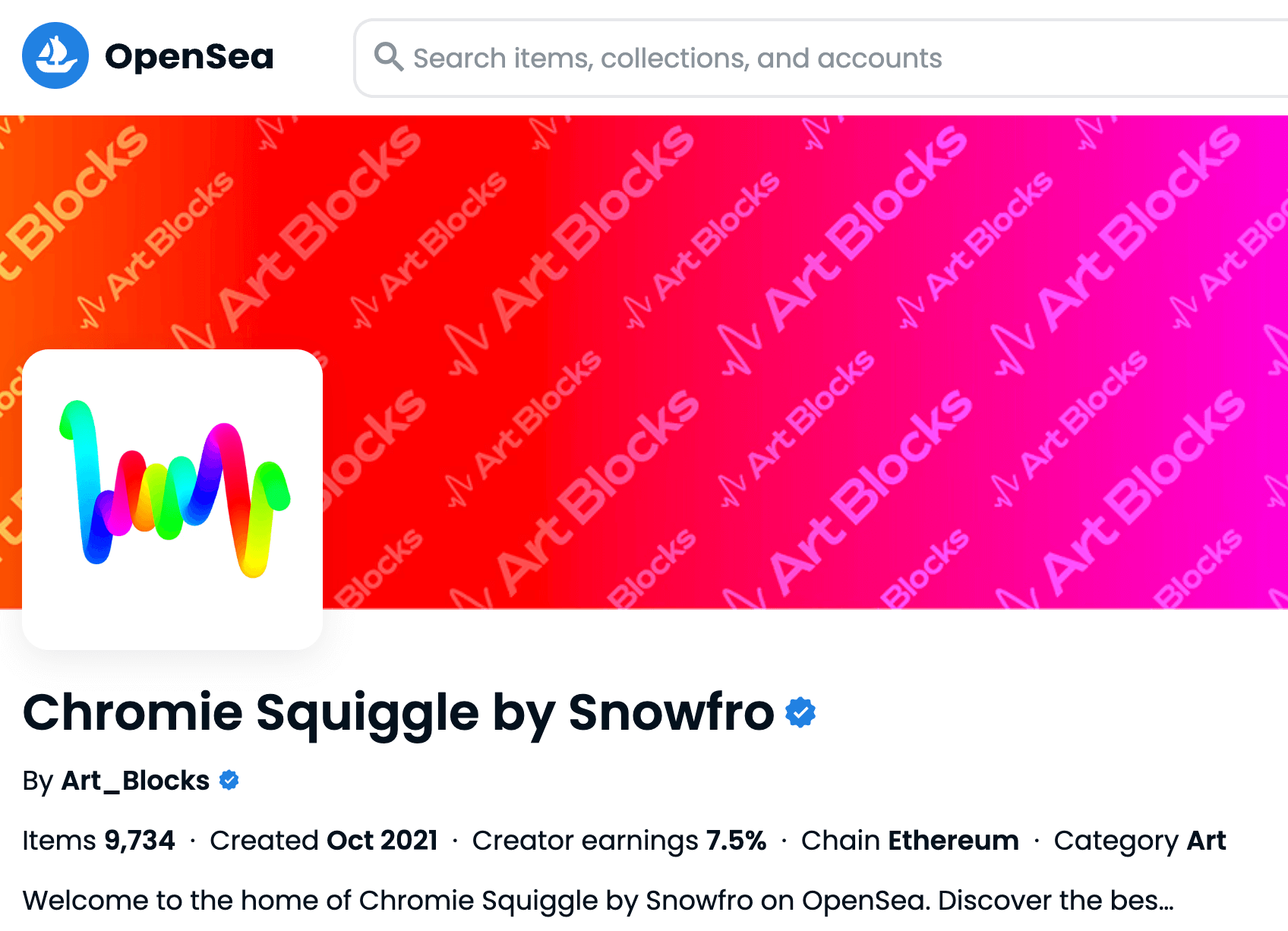 They can tell you the difference between a perfect spectrum and a full spectrum or a bold and a fuzzy, when the project was launched, and what a day zero squiggle is.
Today Chromie Squiggle NFTs sell for anywhere from 17 to 1,000 ETH.
Understanding the importance of traits and rarity to collectors can be a huge benefit when it comes to marketing your collection.
NFT Super Fans
Examples of super fans are highly visible in Profile Picture Projects (PPPs) such as Bored Ape Yacht Club, Azuki, or Moonbirds.
They promote every win you have, defend any mistake your community makes, and they actively and consistently engage with and pull your community together. They're the backbone of your community.
Often, these are the people who'll spin off their own sub-community, based on yours. For example, CloneX and CloneX Alpha, Moonbirds and the Dead Bird Society or Alpha Birds. When you have a huge community of 10,000 people or more, these sub-communities become essential for managing community value.
When you note these people in your community, it's wise to try to hire them in, at least at part-time capacity. Then you can get feedback from them because they have their ear to the ground and know exactly what's going on inside your community.
#2: What's an NFT Collab and Why Should You Use It?
In the context of an NFT project, an NFT collab is part of the NFT launch strategy in which you designate a certain number of NFTs for giveaway to NFT holders of other NFT project communities.
You might collaborate with Moonbirds by making 50 or 100 of your NFTs available to their holders via a raffle on Premint. The Moonbirds mod would announce the collab in their Discord with the payment link. Anyone who connects their wallet to verify that they hold a Moonbird can enter the raffle.

Collabs serve a dual purpose. First, they get people talking about your project in as many relevant NFT communities as possible, far beyond the initial collab announcement. During and after the raffle, people will talk about whether they won, the traits of the NFT they minted, and so on.
Second, collabs are a useful way to build up your Twitter following and Discord community membership.
This matters because when people evaluate a project, for better or worse, they check those numbers and the people behind those numbers with a skeptical eye. If you have 100,000 followers and your potential buyer doesn't recognize any of them, that's a signal that you could have bought those followers. That signal could cast doubt on the rest of your project and could result in someone choosing not to buy into your project.
When you build an organic following on Twitter and Discord, the likelihood that someone will recognize people they know or know of increases.
#3: How to Pitch an NFT Collab Offer Collab Managers will Accept
It's not a given that your collab offer will be accepted by the decision-makers in an NFT community.
Here's a game plan to help you succeed.
Get Your NFT Project In Order
Here are some questions collab managers for flipping communities will seek to answer when they evaluate your project.
Do you have a Twitter account? Have you been using your Twitter account to tease this project over time or did your account go up a week ago? Are you holding Twitter spaces? Are your engagement signals strong? Are you showing off quality NFT art or do you have a single piece of fiber art on there?
Do you have a website? Is it a cookie-cutter with a familiar rinse/repeat feel or is it a beautiful website that helps you stand out from the thousands of other NFT projects?
Do you have a Discord? How many NFTs will you mint? Is your mint price commensurate with the current NFT market? Nine months ago, 10,000 pieces at 0.25 ETH might've worked but almost certainly won't mint out today. Have you priced your mint in such a way that the members of these flipping communities can make a profit?
How far out are you from launch? If you're doing collabs today, you should be ready to mint in the next week or two. Are you minting in waves? Who's guaranteed first group, first hour?
Identify NFT Collab Community Prospects
To get the largest benefit out of collabs, you want to partner with as many unique pockets of the NFT space as possible. As you choose which communities to pitch your collabs to, it's helpful to view them through the lens of a Venn diagram so you can see which share members.
For example, the Proof and Moonbirds communities have a heavy overlap. There's even a marked overlap with Proof and CryptoPunks.
Examples of communities that don't share a marked overlap are SupDucks and Moonbirds, or GrailersDAO and Mutant Apes.
Prioritize your collab prospects so you know which to approach first and which can be crossed off as you solidify and confirm each collab.
To begin, identify 10 or 20 different flipping communities. The Underground and Wumbo Labs are examples of top flipping and trading communities to start with.

Take a look at each community's Discord. Sometimes the collab manager is listed on the right alongside the owner and the mods. Alternatively, you can post, "Hey, do you guys have a collab manager? Who handles collabs?" Somebody will respond with the contact info you're seeking.
Sometimes the collab manager you connect with can get you collabs with 10 or 20 different communities.
Pro Tip: Collab managers and their small teams will do a lot of work for you and they often do that work without pay. When you find these people, treat them well. It's not unheard of to guarantee them a mint spot or to simply airdrop an NFT to their wallets.
Alternatively, there are people you can hire to secure collabs. Twitter is a good place to find these people. Look for people who are active and especially those who post that they manage collabs for multiple projects.
Next, get in touch with the collab manager from each community. Present your project and make your offer. "Hey, we've got 20 spots we'd love to offer you guys."
From there, the collab manager will review your offer and do their due diligence.
The collab process for collectors is similar to that of flippers but with a slightly different pitch; collectors are often interested in traits and rarity so you'll need to include details about your generative art.
You'll find collectors in places like GrailersDAO, gmDAO, or even FX(hash).

Other Notes From This Episode
Where to subscribe: Apple Podcast | Google Podcasts | Spotify | Amazon Music | RSS
✋🏽 If you enjoyed this episode of the Web3 Business Podcast, please head over to Apple Podcasts, leave a rating, write a review, and subscribe.
Disclaimer: The information provided on this website is provided solely for educational purposes and does not constitute any advice, including but not limited to, investment advice, trading advice or financial advice, and you should not treat any of the website's content as such. Social Media Examiner recommends that you independently research any information contained on this Website and that you speak with an investment professional before making any decision to purchase, trade, hold or sell cryptocurrency. Nothing herein should be treated as a recommendation to buy, sell or hold cryptocurrency. Social Media Examiner cannot guarantee the accuracy of any information listed on the website and is not responsible for any missing or wrong information. All information is provided as is and should be used at your own risk. Social Media Examiner disclaims all responsibility and liability for your use of any information found on the website.