Want better results from Instagram? Looking for optimizations that could result in more engagement and sales?
In this article, you'll discover how to improve your Instagram account.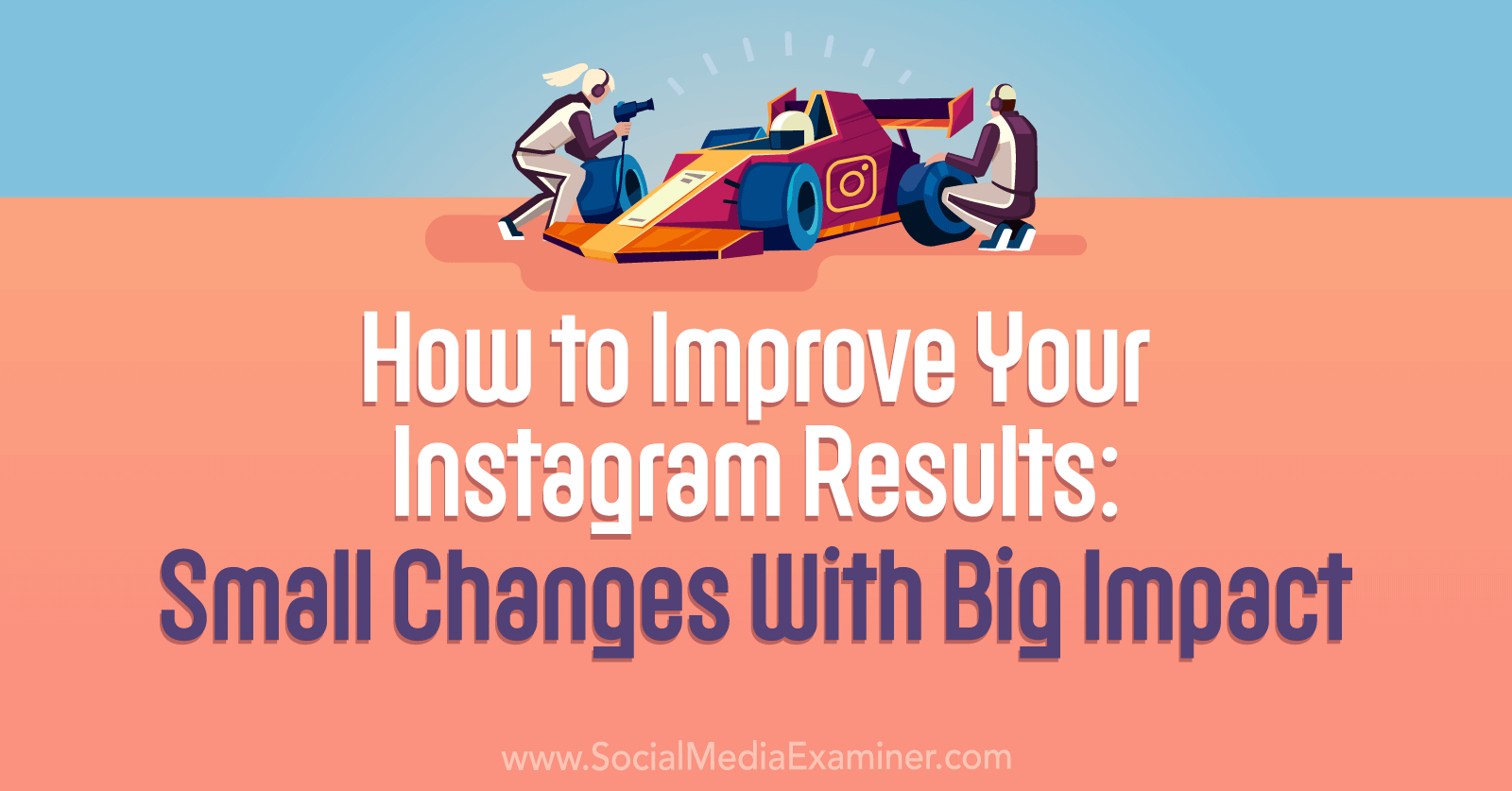 Why Should Marketers Audit Their Instagram Work?
As one of today's most popular social media platforms, Instagram has created a space for individuals, businesses, and influencers to showcase their talent, products, and services.
As a marketer, if you are struggling to reach desired results from your Instagram marketing, then it might be time to audit your work. Auditing your Instagram account gives you the opportunity to fully revisit and evaluate each element of your page and ensure that it's performing as well as it can.
Instagram, as well as many other social media platforms, is constantly evolving. It's necessary to pause and review your work so you know how to best move forward. While auditing your Instagram account is not necessarily a quick process, it is essential to discovering problem areas.
#1: Audit Your Bio
The first area to audit on your Instagram account is your bio. Your bio is made up of your profile picture, profile name, value statement, links, and contact information.
Much like window shopping, your bio is the first, if not only, opportunity you have to grab the attention of a potential follower. It's also an opportunity to communicate the value of your page.
Profile Picture: Logo vs. Photo
Is your Instagram account used for a small business? Is it a personal account?
Use a logo for a business account. If you have a personal brand, it's good to use a photo of yourself. Make sure the subject is clear (no group photos). If you are using a logo, it needs to be easily identifiable.
Profile Name
Not to be confused with your Instagram handle, your profile name is the bold text under your profile picture.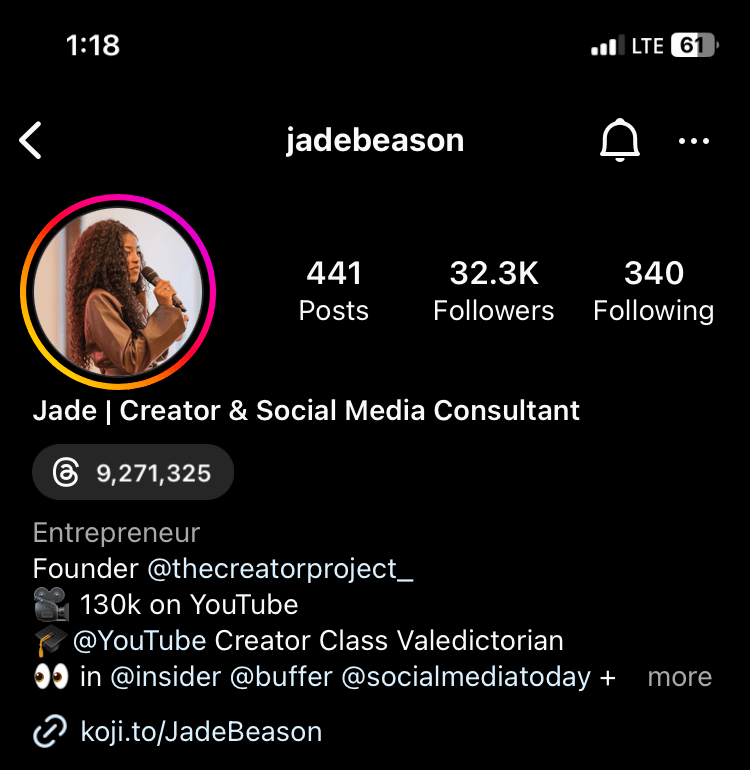 This is gold dust. It is how potential followers find you. Include a keyword or two that describes who you are and what you do, something you imagine your target audience actively searching for on Instagram. This will increase your chance of being discovered.
Instagram gives you the option of selecting a category that appears under your profile name. This could be "Entrepreneur", "Public Figure", or "Education", for example. Choose wisely. Some Instagram features are only accessible to certain kinds of accounts. If you are a business, for example, you may not have access to the full music library reels pulls from due to copyright licensing.
Value Statement
Ask yourself, what value am I offering to my followers? Your potential followers are looking to get something from you, and if they don't think they are going to get that thing from you after reading your bio, they are probably not going to follow you. Your value statement can be as simple as filling in the blanks: "I share, X, Y, and Z", or "I will help you with X, Y, and Z". Be clear, concise, and specific.

Instagram gives you about four lines of text here, and the fourth line is usually hidden until a follower clicks "more". So make the fourth line good, but not so good you're going to be upset if a potential follower doesn't see it.
You can also add credibility points (how many followers you have on YouTube or articles you've been featured in, for example) and links that further point to who you are and what you're offering. Providing a call to action is a good way to increase your chances of someone clicking on your link, like offering free resources.
Put yourself in your audience's shoes. Be specific about what kinds of followers you want to attract. Don't fall into the trap of creating a bio and content that is for everyone.
#2: Audit Your Page Features
Are you using the right mix of core features, and are you using them correctly?
Instagram Stories and Highlights
Whether it's short form or long form, stories are an incredible resource to help you bond with your target audience. Go to your archives and review your stories from the past several months. Ask yourself, "Is this bringing people into a part of my life or brand that I'm not currently sharing on my feed?". Are there any other elements that would help your audience get to know you on a slightly deeper level?
Your highlights become a playlist of your favorite stories. The stories that triggered the biggest response are the ones you should add to your highlights. Then you can create highlight categories that are relevant to your content and audience.
Reels, Photos, and Carousels
When it comes to using core feed features, like reels, carousels, and photos, quality is key. No one likes looking at a fuzzy video, image, or graphic. When reviewing your content, check to see if you are uploading it at the highest quality.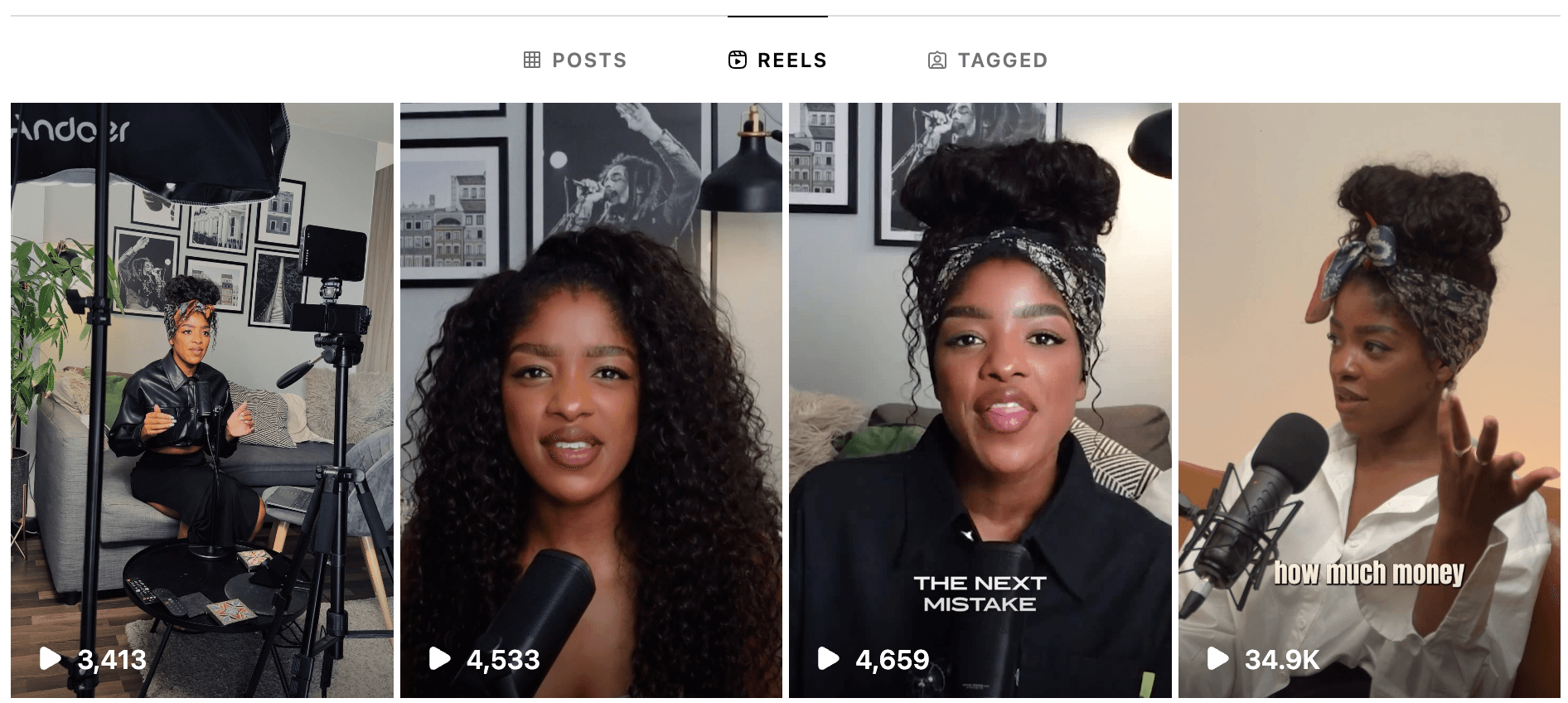 Pro tip: Go into your settings on the Instagram app, and search for "Data usage and media quality". Make sure "Upload at highest quality" is turned on. This option is usually automatically off because when you upload high-quality video it uses more mobile data. You can also change your camera settings on your phone to ensure you are filming in 4K.
Some other important elements to consider when it comes to your reels:
How often are you using audio to enhance your reels? Instagram is naturally an audio-off platform, so it's important to use closed captions when you are saying anything of value.
Are you paying attention to the reels that are tending?
Are you experimenting with different formats (speaking to the camera, vlog style, etc.)?
What are you putting at the start of your reel that is going to hook your audience and get them to stop scrolling the next time they see your content?
There is a popular belief that carousels can be anything—a random assortment of images and videos with zero strategy behind them. While this may be true of the trendy "photo dump," it is not necessarily true of carousels.
Apply the AIDA model when thinking about your content. The first slide should be attention-grabbing, the next should spark interest, the third should relate to some desire your audience has, and the last slide should be an action. This model works especially well for businesses that use graphics in their carousels.
When it comes to photos, it depends on what type of photo you're sharing. If you're a business, avoid sharing photos of products or services all of the time. That kind of content can get stale very quickly. Think creatively, like using a customer testimonial. Even if you're just uploading a pretty photo, don't forget you still have the caption to tie in value and meaning. Think about your audience, pay attention to how they react.
#3: Audit Your Followers
How healthy is your following audience? When reviewing your followers, it's important to be honest with yourself. It's a good idea to remove bots and any purchased followers. This will make room for more organic growth and ensure authentic engagement.
Unfortunately, Instagram does not like it when you try to remove followers in bulk. So getting rid of bots can be a time-consuming process.
Look for these signs when trying to spot bot accounts among Instagram users:
No profile picture
No posts
Following a lot of accounts
Hardly any followers
If you have 100,000 followers, let's say, you probably aren't going to have the time or resources to delete every bot. While there are programs that can run reports and help you detect bots, you might have to make peace with the fact that your account might not be bot-free. Just keep that in mind when you're analyzing your account.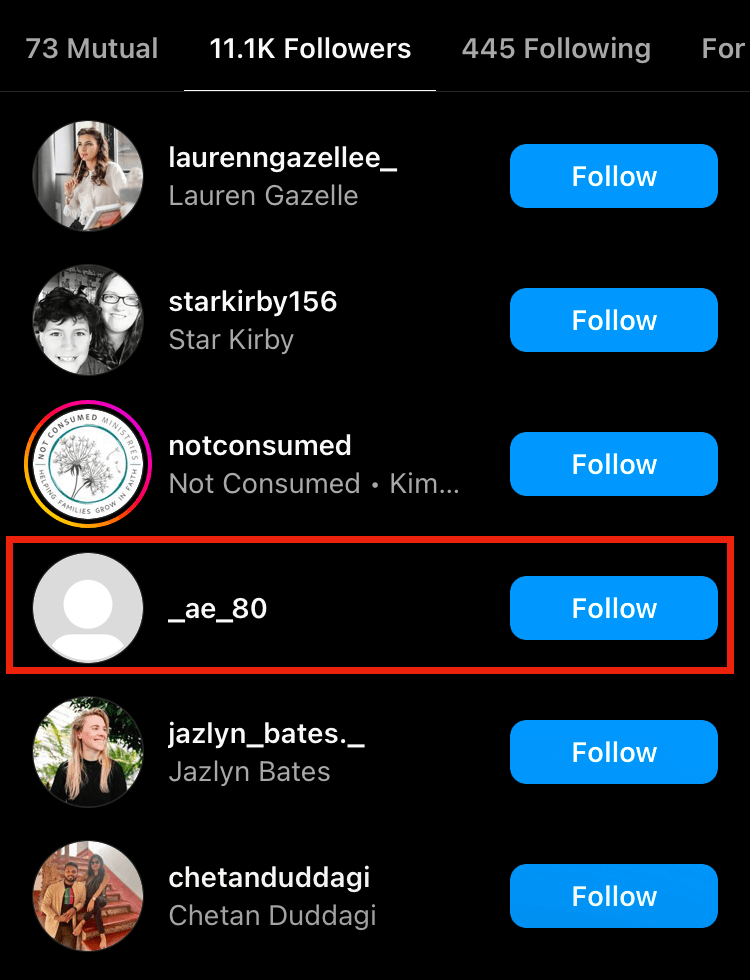 Next, study your engagement rate. There are two types of engagement rates:
Industry Standard: Total follower count divided by engagement. This not only gives you a percentage of followers that engage with your content but also gives you an idea of how many followers are actually seeing your content.
Broad Standard: This gives you an average engagement rate. If you have 0-5,000 followers, your engagement rate will be about 6%; up to 20,0000 followers, 3%; 20,000 plus, 2%.
Generally speaking, as your following and visibility increase, your engagement naturally decreases. On the other hand, if your follower base is small, your engagement rate might be higher.
If you want to get a true engagement rate, go into your Instagram insights and look at the last 30 days. Divide your total reach by engagement and multiply by 100. Of the people who see your content, this will tell you how many of them are engaging with it. You can use this for followers and non-followers.
#4: Audit Your Content
When it comes to your content, are you creating with intention?
Just like your bio, your content needs to have value. You should have a clear goal or objective for every post. This will allow you to better evaluate it.
Let's say, for example, you make a creative post about a product you are selling with the intention of increasing sales. When you audit the post, you notice that the reach and engagement are low. But your intention was to increase sales, not to increase engagement.
Pro tip: Go into your Instagram insights and filter core content, like reels and stories. Look at the Instagram analytics reach and engagement. Save the ones that performed well in a separate folder. This is your best content. Find a way to recreate these Instagram posts.
Here are some other elements to keep in mind when it comes to your content:
Keep a consistent posting schedule where you're posting 2-3 times a week
Post a variety of content and captions
Have a hashtag strategy
Be authentic
Keep a consistent tone of voice
Keep your feed curated, aesthetics are important
Other Notes From This Episode
Where to subscribe: Apple Podcasts | Google Podcasts | Spotify | YouTube Music | YouTube | Amazon Music | RSS
✋🏽 If you enjoyed this episode of the Social Media Marketing podcast, please head over to Apple Podcasts, leave a rating, write a review, and subscribe.
---
Stay Up-to-Date: Get New Marketing Articles Delivered to You!
Don't miss out on upcoming social media marketing insights and strategies! Sign up to receive notifications when we publish new articles on Social Media Examiner. Our expertly crafted content will help you stay ahead of the curve and drive results for your business. Click the link below to sign up now and receive our annual report!