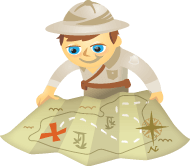 Are you building a network on Google+?
Do you want to keep your connections organized?
Sorting people and pages into circles allows you to read the news you want from your stream and connect with specific audiences.
In this article I'll share how to use circles to improve your Google+ network.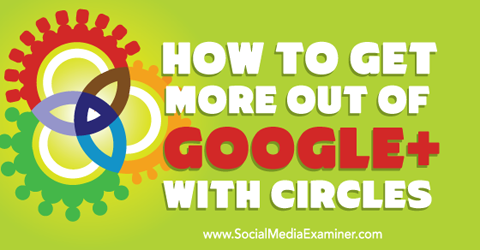 Listen to this article:
Where to subscribe: Apple Podcast | Google Podcasts | Spotify | RSS
#1: Fill Your Google+ Circles
Google+ profiles and pages use circles to organize the contacts they follow. Think of circles the same way you would Facebook interest lists or Twitter lists, but with more functionality. Both profiles and pages can add other profiles and pages to their circles to follow their public updates.
Profiles come with four default circles: Family, Friends, Acquaintances and Following. Pages come with four default circles: Following, Customers, VIPs and Team Members. Use these circles or delete them and create your own custom circles.
There are a few ways to add people to circles. Hover over the Add to Circles button on Google+ profiles or click the Follow button on Google+ pages to add someone to a circle. Add profiles and pages to multiple circles, based on how you plan to use them.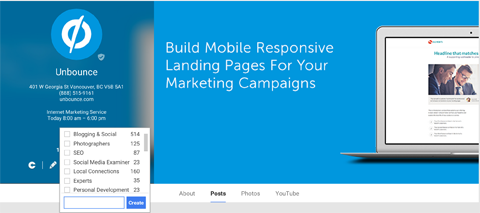 To see people and pages that have added you to their circles, click on the notifications icon near the top right of your Google+ screen. Then hover over the Add button to put those people into your circles.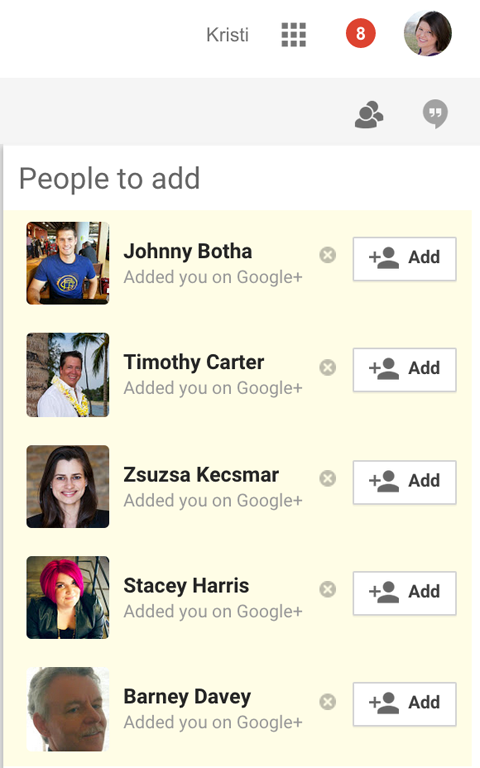 While logged in as your Google+ profile or page, click on People in the left sidebar menu. Those are people and pages that have added you on Google+, as well as suggested people and pages from Google+. You also have the ability to search for your Gmail contacts, colleagues and classmates on Google+.
Hover over the Add buttons to put these people and pages in your circles. You can also drag people and pages into circles in the Your Circles view.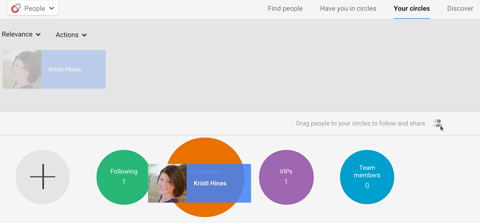 Now that you know how to add people and pages to your circles on Google+, let's look at the ways to use circles to customize your experience and your Google+ marketing.
#2: Filter What You See by Circle
One way to use your circles on Google+ is to filter your stream (news feed). As you add people and pages to your circles, think about how you would like your stream to be organized. Then add people and pages to circles according to those categories. Use the menu bar at the top of your stream to filter by your circles, so you get whatever information you want to read, when you want it.

The Google+ iOS app has a similar menu at the top to filter your stream. Click on the All drop-down to see a list of your circles, and then select a circle to view its updates.
🌟 Ready to Supercharge Your Social Marketing Strategy? 🌟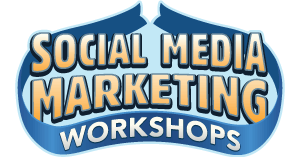 Struggling with your social marketing? You're not alone. The solution? The Social Media Marketing Workshops!

During these live 2 hour deep-dive workshops, you'll discover what's working now on Instagram, Facebook, TikTok, YouTube, and LinkedIn. Skyrocket your engagement, broaden your reach, and amplify your sales.

Become the marketing hero your company and clients need—without leaving your home!
🔥 Save $670 on an All-Access Ticket! Sale Ends Tuesday! 🔥
GET YOUR TICKETS NOW
#3: Target Your Circles
Share Updates With Specific Circles
Sharing to specific circles is just like sharing to friends' lists on Facebook. Think about the groups of people who would enjoy specific types of updates, and then add people and pages to circles according to those categories. When you create targeted updates, select the relevant circles of people to receive them.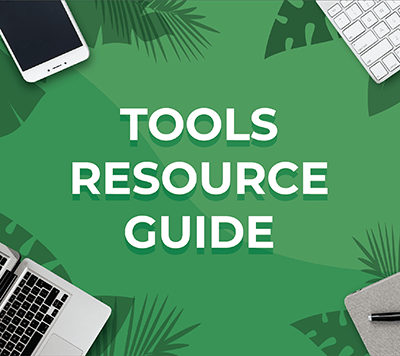 Looking for something to make your life easier?
Discover the tools we recommend to drive engagement, save you time, and boost sales across your entire marketing funnel or business.
Whether you need help planning content, organizing social posts, or developing your strategy, you'll find something for every situation.
FIND YOUR NEXT FAVORITE TOOL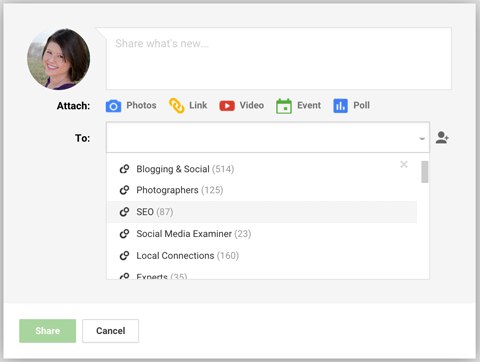 For updates you want to share with everyone, use the Public option. For updates you want to keep private for friends and family, or share with only members of your business's VIP group, use their circles.
When you share to specific circles, everyone in those circles will see who received the update.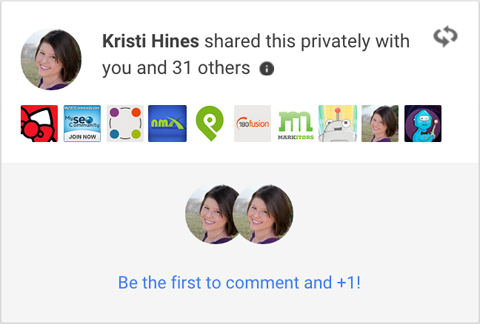 Keep this "public" aspect in mind when you decide which people and pages to add to what circles.
Email Your Circles
One advantage of sharing updates with specific circles (as opposed to publicly) is the ability to send an email to the people and pages within those circles. This feature works depending on the settings for people and pages in your circles and whether those people and pages have added you to their circles.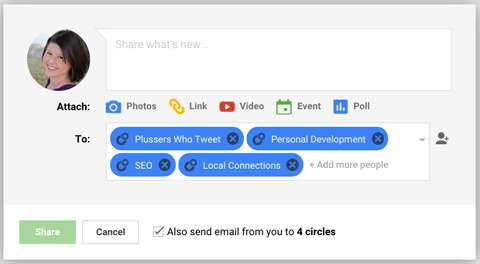 Remember, the email feature only works for a total of 100 people or fewer. Therefore, you may want to create one or multiple circles for the specific purpose of sharing via email. Recipients will receive an email that looks similar to this.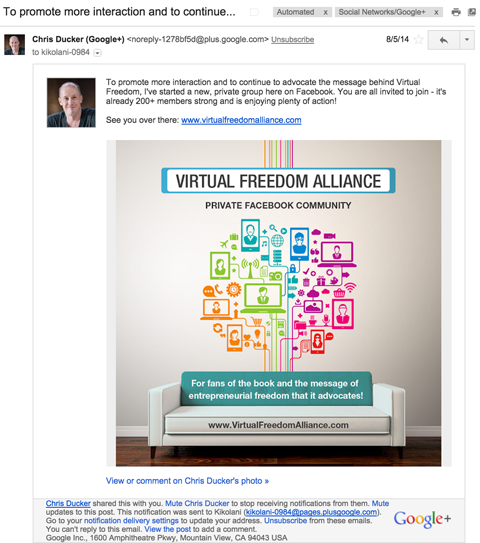 Only use the email feature for updates that really count, so your followers don't unsubscribe because you send too many updates to their inbox.
Hang Out With Your Circles
If you're not yet ready for public blabs, Google+ allows you to host hangouts for only your circles or certain individuals. As you add people and pages to your circles, consider what groups of people you would want to have as part of your hangout broadcasts, and add people and pages to circles according to those categories.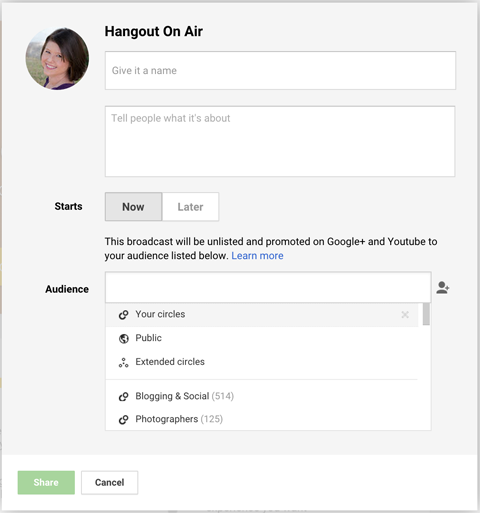 Host live video sessions with specific audiences, such as your colleagues, co-workers, friends, customers, subscribers and other groups of people and pages. It works for both hangouts on air (as shown above) and video hangouts (as shown below).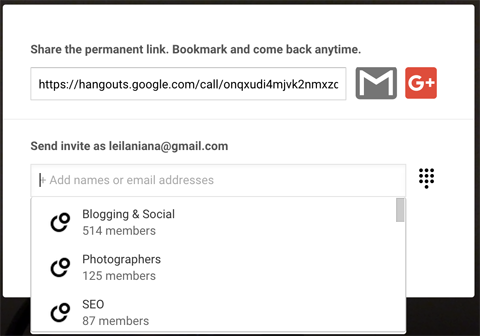 There are a few significant differences between hangouts on air and video hangouts. Hangouts on air allow you to schedule a hangout, and have up to 10 people participating with an unlimited number of viewers. You also get a video recording to save on YouTube.
On the other hand, video hangouts happen immediately, and only allow you to have up to 10 people participating and viewing in total. Plus, there are no recording options.
In Conclusion
Circles are a powerful feature you can use to truly customize your Google+ experience, whether for receiving or sharing information.
To get the most out of Google+, organize your circles according to how you want to use the platform and in a way that aligns with your strategy.
What do you think? Is Google+ part of your marketing strategy? How do you use your Google+ circles? Please share in the comments!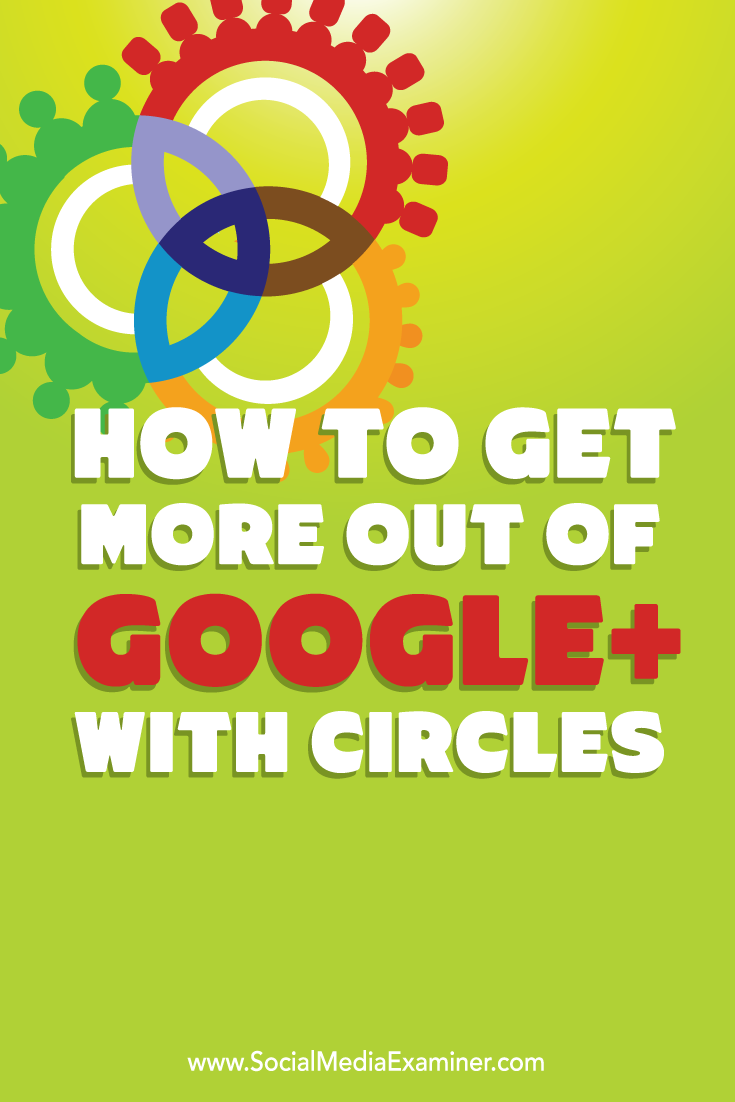 Get Your FREE Course: Web3 for Beginners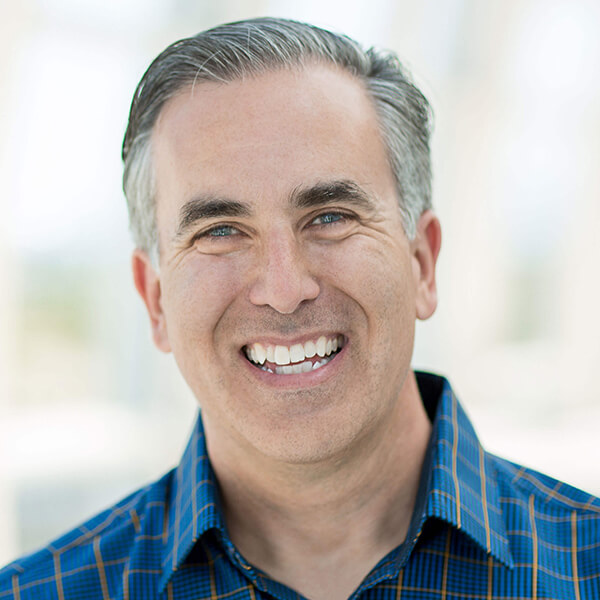 Curious about Web3, but don't know where to start or who to trust?

Introducing Web3 for Beginners, a course taught by Michael Stelzner, the founder of Social Media Examiner.

Learn the basics of Web3 and apply it to your business with this FREE comprehensive course.
CLICK HERE TO GET FREE ACCESS