Is community important to your business? Wondering where you should build your community?
To explore how to develop a thriving community beyond Facebook Groups, I interview Cate Stillman. Cate is podcaster, blogger, and author of the book Body Thrive. She's also an expert in developing communities.
Cate shares tips for developing a brand that incorporates community. You'll also learn how to decide whom your community should serve.
Read a summary of the interview below. To listen to the interview, scroll to the end of this article.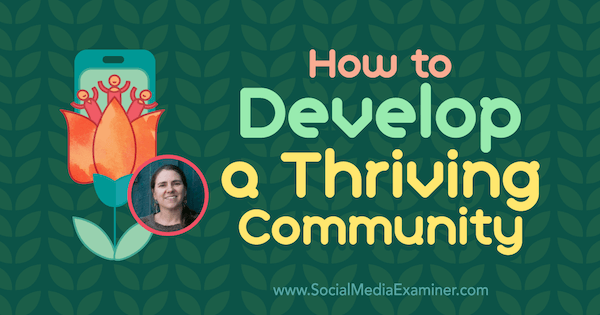 Developing Community
Since her time in high school, Cate has been an activist. She's been involved in international environmental politics, as well as helping the planet and people thrive.
While working in global warming politics in Washington, DC, she realized she wanted to help people become more conscious. That desire led to deep study of Ayurveda and yoga, after which she became an Ayurvedic medicine practitioner and yoga teacher.
In 2001, while in San Francisco, Cate launched the Yoga Healer website and began teaching Ayurveda workshops in yoga studios. Through those workshops, she developed an email list of contacts and began delivering an email newsletter. Yoga Healer expanded in 2007 to include a blog, and a podcast in 2012.
Wellness professionals who took Cate's courses often wanted to share what they learned within their own communities and that gave birth to Yoga Health Coaching and the Worldwide Association of Yoga Health Coaches. The site currently hosts a blog and a podcast, and is built of mainly community-developed content.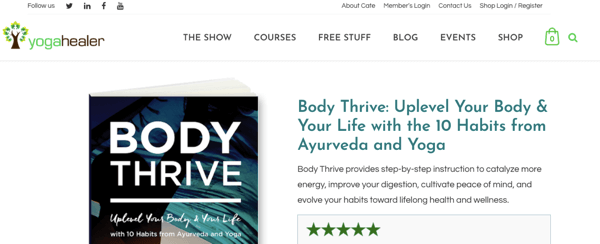 When Cate moved from San Francisco back to the Teton Mountains, she launched her first community course, Yogi Detox. Even though she was based in a tiny town, the course grew a following of people who would travel to attend the class. People on her email list wanted more curriculum around Ayurveda, so she began teaching that as well.
As she helped people find shared interests in their own communities, her own community developed very quickly.
Cate stresses that a community developer doesn't necessarily have to be smarter than everyone else. You just have to be a great listener. Listen for the threads, for the words between the lines to see where the community wants to go, and then build the structure and infrastructure that help them get there.
Why Is Community Important to Businesses?
Cate has put a lot of thought into the effort and costs involved with growing and maintaining a community, as well as how that might translate into revenue.
There's something valuable in your community doing a lot of the work involved in getting people ready to purchase from you or helping people to assimilate into whatever it is your product or service delivers. These prosumers, as they're often called, aren't just consuming—they're actually proactively nourishing the company itself.
For instance, she notes that when her podcast listeners often become amazing course members, because hen they come into the courses, it's like they've already been onboarded by the community itself.
Often, community members also do the work of maintaining culture, Cate says, and she points to both Social Media Marketing World and World Domination Summit as examples of this.
Not only do past attendees evangelize the event to their own connections, at Social Media Marketing World, the most experienced speakers and attendees actively maintain the culture and values of Social Media Examiner. They also consciously help onboard new attendees by exhibiting those values and intentionally reaching out to include those around them.
World Domination Summit takes over Portland, Oregon for 3 days—and you can feel it. There's an ethos to the event culture, part of which is, "Don't look at your phone, talk to someone." Because the ethos has been established over years and years of development, you're in a highly engaged atmosphere and even people who aren't actually attending the event are very much open to engaging in conversation throughout the city.
The Power of Belonging and the Desire to Belong
Cate believes you shouldn't underestimate the power of belonging and the desire to belong. Even individuals who are quite rebellious find people with whom they want to hang out and talk.
Once you find a group you feel you belong to, with an ethos you believe in, it can be difficult to hang out with people who don't share that same ethos on as deep a level, cautions Cate. So what does ethos look like in action?
Part of Cate's community ethos is to orient toward thrive. In any situation, she and the members of her community ask themselves, "How can I orient myself in this moment toward thrive?"
At the time of this recording, Cate was attending an event. She knew she'd be at a social gathering later on in the day and shared that she would most likely be drinking sparkling water rather than an alcoholic beverage because that hydrates her body when she's traveling. She was orienting toward thrive, and that's ethos in action.
When you're able to live in line with your ethos and connect with other people doing the same, there's a sense of ease and power. It opens a level of culture and acculturation; you become more vibrant and your desire to belong grows very strong.
Who Should Your Community Serve?
What if you're ready to build a thriving community but you don't know who should be cultivated? Cate suggests you start with your ethos or your values, and the language you use should be very specific, original, and unique to you.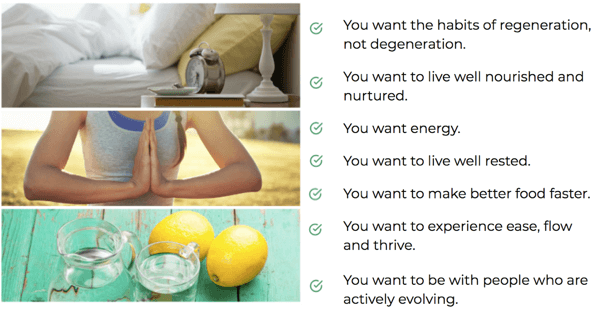 To access the power of belonging, you need well-developed values for your company and an avatar image that really speaks to the person you want to attract. You want someone who sees your messaging to wonder how you got inside their head.
I ask Cate to walk through the process with me and use our community as the example.
I think Social Media Examiner serves any person working in a company in marketing. These marketers are looking for advice to help them deal with the confusion and overwhelm caused by the constant changes in the industry, and they want to be around people who share those same challenges.
Cate says that's a good description of the struggle but doesn't address the desire for belonging, so she asks me to identify what makes those people cool right now.
I answer by saying I believe the people we serve understand the complex world of social media in a way that no one else inside their company does.
Cate distills this even further to: These individual marketers have their finger on the pulse of how the marketplace is evolving. This refinement of language lets people immediately identify whether they belong in the community.
To further help people self-select into your community, you have to return to stating values. For us, our value is that there's more going on in our community here than just growing revenue.
Another way to get insight on who ought to be in the core of your community is to notice who's already attracted to your brand. That's where being a good listener comes in. Cate pays attention to those who are bringing the most revenue into the company and those who embody the soul of a community in equal measure.
Once you identify that core group, you can work toward connecting with other like-minded people—maybe more people from your email list—by using very specific language to tell people what your community is and differentiate it.
By way of example, Cate shares the language she's used to build her community:
"You are on a lifelong journey of thrive, you prioritize connectivity, you resonate with ancient wisdom traditions like yoga and Ayurveda. You welcome practical skills and tools for aligned easeful living. You help others evolve and are a change maker. Your ambition is lurking beneath the surface and ready to be ignited. You appreciate the value of mentors, guides, gurus, teachers and coaches."
Listen to the show to hear more about the language Cate uses to describe her community.
What Size Is a Successful Community?
When Cate started to teach her Yogi Detox course, six people came to the first class. The next year, she taught two classes with approximately 15 people in each class. After a few years, people started to come from farther away and she had 40 or 50 people attending. At that point, she could depend on the spring and fall classes being her revenue generator for the year.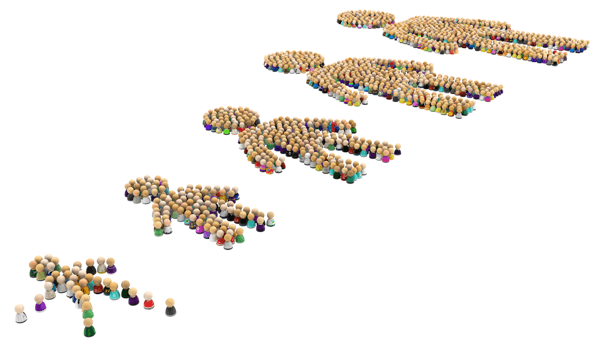 It doesn't take hundreds of thousands, tens of thousands or even thousands of people to be successful. It's not about size. Whether your community is local or online, you want to figure out the minimum viable community size that allows you to achieve something you can't do without your community. For Cate, that was a community of 40-50 people.
Then, Cate reminds me, the community will often co-create their own content or tell you what they want from you. You simply have to be open to listening to what's trying to happen around your business, what's trying to happen around the products and services that you're most driven to create and bring into the world.
Cate didn't set out to write a book to sell. Her community expressed their desire for her to write a book and produce certification courses to help them become pro-healers and teachers. By offering those products, she served her community.
Build a little bit of infrastructure around a conversation and the community will start to drive the product and service development of the company, as well as customer service.
Where Should You Build Your Community?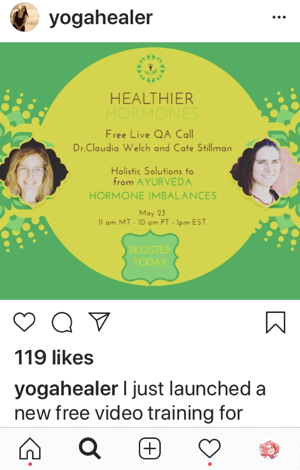 If you're trying to build an online community, the natural place to start is where your people already hang out. You never want to try to move a new community over to a new platform; you want to show up on the platform they're already using.
When Cate started, that platform was Facebook. Now her community is moving more to Instagram, so she'll follow them over there. And as more yoga teachers and holistic wellness pros use LinkedIn, she'll experiment over there too. She'll go where her community leads and simply develop the infrastructure that facilitates conversation in the way her community wants to communicate.
Listen to the show to hear about Cate's live meetups.
How to Structure Content and Conversations to Develop Community
Cate's community creates a lot of the content she publishes, and she lets the community source content ideas from their own desires.
To generate, publish, and share that content in a meaningful way, she has rules in place to govern the production of the content they create. Whether they're creating podcasts and show notes or writing blog posts, the content has to be standardized and optimized for search so people can actually find it.
Because those rules are in place, she's able to pass the microphone a lot for things like member-to-member interviews about success stories, Coach of the Month interviews to highlight a certain member who has excelled in their own community development, and more.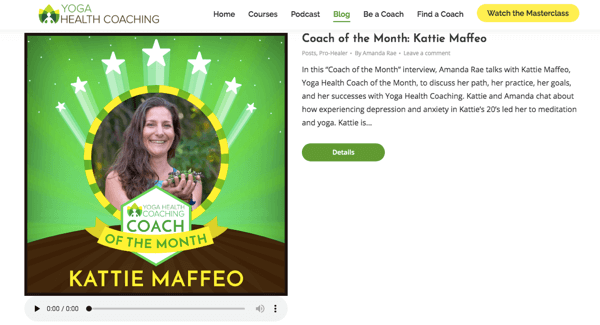 At its core, the content her community creates reinforces to the members, "Oh, these are the kind of people we work with."
Discovery of the Week
Gifnote is a website and iOS-based app that lets you pair licensed music with the GIFs you share.
Open gifnote and you'll see a big selection of popular or trending GIFs to choose from. You can also search by category, keyword, or song title so you can start with the imagery or the audio. See an image you like but don't want the song? You can change the song clip to something else.
Audio clips last from 5-30 seconds and the music library covers multiple genres and a lot of top hits.
Listen to the show to hear more about gifnote.
Key Takeaways in This Episode
Listen to the Interview Now
The Social Media Marketing podcast is designed to help busy marketers, business owners, and creators discover what works with social media marketing.
Where to subscribe: Apple Podcast | Google Podcasts | Spotify | RSS
What do you think? What are your thoughts on building community? Please share your comments below.