Want to generate more engagement, leads, and sales? Have you considered using personalized content in your marketing?
In this article, you'll find a plan and tools to help you create and deliver personalized content via social media platforms.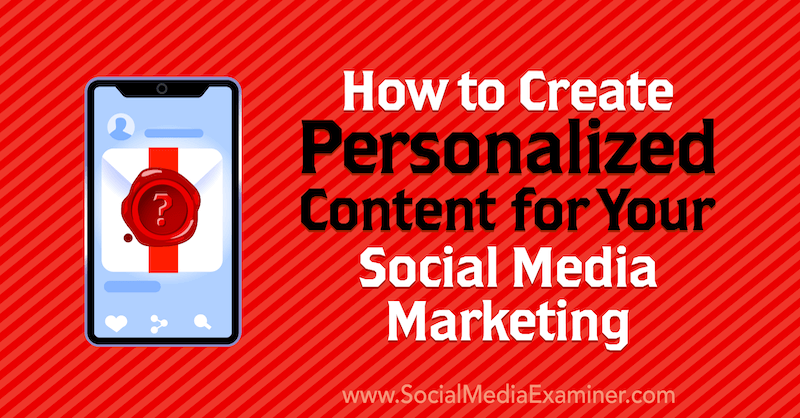 Personalized Social Media Marketing: Why and How to Get Started
Personalized marketing is a strategy where you leverage data and data analysis (as well as digital tools) to deliver personalized and individualized content and marketing experiences to your target audience, prospects, and customers.
A common and accessible form of personalized marketing is marketing automation like sending an email to a prospect after they've abandoned a shopping cart online or delivering personalized content to a lead based on their past behavior.
A more complex form of personalized marketing is when a website's content changes based on the person who accesses it; for instance, showing only relevant content and products (based on that person's past behavior) or changing the language and information presented on the website (based on the visitor's location).
Personalization goes hand in hand with social media, as with any other platform where you're offering content to your audience. It starts with the little things such as making sure you're optimizing an image you used on Facebook before you share it on Twitter, ensuring the sizing is okay, and in some cases, even altering the content.
But personalization can go well beyond this, and it will continue to do so as the necessary technology becomes available to a wider audience.
One of the most notable examples of social media personalization comes from Cadbury. The company used this tactic twice in two different countries, with the goal of spreading brand awareness.
For one campaign, they wanted to introduce their Australian audience to some new flavors. They used Idomoo's Personalized Video as a Service (PVaaS) platform to deliver a highly personalized video marketing campaign leveraging Facebook data (but only to people who signed up and gave their consent). (Contact Idomoo for a demo and pricing information.)
With the PVaaS tech, they created a Flavor Matcher app that matched users with different flavors of Cadbury sweets based on data from their Facebook accounts. Participants then received personalized videos using their Facebook profile photo, celebrating the "flavor match."
This campaign achieved a high rate of engagement, a 65% click-through rate, and a 33% conversion rate of video viewers who then completed a promotion form.
Here are some of the potential benefits of using personalization techniques in your social media marketing:
Generate more leads and convert more users into customers.
Boost engagement with customers.
Encourage shares.
Improve Facebook relevance scores and ad costs.
Boost brand loyalty.
Increase brand awareness.
Now that you understand how personalization can benefit your business, here's how to plan and create personalized content for your own social media marketing.
The Conference You've Been Waiting For
As a small business marketer, you can probably only pick one or two events to attend each year. Get an unbeatable conference experience and expert training at Social Media Marketing World in sunny San Diego, California—from your friends at Social Media Examiner.
🔥 As a valued reader, you can save $650 on an All-Access ticket if you act now! Sale Ends Friday! 🔥
CLICK HERE TO LEARN MORE
#1: Research Your Target Personas
The first step is to think about whom you're marketing to on social media. Is it a nameless, faceless group of people who are roughly the same age and share an interest in the same things? Or specific individuals with their own needs, interests, and personalities?
Knowing your customer and audience has always been important for any marketing strategy. But if you want to deliver truly personalized marketing experiences, it's imperative to be very knowledgeable about your target audience, going so far as knowing details about specific people you interact with (which I'll get to in a moment).
Fortunately, social media provides considerable information about audiences if you know where and how to look for it. You can find out:
What their ages are
Where they're from
Where they spend their time online
Which influencers they follow and interact with
What devices they use
What topics interest them
And as you interact with people via social media and other platforms, you'll learn even more pertinent details.
When creating audience personas, keep in mind that your goals are to personalize experiences and deliver more personalized content. You'll need to create multiple audience personas for the different kinds of people you're targeting. Go into as much detail as you can.
To get started in your audience research, use tools to help you gather details about your audiences and combine that information with your own intuition and knowledge. Some of the most valuable tools available are built-in social media analytics.
Twitter Analytics
On the Audiences tab in Twitter Analytics, you'll find information about your existing followers, your organic audience, and even all Twitter users.

Start by looking at your own followers. (If you don't have many followers or suspect that they aren't genuine, you can skip this step.) You'll be able to see information like:
What interests they have (broad topics such as weather, dogs, and technology)
What devices they use to sign in and what wireless carrier they're using
Their occupations
Their marital status
If you want to go into more detail and create audience personas based on larger audience bases, select All Twitter Users from the drop-down menu on the Audiences tab. Then click on Persona: All Twitter in the search bar.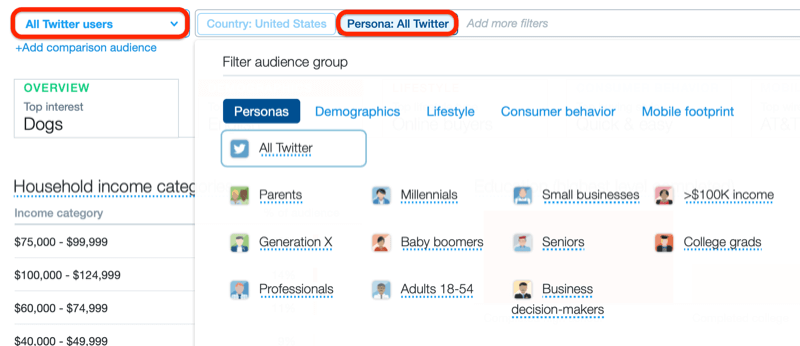 The Filter Audience Group pop-up menu offers numerous filtering options to help with your research. Here's what each tab offers:
Personas: Choose among various "personas" such as Millennials, Baby Boomers, professionals, small businesses, people with high incomes, and so on.
Demographics: Select the gender you want to research and even an income category.
Lifestyle: Filter based on interests.
Consumer behavior: Select a consumer buying style such as weight-conscious, premium brands buyer, ethnic explorers, and more.
Mobile footprint: Filter based on the mobile platform used (iOS or Android).
Note that you can't always use all of the filters you want to at the same time; some filters cancel out others.
In the example below, I looked into female Millennials to learn more about their interests and online behavior.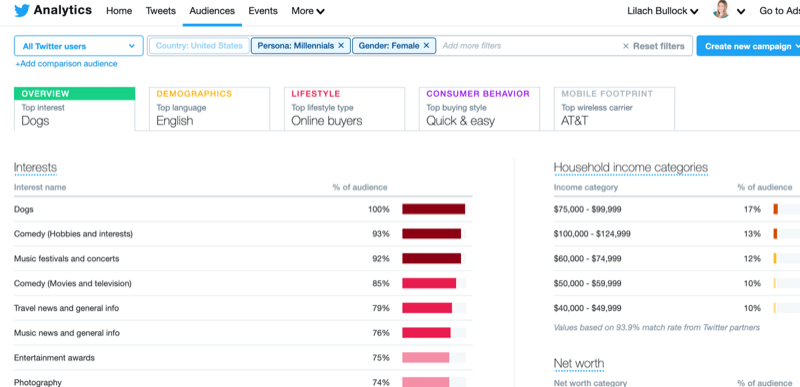 While Twitter offers some interesting information about audiences and goes into a lot of detail, the information is insufficient on its own from a personalized marketing standpoint. It's a start, but you'll need to supplement it with more research.
Facebook Audience Insights
Another excellent free tool you can use for your research is Facebook Audience Insights. To access it, open the main menu in Ads Manager, click on All Tools, and select Audience Insights.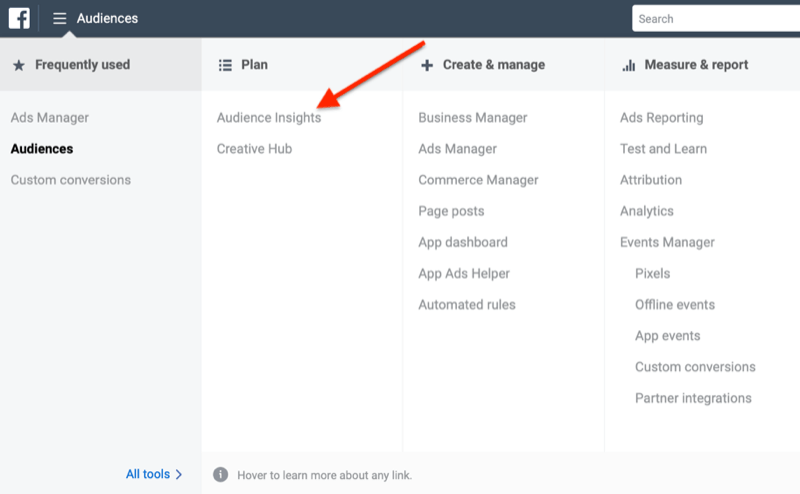 Next, Facebook asks you to choose between studying everyone on Facebook or only people connected to your page. Select Everyone on Facebook.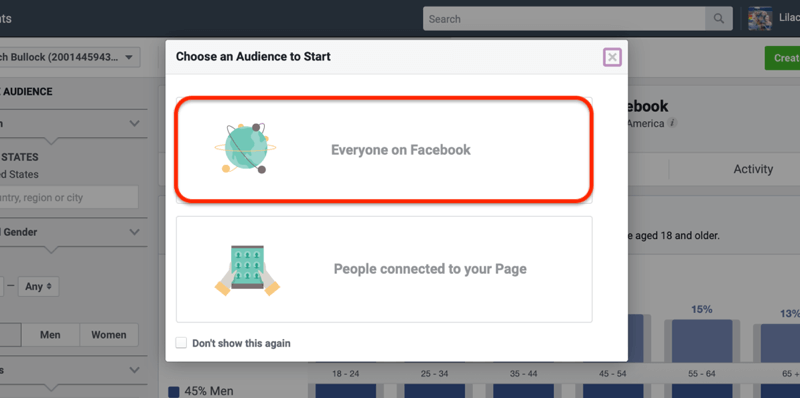 To get the most out of Audience Insights, you should already have a general idea of whom you're targeting and whom you want to research. You might know their location, age, and gender but Facebook can help you learn a bit more beyond those basics.
To start your research, suppose you want to look up people with these criteria:
30–50 years old
Located in the U.S.
All genders
Interested in business
In management positions (not shown below)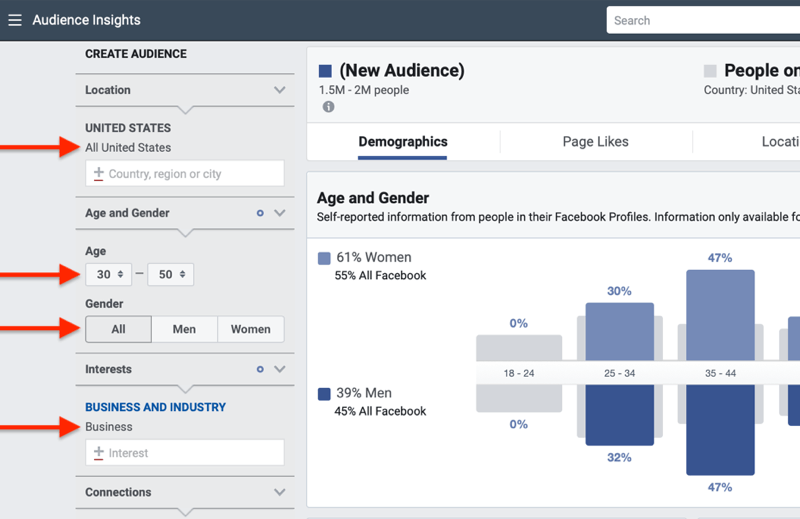 Once you've set up your search, Facebook will show you more details about this audience.
With the tabs at the top of the page, you can see what Facebook pages this audience likes (and consequently, what interests they have), where they live, what devices they use, what their job titles, what industry they're in, and other useful details. You can use this information to put together their personas.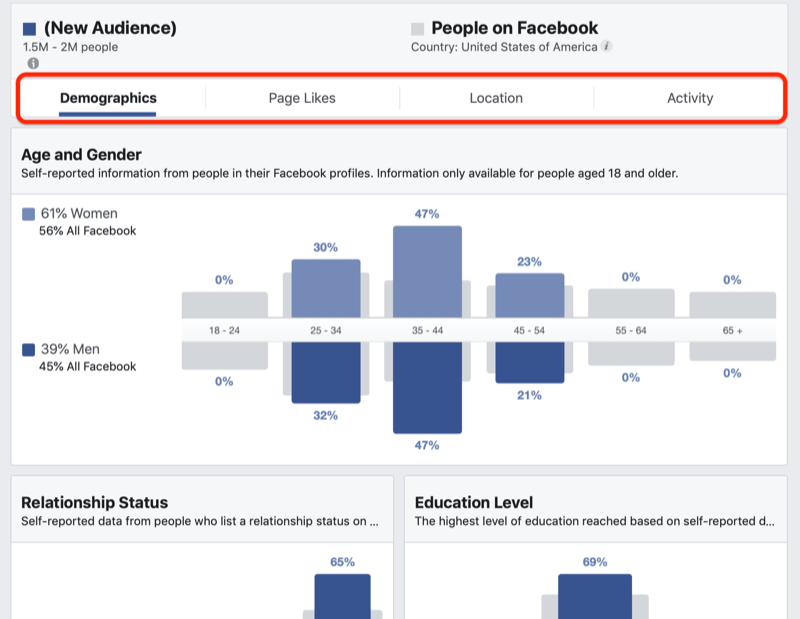 Brandwatch Audiences Tool
A social listening tool is another asset for audience research and a must-have for delivering personalized experiences on social media. Social listening tools usually offer multiple filtering options and detailed analytics. They're also powerful tools for monitoring so you can use them to respond to brand mentions quickly.
Brandwatch Audiences is a paid tool that lets you apply numerous audience filters to get very specific with your searches. (Contact Brandwatch for pricing information.)
Once you've signed up for an account, click on Define Audience and start your search using the various filters available. You can add as many filters as you want.
To visualize this, you can search for people who have used specific words in their tweets and/or words in their bio, have certain interests, and are following specific accounts.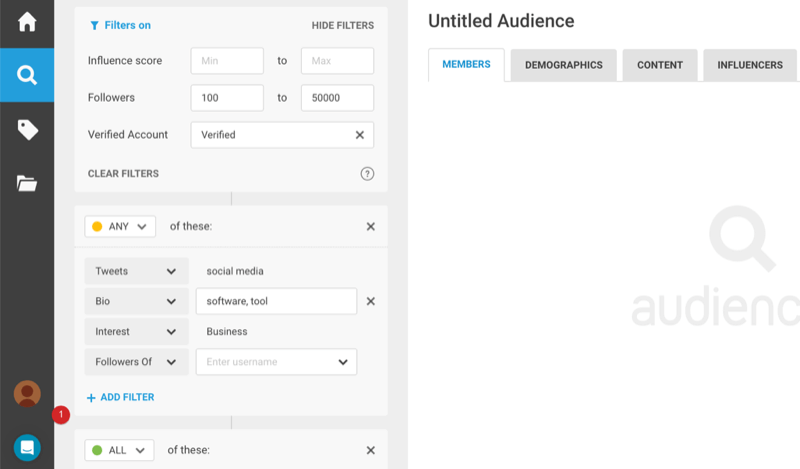 To add a filter, click on Add Filter, select the filter you want to use, and enter the information requested.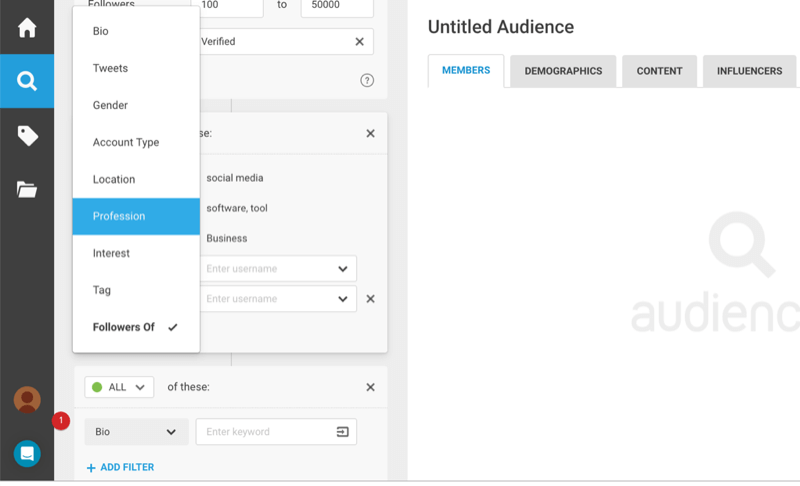 Once you've set up all of the filters you want to use, click on Search to see the results.
Pro Tip: If you want to continue studying this audience, save it by clicking on Untitled Audience, typing in a name, and clicking Save.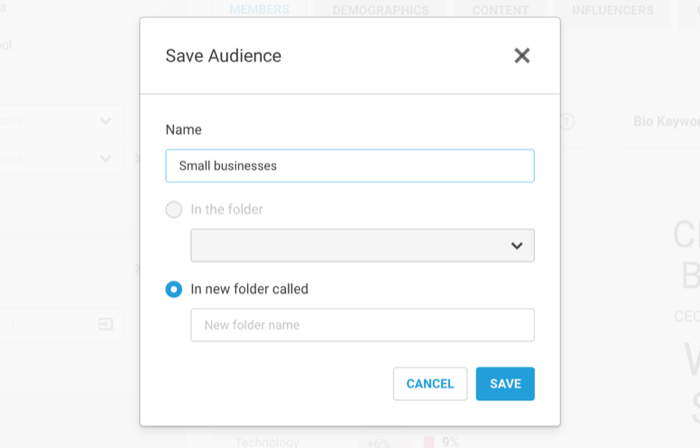 To start examining the search results in detail, start with the Members tab. Here you can see demographics of all of the people found and what keywords they use in their bios. Note that you can download this information in a CSV file.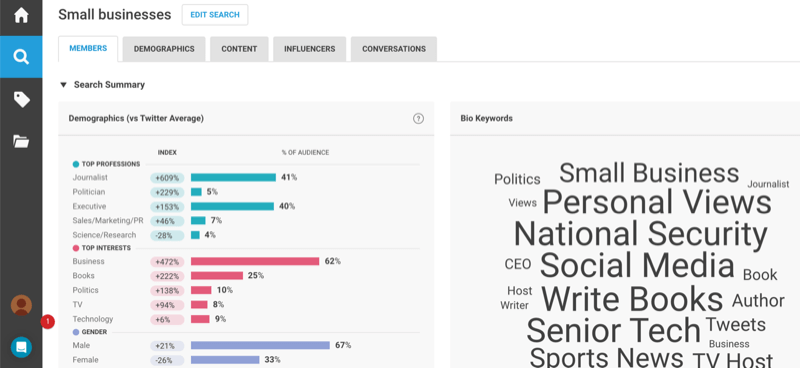 To continue your research, go through the other tabs to find information about your audience's interests, professions, locations, and more.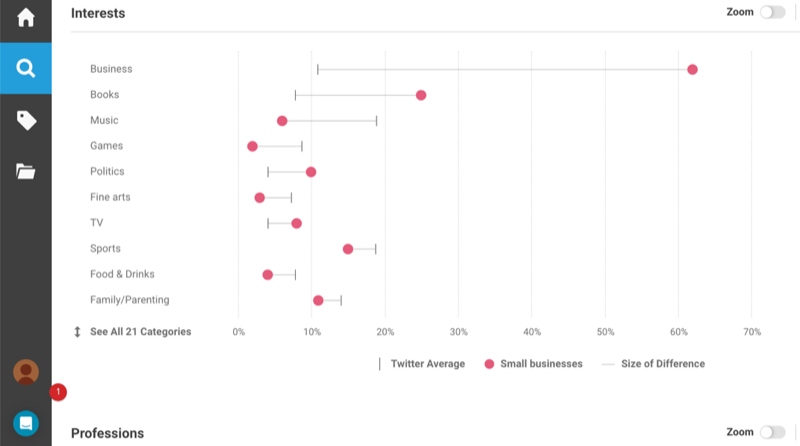 Examine the Content tab to see popular content that's relevant to your audience.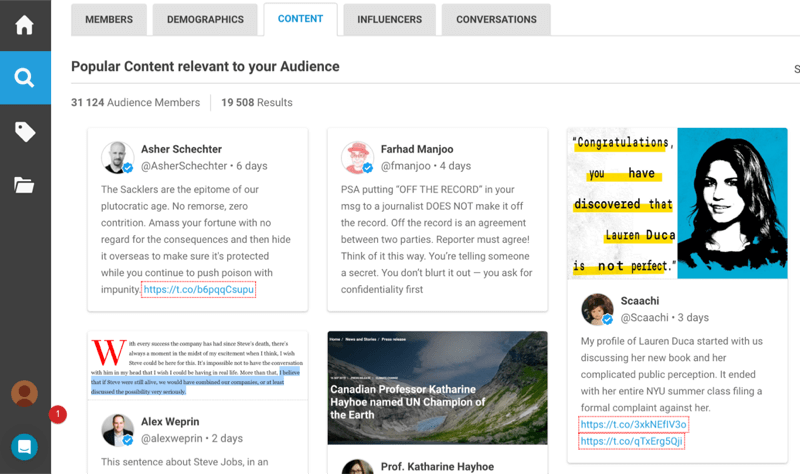 Attention Agency Owners, Brand Marketers, and Consultants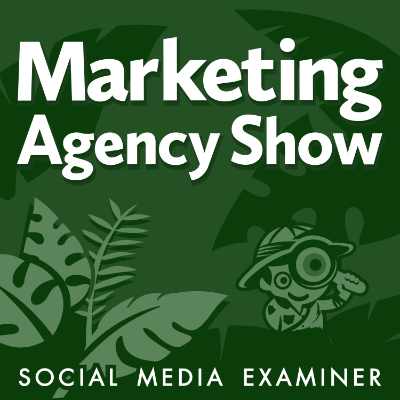 Introducing the Marketing Agency Show–our newest podcast designed to explore the struggles of agency marketers.

Join show host and agency owner, Brooke Sellas, as she interviews agency marketers and digs deep into their biggest challenges. Explore topics like navigating rough economic times, leveraging AI, service diversification, client acquisition, and much more.

Just pull up your favorite podcast app, search for Marketing Agency Show and start listening. Or click the button below for more information.
CLICK HERE FOR THE DETAILS
Click the Conversations tab to get a detailed look at the topics and organizations they're talking about, and what sites they link to.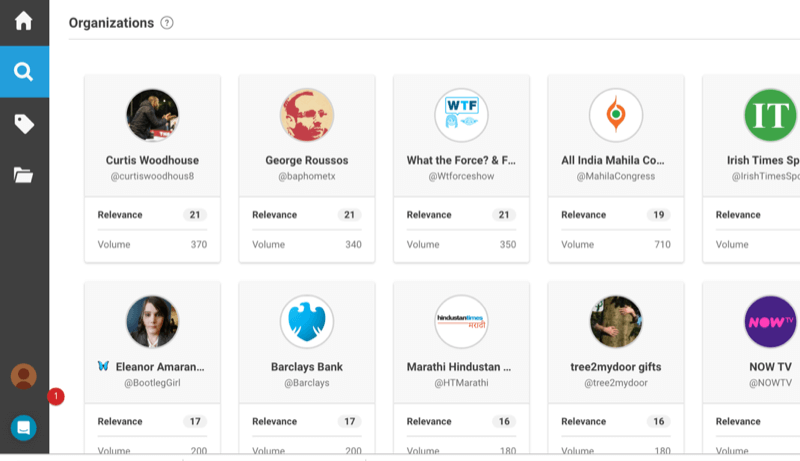 Detailed audience personas are an essential part of a successful personalized marketing strategy. Utilize tools as needed to truly understand your audience, going beyond the basics. Then complete your audience personas with all of the details you can pull up because every little piece of information can be useful in your strategy and campaigns.
Remember that personalization is all about the details.
#2: Choose a Social CRM to Manage Consumer Conversations
Beyond broader personalization, if you want to deliver truly personalized experiences, you need to market one to one.
What does this mean, exactly? The best way to understand it is to look at a real-life example.
Kimpton Hotels and Restaurants are pioneers of social media personalization. Here's how they responded to a positive tweet from a customer.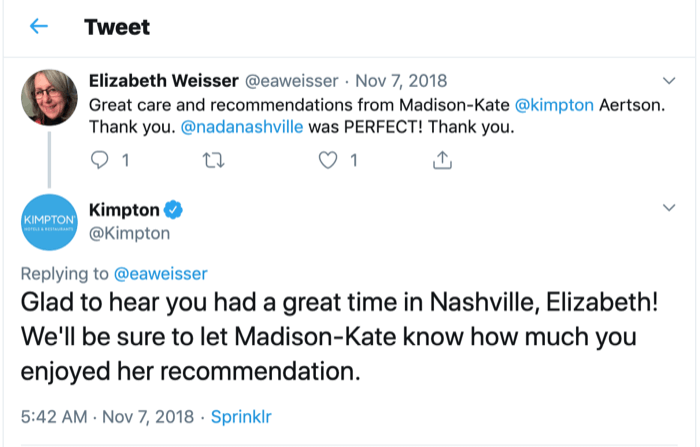 Following their initial reply, Kimpton continued to engage with the user and gave her a recommendation on what else to do in the city.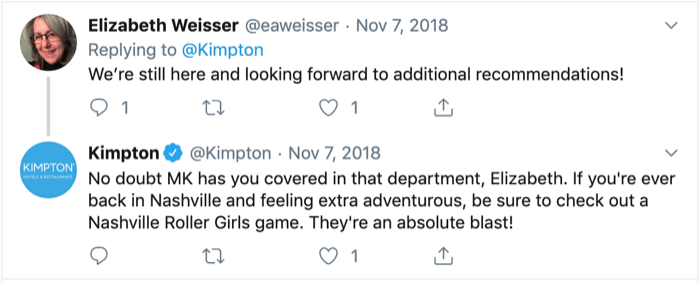 This attention to detail when dealing with people on a one-to-one basis online can have a huge impact on your success and reputation. By providing a personal touch, you're making a great impression on the customer (or potential customer) and any other people who happen to see the exchange. It shows you care about each customer.
Consumers are starting to expect these types of personal interactions from brands on social media. One of the best ways to show people you care about them as valued customers is through little details. But to insert these small details into your conversations with customers, you need to have them handy.
That's where a social customer relationship management (CRM) tool comes in. It's basically a tool that's all about your social audience. It's useful not only for personalization but also for providing better customer service via social media.
Salesforce Social Studio (starting at $1,000/month, billed annually) lets you manage your social audience and your social media marketing. You can easily monitor all customer conversations across channels, providing a complete view of your relationship and past conversations with specific customers.
Your monitoring dashboard will show relevant mentions from social media users such as questions, feedback about your products and services, customer service issues, and so on.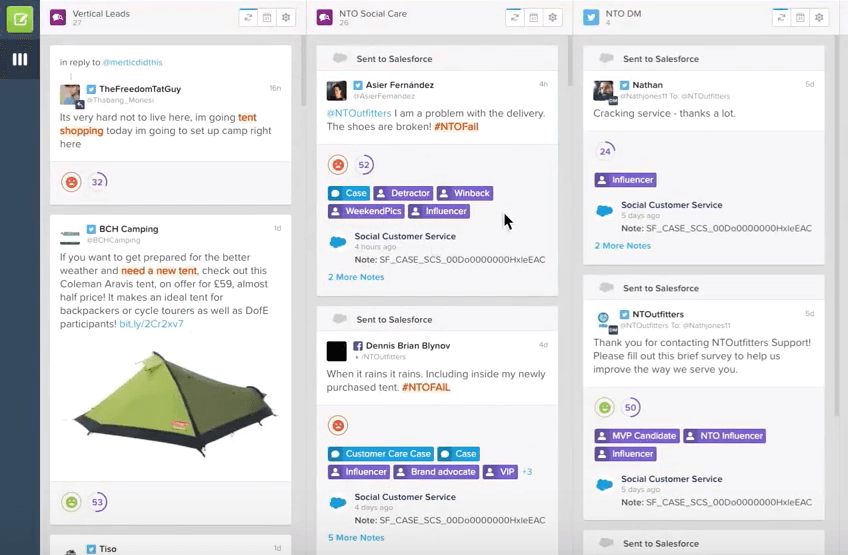 When you need to take action, click on the relevant update to view your options. If you click the Macros tab, you'll see an option to send the update to your CRM cloud (to illustrate, send the update to your customer service team to handle the issue or add that person as a lead in your CRM).
Leverage your social CRM to gather information about your audience and then use that information in your interactions with individual people. Make sure that every interaction with them is logged into your CRM and any important details about that consumer are clearly highlighted.
The information you gather allows you to use personalization techniques in your conversations with people, as well as create highly targeted content for them.
#3: Create Personalized Content for Social Media
Delivering personalized experiences on social media means you have to be ready to improvise on the spot, as in the Kimpton Hotels and Restaurants example above.
Personalized content, on the other hand, is something you have to plan and create ahead of time because it requires considerable research. For instance, you might have to create multiple versions of a promotional update to suit various types of audiences.
To help with the planning stage, you can use a tool like ContentCal, a content planning app designed for all kinds of content including social media. It's available in both free and paid plans, starting at $13/month. It lets you gather and save your content ideas, plan campaigns, and collaborate with your team. You can also schedule and post your social updates via the dashboard.
ContentCal offers a lot of options for planning content, making the process easier and more productive. You can add as many custom channels as you want to, to better plan content for your social channels, along with blogs, email, and so on.
These channels will then be added to your calendar, where you can start brainstorming ideas and adding them to specific channels. You can also tag your content and content ideas to keep them organized.
To brainstorm ideas, click on Add New Post under Pinboard and add as many ideas as you want.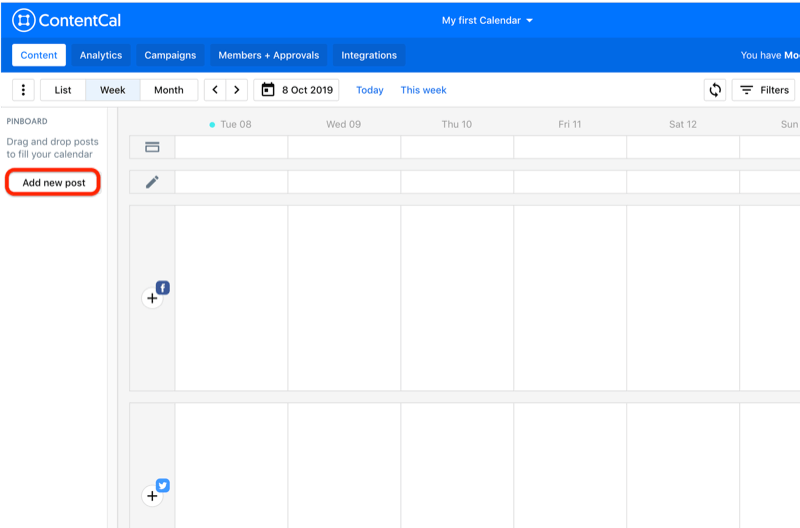 Remember that not only do you need to personalize content for each social channel but you also need to personalize for different audience personas within each social channel. So make a list of all of the different personas you'll target on social media and then use the category tags to make sure that you're creating content for each persona.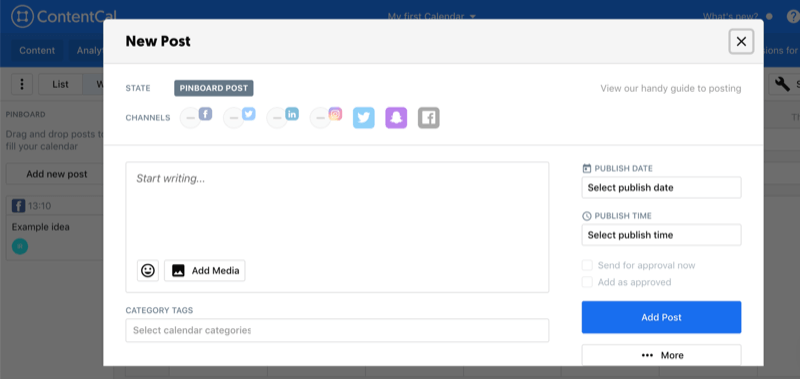 Now let's look at different kinds of personalized content can you create for social media.
Personalized Video Marketing
Video marketing is already huge but personalized video marketing will most likely take over in the near future.
As with the Cadbury example, personalized videos can be very powerful tools. They put the customer at the center of the action and make them feel important and valuable to your business.
Here are some ways you might use personalized video on social media:
Run an automated personalized video campaign, as Cadbury did.
Use personalized videos to acknowledge valuable customers. Breast Cancer Now leveraged personalized videos to personally thank their donors.
Create personalized videos to promote products, services, and events. To boost awareness of their event, Marketo's Marketing Nation Summit created personalized videos showing a person's name alongside personalities like Will Smith, highlighting the fact that they hadn't registered yet.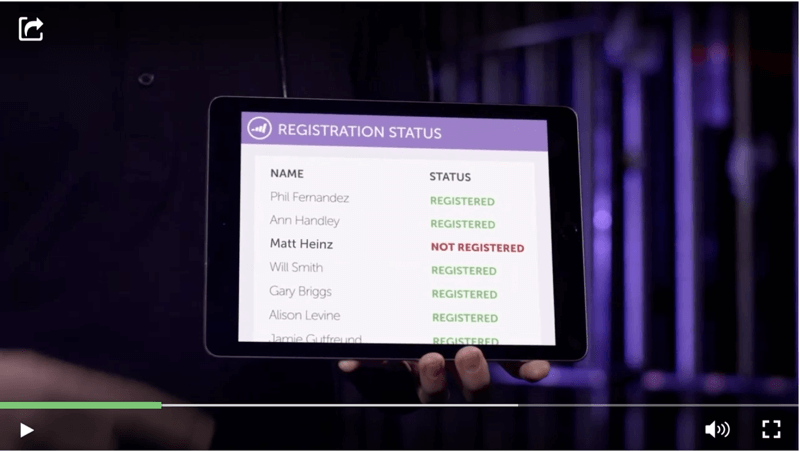 Retargeting Ads
Personalized retargeting ads are very effective on social media, especially in terms of sales generated. You can leverage consumer online behavior—like visiting a specific page, reading a blog post, checking out a product or service, and so on—to create highly targeted and personalized ads.
Here's an ad I saw in my Facebook feed after setting up a free SEMrush account: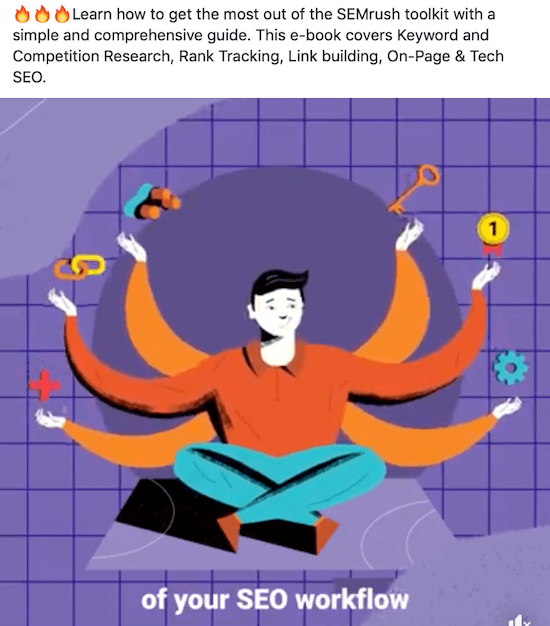 To run retargeting ads, follow these steps:
Install the relevant advertising pixel on your website (such as the Facebook pixel) to collect relevant data about your website visitors.
Create retargeting lists based on your existing audiences (which you will also have to segment).
Set up highly targeted ads (in whatever format) to target all of the different types of people who visited your website.
Personalized Quizzes and Polls
Online quizzes continue to be popular on social media because they're fun (or at least they should be fun!), quick, and highly shareable. They're so popular that BuzzFeed has an entire Facebook page dedicated to them that has more than 1.6 million likes.
A good example of personalized quizzes is Airbnb's travel personality quiz. Participants answer a few quick questions to find out what kind of traveler they are.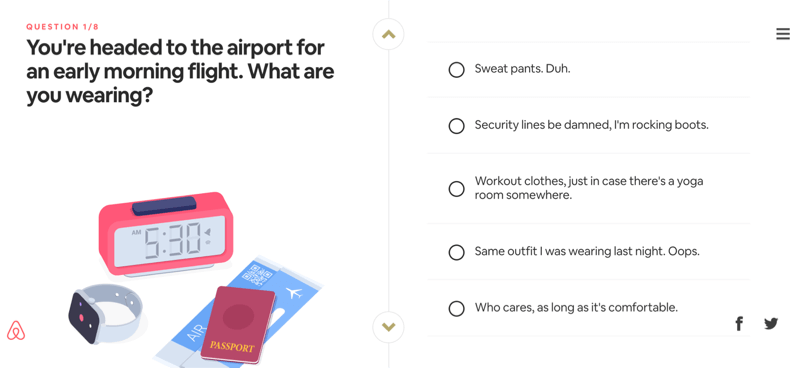 When they're finished, they get personalized travel recommendations based on their "persona."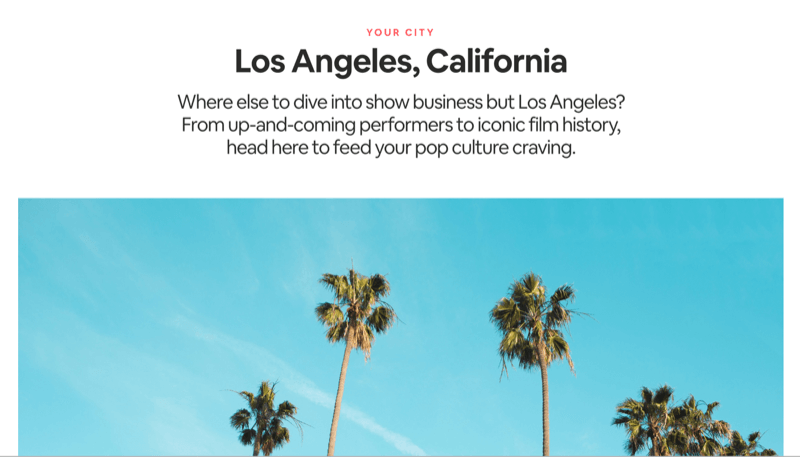 All that's left to do is for participants to share the quiz results on their social media accounts and/or book a trip with Airbnb.
Personalized Content for a Local Audience
Another way to personalize your social media content is to create targeted content for local audiences, whether it's a specific country (if you serve a global audience), city, or even neighborhood.
To do this, you might need to:
Create content in multiple languages.
Set up dedicated social media pages for different countries, especially if you have a bigger audience.
Reference local issues, interests, needs, locations, weather, products, and so on. To visualize this, a travel company might note bad weather in a certain city and recommend trips to locations with better weather.
One-on-One Engagement
As mentioned earlier, if you want to deliver a truly personalized experience to your social media audience, there'll be many instances where you'll need to react on the spot.
This is where it's important to leverage tools, namely:
Social listening/monitoring tools to catch relevant mentions in real time so you can respond quickly
Social CRM to personalize your communications in real time
These tools allow you not only to respond quickly to customer service queries, questions, comments, and feedback, but also to insert personal details that can make all the difference in your communications with your audience.
Conclusion
Personalization has been an integral part of marketing for some time now; arguably, it was Amazon that really brought it to the forefront.
But as technology evolves and consumer behavior changes (along with consumer expectations from brands), personalization isn't just an extra anymore. It should be part of your overall strategy, even your company ethos.
Delivering personalized experiences to your customers (and potential customers) will help you see higher engagement and retention rates and more conversions and sales for your business.
What do you think? Have you used personalized experiences and content in your marketing? Share your thoughts in the comments below.
More articles on social media marketing:
3 Days of World-Class Training—Zero Travel!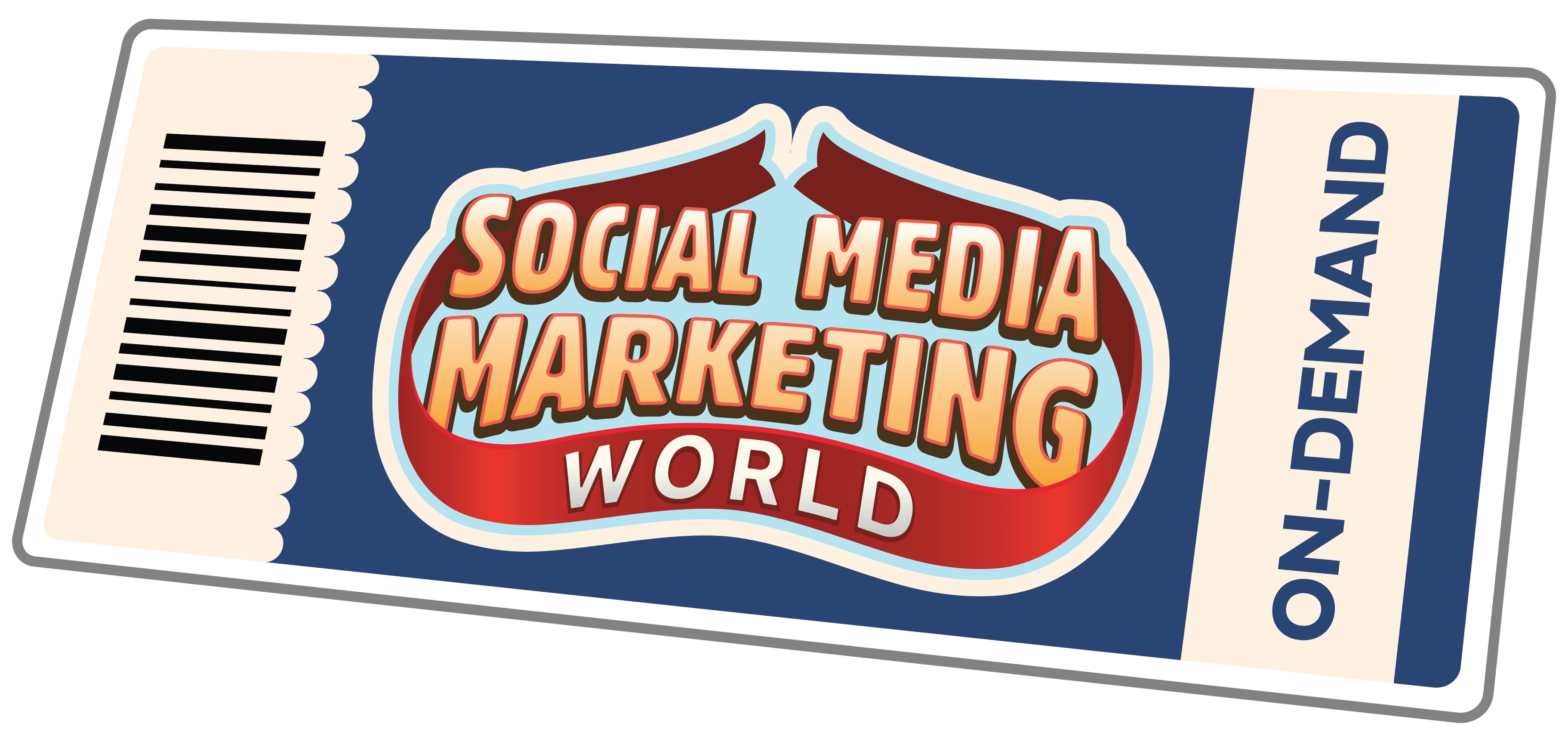 Travel to Social Media Marketing World off the table? Get all of the great content at a fraction of the price with an On-Demand ticket.

That's full access to recordings of every keynote, workshop, and session—the ones people travel thousands of miles to see. Don't wait. Get your On-Demand ticket and enjoy actionable content that you can watch anytime, anywhere.
GET YOUR ON-DEMAND TICKET NOW