Want to use more video in your LinkedIn marketing? Wondering what kind of LinkedIn video to create?
In this article, you'll discover how to produce LinkedIn video that connects with your audience.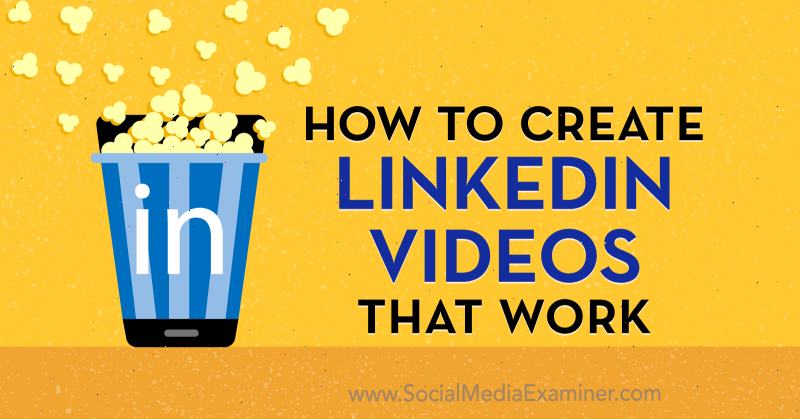 #1: Begin With a Video Content Audit
Research shows that expertise and competence are two of the critical components people require to trust a brand, and video allows you to achieve both effectively. It's a powerful trust-building agent.
Video is a more versatile medium than text, aiding the delivery of your message with moving visuals and sound. It can also put face to your brand. By developing the right types of videos for LinkedIn, you can humanize your brand and build the kind of trust that helps accelerate sales cycles and turns customers into advocates.
A LinkedIn video marketing strategy isn't as easy as "point, shoot, and upload," especially if you've already created videos but haven't generated the kind of results you're after. You have to be more strategic.
While video is versatile, it's also like all other forms of content in your marketing toolbox: It should guide buyers to the next step of their buyer's journey. Your goal is to figure out what kinds of videos are missing from your funnel and fill in the gap.
If you're having trouble building an audience using LinkedIn video marketing, there's a good chance you're not producing enough top-of-funnel video content (think videos that explore the challenges buyers have when looking for a solution like yours). Here's how to find out what's missing in your funnel.
Audit the Video Content You Already Have
Start by collecting all of the video content you've already produced and identify where it fits into your marketing funnel. While this task may seem slightly daunting, it's a matter of establishing what each video was designed to achieve:
Top-of-funnel content should help buyers identify a problem or better understand and define it.
Middle-of-funnel video content shows how your solution works and why it's the best one for your buyer.
Bottom-of-funnel content converts leads into customers. It settles any last-minute concerns about how your solution will work in their unique environment. This is why video testimonials (like the one below) are so powerful—social proof helps your leads develop the kind of trust in your brand they need to buy into it.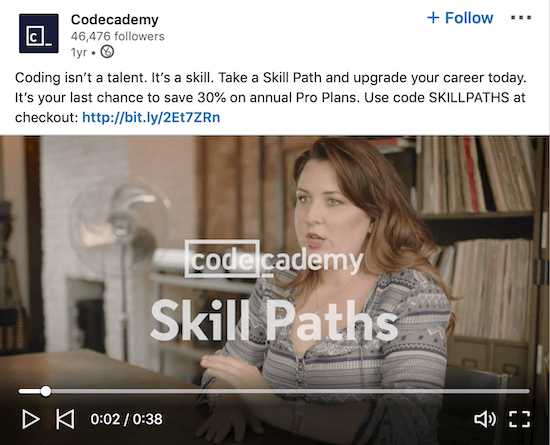 Audit Your Competition
Using the same process as above, also analyze video content from your competitors on LinkedIn. Figure out where each video integrates into the content marketing funnel.
Scrutinize each video. How many likes, comments, and shares did the video get? Were there any links for viewers to visit as calls to action (CTAs)? Can you attribute web traffic to those links? You won't be able to access data for on-site visits but you'll be able to see engagement figures (likes, shares, and comments).
Once you've completed your analysis of relevant video content, you'll have a good idea of where your competitors are spending their time. This includes:
The types of LinkedIn videos they've created
How they've made their message relevant to buyers at various stages of the marketing funnel
How they entice buyers to take the next step in the buyer's journey
As a sales coach, Richard Moore uses LinkedIn video to explore the challenges that salespeople experience. If he's one of your competitors, you'll find his approach to marketing his brand insightful. Much of Richard's content is designed to help salespeople better understand the hurdles on the path to closing sales. He uses a weekly live Q&A session to attract a larger audience and position himself as an authority.
The Conference You've Been Waiting For
As a small business marketer, you can probably only pick one or two events to attend each year. Get back into the game with an unbeatable conference experience and expert training at Social Media Marketing World in sunny San Diego, California—from your friends at Social Media Examiner.
🔥🔥 As a valued reader, you can save $300 if you act now! Sale Ends Tuesday!
CLICK HERE TO LEARN MORE
If you were to conduct an audit of Richard's LinkedIn videos, you'd quickly spot the insights above. You'd also note that these videos strengthen his position as a solutions provider to corporate sales teams that need to increase their win rate.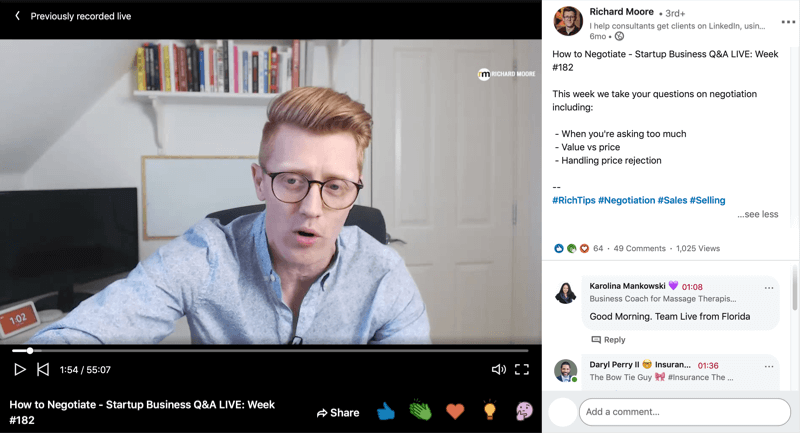 #2: Choose What Types of LinkedIn Videos to Produce
LinkedIn video marketing isn't limited to the more popular formats like live streaming or ads. In fact, you can publish anything from video podcasts to tutorials.
Here's a collection of types of videos you can create to promote your brand on LinkedIn.
Live Video
Live video has taken off in the last few years. The growth of OTT video apps has made it possible for people to stream content on multiple devices with ease.
According to a Livestream survey, 80% of respondents would rather watch live video than read a blog post. On LinkedIn, live video is a powerful means of engaging buyers. It gives you an opportunity to answer questions related to challenges that buyers experience on the path to finding a solution like yours, which will help accelerate the sales cycle.
For example, in this episode of the VDoorLockSmith Show, host David Gibson interviews Aron Deen, director of marketing at Ulterra. The live stream explores Deen's career path and the solutions Ulterra provides.
How-to Videos and Tutorials
Instructional video content is among the most searched-for content online. And when it comes to LinkedIn, positioning helpful tutorials is a smart move. LinkedIn members are knowledge-hungry, making it the perfect platform for promoting your instructional content.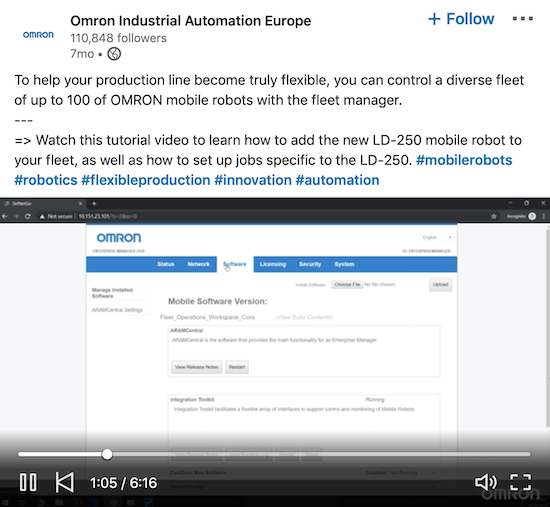 Behind-the-Scenes and Culture Videos
As businesses become increasingly aware of the importance of being more human, they're developing videos that express their company culture or demonstrate how their solutions are developed to enhance their value proposition.
Blickle created this behind-the-scenes video of their stamping facility to give clients a closer look at their operation.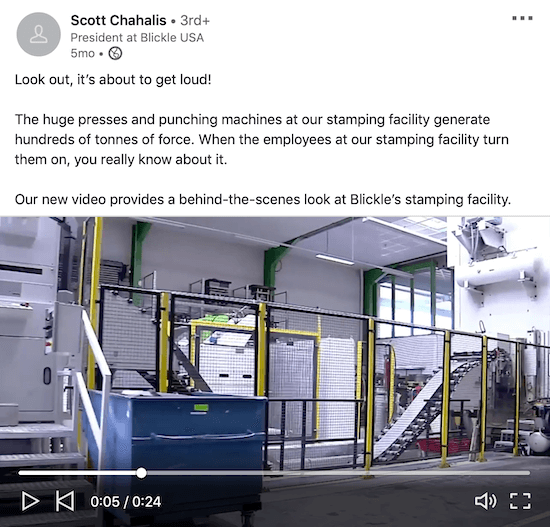 Thought Leadership Videos
Standing out in a crowded market isn't always easy but thought leadership videos can help. To portray thought leadership via LinkedIn video, you could present new research, share a fascinating insight into your industry, or answer a question that few have explored.
Interviews
Video interviews give buyers the opportunity to get an in-depth look at a challenge or gain a new perspective from industry experts. They can also position your brand as a thought leader and guide people along the buyer's journey.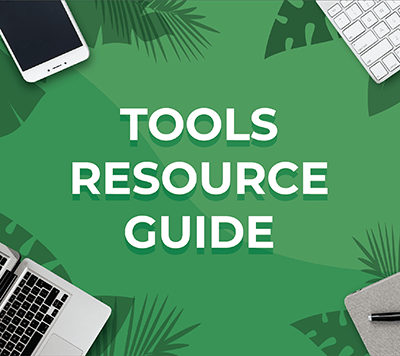 Looking for something to make your life easier?
Discover the tools we recommend to drive engagement, save you time, and boost sales across your entire marketing funnel or business.
Whether you need help planning content, organizing social posts, or developing your strategy, you'll find something for every situation.
FIND YOUR NEXT FAVORITE TOOL
In this Linkedin video, David McGlennen, a high-performance culture coach, interviews Rich Cardona, a video strategist. Together, David and Rich dig into video for business and how they use the medium to mold their own businesses.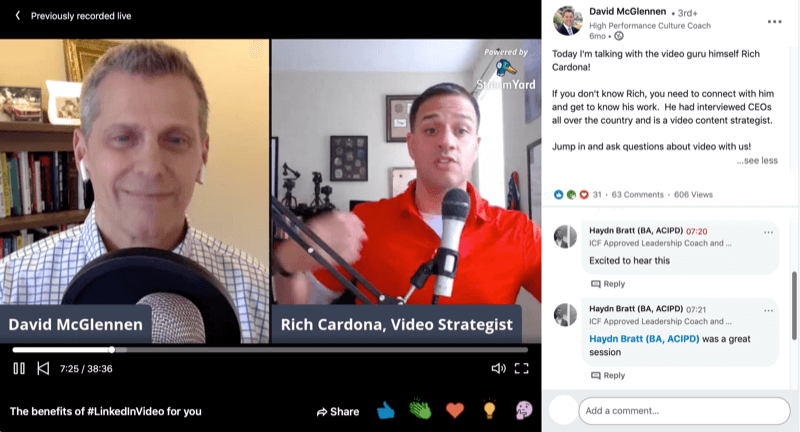 Video Ads
Video ads aren't a new concept but they're highly engaging on LinkedIn. According to the platform, members spend almost 3x more time watching video ads than viewing static sponsored content.
If you're on the fence about LinkedIn ads, don't be. Beyond the attention that video ads generate on the platform, LinkedIn also offers a suite of tools to help you capture leads and measure ROI, making it easier to gauge whether your content is striking the right chord with your audience.
Ad length, often a hotly debated topic, can vary. But LinkedIn has found that 15-second ads perform best.
#3: Tips to Optimize Your LinkedIn Videos
Once you've decided what kinds of LinkedIn videos to create, here are seven tips to help optimize them for the platform.
Use LinkedIn Native Video
While there isn't conclusive evidence for or against LinkedIn native video being prioritized over video links to other platforms, I believe that LinkedIn's algorithm may prioritize native content.
Why? Like all social platforms, LinkedIn generates revenue from ads. As more people view sponsored content, more revenue is generated. Sending members away from LinkedIn to other sources to watch videos is therefore counter-intuitive.
While you may have other channels, make it a priority to upload LinkedIn native video, as it's also a smoother experience for members. They aren't sent to another platform, making it easier to enjoy your content.
Be Succinct
LinkedIn members are busy. According to Alexa, LinkedIn members spend an average of nearly 10 and a half minutes per day on the platform. If you're using video, get to the point quickly. Your content will have more impact and give members a reason to view it more regularly.
Write Strong Copy
While video is engaging, the copy can help set the stage for what your audience is about to view. In fact, LinkedIn found that 54% of people likely watch a video because of its headline, while 52% could be influenced by accompanying copy summaries.
Provide a Clear CTA
CTAs may seem obvious but they're often misunderstood. They don't always have to be about making a sale or generating a lead. You can use them to deepen relationships with your audience. To visualize this, if you know your audience also uses Instagram, invite them to connect with you on Instagram for unique content that you don't share anywhere else.
Add Captions
Did you know that around 80% of videos on LinkedIn are viewed without sound? This means members are more engaged by videos with captions and more likely to watch captioned videos.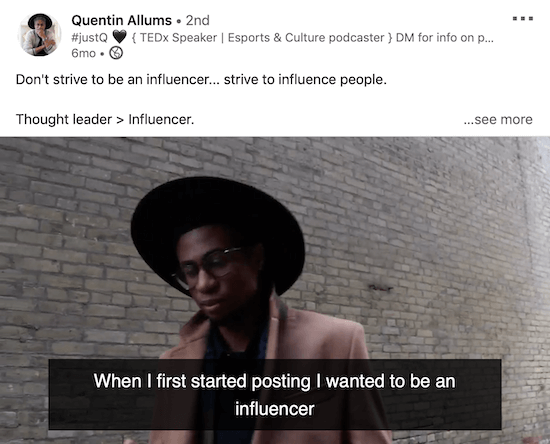 Keep Key LinkedIn Video Specs in Mind
Like other platforms, LinkedIn has its own set of technical specs you'll need to adhere to. Here's a breakdown of key LinkedIn native and ad video specs you need to know.
LinkedIn Native Video Specs
Video length: 3 seconds–10 minutes
File size: 75 KB–5 GB
Orientation: Horizontal or vertical; note that vertical videos are cropped into a square in the feed
Aspect ratio: 1:2.4 or 2.4:1
Resolution range: 256 × 144 to 4096 × 2304
File formats: ASF, AVI, FLV, MPEG-1, MPEG-4, MKV, QuickTime, WebM, H264/AVC, MP4, VP8, VP9, WMV2, and WMV3
LinkedIn Video Ad Specs
Video length: 3 seconds–30 minutes
File size: 75KB–200MB
Orientation: Horizontal only; vertical videos aren't supported by LinkedIn video ads
Pixel and aspect ratio: 360p (480 x 360; wide 640 x 360); 480p (640 x 480); 720p (960 x 720; wide 1280 x 720); 1080p (1440 x 1080; wide 1920 x 1080)
File format: MP4
Conclusion
It's no secret that buyers want more information before completing a purchase. Smart video marketing on LinkedIn complements any brand's content marketing arsenal.
All effective LinkedIn videos share three important elements:
Relevance: Address a specific pain point or challenge that a buyer has at a certain stage of the funnel. As marketers know, content isn't always consumed in order or in a straight line. But don't let that stop you from producing relevant videos for LinkedIn. Creating a video with a relevant message means digging deep and using your intimate understanding of your buyers and what they want and need.
Value-packed: Offer more than the buyer would otherwise have access to anywhere else. Providing unprecedented value isn't as challenging as you might think, though. It's about offering insights that empower your buyers or answering your audience's questions.
Connected: Connected content helps guide buyers along their buyer journey. It's like a steady drip of what your buyers need as they engage and experience your brand. While CTAs are important, connected video content is also about developing a coherent message. Position your brand and solution consistently, showing your audience that you're the foremost authority on a subject and the best source of information to help them reach their goal.
Incorporating all three of these elements into each video you create for LinkedIn may seem like a tall order. But if you've taken the time to understand who your audience is and what they need to move to the next stage in the buyer's journey, you'll have enough information to create engaging videos.
What do you think? What types of LinkedIn videos do you create for your business? Share your thoughts in the comments below.
More articles on LinkedIn marketing:
Get Your FREE Course: Web3 for Beginners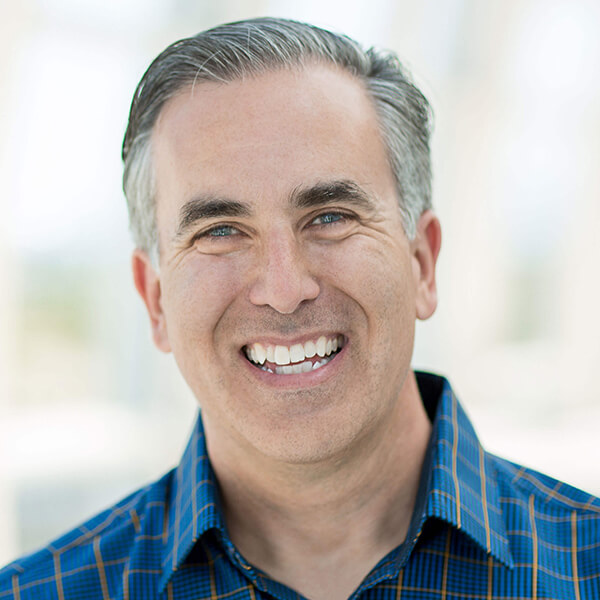 Curious about Web3, but don't know where to start or who to trust?

Introducing Web3 for Beginners, a course taught by Michael Stelzner, the founder of Social Media Examiner.

Learn the basics of Web3 and apply it to your business with this FREE comprehensive course.
CLICK HERE TO GET FREE ACCESS