Want to get in front of video viewers on Facebook? Wondering how to run Facebook in-stream video ads?
In this article, you'll discover how to create Facebook in-stream video ads that people will watch.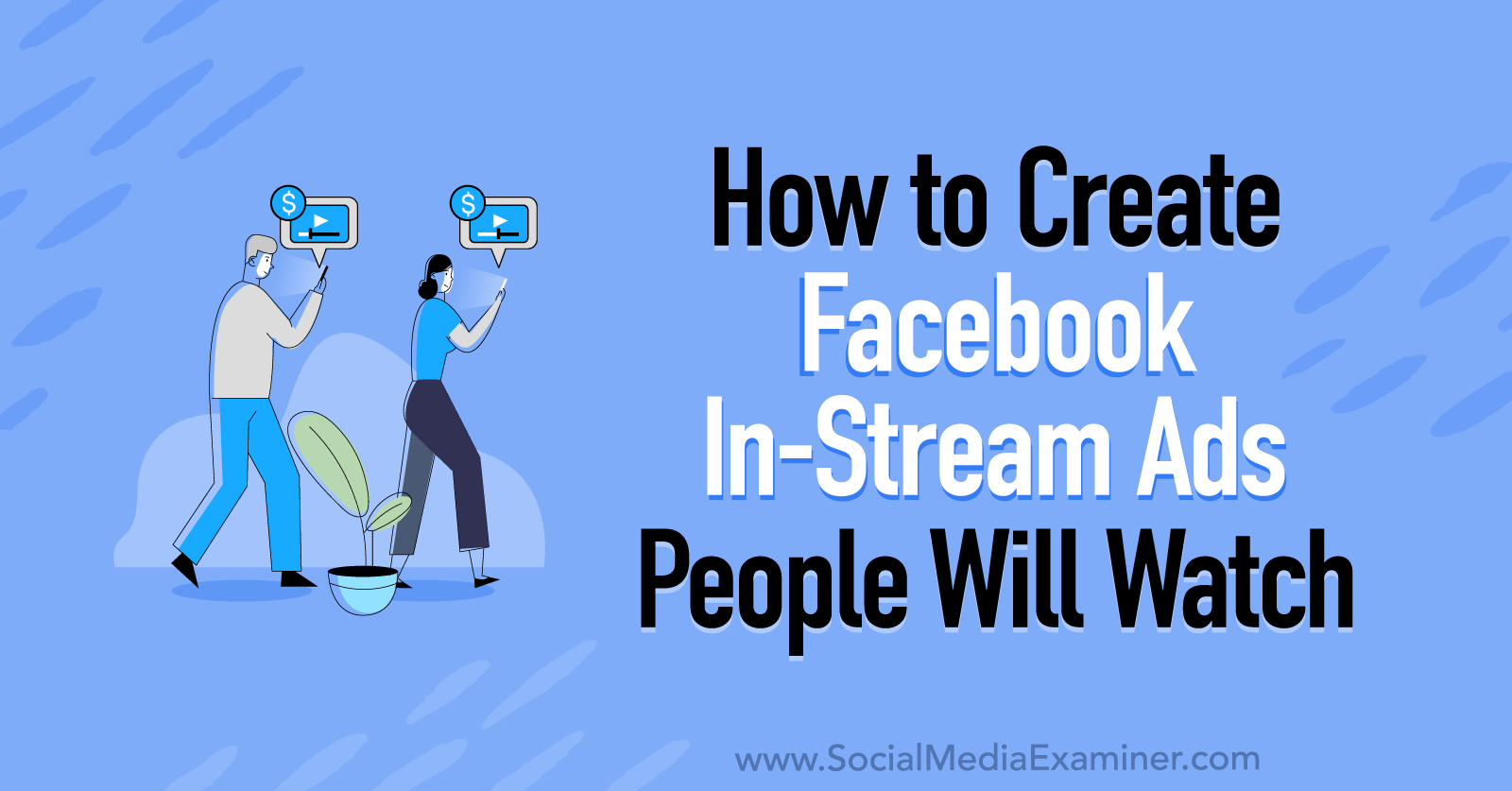 What Are Facebook In-Stream Ads?
In-stream is just Facebook's fancy term for ad breaks. In-stream ads are inserted into videos and live streams on Facebook Watch. They can be from 5 seconds to 10 minutes long, and appear at least 1 minute into video content.
But there are a few key limitations that make this format really interesting.
First of all, Facebook in-stream ads are only shown to mobile users. If you watch Facebook videos on desktop, you'll never see an in-stream ad. Ad placements are also limited depending on how much time you've already spent viewing ads that day. So if you've already scrolled past a few dozen sponsored posts, or watched a long video spot, then Facebook might give you a break from the ads.
Secondly, in-stream ads only appear in certain categories of Facebook video:
On-demand video from publishers and creators. Creators have to apply to Facebook to be eligible for in-stream ad placements and there are strict criteria in place. It's up to creators which of their videos contain ads.
Live-stream video from Facebook partners. That means creators and publishers who have been approved by Facebook—specifically in the world of gaming, entertainment, and sports.
This is part of a wider trend. Facebook is investing a lot into gaming, sports, and new virtual reality tech. It's favoring creators in these sectors by giving them early access to in-stream ads. And, if you check out the Watch tab in the Facebook mobile app, you'll see that Facebook is pushing Gaming as one of the home categories: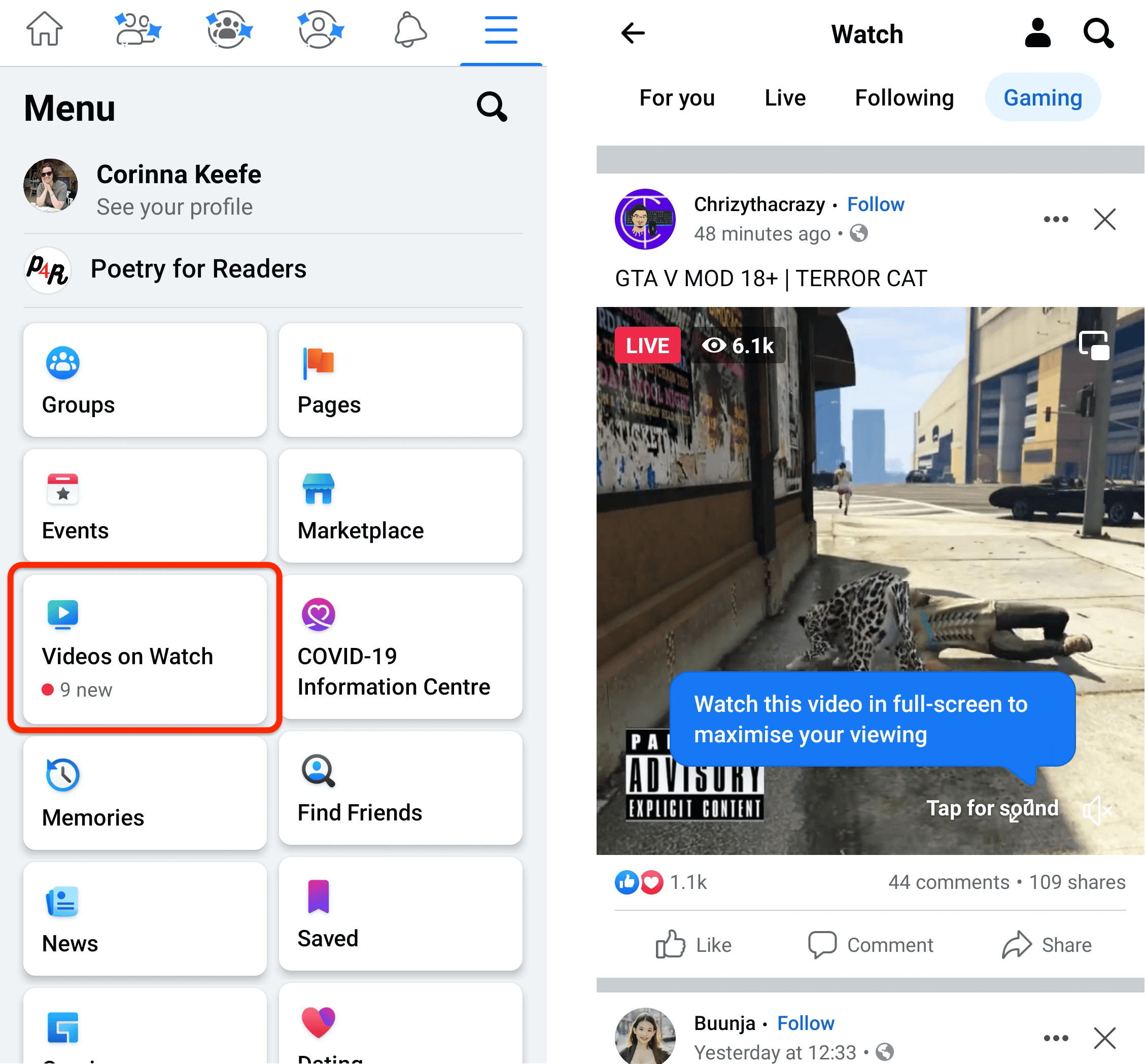 When you create an in-stream ad, Facebook will automatically place it in a video from these categories using its ad space auction system. Ad spots are spaced out over the course of video content so viewers aren't flooded with ads. When creators upload videos to their profiles, they can even suggest cues for commercial breaks so things flow more naturally.
Benefits of Using Facebook In-Stream Ads
But before we dive into the technical details… are Facebook in-stream ads worth it? Before you fire up the camera and redistribute your ad budget, here's what you need to know.
People consume a huge amount of video content online and a good quarter of that content comes from Facebook. Within the social network, an estimated 65% of all video views are by mobile users—which is good news for in-stream ads because they're mobile-only.
Among all of those videos, do people still watch ads? The answer is yes. According to Facebook, over 70% of Facebook in-stream ads are viewed all the way through. That's not just due to unskippable ads; users are actively choosing not to skip when given the choice.
In-stream ads also come with a guaranteed audience size. Creators and publishers have to meet stringent requirements before they can monetize their videos with ad placements:
The Conference You've Been Waiting For
As a small business marketer, you can probably only pick one or two events to attend each year. Get back into the game with an unbeatable conference experience and expert training at Social Media Marketing World in sunny San Diego, California—from your friends at Social Media Examiner.
🔥🔥 As a valued reader, you can save $350 if you act now! Sale Ends Tuesday!
CLICK HERE TO LEARN MORE
At least 10,000 followers
At least 30,000 video views in the last 60 days
In an eligible country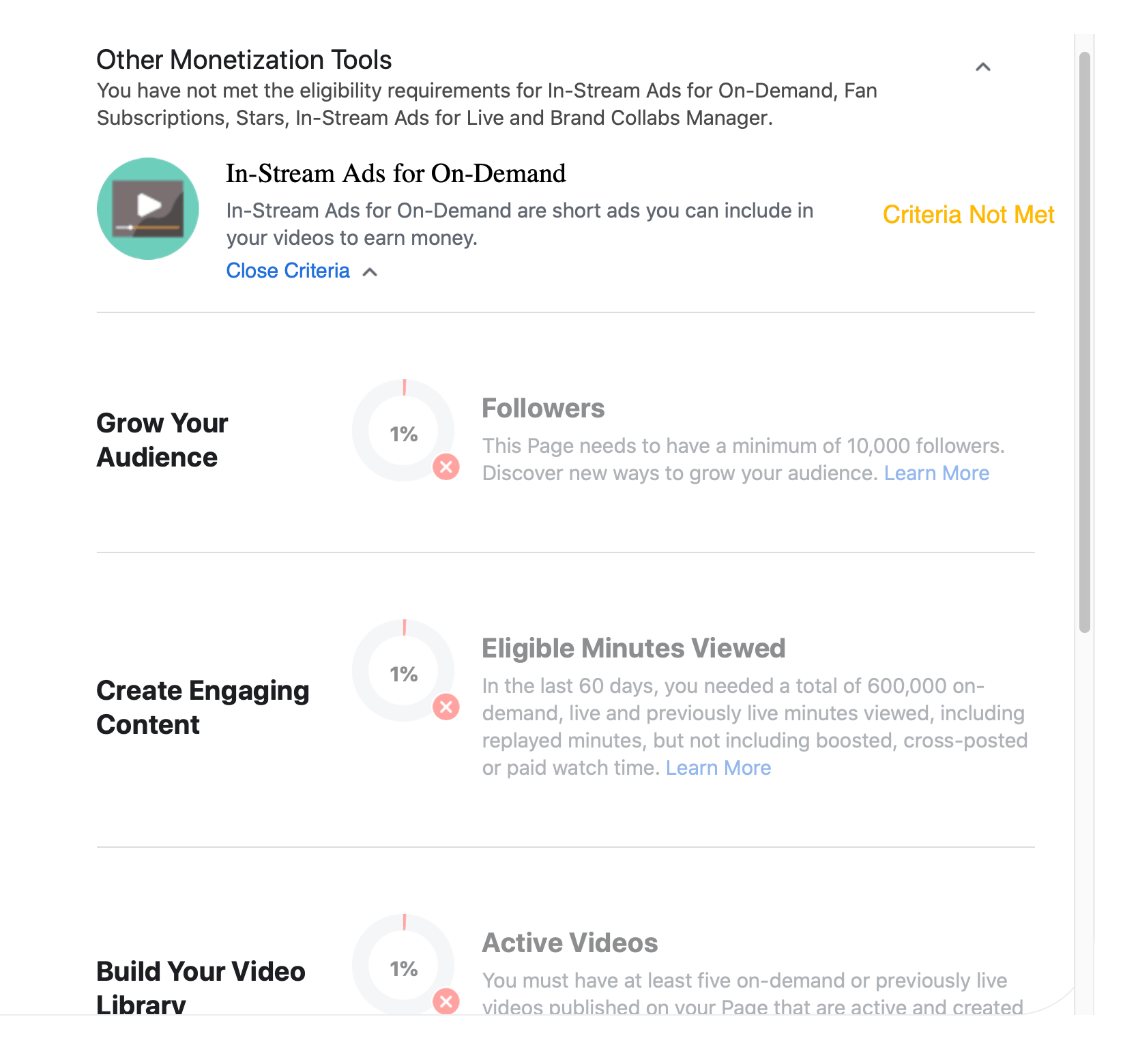 In other words, when you run in-stream ads, your ads are guaranteed that level of audience engagement. Facebook also applies its usual brand safety filters, and specifically excludes content from governmental or religious pages so you don't have to worry about unfortunate associations.
With all that said, in-stream ads will always be unpopular with some viewers. Some people resent Facebook ad breaks because they're often unskippable and appear at unpredictable moments throughout videos.
There are several ways to get around this problem of viewer fatigue. First, and most obvious, you should create ads that are worth watching: entertaining, attention-grabbing, and compatible with viewers' interests.
Some experts also recommend targeting in-stream ads to viewers who are already aware of your brand. They're more likely to welcome ads when they're already interested in a product.
In the next couple of sections, we'll cover exactly how to create in-stream ads and how to make sure viewers love them.
How to Create Facebook In-Stream Ads
Creating Facebook in-stream ads is just like creating any other campaign in Facebook Ads Manager. You'll recognize all of the familiar steps: naming your campaign, choosing placements, defining your audience, and finally uploading the ad creative.
Just make sure you've ticked In-Stream in the list of ad placements. You can also run other ad types at the same time; for example, in-stream ads with Facebook Stories is a popular combination. As we'll see below, Facebook itself recommends combining in-stream ads with static ads in the same campaign.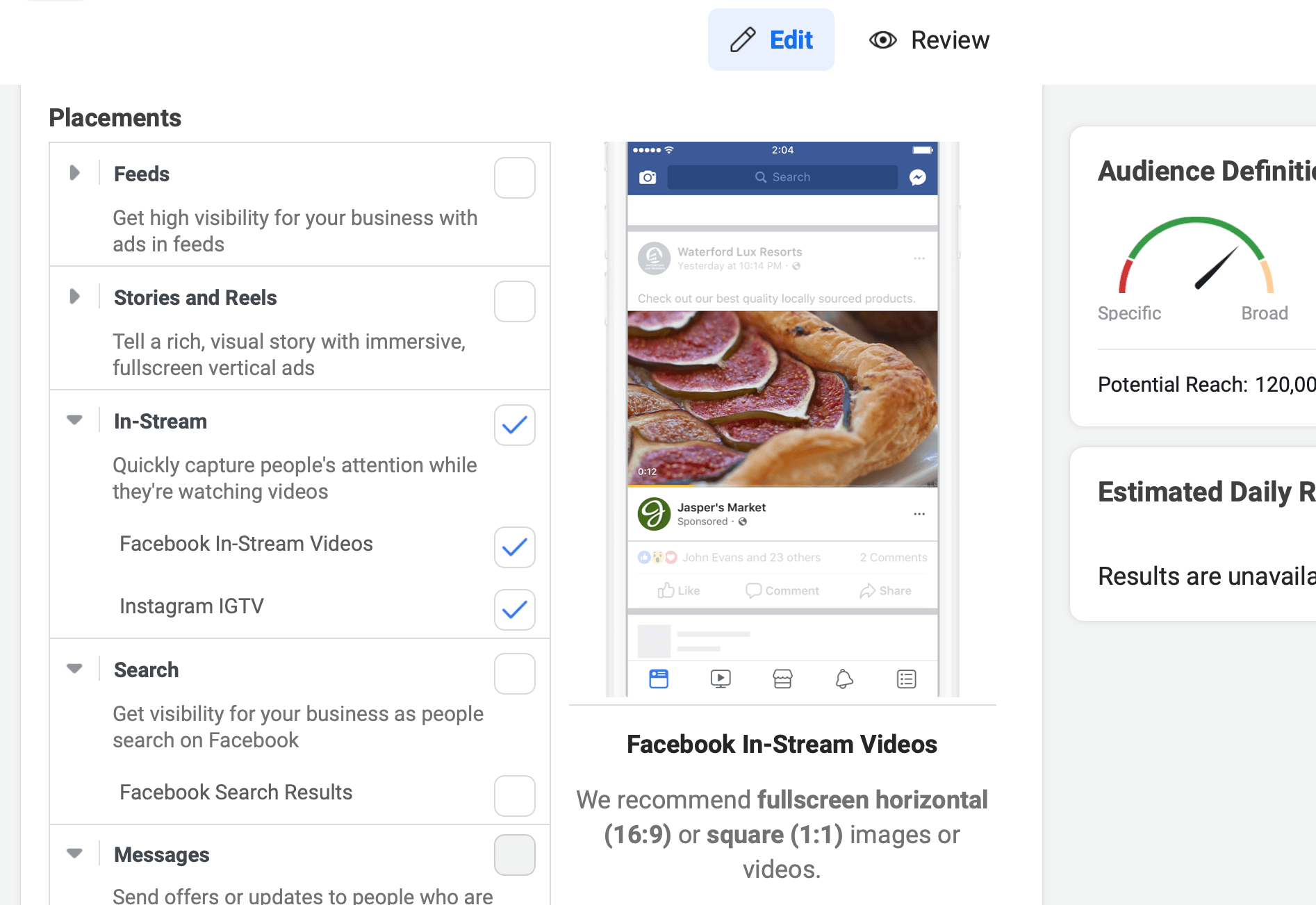 But first, let's look through the detailed settings for Facebook in-stream ads.
Once you've selected your ad placements, click Show More Options at the bottom of the list. You'll see a setting about skippable ad placements.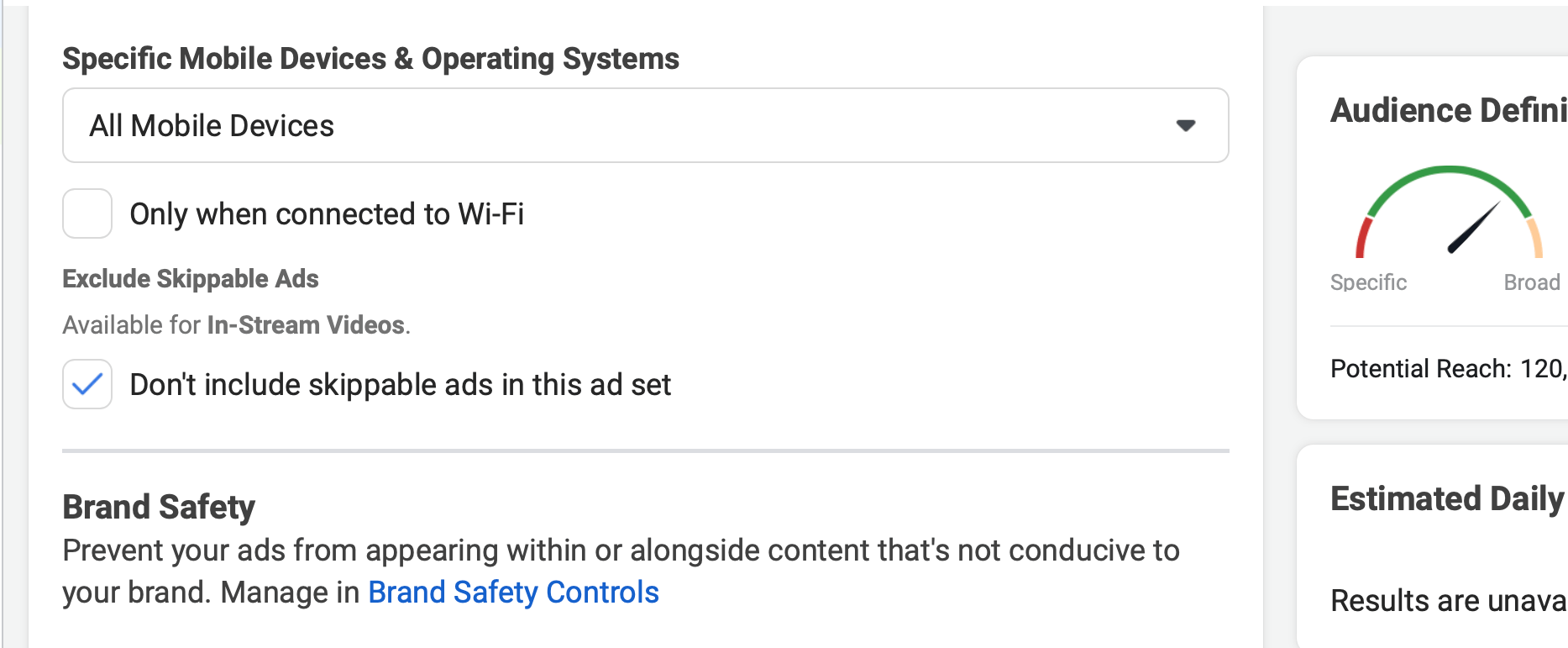 If you choose Don't Include Skippable Ads in This Ad Set, then your in-stream ad will always appear as an unskippable break. However, you can also choose to leave this setting off, giving users the choice to skip your videos.
It's worth noting that Facebook only makes the first 15 seconds of any video unskippable. At the 15-second mark, viewers can choose whether to continue watching so you can't get away with 10-minute unskippable ads. It's probably for the best.
When you're happy with the settings on this page, click Next to start editing your ad creative.
Facebook has quite limited specifications for in-stream video. All in-stream ads must be in a 16:9 or 1:1 aspect ratio, with at least 1080 x 1080 pixels. You can upload .mp4, .mov, or .gif video files but they have to be smaller than 4GB. (If you want even more detailed video specs about things like square pixels, check the official guidance.)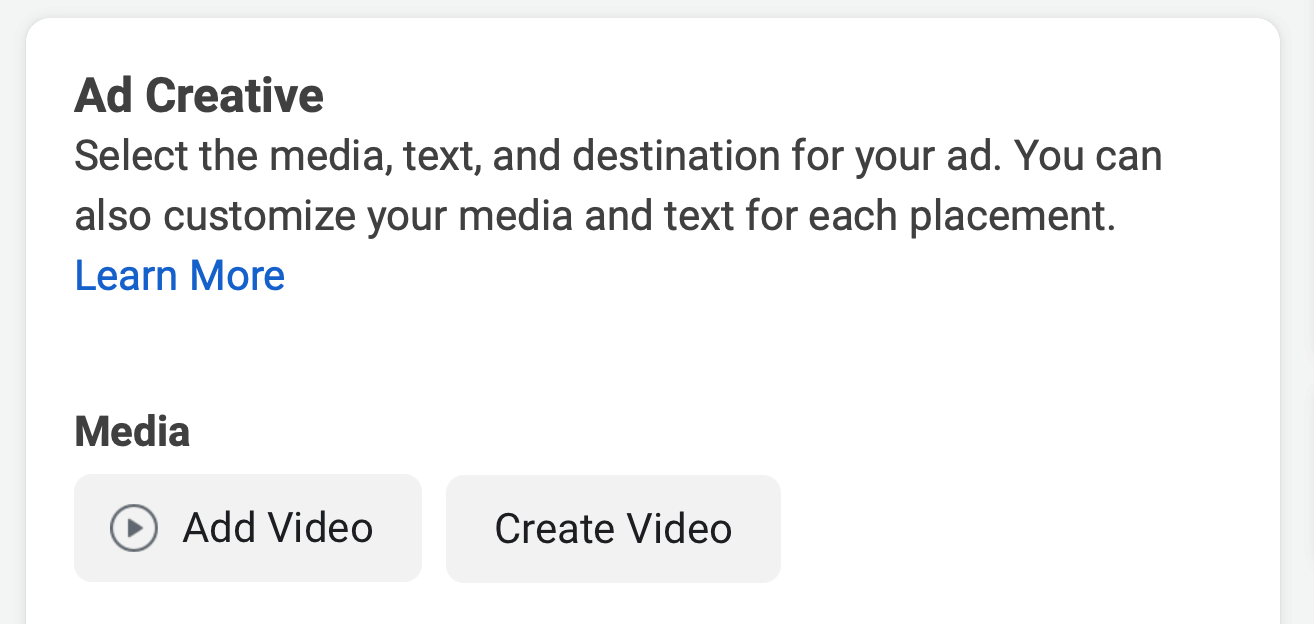 Just like other types of video ad such as Instagram Reels ads, there are three ways to add video to your ad campaign. You can:
Upload a new video that you've created already.
Use an existing video from your Facebook content library.
Use the video creator tool in Facebook Ads Manager.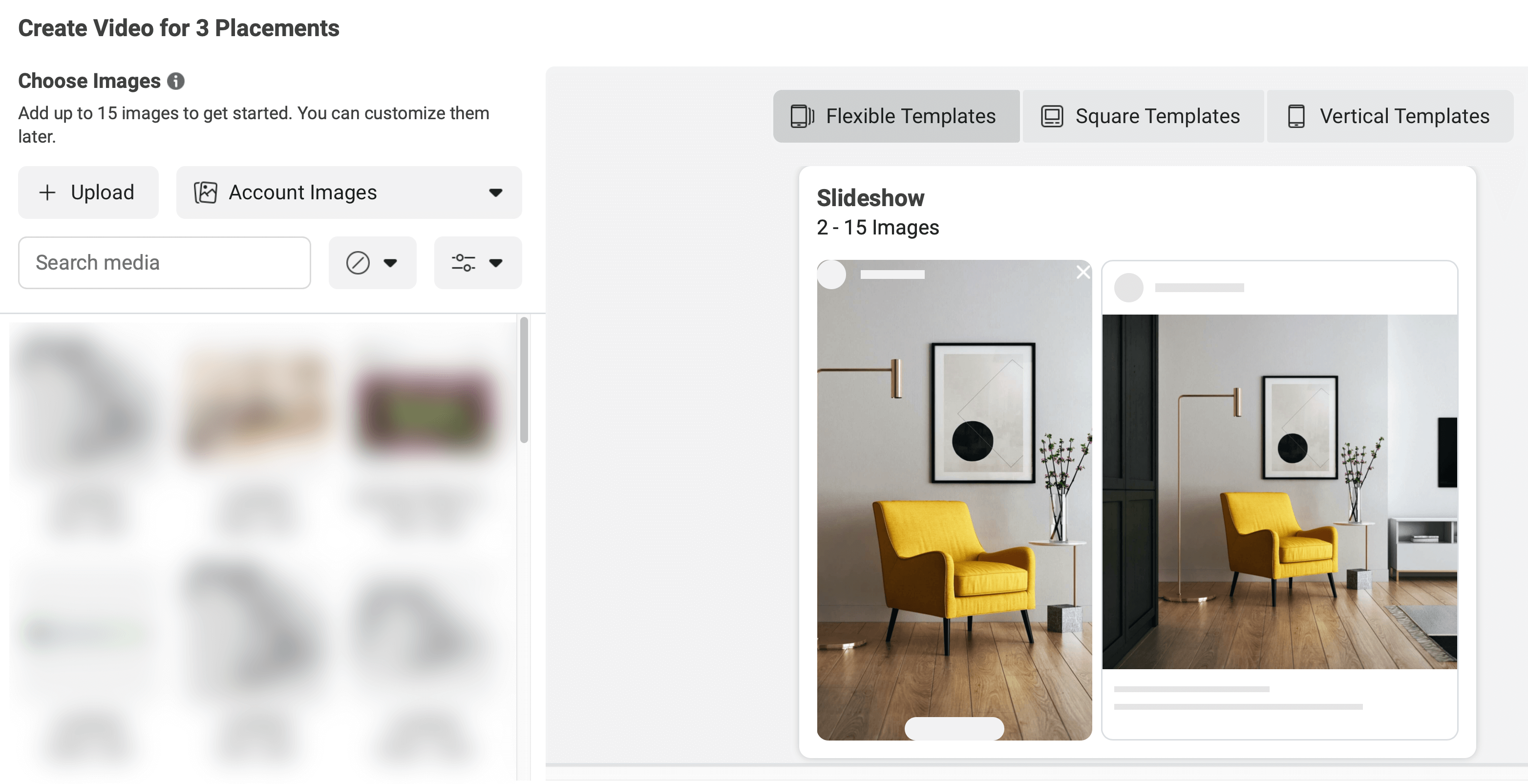 The built-in video creator is a really good option if you want to make short, fast videos with a clear visual identity. It uses photos and static images with visual effects to create a very simple, slideshow-style video.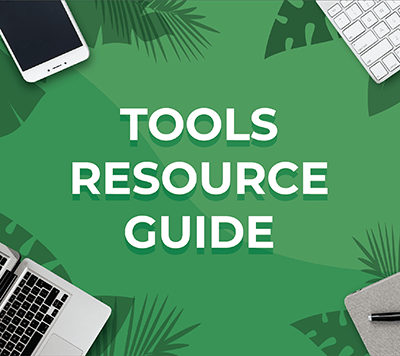 Looking for something to make your life easier?
Discover the tools we recommend to drive engagement, save you time, and boost sales across your entire marketing funnel or business.
Whether you need help planning content, organizing social posts, or developing your strategy, you'll find something for every situation.
FIND YOUR NEXT FAVORITE TOOL
But if you want to take full advantage of the longer video length for in-stream ads, then it's worth filming and uploading your own creative. Remember, you have up to 10 minutes to tell a story that draws viewers in and makes them convert.
Finally, don't forget that text still matters for video ads. When you create a Facebook in-stream ad, you can add primary text. This is like a video caption that appears at the bottom left of the screen, and it can be up to 125 characters long.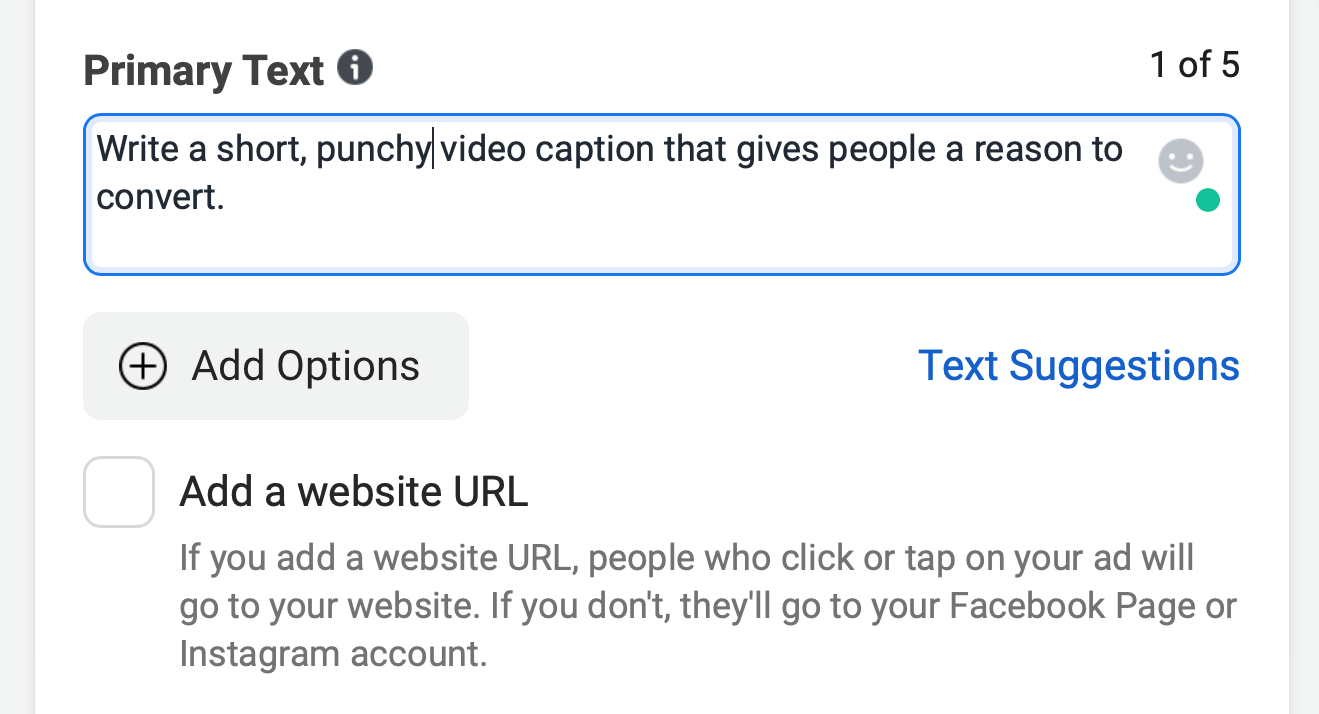 10 Ways to Make Facebook In-Stream Ads More Effective
Facebook in-stream ads have now been around long enough that we can draw some conclusions about how they work. While some of these recommendations could apply to other ad types as well, there are some intriguing differences.
Some of these tips come from the Creative Guidance Navigator (CGN), a new database of best practices for ads on Facebook, Instagram, Messenger, and Facebook's Audience Network. It's updated regularly with new research and ideas to try. According to Facebook, brands that followed the advice in the CGN saw 6.5% more growth in ad recall.
So let's get to it—10 ways to increase views, clicks, and brand recall for in-stream ads on Facebook.
Start Strong
The first 3 seconds of an in-stream ad are the most important. That's when viewers decide to watch or skip.
So your ad needs to make an instant impact. Use colors, sound, and movement to grab viewers' attention and attract their interest.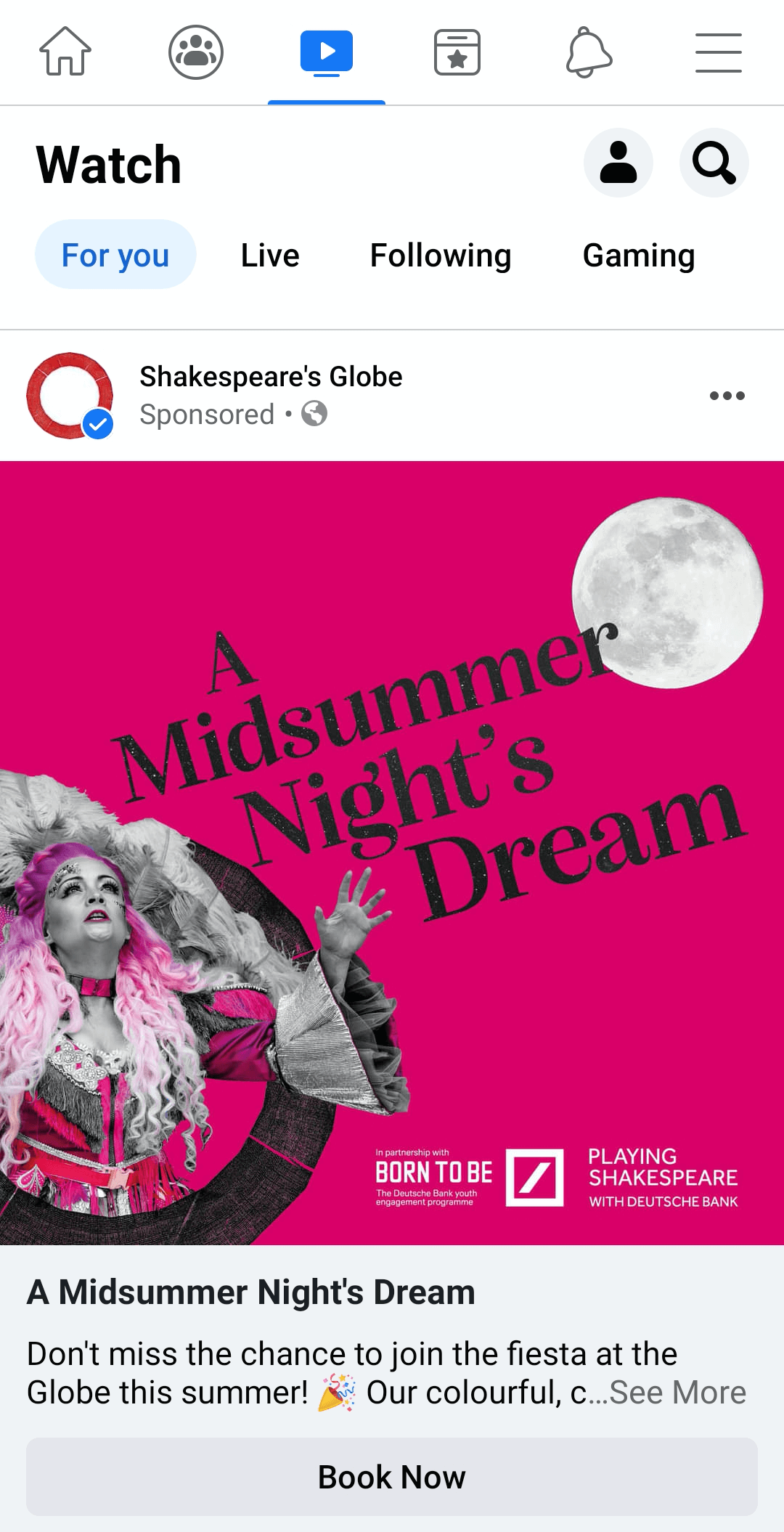 Create a Distinctive Look
Facebook in-stream ads have to stand out in two ways: they have to be different from other ads and they have to be different from the surrounding content. You'll need to use all of the tricks at your disposal to create a distinctive look:
Show your brand logo immediately.
Use brand colors and fonts for a clear visual identity.
If targeting viewers who already know your brand, try using an established script structure.
Give a Simple Call to Action
Even though in-stream ads can be a full 10 minutes long, you still need to keep things simple. Whatever your goal for the campaign, you want to convert users with a single tap. Use the primary text, URL, and video content to make the call to action as clear as possible.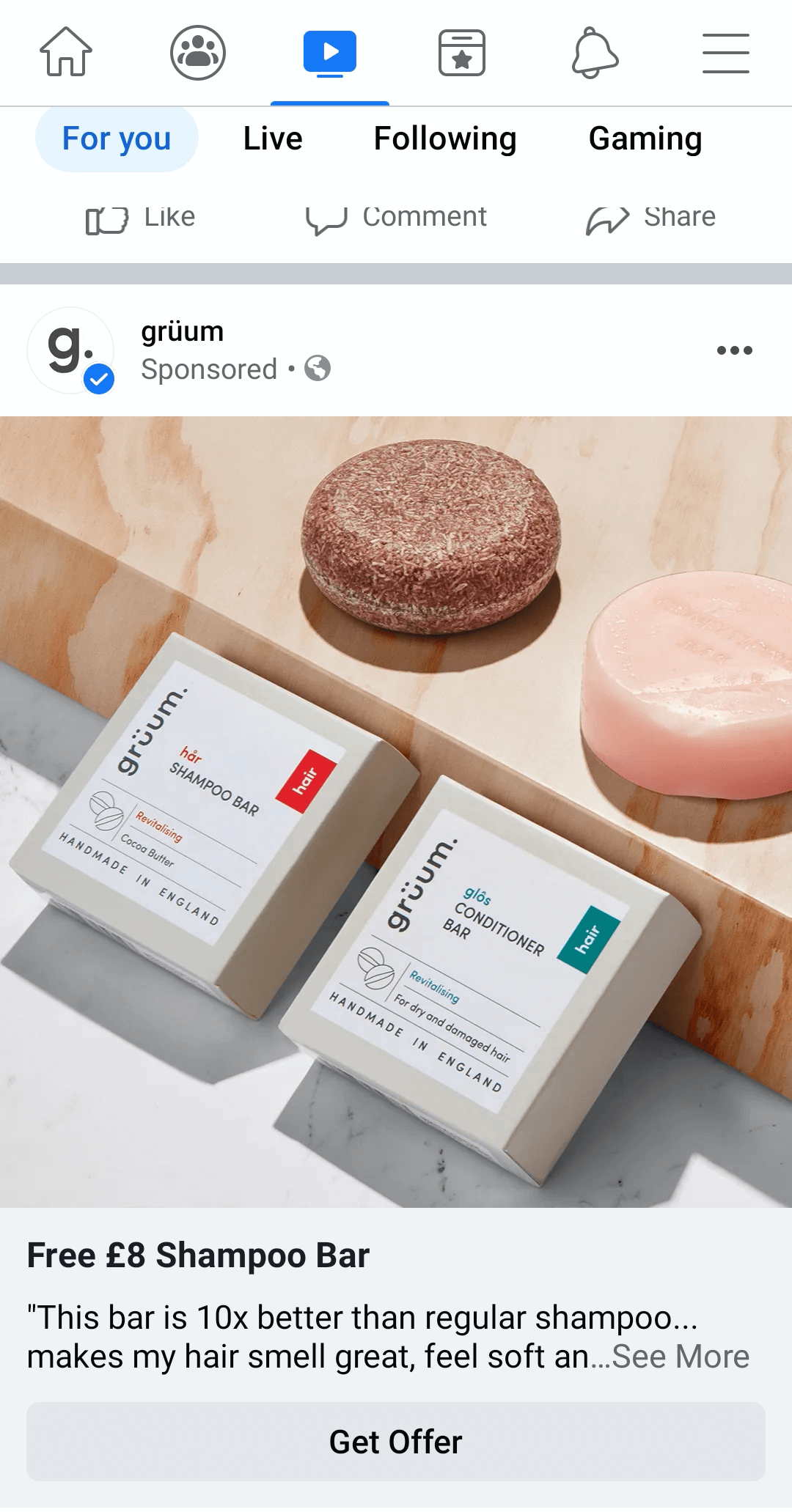 Use Large Print
Facebook's research suggests that viewers respond well to video ads with big, clear text. Think big enough to read on mobile (and remember, not everyone has the latest enormous iPhone). If you use text in your in-stream ads, keep it short, simple, and sizeable.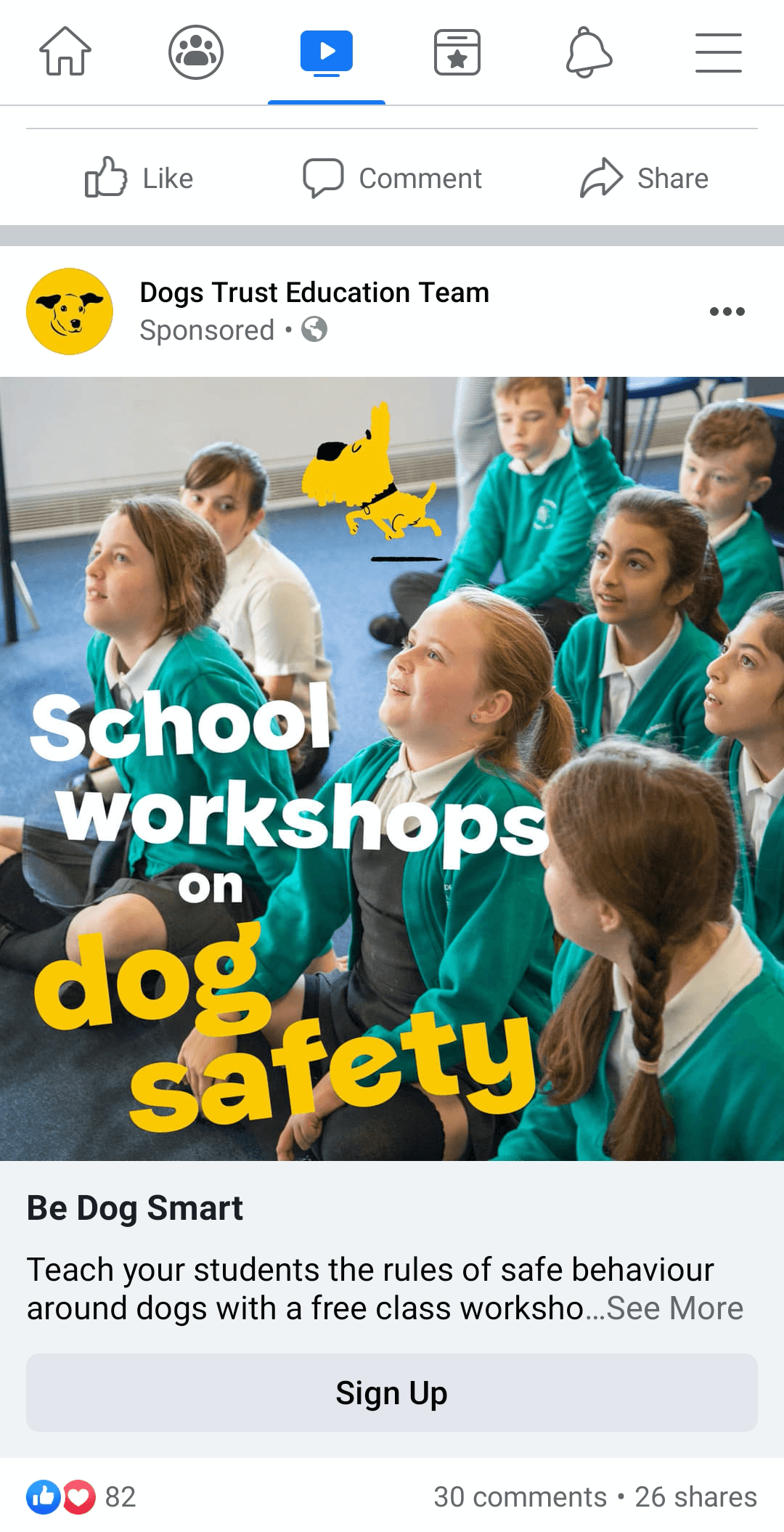 Introduce Your Star Characters in the First 3 Seconds
One of the most interesting research findings so far is that Facebook in-stream video ads work differently from other types of video ad.
In conventional TV commercials, characters are usually introduced mid-reel or to make a point right at the end of the ad. But in-stream ads are different. You'll get the best results if you introduce your star characters instantly—within the first 3 seconds.
Create a Sense of Intimacy
Once your characters are on-screen, you want viewers to build an emotional connection with them fast. And you can do it with camera tricks. Whenever you film an in-stream ad that features a person, crop in tightly so that the character fills the screen.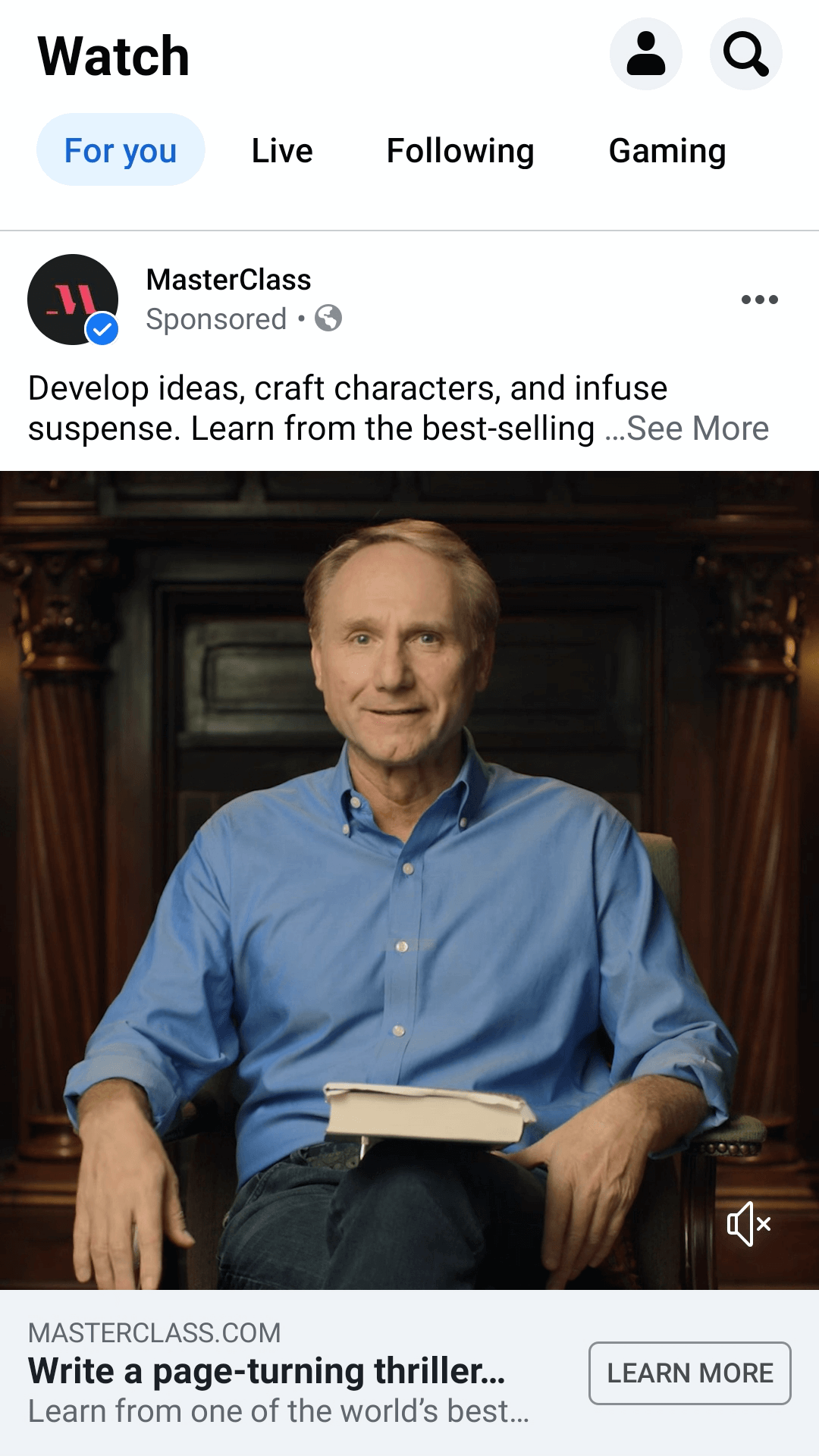 You can also engage viewers by using eye contact throughout the video, making it feel like a personal conversation rather than a commercial presentation.
Use Audio Branding as Well as Visuals
In the past, most Facebook users watched videos with the sound off but that's changing. A large portion of Watch viewers keep the sound on and other social networks (such as TikTok) have put sound at the center of their content.
That means an opportunity for audio branding. If your brand has a signature tune or jingle, use that. If not, you could choose music that reflects your brand style and highlights the message of the ad.
Include Captions for Speech
Creating sound-focused videos doesn't mean you can skip the captions. Subtitles are still essential for people who view with the sound off or have hearing impairments.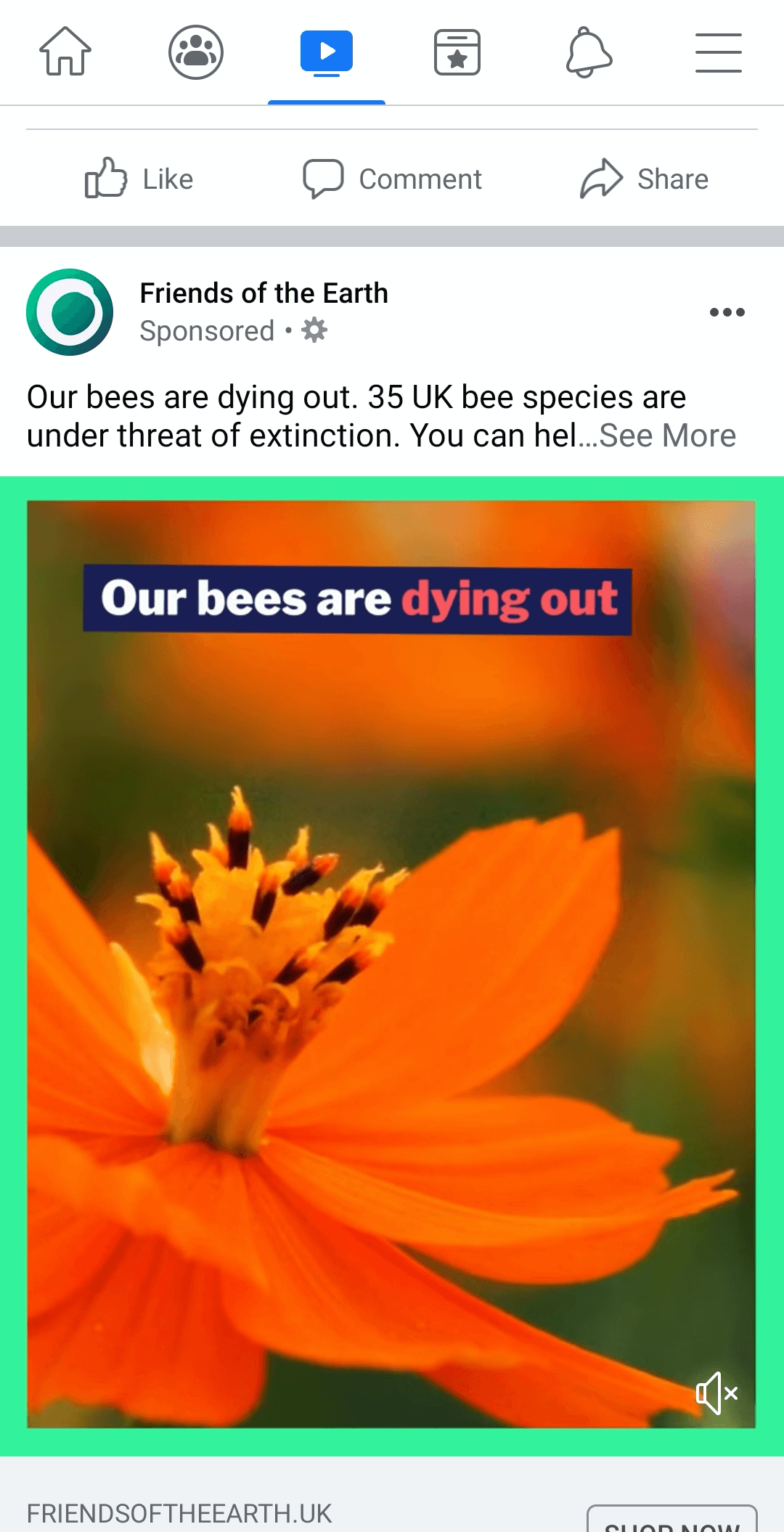 When you create a video ad, you can upload your own subtitles as an .srt file or let Facebook generate them automatically. I'd recommend uploading your own whenever possible. They'll be more accurate and you'll avoid any awkward transcription mistakes.
Mix Static and Video Ads
According to Facebook, advertisers see best results when they mix and match ad types. The key is to use creative that viewers can recognize across videos, static posts, and other types of content from your feed.
For example, you could use a distinctive color scheme for all of the ads in a campaign; recycle frames from the video as static posts; or continue a brand story across different formats.
This video ad is a neat animation of a popular book cover, linking online and offline content.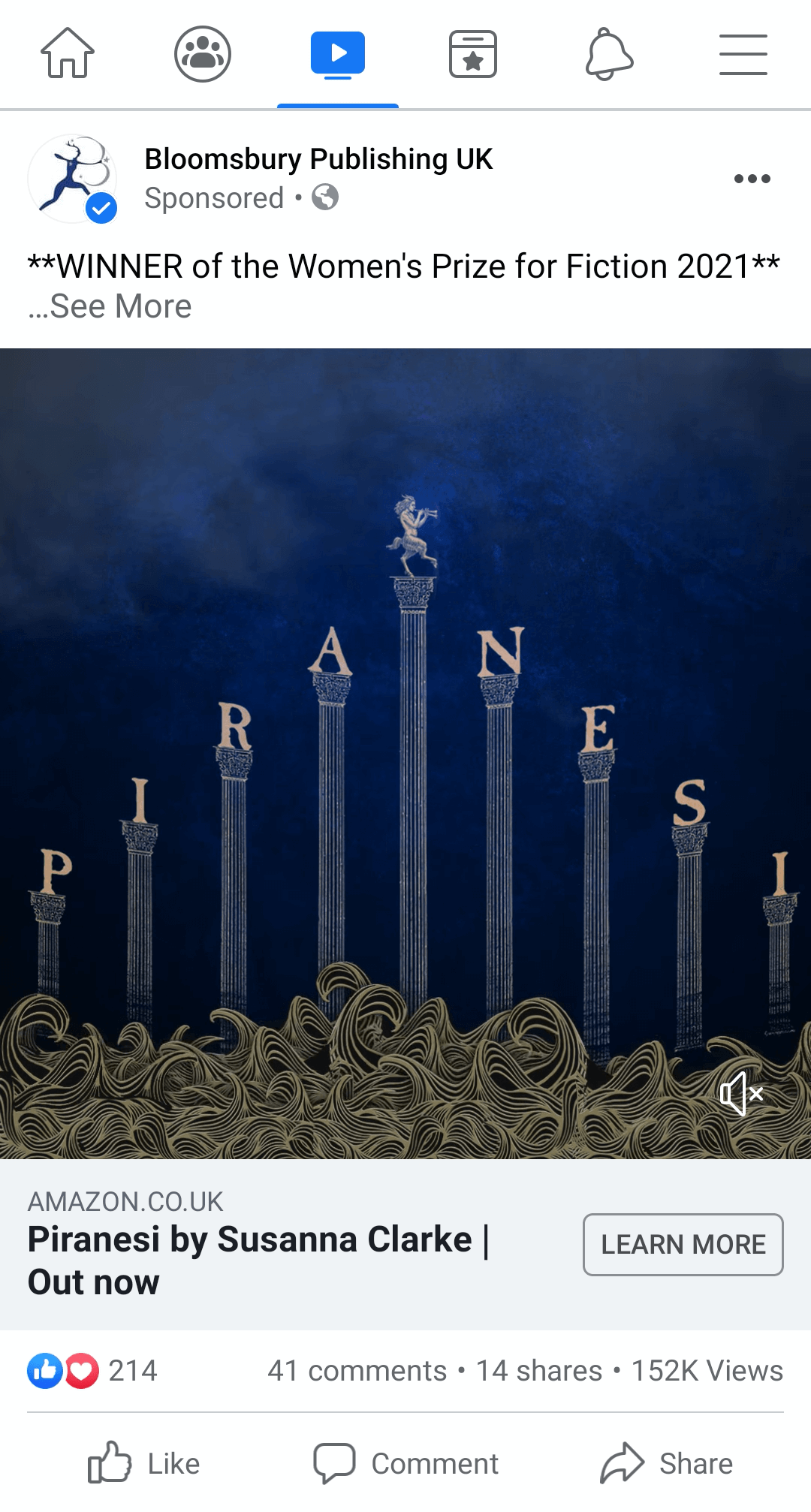 Support Your Facebook In-Stream Ads With Branded Content
Facebook also recommends syncing your in-stream ads with branded content. And in the rarefied world of the social network, branded content means something very specific: influencer content.
So, in theory, you could run a campaign where your ads appear in some creators' videos while other creators are making videos about your brand. This gives viewers a 360-degree experience. They'll feel like they're hearing about your brand everywhere. In effect, you'll create an illusion of social proof.
Conclusion
Facebook in-stream ads offer a huge potential audience. And with up to 10 minutes of airtime, there's plenty of room for creativity. Are you ready to try this new ad format?
Get More Advice on Facebook Video Ads
Get Your FREE Course: Web3 for Beginners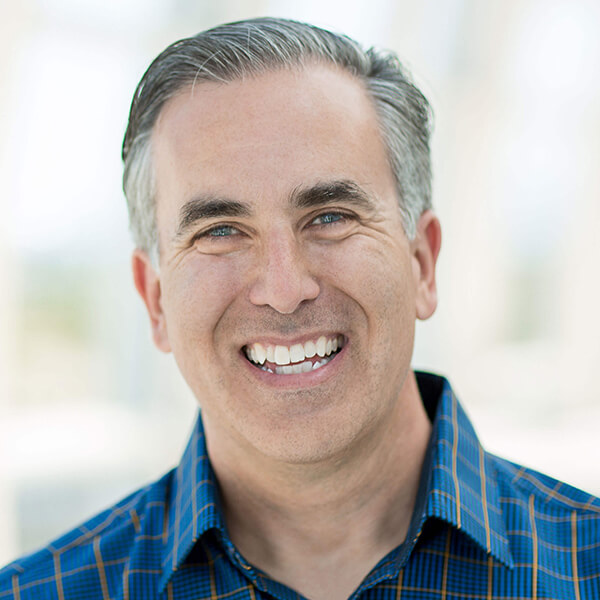 Curious about Web3, but don't know where to start or who to trust?

Introducing Web3 for Beginners, a course taught by Michael Stelzner, the founder of Social Media Examiner.

Learn the basics of Web3 and apply it to your business with this FREE comprehensive course.
CLICK HERE TO GET FREE ACCESS