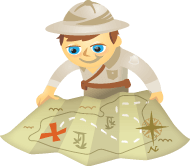 Are you looking to leverage the popularity of QR (Quick Response) codes with the wide-spread adoption of Facebook?
Over the past several months, QR codes have inserted themselves squarely into digital media conversation (even appearing on late-night TV).
In this article, I'll unpack how to get your QR codes to go viral on Facebook.
I'll start by walking you through the process and an example campaign, and conclude with an analytical discussion examining five need-to-know success factors.
Setting Up a Viral QR Code Campaign
Step #1: Generating the QR code
For the uninitiated, QR codes provide a means to open a URL on a mobile phone.
However, a closer look reveals that most QR code generators provide functionality for executing a host of mobile phone actions, including creating a calendar event, sending an SMS or providing contact information.
Like all things viral, choose a QR code type based on what you think people will want to share.
For the purposes of our example campaign, we used scan-to-SMS. Once generated, keep in mind that saving the QR code in a user-friendly format (e.g., jpeg or png) will be useful when integrating with other applications.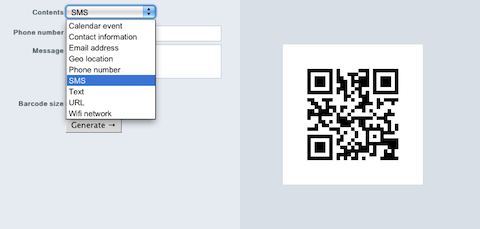 Step #2: Customizing your Facebook post
The next step is to upload your QR code to a server that can communicate with the Facebook Share API.
Something you share on Facebook contains four components (see graphic below). All of these components are fully customizable for a viral QR code campaign.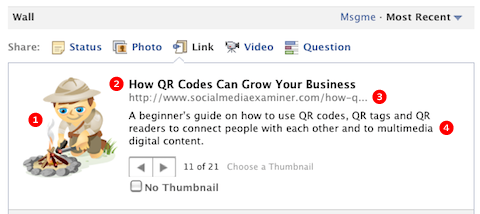 Some important points to keep in mind when customizing these elements:
Image: This is where you will put your QR code. It should be sufficiently large for people to scan easily.
Title: This is your headline. Crucial for grabbing attention in crowded Facebook feeds.
Source: A brand running a campaign should host the QR code on a URL that provides context for the campaign (for those scanning our example campaign, you'll see a URL connecting to a generic "wmclientservices.com").
Description: A great place to provide valuable and pertinent information about your campaign.
Step #3: Taking your campaign live
Once integrated, Facebook provides you with a campaign-specific Facebook share URL.
Use a URL shortener to make it more viral-friendly (trackable and easy to share). To ensure maximum uptake, test your code with multiple QR code readers before deploying into the wild.
Speaking of uptake, here's the flow for our example campaign (with select screenshots below):
The Conference You've Been Waiting For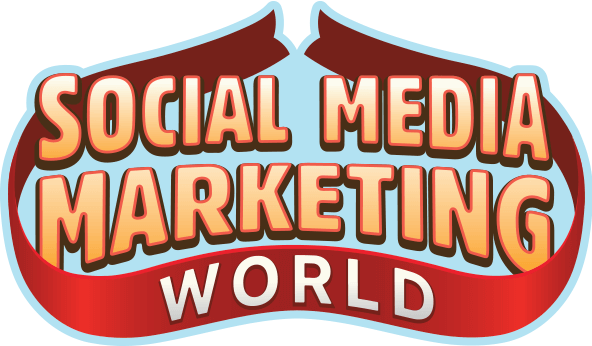 As a small business marketer, you can probably only pick one or two events to attend each year. Get back into the game with an unbeatable conference experience and expert training at Social Media Marketing World in sunny San Diego, California—from your friends at Social Media Examiner.
🔥🔥 As a valued reader, you can save $660 if you act now! Sale Ends Tuesday!
CLICK HERE TO LEARN MORE
Users will see an ad for socialmediaexaminer.com with a QR code.
Users then scan the QR code and send the SMS.
They will receive two links, one to socialmediaexaminer.com and the second to share on Facebook.
When the second link is clicked, Facebook's share prompt automatically opens.
Users can personalize the message and share.
The QR code is automatically posted to users' Facebook wall and news feed.
Friends can scan the QR code within Facebook to share with their friends.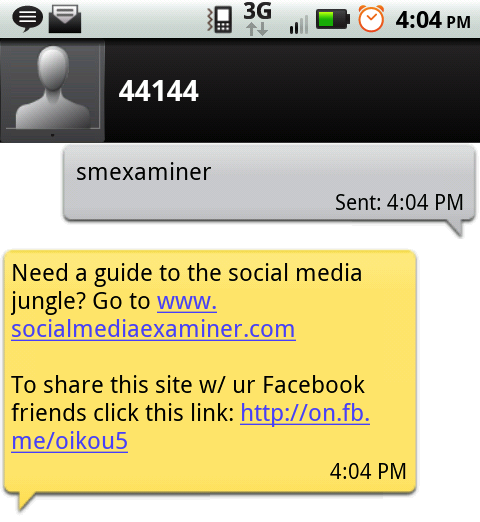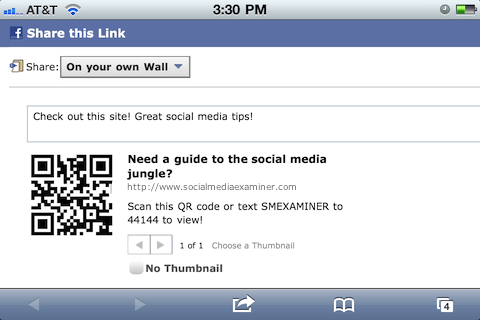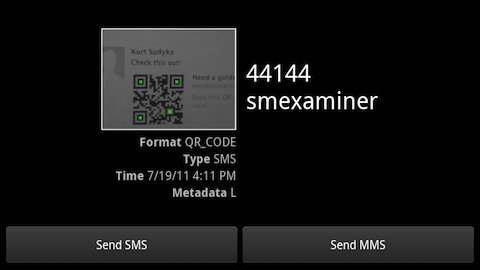 The benefit of taking this viral approach to QR codes is easy to imagine: 10,000 people scanning and sharing the original ad equates to (from Facebook stats: 10K x 130 friends) 1.3 million additional pairs of eyes—and that's before those Facebook users start sharing with their friends, and those friends with their friends, and on and on.
Five Need-to-Know Success Factors
Alas, if only it were that easy. Like everything in social media marketing, the process (sending a tweet, creating a Facebook page) is much easier than the actual execution (doing it well). Viral QR codes are no different.
Here are five factors that bridge the gap between success and failure:
Get Expert Social Media Marketing Training from the Pros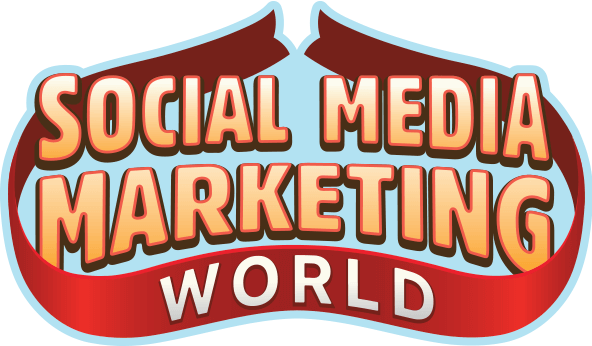 Want to get ahead of the competition and learn how to diversify your social marketing strategy?
Learn from the industry's most trusted experts, rub elbows with other smart marketers, and take your marketing to the next level during this 3-day event in sunny San Diego, California.
CLICK TO LEARN MORE
#1: QR code reach
A commonly cited figure is that smartphone market share will reach 50% by the end of 2011. In a different light, that's a minimum of 150 million people who won't be able to scan a QR code through the end of 2011.
Maybe you've noticed, but our example campaign snuck in an alternative call to action that achieves the same result as someone scanning the QR code.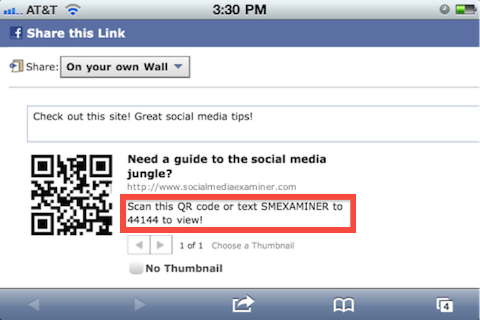 As you can guess, this was intentional. Include an alternative call to action (SMS, for example, is accessible by 99% of phones) to considerably increases the potential of your viral QR code campaign without much additional effort.
#2: Incentives
Let's say we were to take the above campaign live. At heart, its value proposition is, "Check out our website. It has great content we want you to share with your Facebook friends."
Now let's add a couple of phrases. "Check out our website for the chance to win a million dollars. It has great content we will reward you to share with your Facebook friends."
I'd be willing to bet my winnings that more people will participate in the second campaign than the first due to better incentives. Though often overlooked in technology marketing, incentives shouldn't be a surprise given that they turn up all the time.
What I think happens is that marketers mistake engagement resulting from "Wow, this is cool technology," with engagement from people genuinely moved to action by a campaign. Social media marketing, like marketing in general (and maybe even more so), is a two-way street.
#3: QR code design
QR codes grab people's attention due to their curious design. But assuming QR codes continue turning up in more and more places, the design's intrigue may start losing its ability to captivate people amidst everything else bombarding them.
That's why it's important to make your QR codes unique. By customizing various features of your QR code, you can bring a sense of personality that will increase brand identity and engagement.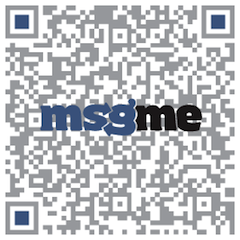 #4: Customer lifetime value
Customer lifetime value is simple to understand. Every marketer in the world would rather have a customer who spends $50 every day for the next two weeks than a customer who spends $100 today.
However, whether it's due to the idea of purchasing television spots or just the word "campaign" itself, marketers have a tendency to adopt a one-off mentality when it comes to tools like QR codes.
The problem is that QR codes at heart are an interactive medium. Failing to develop lifelong, instead of one-time, customers is a missed opportunity.
Luckily, there are a number of ways to achieve this end, the most important being opting someone in to a subscription list. Two viral QR code examples:
Using a mobile application service provider, you can enhance your scan-to-SMS campaign with an opt-in that captures the mobile phone number.
For scan-to-URL QR codes, you can use a mobile landing page to add subscribers to a database.
#5: CRM
QR codes are made up of three different types of data. The first—scans—accounts for the number of times a person successfully uses a QR code reader.
The second—phone operations—describes what a user does after scanning (e.g., clicks, downloads, page views). The third—user data—describes the people actually doing the scanning and phone operations (e.g., phone type used, age, gender).
I've seen far too many QR code campaigns that solely focus on scans. That's great for predicting the future of your QR code campaigns, but you miss a key opportunity to gather knowledge of how and what type of people interact with your brand.
Viral QR codes, given their ability to get in front of more people, make it even more mandatory to learn as much as you can about your customers in order to inform your future marketing decisions.
To quote Henry Luce, "Business, more than any other occupation, is a continual dealing with the future." A QR code campaign that fails to address the entirety of data available misses this point entirely.
More than anything, viral QR codes demonstrate a simple truth. Success in mobile and social marketing requires a database strategy. Not a channel strategy. The reason being that a database strategy is customer-centric, which affords significantly more value creation opportunities. Developing this mindset and working with people who share this mentality will ensure that you see maximum value from your QR code campaigns.
And as a mobile and social CRM aficionado, I'd love to hear what other ways you use to enhance QR codes with a cross-channel approach.
What do you think? Please post your thoughts or comments in the box below.
Curious about NFTs, DAOs, and Web3?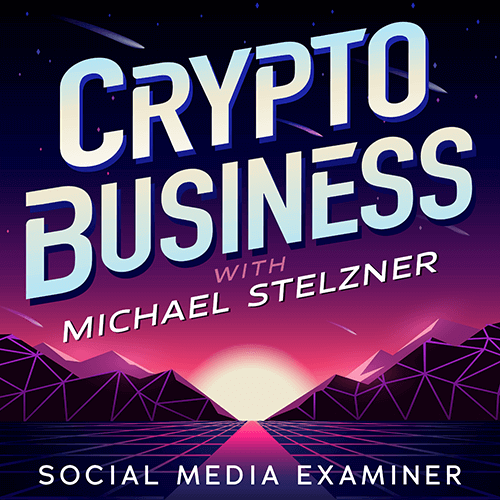 Follow the Crypto Business podcast to find out how NFTs, social tokens, DAOs (and so much more) will affect your business in the near future.

Every Friday, host Michael Stelzner interviews leading industry experts about what works right now in Web3 and what to expect in the future, so you can prepare your business for the shift, even if you're a total newbie.
FOLLOW THE SHOW