Want your brand to stand out on Instagram? Wondering how to create content that stays in people's minds?
In this article, you'll discover how to be more creative with your Instagram content.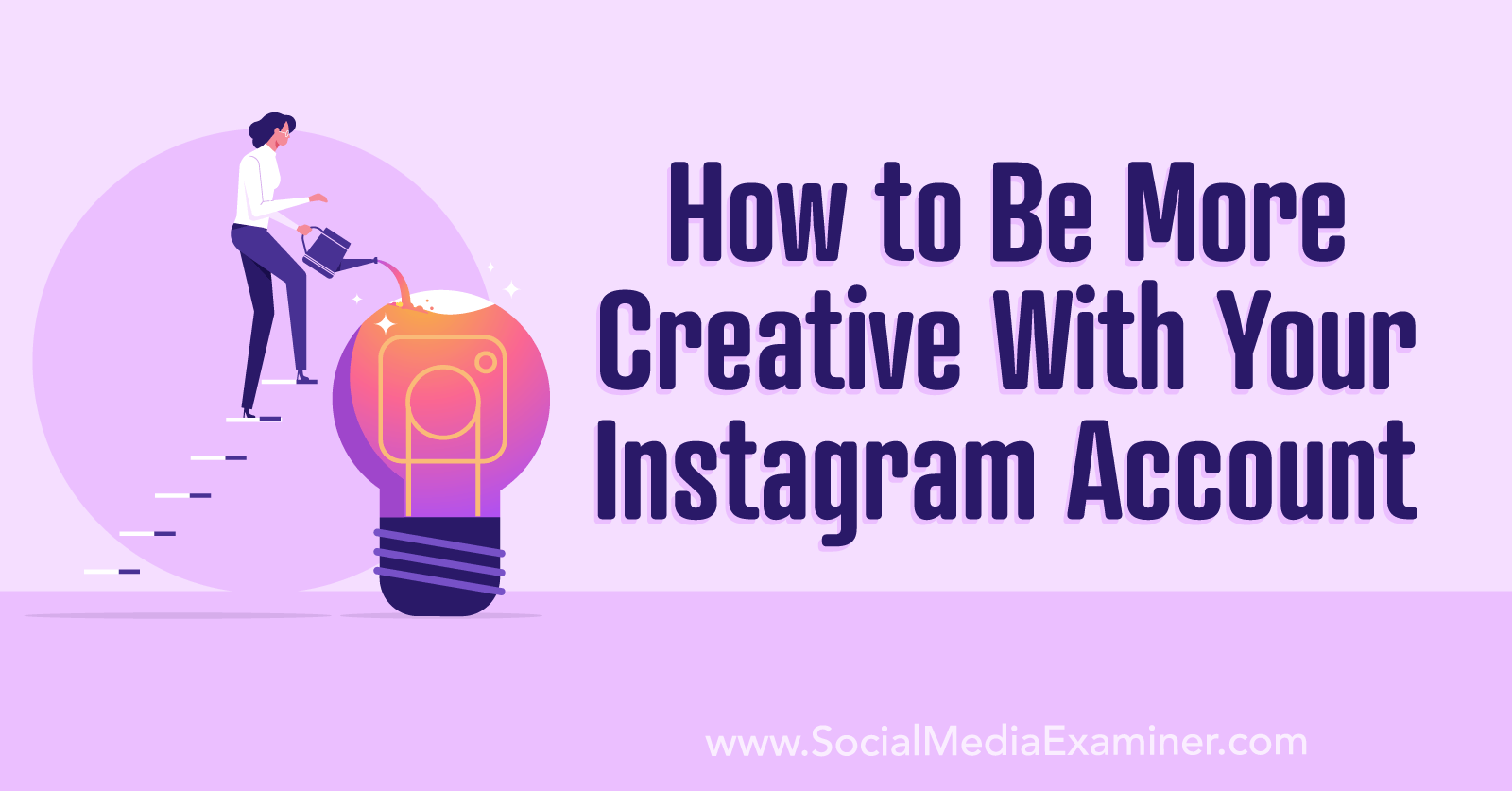 Why Is Creativity So Important on Instagram?
Think of classic ads you've seen. They stick in your mind because they're original, fresh, and even funny. They're creative.
Back in the early days of social media, marketers could get away with being less creative. All you had to do was create an account and write a few lines about your business. There wasn't much competition online—you just had to show up and share.
But now social media marketing is as competitive as the golden days of TV ads. There's constant competition and background noise.
If you want to get consumers' attention, you have to post creative content. You have to share new ideas, use features in new ways, and offer people something unexpected.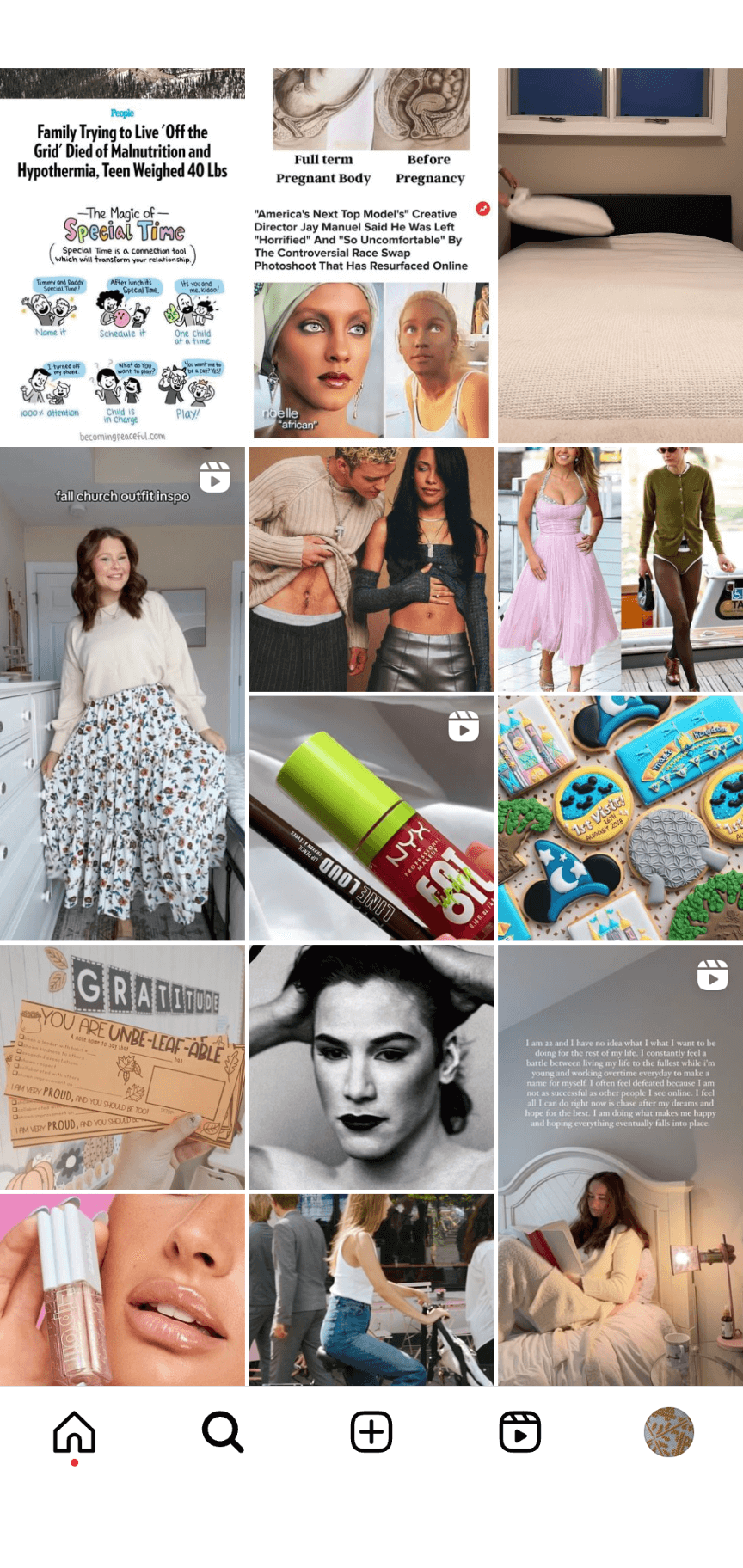 4 Common Creative Mistakes on Instagram
Before we get into what people do wrong, I want to take a second to talk about what people do right.
A lot of brand accounts are run by small marketing teams, lone social media managers, or even marketing interns. Entrepreneurs and small business owners often work alone. You're doing your best with the time, budget, and materials you have.
Social media management is tough because it asks us to hold so many jobs at once. We're technical experts, graphic designers, copywriters, storytellers, and customer service operatives—and that's on a quiet day!
So if any of these mistakes apply to you right now, don't feel bad. They're easy to fix.
Your Posts Are Hard to Read
One of the most common mistakes on Instagram and other short-form video networks is adding text that's too small to read.
You may also have problems with lack of contrast. Even if your text is large enough, if you show (for example) pale yellow letters against a white background, then it'll be difficult to read.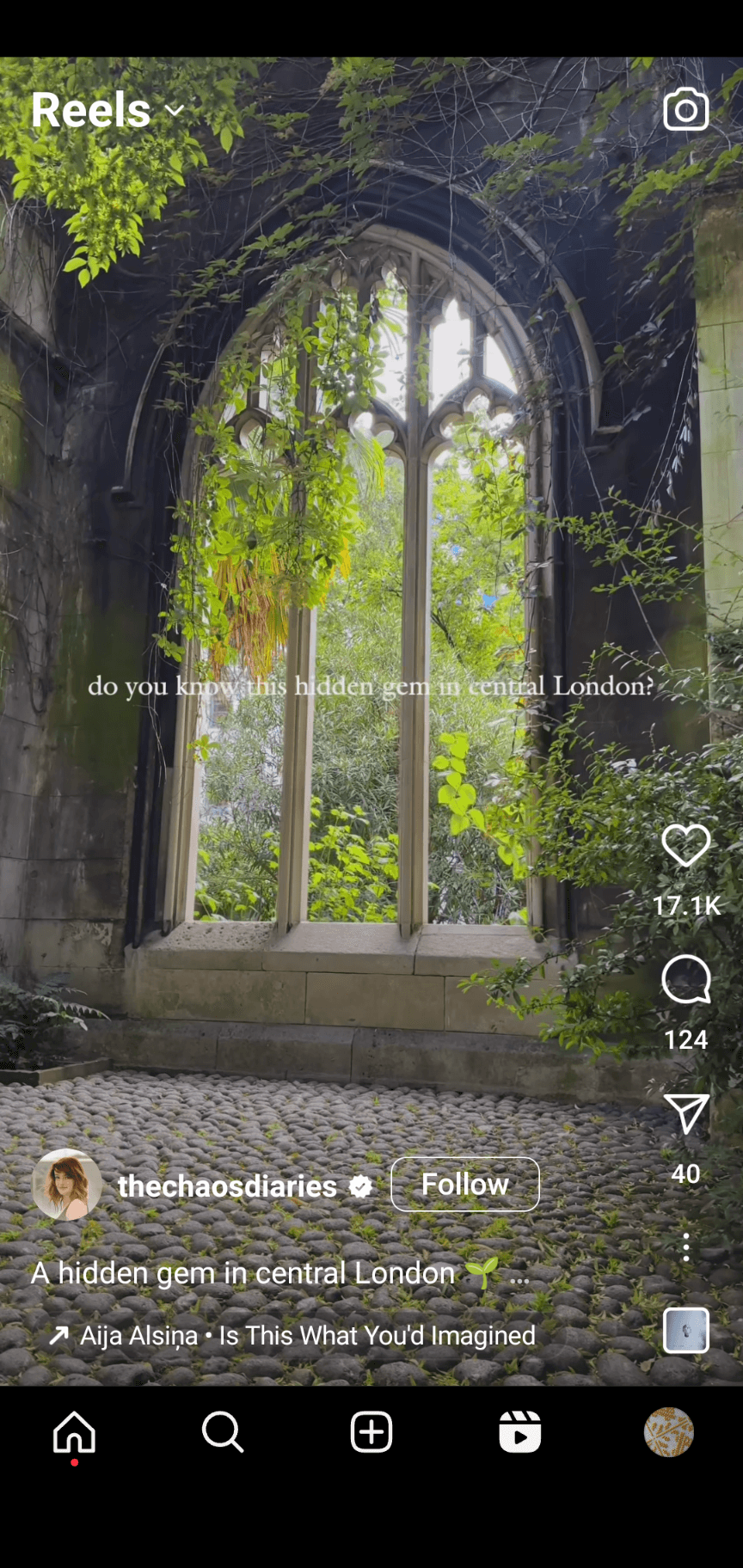 This mistake is easy to make. You're designing graphics on a big desktop screen or trying to squeeze one more CTA into a post, and the text ends up cramped and tiny.
But it's a major problem for your content. Not only is it less accessible for people with visual difficulties. Even users with perfect eyesight will scroll past without reading. It just takes too much effort to peer at the tiny letters. The Instagram algorithm will take that as a signal that your content is irrelevant, unimportant, or lacking in value.
Your Instagram Posts Aren't Unique
How much content on Instagram is copied?
It's impossible to find an exact figure but I'd bet it's pretty high. There are millions of accounts out there that repost content, copy ideas, or straight-up steal text and images from others.
The problem is that copied content has no value for your followers. When you copy from someone else, you're not providing any unique value, perspective, or tone of voice.
The key to social media is being your unique self in a way that connects with viewers. Your content doesn't have to be perfectly finished or have high production value. It's better to have flawed, original content than perfect, copied content.
You're Not Taking Any Risks
When you run a small business or lead a small marketing team, risks can feel scary. You're only getting started! Is it worth taking a chance?
The answer is yes. The actual risk from posting creatively on Instagram is low.
Trying out a new design, tone of voice, or posting strategy is always worth it. The worst-case scenario is that your new posts get zero likes. So what? You can start again with a new experiment.
Remember: You can always do another post tomorrow. Relax and have fun with your content!
You're Obsessed With the Aesthetic
If you were on Instagram 10 years ago, you might remember the craze for extremely niche accounts. People posted specific content with a strict aesthetic such as the @xuzzi account, which only shares pink photos.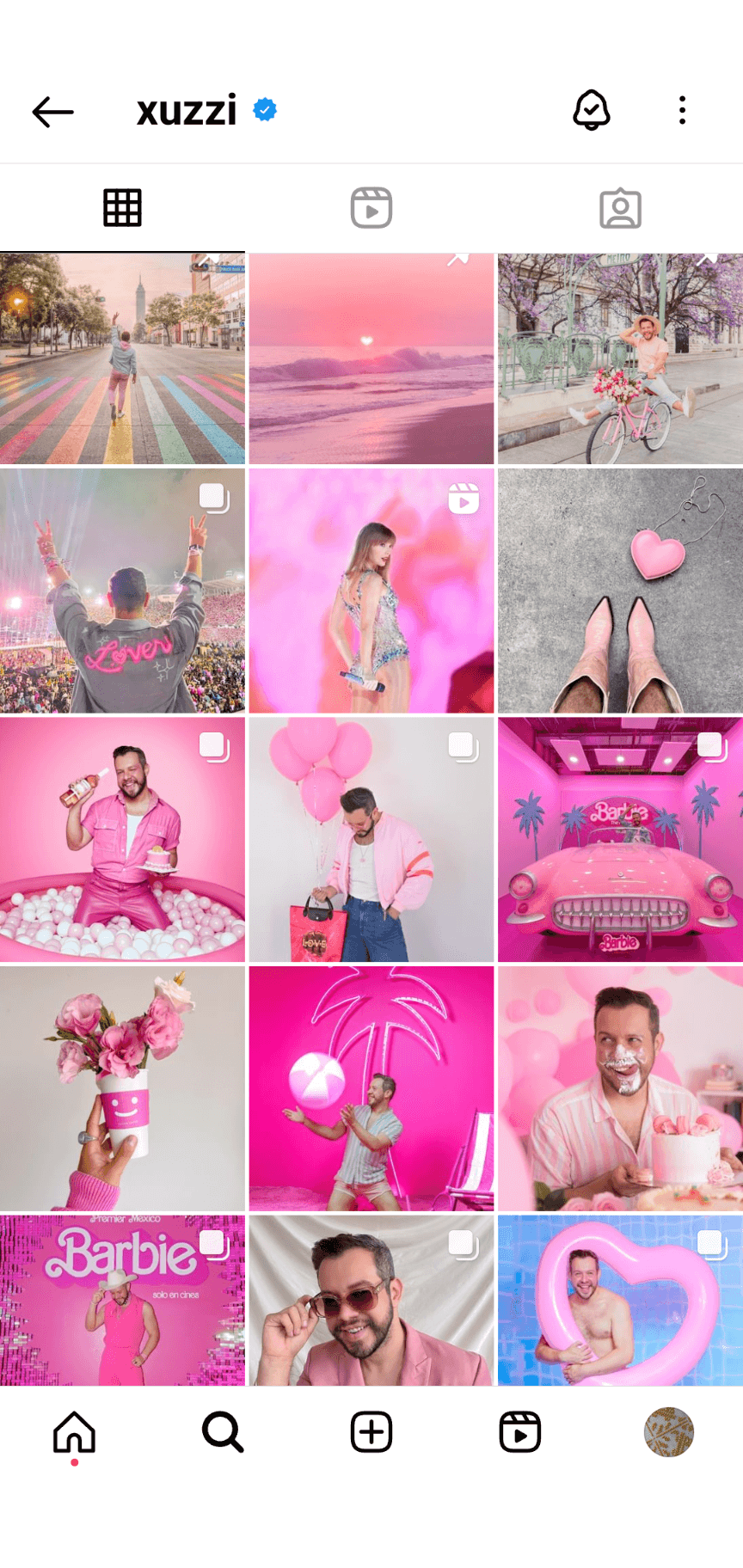 But now things have changed. If you have a carefully curated aesthetic but you're not getting the engagement levels you want, then it might be time to break the pattern.
Here are some ways you can experiment with breaking out of your aesthetic:
Have a "wild card" day once a week when you post something different.
Share text posts or tweets with a background that matches your color palette. This way, you're sticking to your aesthetic while experimenting with more text-heavy posts.
Test new creative ideas in your stories before using them in your main feed.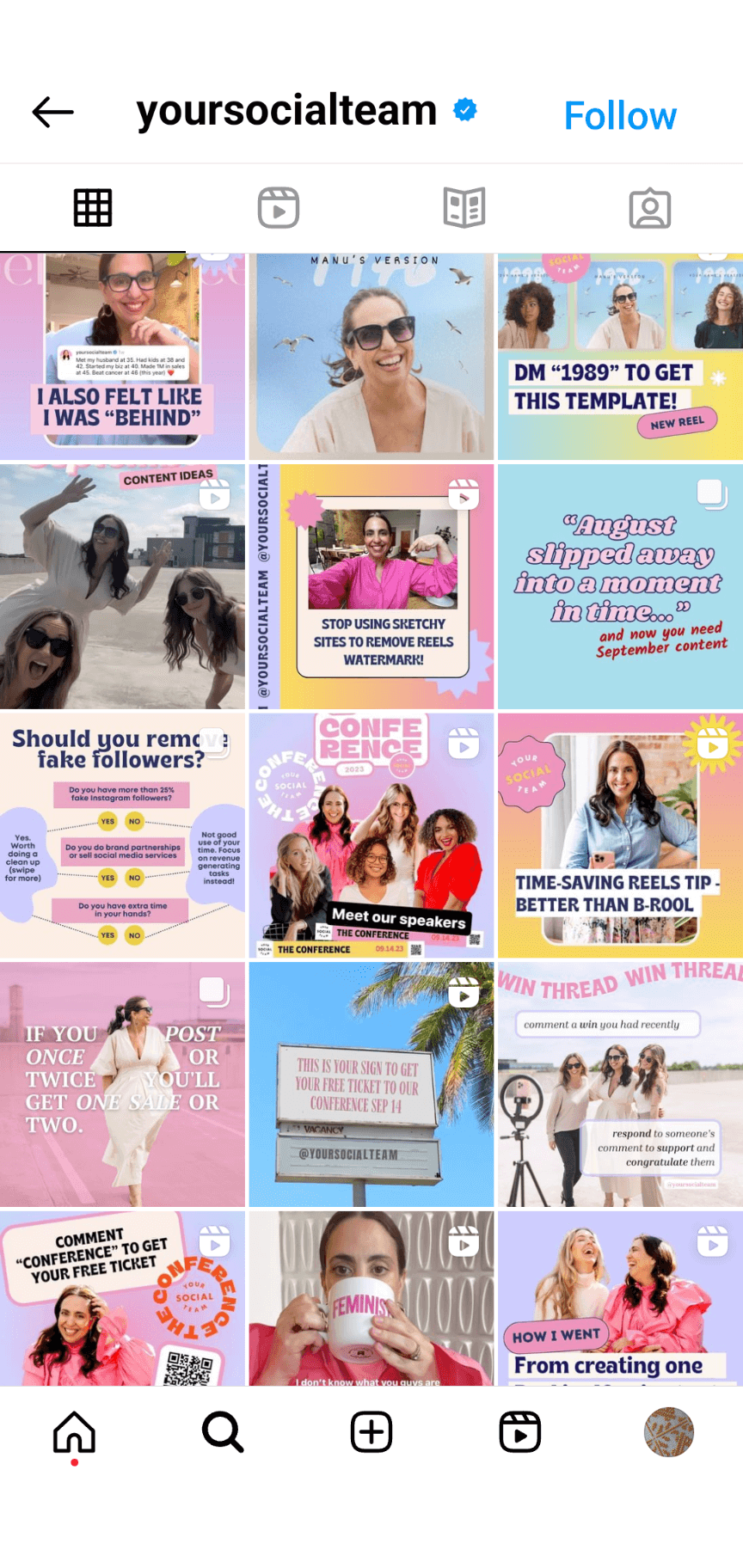 In 2023, brands use colors and brand visuals such as logos to put their signature on their Instagram accounts, rather than limiting the content they post. Trying to match photos to a specific aesthetic is an old-fashioned strategy now and it'll hold you back from testing new ideas, being creative, and getting engagement.
#1: How to Write Creative Instagram Captions
Captions are a neglected part of posting on Instagram. We tend to focus on the videos and photos instead. But the caption is your space to talk to users, add more detail, and make the case for your business.
Be clear before you're creative. Creativity is great! But it shouldn't come at the expense of communication. Get your message across first, then think about how to make the caption exciting and original.
Start with a hook. Instagram used to be notorious for its meandering, storytelling captions. Sadly, those days are over. If you're selling something, you need to state the benefits right away. You can tell the story afterward!
Organize the caption visually. Use elements like white space, line breaks, and emojis to break up the caption and give it structure.
Start a conversation. While your visual content draws people in, the caption is what gets them to engage and take action. Try engagement boost posts where you ask people a question, invite them to give an opinion, or ask them to introduce themselves.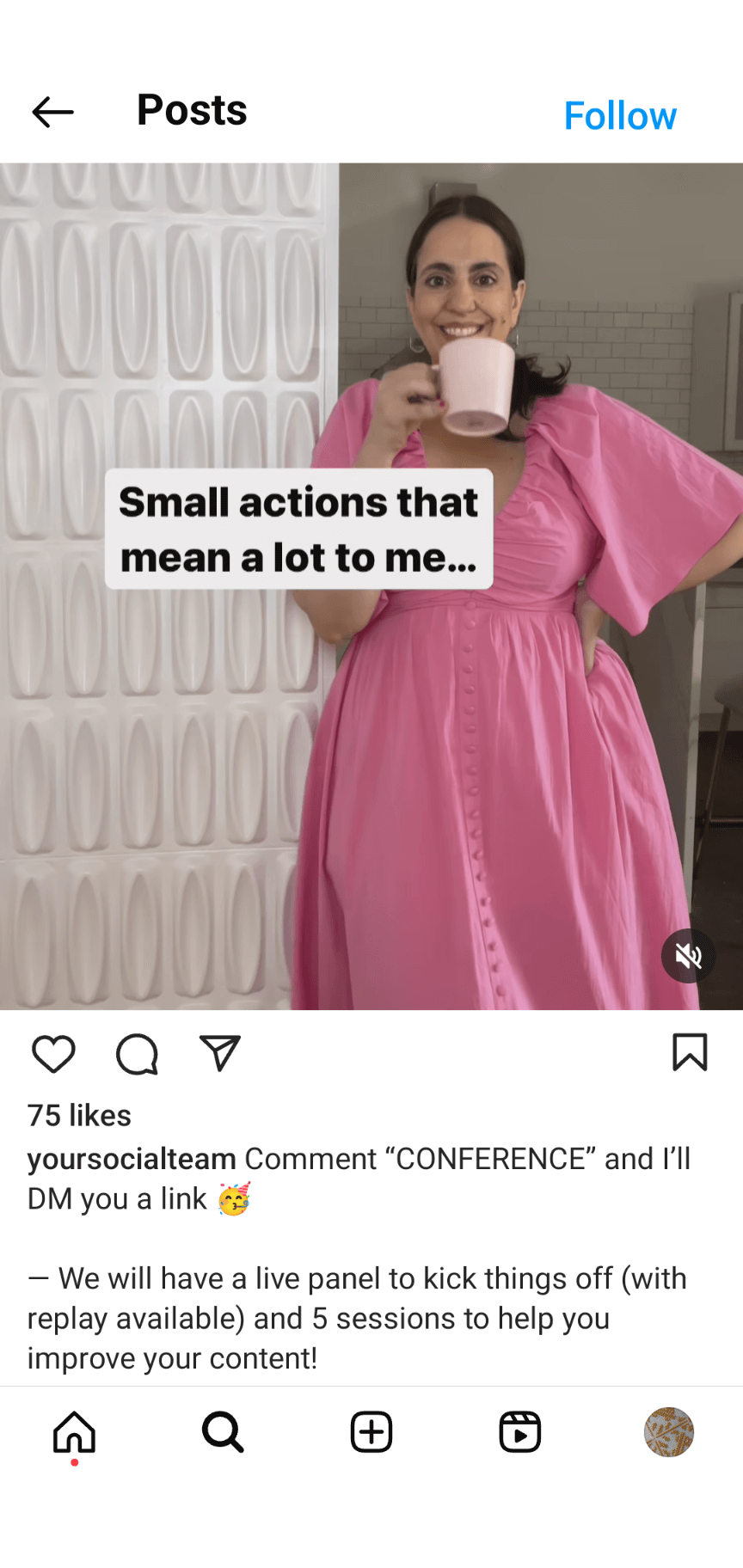 Always have a call to action. Whether it's joining the comments or tapping the link in your bio, you should have a goal for every piece of content. Tell users exactly what you want them to do as early in the caption as possible.
Tailor your caption to your post. The length of Instagram captions varies across the different types of posts. Feed posts have space for very long captions, while reels only show a preview of a couple of lines. Write captions that match the content you're sharing.
#2: How to Use Native Instagram Features Creatively
There are free features on Instagram that you can use to upgrade your creative content. Most people never use these, so they're an easy way to stand out from the crowd.
But be advised: this list is not exhaustive. Whenever Instagram releases a new feature, think about how you could use it strategically or creatively to make something new.
Share a Unique Live Background
When you go live on Instagram, you can bring up a video or photo background that's chosen from your camera roll. This doesn't work if you share the live with anyone else—for example, if you're interviewing a guest—but it's a fantastic way to upgrade your solo lives. (It also only works in iOS so far. Android users will have to wait a while to use this feature.)
Once you've picked a photo or video background, Instagram shows your live video in one corner of the screen, while the image you've picked takes up most of the screen.
Use this feature to:
Show bullet points of what you're talking about
Show slides in a longer presentation
Provide commentary over a video
It's especially helpful if you hope to attract new followers with your live. As soon as they tap to watch the livestream, they'll see a summary of the topic so they know whether it's for them.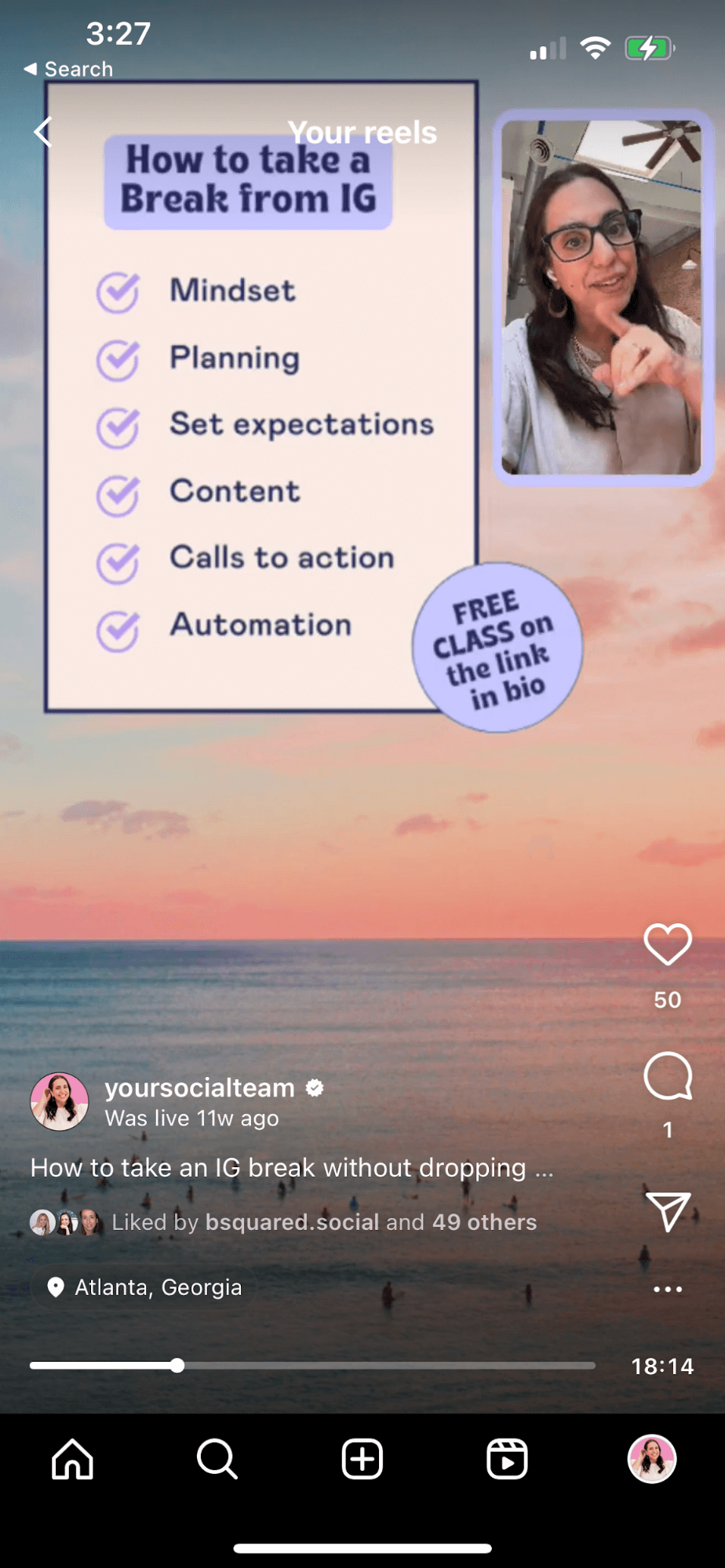 If you use a video background, you'll need to adjust your strategy a little bit. A short, looping video can drive viewers crazy. Try to either use a long video or switch from a short video back to a static image as soon as possible.
You can take this even further by using custom templates for Instagram lives. The template image has a frame around your live feed and space for your key points. You just have to type the details into the template and save it to your camera roll to use when you go live!
Pin Posts to Create Grid Banners
You probably already know that you can pin up to three posts to the top of your Instagram grid of photos. But have you ever tried pinning a banner to the top of your grid, spread across three images?
Many people use pins to highlight the content that gets the most engagement. But if you're a social media marketer, you need to think more strategically. Instead of showing your greatest hits, you should pin the content that tells people who you are and offers them value.
Start by creating a long banner, a bit like a TikTok banner. It should be long and thin enough to cover three squares on your Instagram grid.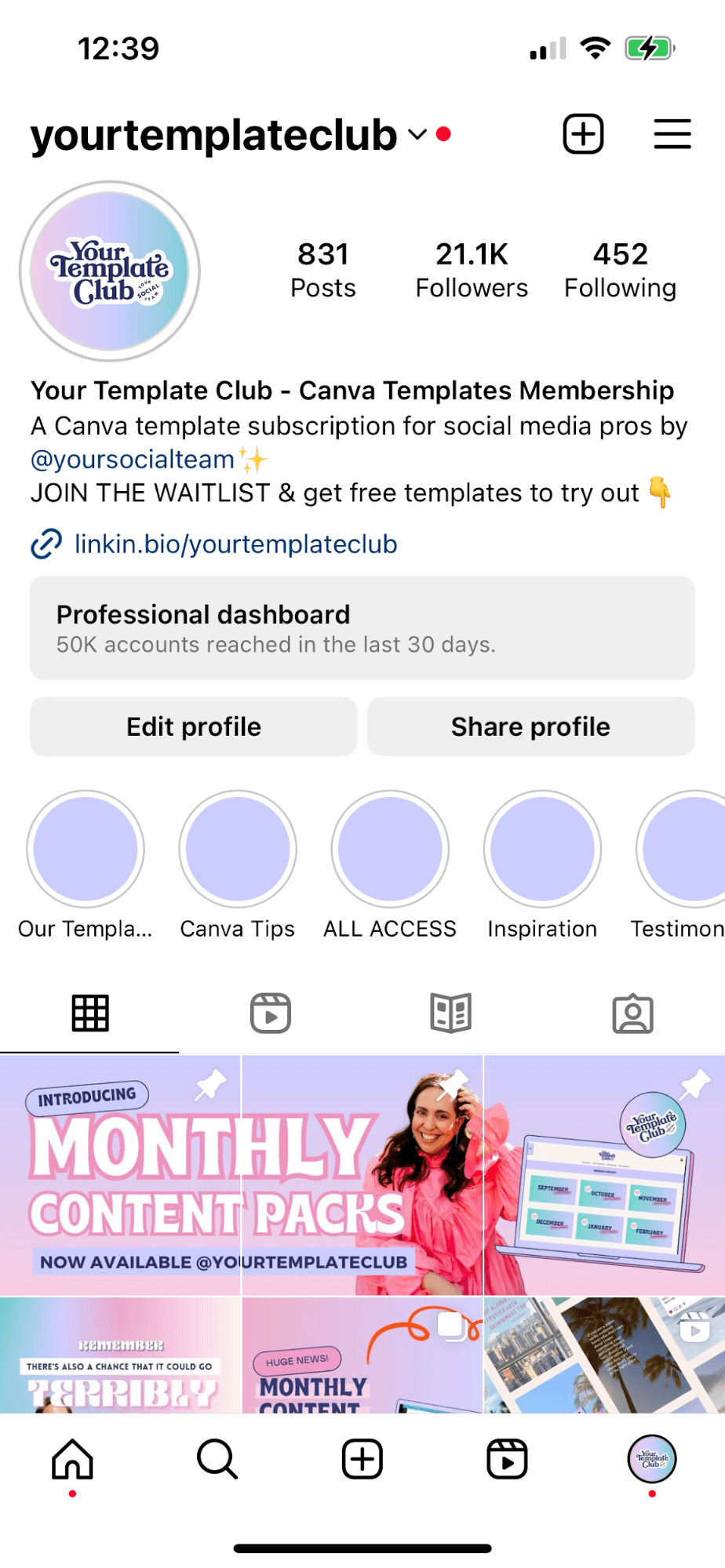 Next, post the image to your grid. The best part is that you don't even have to edit your banner into three separate images. Instagram automatically crops images that are too large for the grid. All you have to do is select which part of the image it shows for each of your three posts.
Make sure you use the same caption for all three posts and don't forget to pin them to the top!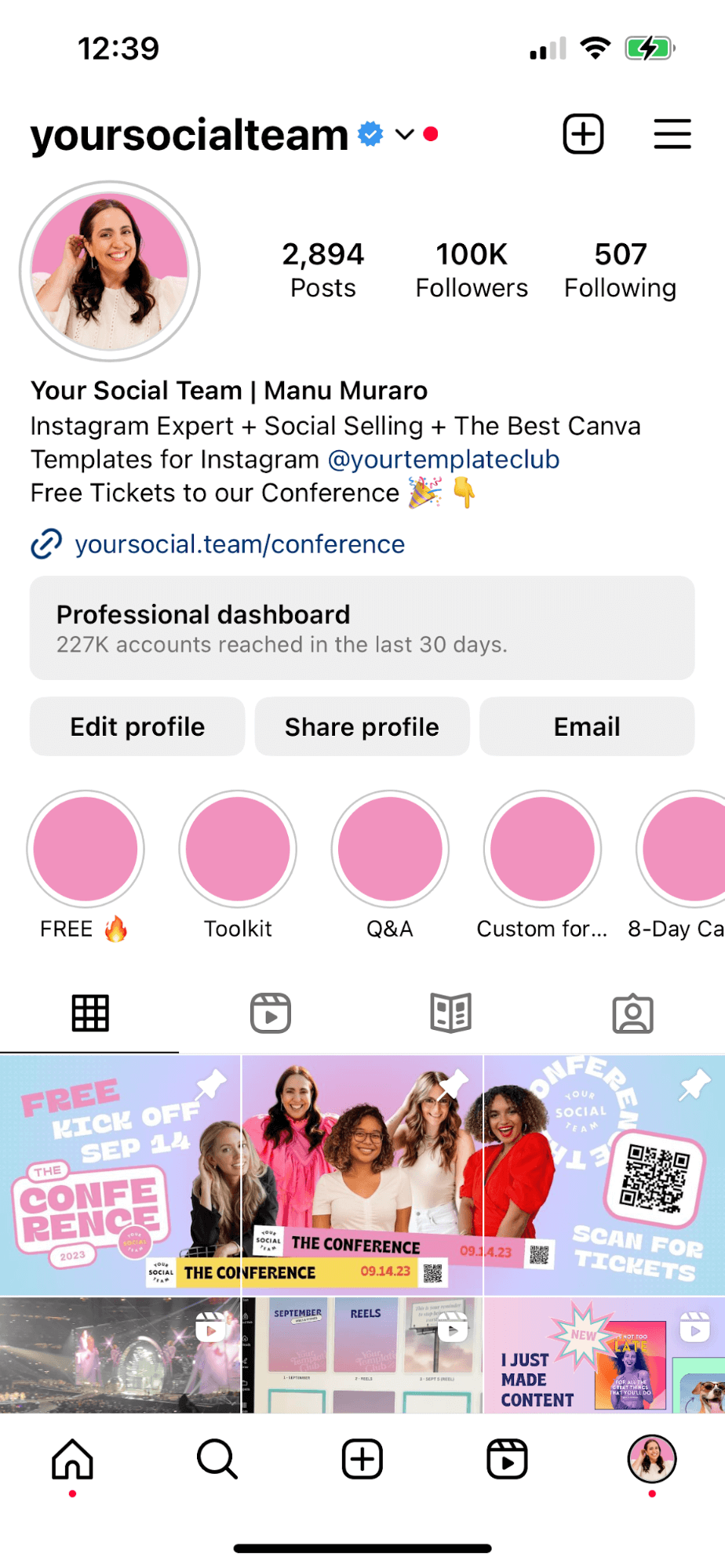 #3: Jump on Instagram Trends
Trends on Instagram are like inside jokes. They're not just for fun. They also bond people and signal that you understand the platform and its community.
The key to using trends creatively is adapting them for your brand. So, for example, don't just do the latest lip-sync; edit the voiceover to talk about your specific business, products, services, or journey. You don't have to be a world-class comedian to do this, either! Simply using the trend shows you're in on the joke already.
You don't have to jump on every trend. When you notice a lip-sync, phrase, duet, or audio coming up in your feed, then take a minute to think about how it could be adapted for your business. If you can't see a clear link, then skip it.
#4: Ideas for Creative Instagram Stories
Stories are one of the most creative spaces on Instagram. Why? Because they're unpolished, authentic, and fast. It's the perfect format to experiment freely.
Here are my top tips for more creative Instagram stories:
Don't Repost. Curate.
You've posted a reel that's doing great and you want to share it with your followers. Do you share it right away?
You should always curate and add to reels when you reshare them with your followers.
When you share posts without adding anything, it can come across as lazy. Even worse, you're not giving your followers any reason to engage with that post.
Instead of using the Share button, go to the reel itself and copy the link. Then head back to your stories and share the reel as a link. You can add a cover photo, title, comments, and even stickers when you reshare reels like this.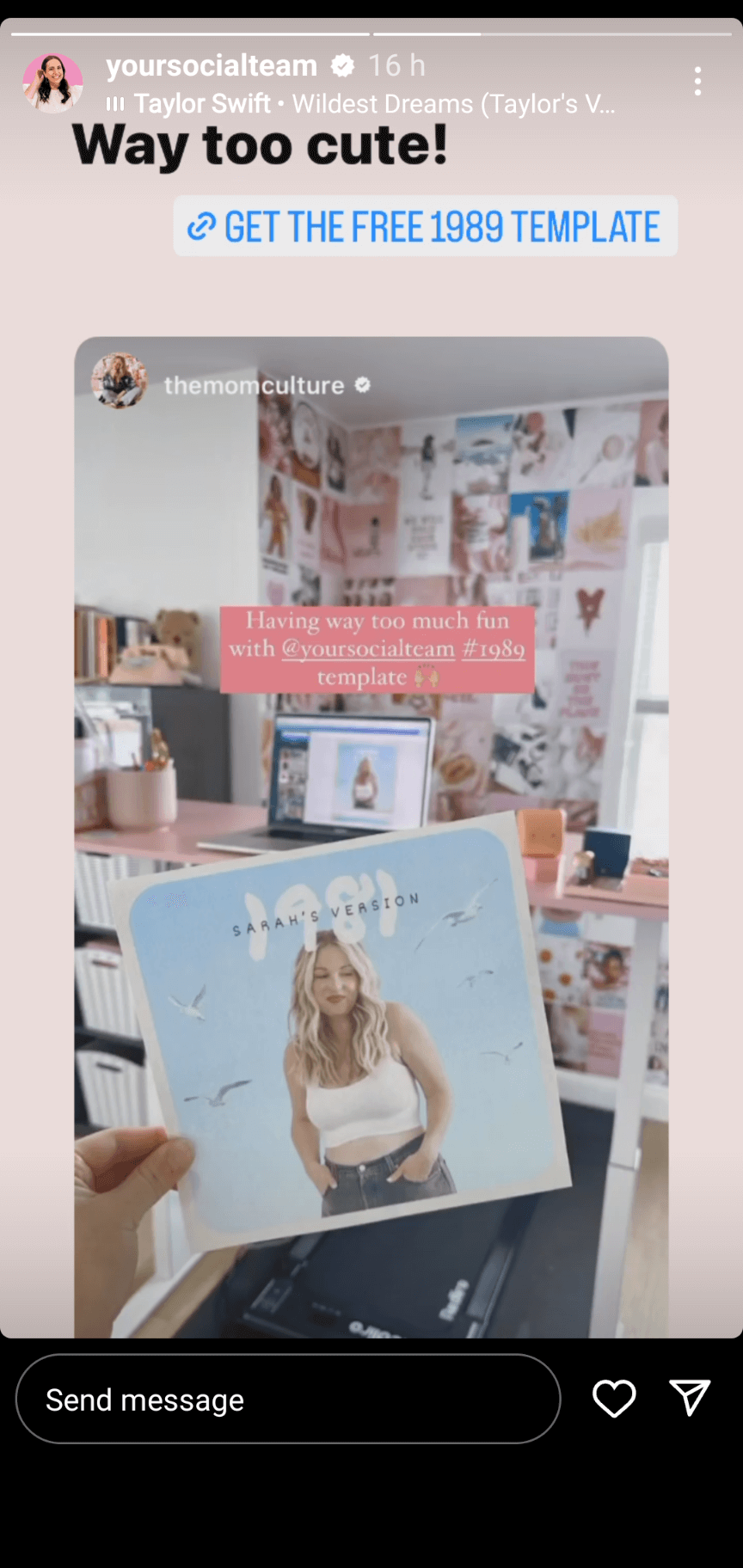 You'll see a lot more engagement from followers if you just take a couple of minutes to curate instead of reposting.
Try the Black Story Format
The "black story" has a black background and plain white text, with just one link sticker.
Chances are your feed is full of bright colors, appealing images, and interactive stories. The black story gets attention by standing out. It looks serious, different, and important. It doesn't look like anything else in your followers' feeds.
The black story is powerful whenever you want to share an offer or make an announcement. You can expect three to four times the views and clicks of a regular story.
Joke Around With Poll Stickers
You probably already use poll stickers. They're a great way to get feedback and do customer research in your stories.
But they're also a chance to be creative and joke around! For example, instead of running a poll with the answers "yes" and "no," you can have some fun with your followers. Ask them to choose between "Yes, please!" and "No, I don't want to earn more in less time, thanks." Nobody's going to choose the second option with a straight face.
It's creative, different, and will stick in your followers' minds. That's the real goal of being creative on Instagram.
Other Notes From This Episode
Where to subscribe: Apple Podcasts | Google Podcasts | Spotify | YouTube Music | YouTube | Amazon Music | RSS
✋🏽 If you enjoyed this episode of the Social Media Marketing podcast, please head over to Apple Podcasts, leave a rating, write a review, and subscribe.
---
Stay Up-to-Date: Get New Marketing Articles Delivered to You!
Don't miss out on upcoming social media marketing insights and strategies! Sign up to receive notifications when we publish new articles on Social Media Examiner. Our expertly crafted content will help you stay ahead of the curve and drive results for your business. Click the link below to sign up now and receive our annual report!