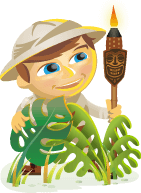 Do you use Google Analytics?
Want to know how data can help improve your marketing?
To learn how to measure what's working with Google Analytics, I interview Christopher Penn.
More About This Show
The Social Media Marketing podcast is an on-demand talk radio show from Social Media Examiner. It's designed to help busy marketers and business owners discover what works with social media marketing.
In this episode I interview Christopher Penn, the VP of marketing technology at SHIFT Communications (a PR firm). He co-founded PodCamp with Chris Brogan and is co-host of the Marketing Over Coffee podcast. His brand-new book is Marketing Blue Belt: From Data Zero to Marketing Hero.
Christopher will talk about how to use Google Analytics to improve your marketing.
You'll discover how to set goals, and analyze and measure your data.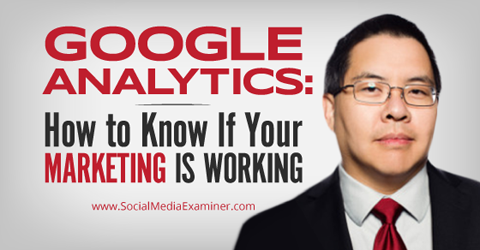 Share your feedback, read the show notes and get the links mentioned in this episode below.
Listen Now
Where to subscribe: Apple Podcast | Google Podcasts | Spotify | RSS
Here are some of the things you'll discover in this show:
Google Analytics
How Christopher got into data and analytics
Christopher came into the marketing space through working in technology. In 2003 he joined a student loan company startup as the director of technology. In the startup world, you do many different jobs. Christopher explains that in addition to being the CIO and CTO, he ended up doing a lot of the marketing, data collection and reporting to stakeholders. Over time, he realized  he enjoyed the marketing more than running the technology.
Listen to the show to hear how Christopher used podcasting and social media to stand out from larger companies.
The importance of analytics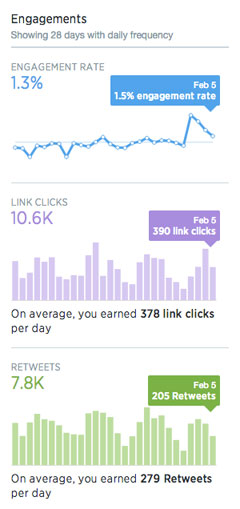 Christopher believes there's a perception that doing analytics is difficult and requires a math degree. However, he relates analytics to cooking. He says you don't need to be a professional chef to make a decent breakfast—you just need to follow the basic recipe. If you want to be a professional chef, that's a different story. You should have a culinary degree and years of experience.
Data and analytics are the same way, Christopher explains. If you want to be able to intelligently report on what you're doing, it's relatively easy to get started. If you want to get super-sophisticated, you'll probably want a statistics background down the road.
In terms of what's readily available, particularly for social media, there are four layers of measurement:
The media layer with social tools and analytics about audience reach and engagement.
The web layer, where after engaging on social media, someone interacts on your website.
The middle layer is marketing automation, which is tracking engagement at an individual level.
The bottom layer is your sales and CRM.
Christopher believes the first step toward strategy is measurement and data. After you analyze the data, which is the art and science of telling what happened, then you need to derive insights from it. Once you determine why certain things happened, then you can figure out what to do next.
Listen to the show to learn why and how to use benchmarking on Google Analytics. 
Simple things marketers can do with Google Analytics
Marketers need to start by defining goals and goal values in their analytics. That changes the application from "what happened" to "how it's impacting your business."
For example, choose a goal, like newsletter signups. Then determine what dollar value you put on a newsletter subscriber (what a subscriber spends on your website). Once you do that, you'll start to see things like estimated revenue of traffic. This is the value of traffic coming from social media and search to your site.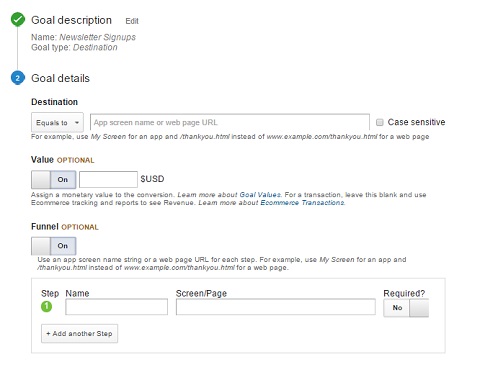 Before delving into specific features of the platform, Christopher recommends taking the free courses offered by Google Analytics Academy. Do the four courses in this order:
Listen to the show to discover why you should take the ecommerce course even if you don't have an ecommerce site.
How Christopher uses Google Analytics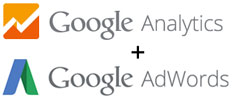 An ecommerce company Christopher worked with had a great placement of a product in a BuzzFeed article. They were able to go into the client's Google Analytics to see how much traffic came from the article, and track how many purchases were made by people who read it. The company sold about $30,000 worth of low-end consumer product from that one article.
To get more mileage out of it, they then ran a paid media campaign using AdWords to keep the article in circulation. The result was another $22,000 in revenue. They simply used paid media to reinforce the earned media.
Christopher says because they set up goals and goal values, they found that the one article was attracting the right audience (one that was buying stuff). That's what determined the next step (paid media amplification).
Listen to the show to learn more about the value of third-party endorsements.
How to track conversions in Google Analytics
As long as you set up goals and goal values correctly, conversions get baked right into the application, Christopher says.
To determine what makes for a successful conversion, marketers and bloggers need to define the measures of success. For Christopher, mailing list signups are important, since that's how he drives sales of products like books. Christopher also has a "book me to speak" section on his website. "I know what my speaking fees are, I know the likelihood I'm going to close a speaking engagement and I can work backwards and figure out what every inquiry to my speaking form is worth," he elaborates.
If you use an email service provider that doesn't allow for Google Analytics integration, change it. Chris uses WhatCounts for his email marketing.
Another option for tracking conversions is using UTM (Urchin Tag Management) codes.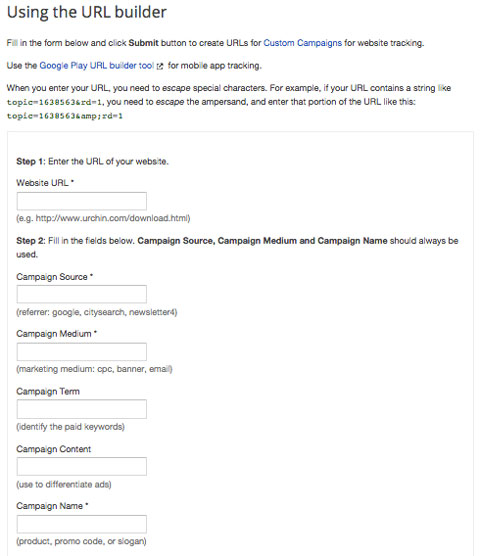 Create a tag that specifies the source, the medium and the link's campaign. For example, the source is from your newsletter list, the medium is email and the campaign is the subject line or day you're going to send it. That's how to break out the traffic that comes to your properties.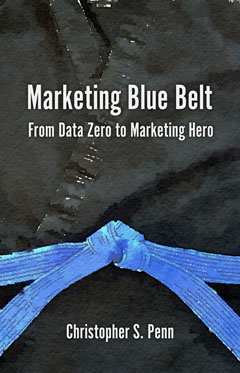 For Christopher's book, he uses a service on the backend called Gumroad, which allows users to input their Google Analytics account code on that service. If Christopher sends out an email that sends readers to his website and then to Gumroad to purchase the book, he can track the stream from that email open down to the purchase and see how well his email converted.
Email is the original social network and the digital glue that holds everything together. When you first sign up, every social network asks for your name, mobile number and email address. Email is the common currency of the web.
Listen to the show to hear Christopher's thoughts on comparing and combining demographic data from Google Analytics and Facebook, and how to get more valuable Facebook data.
Google Analytics Add-ons
Google Analytics has its own dashboard tool built in. Users can schedule it to email a PDF of the dashboard to executives on a certain day every week.
The one app he finds compelling is called the Analytics Add-on for Google Spreadsheets. It allows you to bring live Google Analytics data into a spreadsheet. To see the analytics on more than one website at a time, use the app to build a unified dashboard and have all of your reports in one spot.
Listen to the show to hear how Chris feels about the Google Analytics Add-on gallery.
Discovery of the Week
Remember when Facebook didn't want companies to add calls to action in their header image? Now they've made it easy to do just that.
In the last month or so, Facebook rolled out a pretty cool feature that is beginning to appear on Facebook pages: the Facebook Call-to-Action button. To the right of your page's avatar and in front of your header image, you can now turn on the Call-to-Action Button. These are the words you can add: "Book Now," "Contact Us," "Use App," "Play Game," "Shop Now," "Sign Up" or "Watch Video."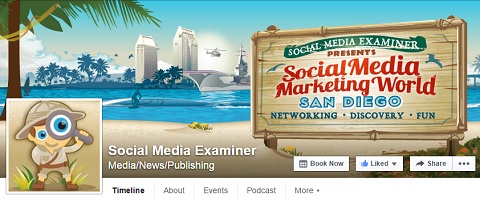 As soon as this feature rolled out in late January, we immediately turned it on. Our background image is an ad for Social Media Marketing World, and we added the Book Now button right in front of it.
In just a few days, 56 people clicked on the Book Now button, and we got one sale directly from it.
The Facebook Call-to-Action button is a subtle thing you can add to your page to encourage people to take action.
Listen to the show to learn more and let us know how the Facebook Call-to-Action button works for you.
Other Show Mentions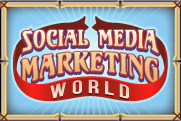 Today's show is sponsored by Social Media Marketing World 2015.
We are super-excited about Social Media Marketing World 2015. It's the world's largest social media marketing conference. By attending, you'll make connections with 100+ of the world's top social media pros (plus 2,500 of your fellow marketers) and you'll discover amazing ideas that'll transform your social media marketing.
Hear testimonials from our 2014 conference speakers.
This is just a sample of industry experts talking about their experience at Social Media Marketing World.
In the show, you'll hear about our recently announced keynote speakers and sessions. I will give the opening keynote, "Social Media Marketing in 2015: What the Newest Research Reveals." The closing keynote by Jay Baer will be "Why Speed Is the New Difference Between Good and Great Social Media." The first night keynote on "Creating a Customer Service Revolution" will be presented by John DiJulius. Finally, our second day morning keynote is called, "Is Content Killing Social Media?" Mark Schaefer will be moderating a panel of Guy Kawasaki, Mari Smith and Christopher Penn.
Social Media Marketing World has more than 100 other sessions, and 12 simultaneous tracks. Since you can't possibly be at all of the sessions at once, we'll include recordings for everyone who attends. There's also a virtual ticket option for those unable to make it to San Diego for Social Media Marketing World.
Visit here to check out the speakers, the agenda and grab your early bird discount.
Social Media Marketing World 2015 has a lot going for it with the great content, excellent presenters and valuable networking opportunities.
Take your social media marketing to the next level and join us in warm, sunny, beautiful San Diego, California on March 25, 26 and 27, 2015. Hundreds of people have already secured their tickets. Click here to check out all of the speakers and the agenda, watch our video and grab your tickets today.
Listen to the show!


.
Key takeaways mentioned in this episode: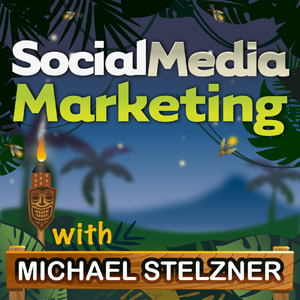 Ways to subscribe to the Social Media Marketing podcast:
How to Subscribe to this Podcast on an iPhone
Watch this quick video to learn how to subscribe on your iPhone:
.
What do you think? What are your thoughts on Google Analytics? Please leave your comments below.