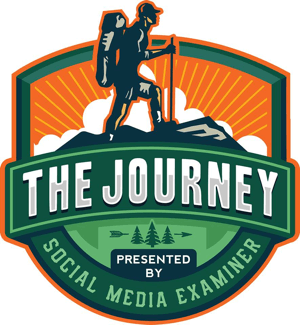 Is your website traffic converting? Then watch The Journey, Social Media Examiner's episodic video documentary that shows you what really happens inside a growing business.
Watch the Journey
This episode of the Journey explores how Social Media Examiner made the decision to fully abandon Pinterest, despite receiving lots of traffic from the platform. Watch how they made the decision.
This episode opens with marketing managers Mitch Dong and Jennifer (Jen) Ballard discussing new marketing options with Social Media Examiner Founder and CEO Michael Stelzner.
The idea of using YouTube more has come up, but Mike is wary. He says getting people to watch video on YouTube has not been easy.
Later, Mike shares that he's interviewed screenwriter Melissa Cassera on his podcast. During the show, Melissa taught him how to use story in communications. He is ready to put what he learned to the test and decides to use the story framework to promote the previous week's Journey episode.
The next morning, Jen comes into the office and discovers that, overnight, Mike has had another crazy idea. He composed a story-based email that linked to The Journey and sent it out to 350k people:
"A few weeks ago I was crushed. My world was rocked by the smallest of details…watch what went down when i decided to cancel three Facebook shows." 
Mike says the story-based email is going gangbusters, and a quick check of video analytics shows a huge spike of almost 28k views after the email was delivered. It will take time to get people from Facebook to YouTube, but Mike is encouraged—the new approach is working and people are watching.
Later, Jen and Saidah are listening to stories from past conference attendees. The company receives feedback from all kinds of people, delivered in all kinds of formats. Last year, the feedback from Australian attendee Rob Malicki (Aim Overseas) stood out, so Jen and Saidah Murphy are interviewing him to find out what he's done with what he learned last year.
Finally, Mike shares that he's been doing some deep analysis to see if things the company has always done should continue to be done. One of the items up for question is marketing on Pinterest.
Mike and Social Media Manager Erik Fisher take a look at why the company uses Pinterest and try to determine whether it's worth the effort.
While Pinterest drives a considerable amount of traffic to the website, analysis reveals that the behavior of people who come from Pinterest is very different from the behavior of people who come from Facebook, Twitter, and LinkedIn.
Flash forward to a Social Team meeting and Mike is explaining that the people who come from Pinterest don't stick around and they don't become customers. In fact, over the past year, only $200 in revenue can be attributed to Pinterest.
Further, while Facebook, Twitter, and LinkedIn all use the same image design, Pinterest requires some unique marketing elements that come with a substantial cost.
Based on what's been revealed, Erik says the company will no longer post to Pinterest. Mike clarifies that the profile won't be shut down, but it won't be an active channel any longer.
Later on, Mike talks about the importance of putting assumptions (such as assuming heavy traffic is the right traffic) to the test.
The show closes with Mike announcing a new change for the new year…
Are you regularly questioning your social media activities? Share your ideas and thoughts in the comments below.
Key Mentions:
Don't miss an episode! Subscribe to The Journey on YouTube.