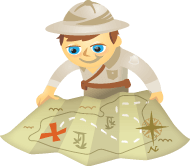 Are you struggling to come up with blog posts that attract the right type of visitors?
Are you unsure where to turn for new article ideas?
In this article I'll show you how to make sure your future articles are the ones your audience is really interested in.
Here's a hint how: your social connections can help you discover the topics that will perform well on your business blog.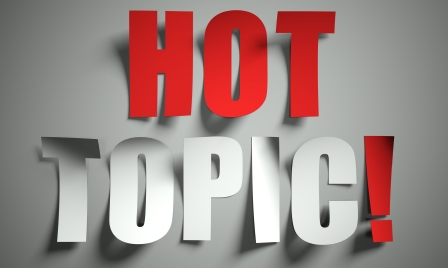 Follow these 4 easy steps to get you on your way to finding great topics that resonate with your audience simply by looking within your social networks for inspiration.
#1: Monitor Influencer Social Channels
Not all blog post topics are created equal. A great topic immediately catches readers' attention with a snappy headline that speaks to their needs and conveys an obvious value proposition to them.
One of the easiest ways to find out which topics have this type of impact is to find articles that are performing at a high level for the big brands and leaders in your industry.
To do this, identify influencers within your industry and monitor their Facebook and Twitter feeds to find posts and updates that garner an unusually high level of engagement.
For example, the following Zappos Facebook update garnered a stunning 4,157 likes, while other entries on the page averaged between 300-1,100 likes.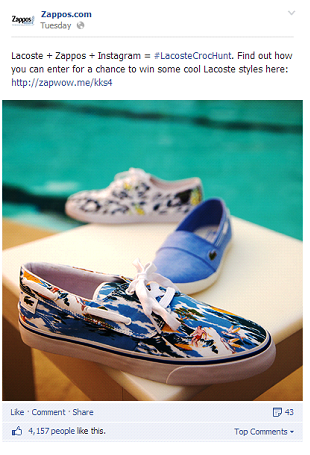 While it isn't exactly surprising that one of the web's top retailers would amass so many likes, what's interesting is that of the other posts on the page, this Lacoste brand post received an above-average number of likes—even beating out always-popular contest-related posts.
If you're an online retailer of luxury goods, this trend could demonstrate consistent interest in the Lacoste brand name, providing you with perfect fodder for a future blog post.
And if you're in a different type of business, remember to look for similar spikes of interest from within your industry to discover great blog topics.
#2: Take a Hint From Your Community
The topics that are popular for influencers might not resonate with your readers. Instead of following in big-brand footsteps, ask your followers what they'd like to read about on your blog.
Get Your FREE Course: Web3 for Beginners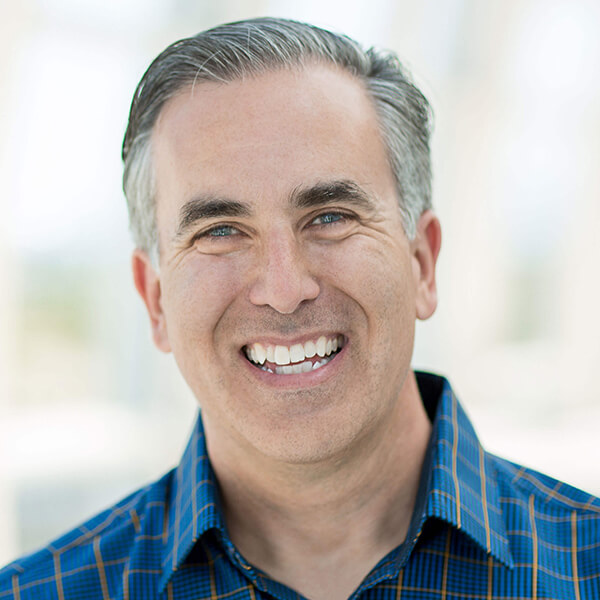 Curious about Web3, but don't know where to start or who to trust?

Introducing Web3 for Beginners, a course taught by Michael Stelzner, the founder of Social Media Examiner.

Learn the basics of Web3 and apply it to your business with this FREE comprehensive course.
CLICK HERE TO GET FREE ACCESS
Remember that questions like, "What do you want me to write about next?" are too broad. Instead ask a specific question to help readers give you an answer you can work with, like, "Which of these do you struggle with most on Facebook—creating ads, using Insights or creating custom tabs?"
Darren Rowse posted a question to his Google+ audience in July.
The high engagement the question received led him to write a blog post titled, "Don't Quit Your Job to Chase Your Dreams… Until You've Read This."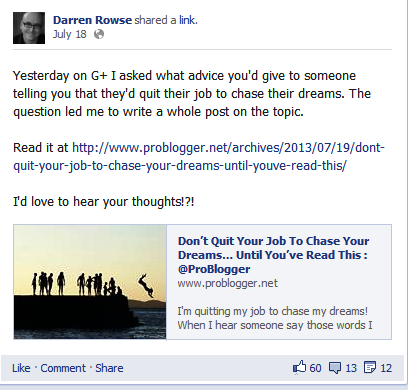 To ensure your topic is tailored to the needs and interests of your target customers, create blog posts based on your readers' feedback.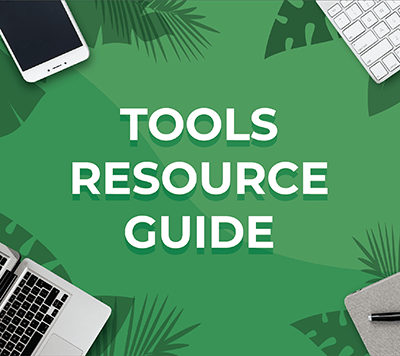 Looking for something to make your life easier?
Discover the tools we recommend to drive engagement, save you time, and boost sales across your entire marketing funnel or business.
Whether you need help planning content, organizing social posts, or developing your strategy, you'll find something for every situation.
FIND YOUR NEXT FAVORITE TOOL
#3: Check Your Top Posts on Facebook
One way to determine whether a topic is of interest to your target audience is to research your top posts on Facebook.
The Facebook Insights program compiles data on how well your individual Facebook posts are performing based on their overall reach, the number of users who have engaged with the post, the number of people talking about it and the post's overall virality.
As an example, check out the following screenshot from the Facebook Marketing Solutions Insights page: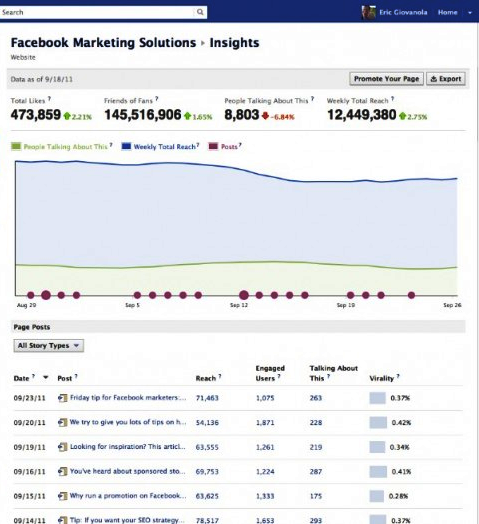 The top two entries in the list both include the word "tip". This demonstrated interest could be used to develop a series of blog post topics based on helpful, actionable tips on an industry topic.
Find common factors in different entries in your top post list on Facebook and use them as inspiration for a single blog post topic or a series of articles on your blog. Remember, you can also use this data to identify topics that don't resonate well with your audience, and remove them from your content plan.
#4: Measure Your Tweet Impact
If your marketing efforts are geared more toward Twitter, you'll want to use a tool like Sprout Social to find out which of your tweets have had the biggest impact on your target audience.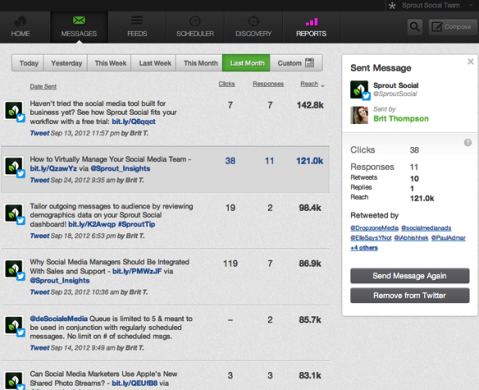 It's clear that the tweet titled, "Why Social Media Managers Should Be Integrated With Sales and Support" received a substantially larger number of clicks than any other tweet released by the company in the time range selected.
Sprout Social's bloggers could use this information to conclude that the topic of integrating social media into sales is of particular interest to their company's followers. This insight could then be spun off into a series of blog post tutorials that are practically guaranteed to capture the attention of their readers.
Conclusion
Certainly, these aren't the only ways that your business can use information derived from social channels in order to develop successful blog posts, but they do represent a great place to start.
First pay attention to what the influencers in your industry are saying and consider asking your followers for feedback on what topics your blog should cover.
Then as you share posts generated using these techniques on your social channels, use Facebook Insights, Sprout Social or similar social media monitoring programs to see which topics stick and which ones fail to attract interest.
Good business blogging is all about flexibility and commitment. Make it a priority to invest in writing about the topics most likely to appeal to your target audience and you'll see sustained growth and increased profits.
Over to You
What do you think? Have you tried any of these strategies for developing great blog post topics? What other strategies have you had success with? Share your suggestions in the comments section below!
Get Your FREE Course: Web3 for Beginners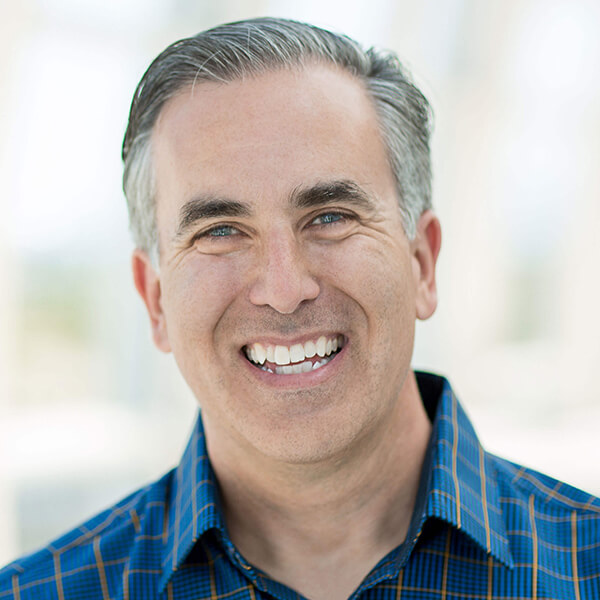 Curious about Web3, but don't know where to start or who to trust?

Introducing Web3 for Beginners, a course taught by Michael Stelzner, the founder of Social Media Examiner.

Learn the basics of Web3 and apply it to your business with this FREE comprehensive course.
CLICK HERE TO GET FREE ACCESS