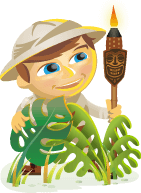 Do you use Facebook to promote your business?
Are you curious how to respond to the recent changes to the Facebook news feed?
To learn how to navigate these important changes to Facebook's news feed, I interview Mari Smith, the "Queen of Facebook."
More About This Show
The Social Media Marketing podcast is an on-demand talk radio show from Social Media Examiner. It's designed to help busy marketers and business owners discover what works with social media marketing.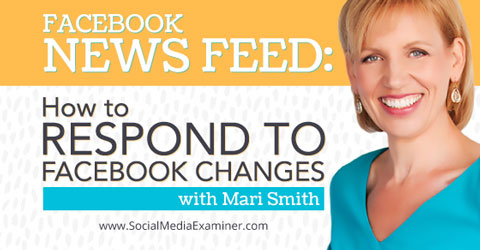 In this episode, I interview Mari Smith, who is the world's leading Facebook marketing authority. She's authored the books, The New Relationship Marketing and Facebook Marketing: An Hour a Day. This is her fourth appearance on the show!
Mari explores what you need to know about marketing with Facebook, and in particular the news feed.
You'll discover the importance of native links, why micro-video should be key to your Facebook posting strategy and how Atlas will change the way you do online advertising. Share your feedback, read the show notes and get the links mentioned in this episode below!
Listen Now
Where to subscribe: Apple Podcasts | Google Podcasts | Spotify | YouTube Music | YouTube | Amazon Music | RSS
Here are some of the things you'll discover in this show:
Facebook News Feed
What marketers need to think about this next year when it comes to Facebook marketing

Mari shares that over the next year, marketers will have to embrace the idea of paid amplified posts.
According to Mari, most businesses on Facebook will have to bite the bullet and allocate dollars to paid posts this coming year.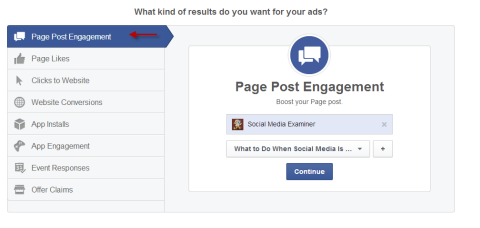 Mari shares that another Facebook trend is the push for micro-video and user-generated content. You'll hear more about this in the show.
The next big consideration is connecting with your mobile users. With 75% of Facebook users accessing the site from mobile devices, your content must be effective on a mobile feed and able to direct people to a mobile-friendly landing page.
Listen to the show to find out why community managers are more important than ever to your Facebook marketing strategy. 
Review your posting strategy
With Facebook clearly giving preferential visibility to consumers rather than brands, marketers now have to rethink their posting strategy. Especially with all of the latest updates to the news feed.
Mari explains that some of the changes have been around links, and as marketers we are all about the images.
In the past we have been told that posts with photos get the best visibility in the news feed. Mari explains that marketers have tried all kinds of clever ways to circumvent the news feed ranking algorithm. When you wanted to include a link in your post, you could use an image and include the link in the description.
Now what Facebook calls native link posts give you a bigger image preview on your posts. You type or paste a link into your publisher on your page or profile, and it automatically generates a preview with a large image.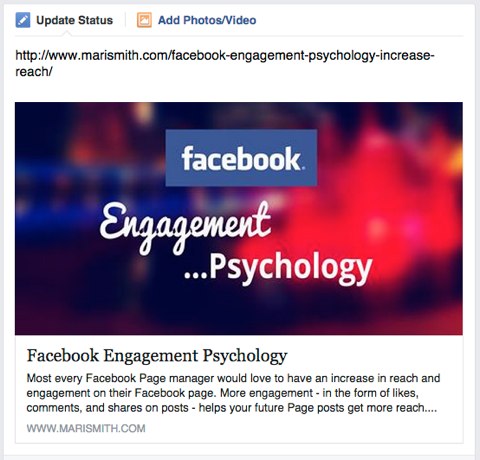 You'll hear the huge advantages of this type of post, and why you need to consider it for your posting strategy.
Listen to the show to find out why Mari recommends you change up your posting strategy to integrate more links.
How Facebook's Save feature works and its advantages

At the end of July 2014, Facebook introduced a new Save feature, which lets you to save items found on Facebook to check out later when you have more time.
Available on both mobile and desktop, the Save feature was initially only meant for native link posts, but Facebook quietly upgraded it to allow any post with a link, video, photo or status update to be saved. Even if a post has multiple links in it, you can save all of the links at once with this tool.
Mari recommends that you remind your fans from time to time of how to save and retrieve their saved items. Although publishers don't have access to the metrics right now, Mari's educated guess is that this feature might ultimately have value and give priority to the saved links.
Listen to the show to learn how you can utilize Facebook's new Save feature to curate content for your business page. 
Why and how you should use video on Facebook
Facebook is going head-to-head with YouTube in how it's handling video within the news feed, especially with the rise of micro-video.
Video views on Facebook have gone up exponentially in the last 6 to 12 months. Preferential exposure is being given to videos that are directly uploaded into Facebook, as opposed to being linked in from YouTube or Vimeo. These videos must be opened in a separate YouTube or Vimeo app, rather than just being viewed directly within the news feed.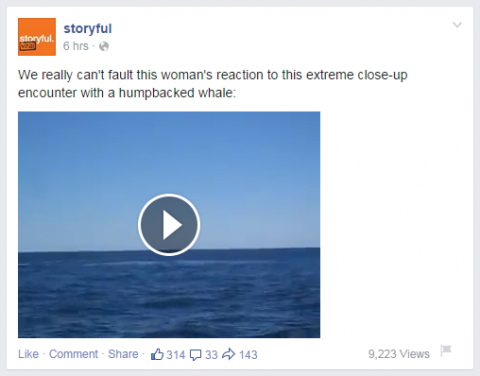 This is significant because, as Mari reports, 75% of Facebook's users access the site through mobile. That's 800 million people worldwide.
With Facebook's auto-play function, users just hit play to unmute the video and before they know it, they're watching it directly in the news feed.
Mari explains that micro-video is an amazing development. Vine established 6-second micro-video and then along came Facebook and Instagram with 15-second videos. Mari says that there are some crazy good marketers doing interesting things on Instagram.
Listen to the show to find out how the ALS Ice Bucket Challenge put micro-video on the map and how you can leverage this trend in your own Facebook marketing. 
Why marketers should pay attention to Atlas
Atlas is an ad serving and measurement service for what Facebook is calling its people-based marketing. It allows advertisers to track display ads through user accounts instead of cookies for remarketing campaigns.
Currently, this service is only available to big brands and major agencies partnering with Facebook. They are in talks with a group of key partners and publishers to get Atlas integrated into their platforms. So of course Instagram is one of the first platforms to have Atlas fully integrated.
Listen to the show to find out how Atlas will work in tying online ads to offline interactions.
Thoughts on the new network Ello

As a bonus segment to the podcast, Mari and I discuss the new platform Ello. Is Ello really the anti-Facebook? Will it have staying power? Is it worth exploring?
Listen to the show to hear Mari and my thoughts and insights on Ello. 
Discovery of the Week
Do you manage a brand or business profile on Instagram? Have you ever wanted to upload photos to your brand's Instagram account from your computer instead of your mobile device?
I recently found a tool called Gramblr that allows you to upload a photo to Instagram from a desktop or laptop computer.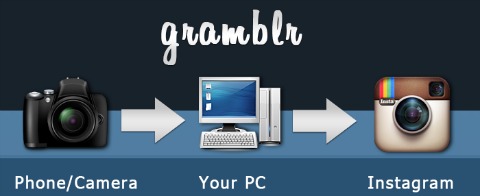 The advantage of using Gramblr is that you can refine or add text to an image on your desktop or laptop computer before pushing it to your live feed.
While Gramblr doesn't allow you to schedule posts, it is great for times when you want to post an image or video to Instagram that isn't on your phone.
Listen to the show to learn more and let us know how this works for you.
Other Show Mentions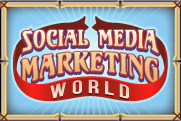 Today's show is sponsored by Social Media Marketing World 2015.
We are super-excited about Social Media Marketing World 2015. It's the world's largest social media marketing conference. By attending, you'll make connections with 100+ of the world's top social media pros (plus 2,500 of your peers) and you'll discover amazing ideas that'll transform your social media marketing.
See what attendees experienced at our 2014 conference.
The event takes place in San Diego, California on March 25, 26 and 27, 2015.
We have the best sale going on right now. Click here to check out the speakers, the agenda and to grab your earlybird discount.
Key takeaways mentioned in this episode: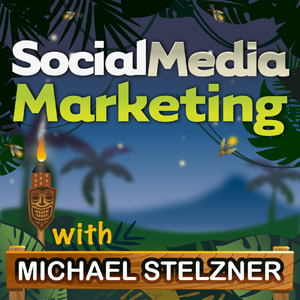 Ways to subscribe to the Social Media Marketing podcast:

What do you think? Have you noticed a drop in your reach and exposure on Facebook's news feed? What tactics have been working for you? Please leave your comments below.