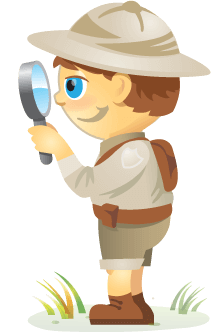 Welcome to our weekly edition of what's hot in social media news.
To help you stay up to date with social media, here are some of the news items that caught our attention.
What's New This Week
Facebook Expands User Control Over Ad Preferences and Combats Ad-Blocking: In addition to developing new ad formats "that complement, rather than detract from, people's experience online," Facebook expanded its Ad Preference tools "to give people even more control over… the ads they see" in their news feed. Users can now add or remove interests from their ad preferences, as well as "stop seeing ads from businesses or organizations who have added them to their customer lists." With the rollout of these powerful user controls for ads, Facebook also announced that ad-blocking software will no longer work when accessing the social network on desktop.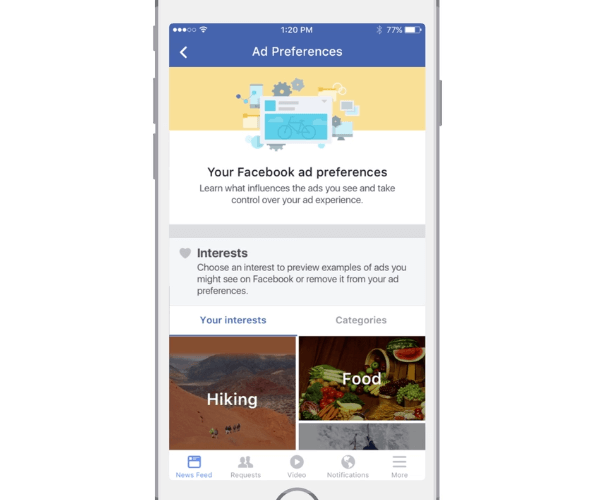 FTC Tightens Disclosure Rules for Influencers: According to the Federal Trade Commission, "users need to be clear when they're getting paid to promote something, and hashtags like #ad, #sp, #sponsored – common forms of identification – are not always enough." Bloomberg reports that the FTC plans to increase the requirements for disclosure on sponsored posts and is putting the onus on the advertisers to make sure that any compensation for influencers, including free products or services, is disclosed and prominently displayed.
Facebook Rolls Out New Publisher Tools for 360 Video: Facebook is introducing two new tools for publishers of 360 video on Facebook. These include Guide, "a new way to give your viewers a guided tour of your 360 video as it plays" and Heatmap, "a visual insights tool that shows you which portions of a 360 video's field of view your audience is spending the most time watching." According to the Facebook Media blog, users can experience how publishers such as GoPro, the New York Times, and ABC News are currently using Guide in their 360 videos. The new Heatmap tool is "available for any video posted from May 1 that has more than 50,000 unique viewers" and can be found "under the Video Insights tab for that video."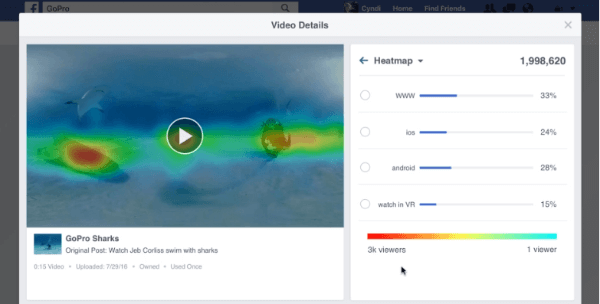 Facebook Introduces New Audience and Engagement Metrics for Videos: Facebook introduced new video metrics in Page Insights and Video Library that "give publishers actionable data to help them create videos that forge stronger relationships with their viewers and engage new audiences." These new tools "will be available for all videos, including Live and 360," and offer audience demographics broken down "by minutes viewed by age, gender and top geographic locations," the ability "to see how aggregate audiences engaged at specific points during a Live broadcast," and insights on "how sharing impacts distribution of videos and what kind of content compels people to share." Facebook is in the process of rolling out these updates and confirms that they "will be available to all Pages in the next couple of weeks."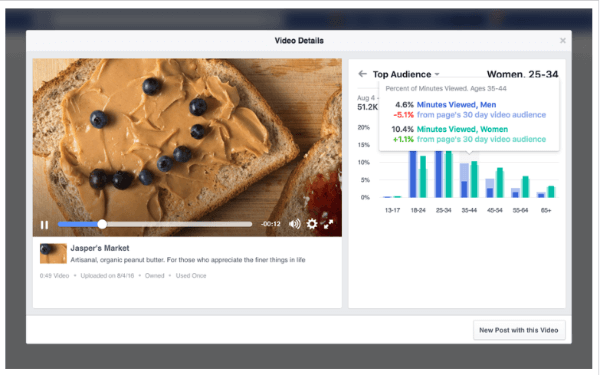 Pinterest Introduces CPM Buying: Pinterest announced that it's "introducing CPM buying in the auction so that you can drive even higher performance for your ads." According to the Pinterest for Business blog, advertisers can now bid on a CPM basis or specify the maximum number of times someone sees your campaign and Pinterest will "deliver your ads to reach more people." This new offering is available to all businesses in the US, UK, and Canada through Ads Manager and most Marketing Developer Partners.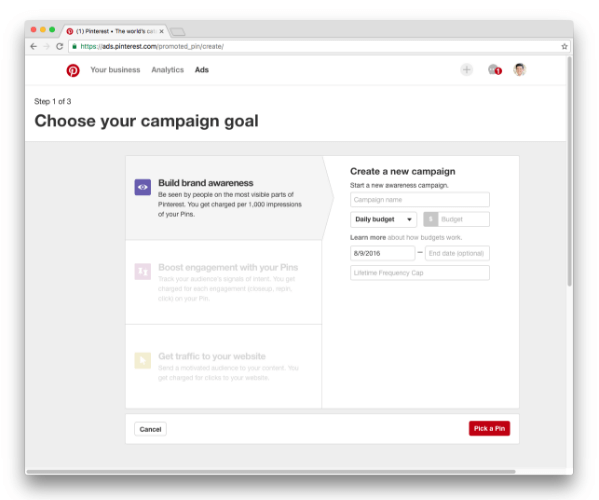 Our Take on Top News This Week
In this week's show from Friday, August 12, 2016, Michael Stelzner and guests discuss the top news in social media. Topics include the one-year anniversary of the Morning Social Media Marketing Talk show and updates to Snapchat. Subscribe to future shows here.
More News to Note
Snapchat Is Letting More Brands Run Ads Between Friends' Stories: Earlier this year, Snapchat successfully launched a native video ad format, which allows ads to appear between friends' snaps and stories. AdWeek reports that Snapchat is "expanding its initial [advertising] pilot to include more advertisers eager to reach the app's 150 million daily users." While the number of ads on the site has steadily increased over the past few weeks, the site has been careful to limit the number of ads shown to each person to the "three so-called Snap Ads Between Friends promos per day" in order to "avoid ruining the user experience."
Social Media Marketing Society (Ongoing Online Training)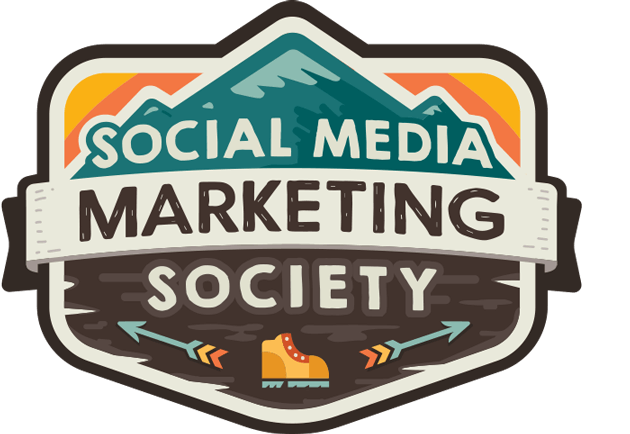 Want to gain marketing confidence and accelerate your career? Try the Society to discover new marketing ideas, improve your results, get support, and become indispensable. Join us for ongoing training, insight from pros, and a community of supportive marketers who understand you.
START YOUR TRIAL MEMBERSHIP
Instagram Adopts Algorithm and Facebook Data to Sort Instagram Stories: Last week, Instagram introduced Instagram Stories, a new feature that allows users to "share multiple photos and videos… in a slideshow format." MarketingLand reports that "Instagram is using an algorithm powered by data from parent company Facebook to decide the order of the Stories appearing on the app's main feed." A spokesperson from Instagram confirmed this by adding that the algorithm "will decide the order of Stories by referencing whose content people engage with on Instagram as well as on Facebook" and "will prioritize Stories from the people it thinks someone would be most likely to check out."
Put Google Analytics to Work for Your Business (Online Training)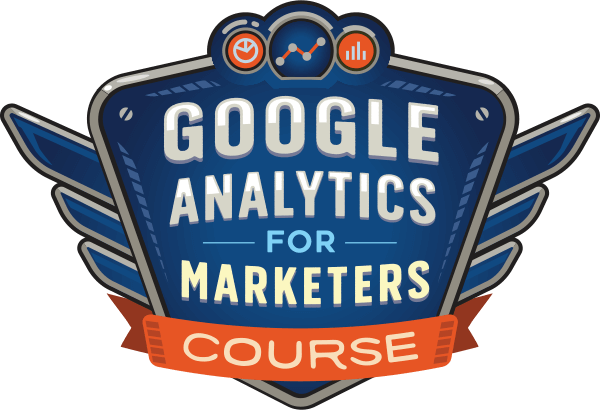 Ever thought, "there's got to be a better way" when it comes to tracking your marketing activities? Are you forced to make decisions based on limited data? With the right training, you can use Google Analytics to measure all of your marketing efforts with certainty.
You'll stop the leaks in your ad spending, justify your marketing spend, gain the confidence you need to make better marketing decisions, and know what's working at every step of the customer journey. Let the world's leading analytics pro show you the way. Check out our new Google Analytics for Marketers course from your friends at Social Media Examiner.
CLICK TO LEARN MORE: ANALYTICS TRAINING
Pinterest Kicks Off Webinar Series on Pinterest Ads: Pinterest for Business launched a new webinar series "to show how Pinterest Ads can help entrepreneurial businesses and marketers reach their business goals." Hosted by "in-house ad tools experts" from Pinterest, this month's webinars will "provide details and best practices for using Pinterest to connect with the people who matter most to your business" and include topics such as "Getting started with Pinterest Promoted Pins" and "Pin Creative Best Practices."
Twitter Expands Access to Moments: Twitter announced that "a broader group of creators will be making Moments, including influencers, partners, brands… and in the coming months, everyone." When Twitter Moments was initially released last year, the Moments were gathered by a curation team and "a small group of partners" with the intention of eventually making the format broadly available. By "extending this creative format to more people, and eventually to everyone on Twitter, [Twitter is] giving people a new and dynamic way to tell their stories."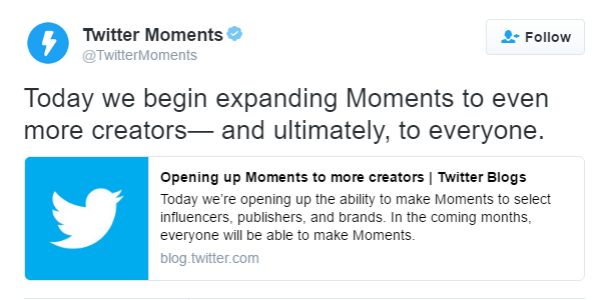 Facebook Updates News Feed to Show More Personally Informative Stories: Facebook announced that it's "creating a new ranking signal to predict what is most informative to you, so those stories appear higher in your feed." Facebook anticipates that "most Pages won't see any significant changes to their distribution in News Feed" and suggests that "Pages should continue to post stories that are relevant to their audiences and that their audiences might find informative."
Upcoming Social Media News Worth Following
Instagram Tests Save Draft Feature: TechCrunch reports that Instagram is testing the option to "Save Draft" when you "hit the 'Back' button" on an image. According to Instagram, it's "always testing new ways to improve the Instagram experience," but the site offered no further details on this experiment or any future plans to extend it to more users.
Some Interesting Studies to Note:
2016 Cross-Channel Marketing Report: In this new report, Marin Software provides performance benchmarks for shopping ads on Bing, Google, and Facebook based on an analysis of clicks, spend, and conversion data trends across various ad types and devices. The report also offers actionable recommendations for retailers looking to maximize revenue during the upcoming 2016 holiday season. The data for this study was collected from a sampling of the Marin Global Online Advertising Index, which is composed of marketers from around the world who spend $7 billion or more annually in advertising on the Marin platform.
More Than a Message: The Evolution of Conversation: According to a new mobile messaging report from Facebook IQ and Nielsen, 59% of those surveyed message more today than they did 2 years ago. Fifty-six percent expect their messaging will increase even more over the next 2 years. For this study, Nielsen surveyed 12,500 adults (age 18 and above) who use mobile messaging apps across 14 markets and 5 continents. Although the reasons people use messaging apps vary, the rapid growth and adoption of messaging apps for both business and pleasure are universal and offer marketers new opportunities to connect with their customers. For instance, 53% of those surveyed say that they're more likely to shop with a business that they can message directly.
The SUMOHeavy 2016 Digital Commerce Survey: A recent report from SUMOHeavy examines how ecommerce is evolving and provides insights on online shopping and consumer behaviors. In spite of the prevalence and advancement of mobile technology, 81% of respondents say that they prefer shopping on their laptop and desktop computers. Forty-eight percent of respondents say their tablet shopping experience "left much to be desired" and one out of five rate their mobile shopping experiences as "highly unpleasant." However, 28% preferred shopping from mobile devices and 62% admit to shopping in-person with their smartphone "in hand" comparing prices, seeking deals, or reading product reviews.
Video Ads on Twitter: Twitter partnered with Dentsu Aegis Network and MediaScience to examine how brands can best use video to reach consumers. The findings suggest that video ads consumed on Twitter consistently commanded the highest levels of attention and brand favorability among users. Mobile ad recall was "significantly higher" on Twitter when compared to other social media platforms. Also, users who saw video ads on Twitter were 12% more likely to recommend those brands to friends and family than viewers who only saw the ads on television.
Don't Miss This Event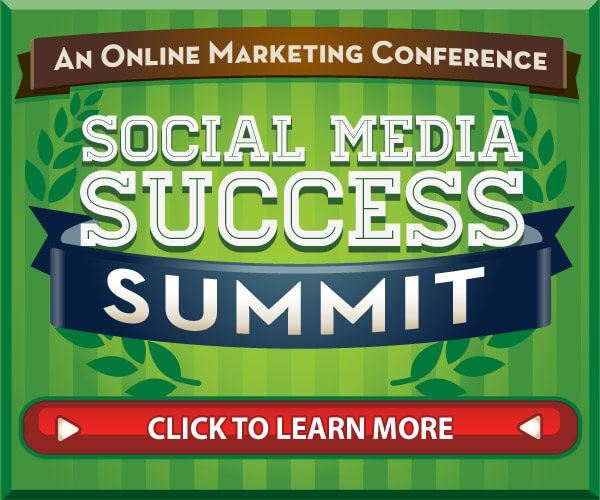 Join 4,000 fellow marketers at the ONLINE mega-conference designed to inspire and empower you — Social Media Success Summit 2016, brought to you by Social Media Examiner.
You'll soak in 39 social media marketing sessions taught by the top social media pros, including Mari Smith (co-author, Facebook Marketing: An Hour a Day), Michael Stelzner (founder, Social Media Examiner), Kim Garst (author, Will the Real You Please Stand Up), Joel Comm (co-author, Twitter Power 3.0), and Amy Porterfield (co-author, Facebook Marketing All-in-One for Dummies) — just to name a few. They'll share their latest social media marketing tactics with you.
Discover the best and newest ways to market your business on Facebook, Instagram, LinkedIn, YouTube, Twitter, Pinterest, and Snapchat.
Find new ways to improve your content and measure your results with sessions on video, live video, visual marketing, analytics, and marketing tools — all from the comfort of your home or office.
Register now for Social Media Success Summit 2016.
What do you think of Facebook's efforts to combat ad-blocking software? Have you tried Facebook's new audience and engagement metrics for video? Please share your comments below.