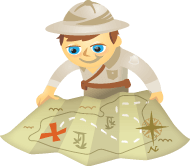 Do your Facebook fans have questions they want answered? Would they like to have access to industry experts who can answer their questions?
Are you aware of the Facebook Friday expert sessions Social Media Examiner has been doing?
Here's how they work.  We bring an expert to our Facebook wall for an hour to answer questions.  The expert gets great exposure and the fans get their questions answered.
These sessions  are a great way for fans to quickly get the information they need. And you can model this for your business. These open Q&A sessions with industry experts are a great way to encourage engagement with your fans and get your updates to show up more in your fans' news feeds.
A recent Facebook Friday session on our Facebook page starred Jeff Widman, CEO of BrandGlue . He gave our fans some great advice. Jeff helps businesses make their Facebook marketing sizzle, and of course many of our fans had questions to ask him. And he shared some great nuggets of advice.
This article will show you how we do them by highlighting a recent session.
Find the Right Questions to Ask Fans
It's so much easier to create a strong Facebook marketing plan when you ask the right questions. Jeff helped Angie Swartz do just that to get more interaction on her page.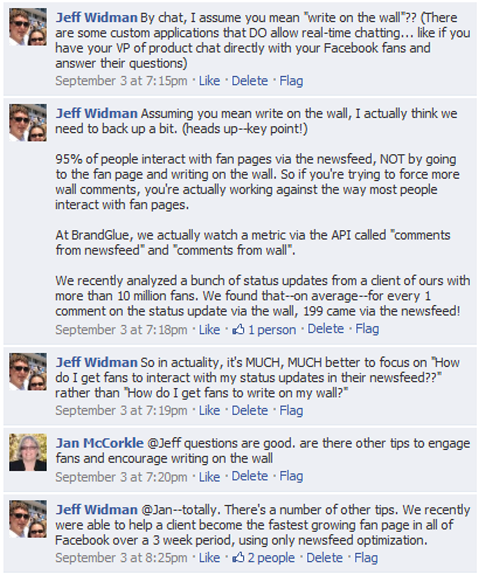 Identify Your Needs
If you've been on Facebook for any length of time, you know that things change. Facebook can get overwhelming. But a clear understanding of what you need and why you need it will help you to get the most out of Facebook as it continues to evolve.
Jeff helped Mindy get a clear understanding of why she may or may not want to learn FBML, given that Facebook is moving to iFrames in January.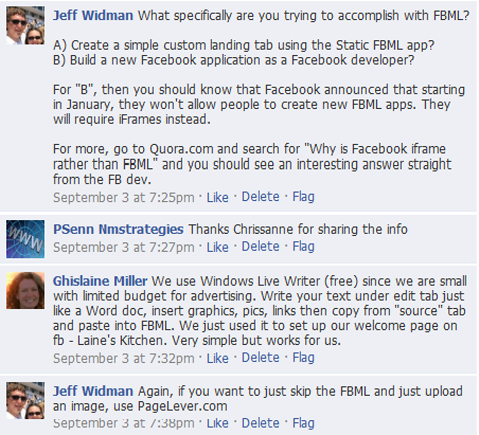 Get a Deeper Understanding
What goes on behind the scenes on Facebook affects how often our updates are seen by our fans. It's hard to stay up-to-date on everything and it's always great to hear from the experts on what works best today.
Andy had a question about how often you should post on your Facebook page. It's interesting to learn how the Facebook algorithm impacts your reach on Facebook.


Get Help in Setting Up Your Social Media Marketing
When you start to set up your social media marketing, you'll have lots of questions. The Q&A session with Jeff helped Paula get on track to figuring out the best number of pages her company should have.
Get Easy-to-Follow Guidelines
Information overload hits all of us. The Q&A format on Facebook makes it easy to get simple guidelines from social media experts who do this for a living. Naimah got solid advice from Jeff to help her get started on her own.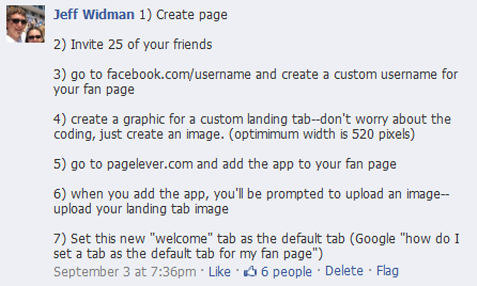 Get Useful Tips for Your Business
It's not always obvious to businesses how they can connect with their particular audience on Facebook. Having access to someone with experience across a variety of businesses is useful.
Jeff gave Sheri and Rachel a great way to start promoting their cause on Facebook.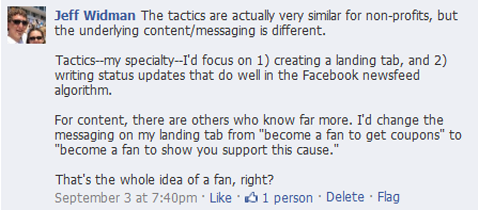 Get Feedback on Things That Appear Complicated
Facebook seems to be the social media platform where people have the most questions on how to set up their profiles and pages and how to use them. And it's not always easy to find answers to basic questions.
Jeff explained to Lisa the "yes and no" answer to whether she could change the name of her fan page.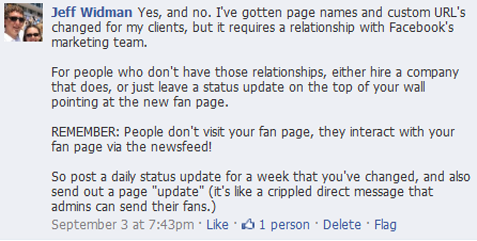 Ask All Sorts of Questions
An open Q&A session with a social media expert is a great place to ask all sorts of questions, even the ones that may appear to be too simple.
Jeff explained to Natasha how to change a personal profile page to a fan page.



Get Expert Advice for Your Social Media Tactics
It's great to seize the opportunity to ask an expert for advice. These questions and answers are useful to everyone.
Here's one such question from Cathy about dealing with attrition rates on Facebook. Jeff's answer is useful to all businesses with Facebook pages.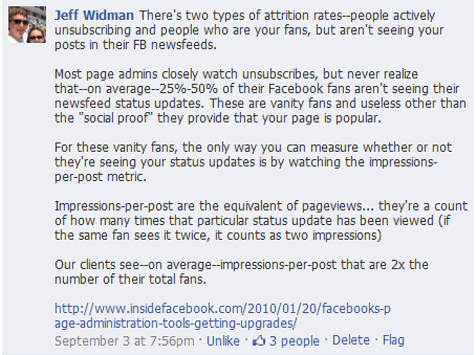 Increase Your Facebook Engagement
Did you notice the stats for the number of impressions in other people's newsfeeds and feedback percentage in all of the screenshots of the questions shown above?

They are an indication of your reach and how much engagement you have on Facebook. It's an easy way to see which updates got the best results on your page.
Now, your updates may not get as many impressions in the newsfeeds of your fans. Social Media Examiner's Facebook page has been a tremendous success. In only a few months, we've reached over 15,000 fans and this shows in the number of impressions and the feedback percentages.

But you can ask questions and follow the advice shared with the social media experts in our Facebook Friday sessions to improve your social media marketing. So remember to "Like" the Social Media Examiner Facebook page and keep an eye out for the Facebook Friday sessions.
Now it's your turn. What do you like about these expert sessions on Facebook? How could they help your business? Please leave your comments in the box below.