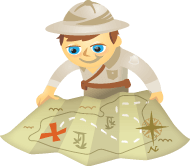 Do you use video in your marketing?
Want to make sure your copyright is protected?
There are simple steps you can take to brand your videos so you're protected if people upload them to Facebook as their own.
In this article you'll discover how to protect your video content from freebooting on Facebook.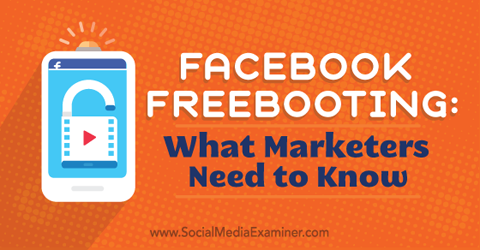 Listen to this article:
Where to subscribe: Apple Podcasts | Google Podcasts | Spotify | YouTube Music | YouTube | Amazon Music | RSS
What Is Freebooting?
Freebooting (also known as video piracy) is the act of downloading someone else's copyrighted video (usually from YouTube) and uploading it to Facebook as your own. You need to protect your content and make sure you don't unknowingly propagate the work of pirates.
Joe Hanson of It's Okay to Be Smart explains that freebooting "is not the same as sharing or linking or embedding [online media] from its original source. Freebooting means downloading it without permission from the creator or copyright holder and redistributing it for your own use, often for your own monetary gain. When it comes to video piracy in 2015, Facebook is ground zero."
Of the videos on Facebook, 72.5% are pirated. "According to a recent report from Ogilvy and Tubular Labs, of the 1,000 most popular Facebook videos of Q1 2015, 725 were stolen reuploads," says Hank Green. "Just these 725 'freebooted' videos were responsible for around 17 BILLION views last quarter."
A recent trend I'm seeing on Facebook is scraped YouTube videos that have been lightly edited and compiled into a montage with large captions or subtitles on the video itself. Given that Facebook has the Autoplay feature on both desktop and mobile, users are more likely to feel drawn in to watch a video and click/tap for the audio if they read the caption.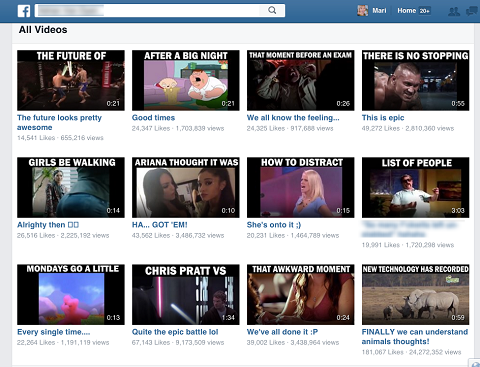 Freebooting hurts people who work hard to create their video identity. For instance, if you're monetizing your YouTube channel, you'll miss out on ad revenues if someone is scraping and reusing your videos. Facebook is just starting to dig into revenue sharing for their ads, but it's only available to a select few advertisers so far.
Granted, if there's a call to action or watermark on an illegally uploaded video, it could potentially help increase the visibility of the original creator. But still…
Here's how to protect your content, deal with piracy when it happens and avoid sharing pirated videos.
#1: Understand Facebook and YouTube Video Piracy Policies
YouTube is stringent with their copyright links, so they'll take infringed content down immediately if a complaint is filed.
Unlike YouTube, Facebook won't automatically take down pirated content. Facebook is clearly on a mission to ramp up their own video consumption. Native Facebook video posts have the most organic reach, which is probably what has spawned this trend among users.
Under pressure to do something about freebooting, Facebook came up with video matching technology to make life a lot harder for pirates. It lets the creator know when a duplicate video is being shared on Facebook.
"Videos uploaded to Facebook are run through the Audible Magic system, which uses audio fingerprinting technology to help identify and prevent unauthorized videos from making their way onto the platform," Facebook states.
#2: Report Freebooted Videos
Destin Sandlin of Smarter Every Day created the following video (which you can share on Facebook) to simplify what freebooting is and the impact it has for content creators. He talks about a German DJ who created a YouTube video that got over 5 million views in four years. A verified Facebook page then downloaded the video from YouTube, uploaded it as a native Facebook video and got 5 million views in four days.
Destin shares three tips for what to do when you come across freebooted videos anywhere on the Internet. He says to capture the freebooted content (with a screenshot or video screen capture), comment (state that it's stolen and direct people back to the original video and creator) and contact the original creator of the video content.
If you find someone has stolen your content or a video from someone you know, here's what to do. Go to the top right of any Facebook post on desktop, then click the gray down-pointing arrow. Then choose I Don't Like This Post from the drop-down menu.

In the pop-up that appears, select the I Think It Shouldn't Be on Facebook option. You'll then be able to state the issue, and whether it's your content or someone else's.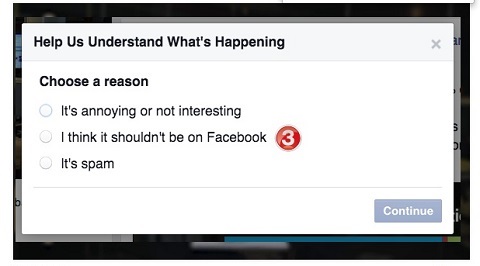 To report a video on mobile, the process is very similar. Go to the top right of any post containing a video or the video player itself, tap the little down-pointing arrow. Then select Report This Post from the menu that appears. On the next screen, tap the I Think It Shouldn't Be on Facebook option. Select Something Else on the following screen, and if it's your content, let Facebook know.
Directly report infringements of your copyright on Facebook here.
#3: Protect Your Video Content
The best way to protect your video content is branding. Put a watermark or lower third throughout the video. That way if the video gets scraped, people will still know it's from you.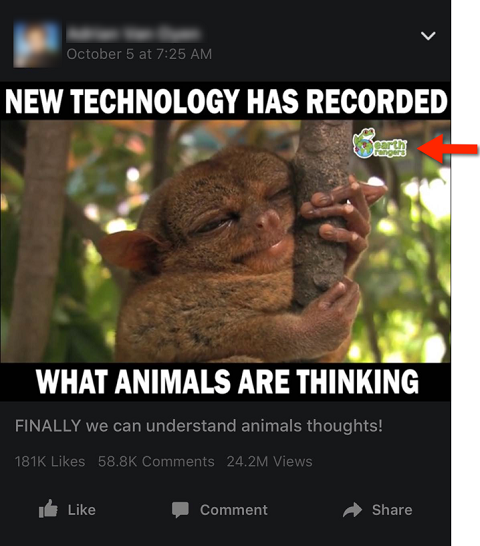 Another way to protect your content is to upload it to multiple platforms. Whether it's a blab, Meerkat, Periscope, Google hangout or original video, post your (branded) content simultaneously to Facebook as a native video and to YouTube.
Also, when you create the description on YouTube, include a link to where the video is posted on Facebook so anyone who wants to share it on Facebook can use your original link.

#4: Use Content From Other Sources Safely
Here are some ways to safely use content from other sources in your social media efforts.
Secure Permission
Make sure that any video you upload to Facebook is either your own original content or you have permission from the copyright owner to use it.
If you were interviewed by someone and want to upload his or her content as native Facebook video, just ask. As long as you have permission, and include links back to the original website, it should be mutually beneficial.
For example, at an event in Dallas I did an impromptu interview with Jaeny Baik (an on-camera coach and video marketing specialist). Jaeny then uploaded the iPhone video of the interview to YouTube.
I reached out and asked Jaeny if she would be willing to let me have the original HD file to upload to my Facebook page to increase the likelihood of getting more reach, views and visibility for both of us. When I uploaded it, I included links to her Facebook page and website.
This turned out to be a win-win scenario. My upload of the video has received more than 4,000 views, as well as numerous likes and comments.
Use Royalty-Free Images and Music
Make sure any video images and clips (which you can buy from iStockphoto, for example) are royalty-free.
This counts for music, too. There are a few apps that allow you to add music tracks. You can use up to 15 seconds before infringing on the copyright.
For instance, Flipagram allows you to create photo montages and video clips, and add your own music. When I uploaded a 30-second video to Facebook, I got a warning that I was violating copyright. All of the photos were my own, so I assumed the warning was regarding the 30 seconds of music from my own iTunes collection. However, using 15 seconds of the music for the video I uploaded to Instagram was okay.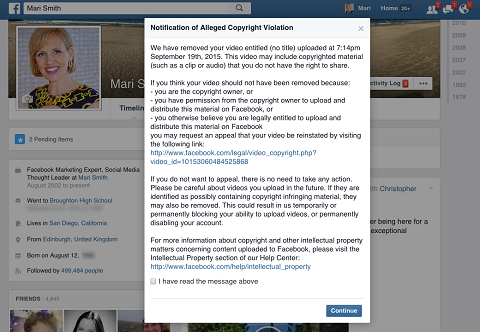 Remember also to be mindful of your backgrounds. If you shoot a video and accidently capture someone's copyrighted material, or an audio recording of a song or television program, you may be asked to take the video down.
Final Thoughts
With Facebook native video, keep this motto in mind: When in doubt, don't. Only upload videos that are yours or for which you have permission from the copyright owner.
Remember, too, that the share button is there for a reason. If you really want to share someone's video, make sure it's legit and then use the share link.
No one wants to have material stolen. Safeguard the material of others and brand your own so you're protected in case someone starts freebooting your content.
What do you think? Have you had trouble with freebooting? What precautions do you take to keep your material safe from infringement? Please share your thoughts and recommendations in the comments.