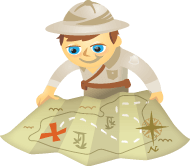 Interested in setting up a Facebook cover video on your business page?
Wondering how others are using cover videos on Facebook?
In this article, you'll find best practices and ideas for using Facebook cover videos on your Facebook page.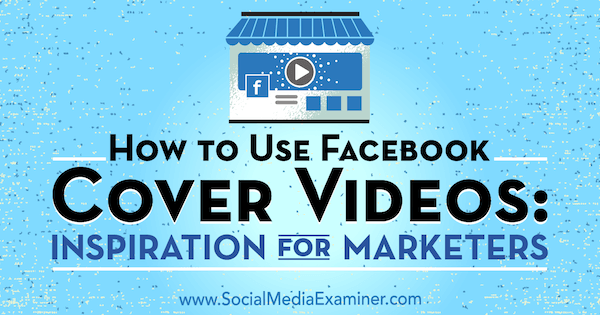 Familiarize Yourself With Facebook Cover Video Specs
According to a recent survey, 60% of consumers watch branded videos on Facebook daily and 64% say that watching a marketing video on Facebook has influenced a purchase decision in the last month.
Consumers are watching video on Facebook, they're engaging with it, and it's actually getting them to take action. So why not incorporate more of it into your marketing efforts, right at the top of your Facebook page?
First, you'll need to create a video to upload as your Facebook cover video. You may have noticed that Facebook cover videos are shorter and wider than typical Facebook videos.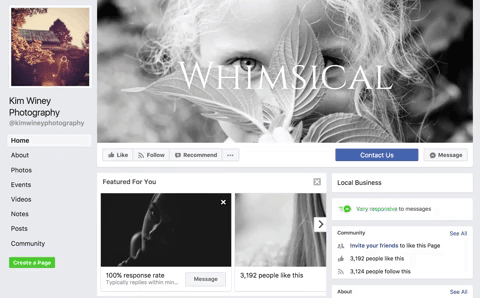 The unique size of Facebook cover videos can make it tough to figure out how to get started. The good news is that you can create a Facebook cover video from a regular-sized landscape video. You'll just need to keep a few points in mind:
Facebook cover videos must be between 20 and 90 seconds long. If your video is less than 20 or more than 90 seconds, Facebook won't allow you to use it as a cover video on your page.
The video resolution must be 1080p. Trying to upload a video at 720p and can't? Try exporting a larger version.
Videos will be cropped to 820 x 462 pixels. For this reason, it's important to keep any important images and text centralized so they won't get cut out. The mobile crop is slightly different and will crop less of your video, but once you've uploaded it, double-check to make sure it looks okay on mobile. (Note: Facebook's FAQ lists the cover size as 820 x 456, but we've tested and confirmed that videos will be cropped to 820 x 462.)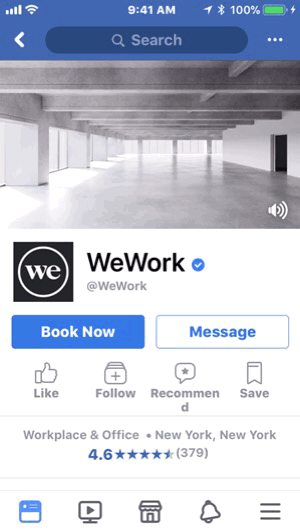 Cover videos autoplay on mute. When viewers first see your video, they won't hear any audio unless they decide to opt in, so be sure your video makes sense with no sound.
Cover videos loop by default, so you want a smooth transition when your video ends and starts again. You can ease awkward transitions by adding a logo or title.
Currently, cover videos are available only on Facebook pages. You can't upload cover videos to your regular Facebook profile at this time, but who knows what the future holds?
Upload a Cover Video to Your Facebook Page
Once your video is made, how do you get it on Facebook? It's easy. You'll just need to access your Facebook page from your computer rather than your phone, because you can't currently upload page covers from the mobile app. So hop on a computer, open your web browser, and head over to your Facebook page to get started.
Once you're on your page, click on Change Cover and choose Upload Photo/Video from the drop-down menu.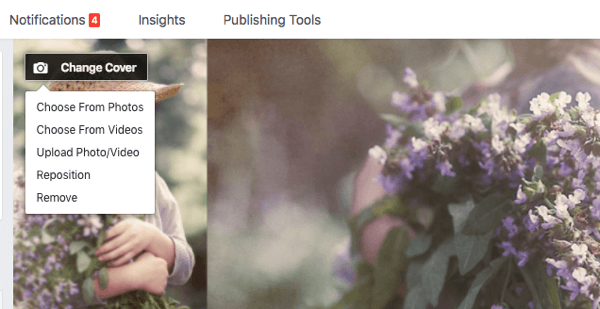 A window will pop up where you can navigate to and select the video file you'd like to upload. If you're having issues uploading your video, troubleshoot by double-checking the list in the previous section to make sure your video is the appropriate resolution and length.
Once your video has uploaded to Facebook, drag and drop to reposition it so it's centered and the crop is what you intended. When you're done positioning your video, click Next.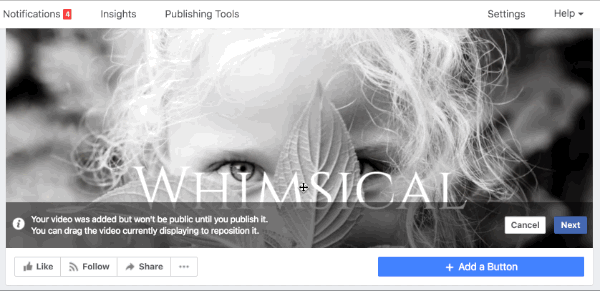 After you reposition your video, click the arrows to view the 10 thumbnail options and choose a thumbnail for your cover video. Most people will be able to see your cover video wherever they're viewing your page, but some won't due to low bandwidth or other factors. For this reason, you'll want to choose a thumbnail from your video to serve as a cover image.
If you don't want your video to loop, turn off the Automatically Replay Video in a Loop option. When you're finished, click Publish and your cover video will be set.
Find Inspiration for Your Own Facebook Cover Video
Looking for a little inspiration? Here's a collection of cover videos from different brands that may spark some ideas!
Netflix: Narcos
A list of examples wouldn't be complete without this awesome Facebook cover video from Netflix, featuring their original series Narcos. This is one of the first (if not the first) cover videos to appear on Facebook.
Don't be overwhelmed by the high production value of this video masterpiece; you can create a cover video without a Hollywood budget, as the following examples illustrate.
Hootsuite: Teach People Something
Social relationship platform Hootsuite posted a fun cover video on their Facebook page. It takes the old static Facebook cover image to a whole new level, teaching viewers something new. In this case, the cover video redefines the ROI of social media, something incredibly useful to Hootsuite's customers.
Buffer: Show Off Your Company Culture
Social media management tool Buffer used this cover video on their Facebook page as an opportunity to show off their amazing team.
Kim Winey Photography: Showcase Your Product or Service
Here's the full cover video of the earlier example from Kim Winey Photography. As a photographer, Kim uses the opportunity to showcase her own work and sell herself. She closes out with contact information for those who want to book with her.
Want more like this? Explore Facebook for Business!
.
Conclusion
As you can see, Facebook cover videos can be used in a variety of ways to engage with fans and visitors to your page.
What do you think? Have you experimented with Facebook cover videos yet? Do you have any creative ideas? Share your ideas and links to your videos in the comments.