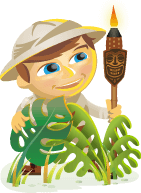 Have you ever run a Facebook contest?
Are you wondering if you should use them for your business?
To learn about Facebook contests, I interview Andrea Vahl for this episode of the Social Media Marketing podcast.
More About This Show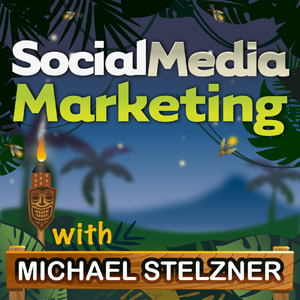 The Social Media Marketing podcast is a show from Social Media Examiner.
It's designed to help busy marketers and business owners discover what works with social media marketing.
The show format is on-demand talk radio (also known as podcasting).
In this episode, I interview Andrea Vahl, co-author of Facebook Marketing All-in-One for Dummies. She regularly writes about Facebook for Social Media Examiner (in fact she was our community manager for 2 years), and has an alter-ego known online as Grandma Mary.
Andrea shares how a Facebook contest can work for your page and your business.
You'll learn about the different contests available and what contest apps to use.
Share your feedback, read the show notes and get the links mentioned in this episode below!
Listen Now
Where to subscribe: Apple Podcasts | Google Podcasts | Spotify | YouTube Music | YouTube | Amazon Music | RSS
Here are some of the things you'll discover in this show:
Facebook Contests
Why should businesses run contests on Facebook?
When it comes to what contests can do for your Facebook page and your business, Andrea is a contest fan girl.
There are many benefits of running a contest and Andrea's top three follow. You'll hear the benefits of each and the best types of prizes to give away.
Help grow the likes on your page and your Facebook presence
Grow your email list
Help promote a product you're selling
Listen to the show to find out how we did a photo contest called Help Me Launch.
Examples of successful contests
Andrea shares a few success stories with Facebook contests and what range of prizes can develop good success.
Andrea helped set up a contest for a client on Facebook called Chocolate for Breakfast. It was a contest where the giveaway was a small box of premium chocolate truffles.
The contest was run for one week. From this, the client got 700 new fans and 400 email addresses. At the time, the page was at the early stages with around 1200 fans. So for the cost of the premium box of chocolates, the client got a huge response.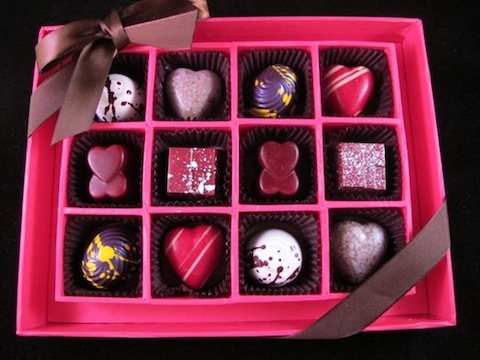 The contest was on the client's Facebook tab (like you're supposed to do), and it required people to like the page to enter.
Discover how a contest on a tab works and what information people need to enter to participate.
It was a sweepstakes contest where you didn't have to enter any photos, essay or video. It was a random-draw winner with anyone eligible to win.
You'll hear how it was promoted and the frequency of the posts.
Another client of Andrea's, Camp Bow Wow, did a contest called Bad to the Bone. They're a doggy daycare facility and also have home buddies dog training courses that they give away.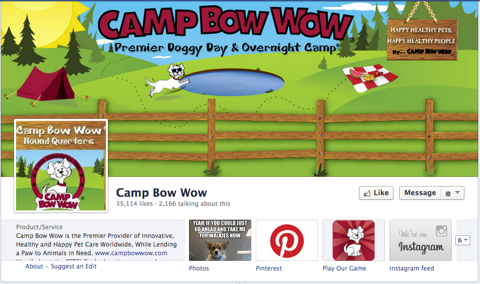 This contest encouraged people to submit pictures of their bad dogs. People would then vote on who was the baddest dog. The winner would get a free year of dog training lessons, which was a great prize.
Hear how this contest was run over a couple of stages and why it lasted about a year.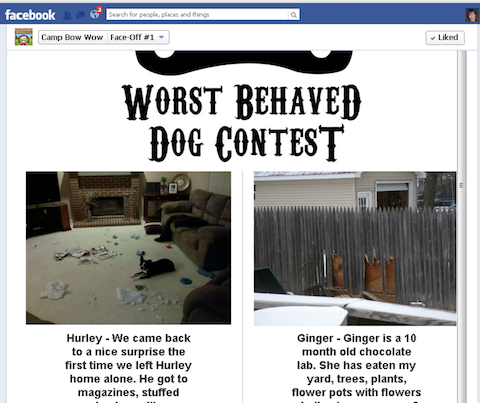 It was a huge success, with over 15,000 new fans.
Andrea encourages people to think about how you can piggyback on different techniques that have worked well. Create some fun around the contest and engage with your audience.
A bigger brand that ran a contest was Eggo. They did a Waffle-Off, which encouraged people to submit recipes with Eggo waffles.
People would submit recipes and show you the various ways to enjoy Eggo waffles.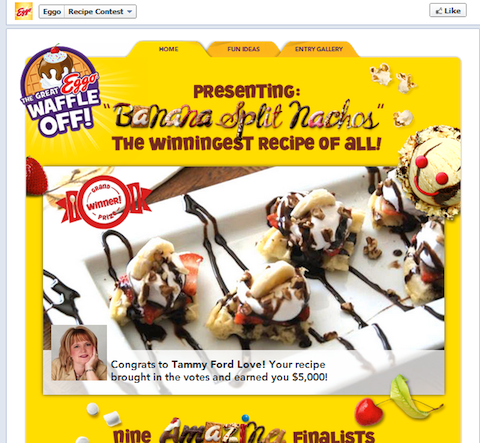 It was user-generated content and photos. People were very engaged with the contest. It was easy to set up and it took off for Eggo.
You'll discover why there might be less participation if it involves the need to enter a photo or a movie.
If you want to start your first contest, Andrea advises you to run a sweepstakes type of contest, as the barrier to entry is so low. It depends on what your overall goals are, but for most businesses it's getting people to like their page.
Listen to the show to find out why you should consider a Facebook contest if you have just launched something new.
Facebook restrictions when it comes to contests and what marketers need to do to meet them
Andrea shares the common mistakes she has seen people make on Facebook when it comes to contests.
You have to have a separate place on Facebook where people enter the contest. The method of entry is not allowed to be on your timeline. It has to be on a separate tab where people enter their email or use Facebook Connect to enter.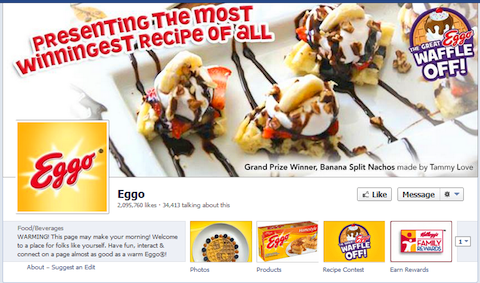 Facebook has very strict legal requirements—one of which involves the area of promotions, in particular contests. They want to make sure that it's not hosted on Facebook.com. It reduces the liability for Facebook.
When you use an app, it looks like it lives on Facebook, but it doesn't.
The last thing you want is Facebook against you. Make sure that you play by their rules.
Listen to the show to hear how you can make a blog post about your contest and then promote it on Facebook.
Can you share a few of your favorite Facebook contest apps? 
Andrea shares the different options available for contest apps.
Most people think that you have to use an app that's already created, but you can actually create your own app on Facebook to run a contest. It's a lot of work, but it gives you the option to customize it to your liking.
There's a huge variety of developed apps available that are inexpensive to use and have different features.
Andrea shares a couple of her favorite Facebook apps that she has worked with.
Offerpop is a great one because they have many different options. Find out what options they offer and why Camp Bow Wow chose them for their contest.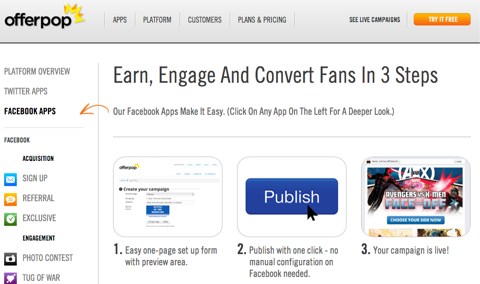 Hear why TabSite is a great contest app and how Woobox works well with Pinterest.
A really fun one is Fans with Benefits. It has the zipper front page, which is automatically created for you. For photo contests, Andrea loves Strutta.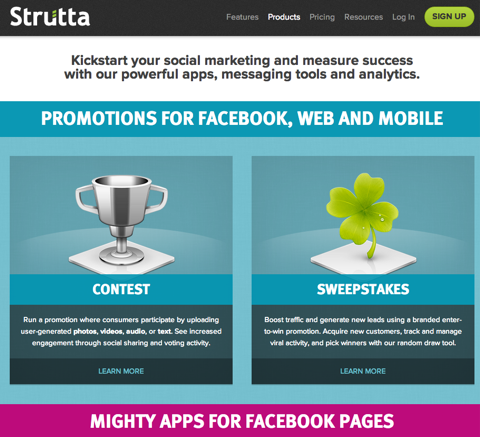 One of the great things about these apps is they tend to have a lot of the legal language already included for sweepstakes and promotions. They fully automate the whole process for you.
You'll hear how Strutta worked for us and why it was cool and simple to use.
The price for these apps starts at around $30 per month. It depends on how long you want to run the contest and how much of the branding from the app you want taken away.
Listen to the show to learn why it's not a lot of money for the value proposition you may gain.
How marketers should get the word out about Facebook contests
There are a lot of ways to get the word out. One of the cool things that's available in the contest itself is that some of the contest apps will give the entrant bonus entries for sharing the contest. It's a great feature because it encourages people to share.
You want to make sure you've got content available around the promotion of your contest. Discover what type of content you need to create and what to do with it.
You can also run Facebook ads around the contest and send people directly to the tab on Facebook. If you have judges for your contest, they can help promote it as well.
Listen to the show to find out the running times for a sweepstakes, video or photo contest.
This Week's Social Media Question
Conner from PerfectSense.org (a company that sells electronic equipment for offices and universities to implement sustainable lighting solutions) asks, "Now most social media I feel is for personal usage or some of the sexier products, not usually electronic stuff. I was hoping you could tell me a little bit about how I can expand my business and my outreach using social media, specifically Facebook and Twitter, to get some leads for selling these products?"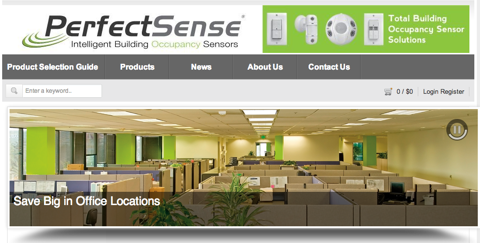 Conner, it's a great question. First of all, regarding personal or sexy items, that's not a true assumption. Businesses of all sizes and shapes, especially in the B2B world, use and benefit greatly from social media.
According to our 2013 Social Media Marketing Industry Report, 61% of businesses generate leads with social media and 86% of B2B marketers use Facebook, which I know sounds counterintuitive.
If you're in the industrial or B2B space, then the way to find leads and help grow your social presence is to first find a role model. It doesn't have to necessarily be a company in your industry. You could start to look at all of your competitors and see whether they have any accounts on social media.
Learn what else you can do, if they have no social presence.
A great company for you to check out is Cree, that manufactures LED lighting products. They're known on the consumer side and also on the business and industrial side.
You'll learn about Cree's social media accounts and why they have so many for each platform.
It's important to have a content strategy. The social media channels are a great way for you to draw people to your content.
This is the tip of the iceberg. Check out the Getting Started page on Social Media Examiner for more help.
Call in and leave your social media–related questions for us and we may include them in a future show.
Listen to the show to learn more and let us know how this works for you.
Other Show Mentions
My Kids' Adventures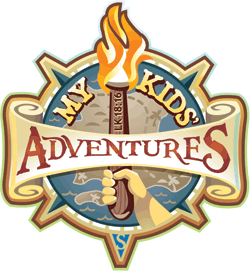 I want to give you a quick update on the recently launched My Kids' Adventures project and how it has exceeded our Social Media Examiner launch experience.
My Kids' Adventures is an online magazine for parents who want to have adventures with their kids anywhere, either in their home, neighborhood or the great outdoors.
Articles are published three days a week and the types of articles include How to Create Glow-in-the-Dark Bowling in Your Home and How to Have an Indoor Camping Experience.
It's completely grassroots and what we don't have this time around that we had with Social Media Examiner is a lot of connections in the family space. With grassroots, connections don't pop and go crazy, instead they grow organically. Although this is great, I could use your help in getting the word out.
If you could visit My Kids' Adventures/share, it would be awesome if you can help us spread the word.
Another way to help out is if you have a podcast that has busy parents among its audience who may be interested in what My Kids' Adventures is all about. I might be interested in being on your show as a guest. If you do, then the best way to go about that is email [email protected].
Social Media Success Summit 2013
Social Media Success Summit 2013 is a special online conference designed to help you master social media marketing (brought to you by Social Media Examiner).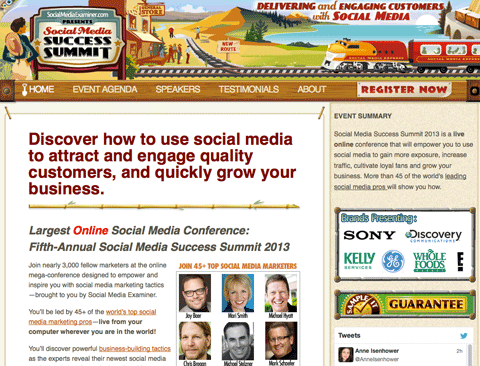 Forty-five of the world's leading social media pros will show you how. Instructors include Jay Baer (author, Youtility), Chris Brogan (co-author, Impact Equation), Mari Smith (co-author, Facebook Marketing), Michael Stelzner (founder, Social Media Examiner), Mark Schaefer (author, Return on Influence), Jesse Stay (author, Google+ for Dummies), Amy Porterfield (co-author, Facebook Marketing All-in-One for Dummies) and experts from General Electric, Sony, E! Online, Kelly Services and Discovery Channel–just to mention a few. Fully online. Click here to learn more.
A few of the sessions focused on Facebook marketing include:
How to Improve Your Facebook Marketing: 7 Power Techniques—Mari Smith
How to Get Big-Brand Results From Facebook—Walmart
How to Build a Facebook Community in 10 Minutes a Day—Andrea Vahl
How to Rapidly Grow Your Email List With Facebook—Amy Porterfield
How to Unlock Facebook's Most Powerful Yet Underused Advertising Tools—Jon Loomer
This is just a sample of what we are going to be teaching at this online conference.
Key takeaways mentioned in this episode:
Ways to subscribe to the Social Media Marketing podcast:

What do you think? What are your thoughts on Facebook contests? Please leave your comments below.