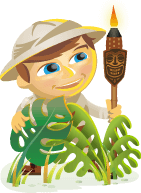 Are you considering running Facebook ads?
Have you tried Facebook ads but have had little success?
To discover how to run successful Facebook ad campaigns, I interview Amy Porterfield.
More About This Show
The Social Media Marketing podcast is an on-demand talk radio show from Social Media Examiner. It's designed to help busy marketers and business owners discover what works with social media marketing.
In this episode I interview Amy Porterfield, co-author of Facebook Marketing All-in-One for Dummies and host of the Online Marketing Made Easy podcast. She's also the former Facebook community manager for Social Media Examiner.
Amy will explore what you need to know to get started with Facebook ads, plus you'll discover the benefits of running Facebook ad campaigns.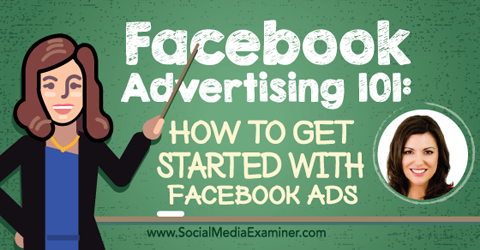 Share your feedback, read the show notes and get the links mentioned in this episode below.
Listen Now
Where to subscribe: Apple Podcasts | Google Podcasts | Spotify | YouTube Music | YouTube | Amazon Music | RSS
Here are some of the things you'll discover in this show:
Facebook Advertising 101
How Amy got started in social media and Facebook
Amy became interested in social media when she was still in the corporate world. She worked for Tony Robbins for about six and a half years as director of content development. In that last year Tony got heavily into social media (he did his own Twitter), and Amy worked on Tony's Facebook page.
Amy got the entrepreneurial bug, and knew she wanted to go out on her own. She fell in love with social media and she knew that was the area to pursue.
While still in the corporate sphere, Amy started educating herself. She asked to be involved with anything related to online marketing and social media. About a year later, she took the leap and left the corporate world. Amy started by doing social media consulting, but eventually built a business around online training courses related to social media marketing.
Listen to the show to discover how Amy and I first connected, and our first experience at Blog World.
Why use Facebook ads?
Facebook does a lot to help marketers find their ideal audience online. Amy believes the targeting capabilities on Facebook are far more advanced than any other social media platform. Facebook allows people to get in front of their perfect audience on a regular basis.
Amy breaks down the Facebook targeting options.
If you've built up a Facebook business page and have a few thousand fans, start with targeting them. It's the cheapest way to target on Facebook, since you don't pay as much when you target your own fans versus a cold audience.

The next thing to do is create a lookalike audience of your own fan base. You tell Facebook that you have these fans, and you want to target people who are similar in likes, interests, activities and behavior. Facebook will give you an audience that's very similar to the one you've already attracted.
Then upload your email list to Facebook. Facebook will compare it to their database, and when they find a match, they put the contact in a bucket. This allows you to target people who are already on your email list with a new opportunity. Also, take that email list and ask Facebook to find a lookalike audience.
Amy adds a couple of other targeting options to the mix.
Target fans of other Facebook pages, such as your competitors or people who are aligned with your business. Amy says the reason she mentioned the other options first is that sometimes when people are first starting out and go to look for similar interests, they struggle to find Facebook pages to pop up.
For example, when you put together your ad, if you type "Amy Porterfield" in interests, her page will likely pop up, and you can target her fans. But a lot of pages won't populate, Amy explains. Facebook says it has to do with trending, activity, engagement and how many fans you have. Amy suggests trying to find five pages and target their fans.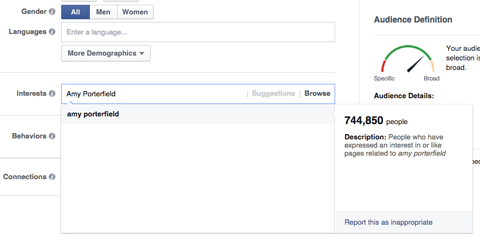 Another one of Amy's favorite techniques is to retarget website visitors. Place a pixel on your website (down to the specific blog post), then start driving traffic to your blog.  Facebook can then track that person. If the person also has a Facebook ad account, they go into a bucket and you can retarget them with something such as a webinar or  product that's related to that blog post topic.
You can get very specific. So if you are driving traffic to a webinar registration page, you can set it up to retarget people who went to the page but never signed up.
Listen to the show to learn more about why and how to target your email list.
Graphics for Facebook ads
While individuals who have personal brands might want to include a picture of themselves when they create a graphic for a Facebook ad, that's not necessarily the most effective course of action. It works really well for those who are known or have been in the business for a while, Amy explains.
However, when Amy's business coach, Todd Herman, started using Facebook ads, he found that ads with his topic (How to 10x your Business) did better than the ones with his picture on them, because people didn't recognize him. Todd was promoting his content to a cold audience.
If you're really new and people don't know you or your brand yet, run with content. Let the ad graphic speak for itself. Since you can only have 20% text in an ad graphic, use the Facebook grid tool to test your images before uploading them.

There are three types of Facebook ads: sidebar, news feed and mobile.
When you set up your ad, if you have a really small budget, start with a news feed ad, Amy says. It's an ad that appears in the news feed that looks like a Facebook post. When you're inside Facebook, it will tell you the exact dimensions of your ad. Amy sticks with 1200 x 628.
The mobile ads appear a little differently than ones on desktop. Amy says she spends the bulk of her money running both desktop and mobile news feed ads. When you set up the ad in the dashboard, you'll see a preview of your ad both ways.
Remember, if you're doing a mobile ad that promotes a webinar or other event, make sure the registration page is mobile-responsive.
Listen to the show to hear some of Social Media Examiner's Facebook ad strategies.
Facebook ad text
For Facebook ads, create a headline below the image and add a description. However, the most important text for your ad is right above the image. Amy suggests you lead with an obvious "yes" question.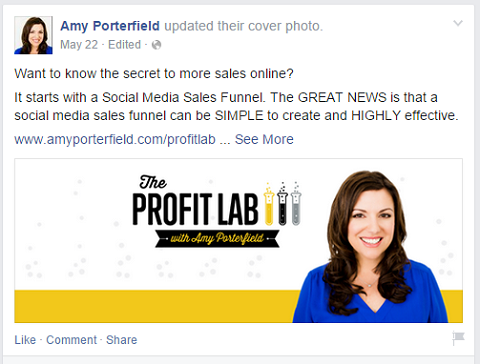 For example, if you have a program that helps people break their addiction to sugar, your "yes" question might be, "Have you struggled to break your addition to sugar?" Then write something like, "If that's you, don't hesitate to grab our free cheat sheet about XYZ, where we'll walk you through a smooth transition."
When you start an ad this way, you get your audience's attention. This kind of setup with text has proven to be really successful.
Try this text format: Start with your question. Then write two sentences to tell your audience what to do. Also, include either the link in the text or write "click below" to lead your readers to the link in the ad.
There are two ways to create ads: the Ad Creator tool or Power Editor. Amy suggests starting with the Ad Creator tool, because it's a lot easier. However, you only get 9o characters of text. In Power Editor, there's no limit.
Amy prefers to set up an ad from scratch (rather than boosting a post), because you have more flexibility and options. For instance, when you set up an ad in the Ad Creator tool or Power Editor, you can choose a call-to-action button such as "watch now," "download" or "click" to show up below the graphic in your ad.
Amy explains she will occasionally boost a post if she wants to get something out quickly. For example, if she's planning to go on Periscope soon, she will post it on her Facebook page and then boost it.
Listen to the show to discover how Social Media Examiner uses the question tactic in our articles.
Your ad budget
Amy suggests to start by spending $5 for each ad set. To set up an ad, you create a campaign, then an ad set and finally an ad. If you want to set up two ad sets, put $5 to both of those per day. Once the ads in your campaign get going, and you see in your analytics that you've gotten a few leads, then boost them up a bit.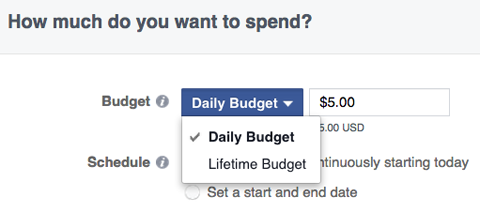 Try to get up to $20 per day for a period of time. A week would be great. Amy explains it's common for her students to fret if they haven't gotten results in 24 hours. Give it at least 72 hours. When  you run ads for leads, your cost per lead will be pretty high, like $6 or $7 per lead. After that 24-hour period, it will go down. You have to give it time to find the balance.
Listen to the show to hear what Amy recommends for those on a small budget.
When it's time to change your ads
To know if a Facebook ad is working, Amy says to pay close attention to cost per lead or cost per sale. She says she usually tries to keep it to $5 or less per lead. If you're paying $1 to $5 per lead, you're doing really well and should keep your ad going. There's no need to change anything if you feel it's working for you.
However, if you're not happy with something, like your cost per lead, there are things you can do. Start with changing the image. Let it run for three days and see what happens. If that doesn't make a difference, then change the text. You want to go step by step. Don't change everything at once, else you won't know what the problem is.
Before you change anything about the ad itself, start with your targeting. Do a lot of homework and make sure you get in front of the right people. This will lower your cost per lead considerably.
One more thing: When you set up your ad, you can click to get the URL, so you can check it for comments regularly.
Listen to the show to see how long Amy has been running her current Facebook ads.
Discovery of the Week
Raindrop, which functions as an archive and collection system, is a cloud-based web, desktop and mobile app that syncs across all your devices. Use it as a collecting, organizing, sharing and collaborating tool.
Drop in content, organize it and share. There are also different visualization preferences, so view your content as images in a Pinterest-type format, as small tweets and more. Create collections, add descriptions and tags, and even give a collection a screenshot, so it stands out visually.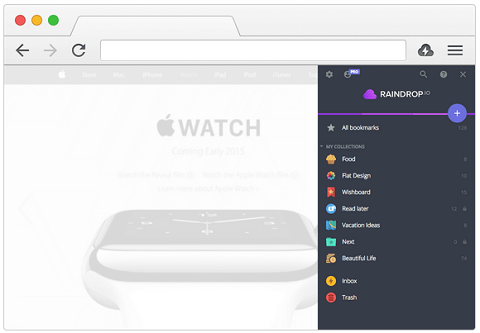 If you're browsing and find something you want to look at later, just hit the Share Sheet button (on your browser or in the app) and send it to Raindrop. You can either drop it into a general inbox or a specific location.
To use Raindrop for collaboration, sign up (it's free), log in and set up a shared folder or two. Then, allow access just as you do with services like Dropbox.
Listen to the show to learn more and let us know how Raindrop works for you.
Other Show Mentions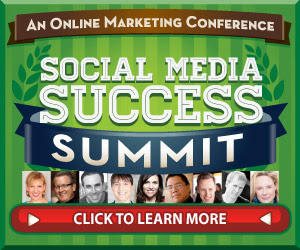 Today's show is sponsored by Social Media Success Summit 2015.
Want to improve your social media marketing? Need to prove your efforts are working? Join 4,000 fellow marketers at the online mega-conference, designed to inspire and empower you.
Discover the best and newest ways to market your business on Facebook, LinkedIn, Twitter, Google+, YouTube, Instagram and Pinterest. Find new ways to improve your content and measure your results all from the comfort of your home or office.
You'll be led by 35 top social media pros, including Mark Schaefer, Mari Smith, Christopher Penn, Amy Porterfield, Neal Schaffer, Ian Cleary, Viveka Von Rosen, Jon Loomer, Andrea Vahl, Steve Dotto, Amy Schmittauer, Peg Fitzpatrick, Brian Fanzo, Sue Zimmerman, Kim Garst, Andy Crestodina, Pam Moore, Martin Shervington, Donna Moritz, Ron Nash, Michael Stelzner and more. We have selectively recruited the top experts on every major social network to share tactical, step-by-step, hands-on information.
Amy Porterfield will be speaking about videos in Facebook ads.
Also, Neal Schaffer will be presenting on social media tools; specifically tools that can help you save time and money. Those of us involved in social media always have too many things to do and too little time. To scale and become more efficient, we must learn to use not just any social media tools, but the right tools in the right way. Neal will go over the tools that he and other social media pros use, and how to use them to save time and money. This is new content he created specifically for the Social Media Success Summit.
Social Media Success Summit is an online conference. It's 36 different sessions spread across 4 weeks. There are three sessions per day, three times per week, over four weeks. And it's on every conceivable social media platform you can imagine. Check it out. Visit SMSS15.com for significant early bird discounts.
Listen to the show!

Key takeaways mentioned in this episode: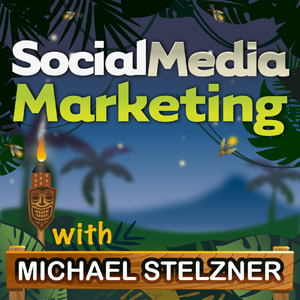 Ways to subscribe to the Social Media Marketing podcast:
What do you think? What are your thoughts on Facebook Advertising? Please leave your comments below.