Want to know the latest Facebook and Instagram ad trends to maximize your results? Wondering how your future ad campaigns should change?
In this article, you'll discover five trends that will impact Facebook ad results in 2021. Learn how to adjust the grammar, copy length, and creative of your Facebook ads for better performance in the coming year.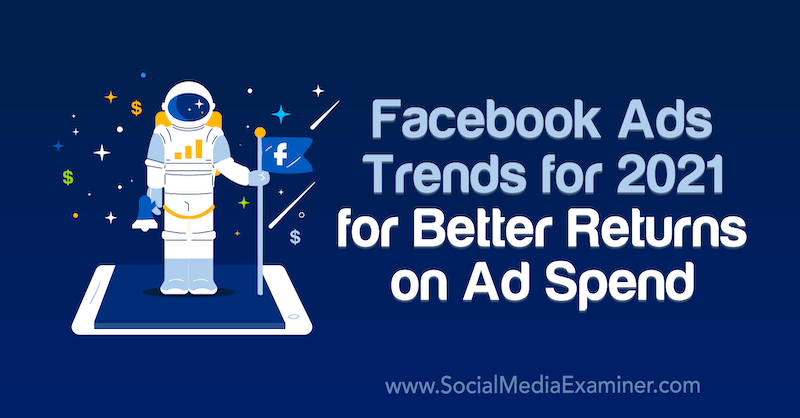 To explore five Facebook ad trends for 2021, read the article below for an easy-to-follow walkthrough or watch this video:
#1: Style Facebook Ads to News Feed Posts
While I'm going to share some very specific tactics for Facebook ads, this first trend is more of a big-picture one. When you run Facebook ad campaigns, always consider modeling your ad content to what people typically see in the news feed.
The best ads I've come across—and those I've run for my business—match the news feed in terms of copy and imagery, making the ads feel more like organic posts. The ads blend in with the other feed content so people are more likely to stop scrolling and read them.
And while you want your ads to match the news feed, they should also stand out. The rest of this article explores some techniques that will help you do that.
#2: Relax Your Grammar
Many advertisers use stuffy language in their ads, so one Facebook ad trend you may want to try is loosening up your grammar. Remember that Facebook is a casual platform so less formal ad copy is okay.
If your target demographic is in their 20s or 30s, for example, think about how they write when they text their friends and try to match that style. It's a fun experiment and sometimes it works really well. For instance, people in their 20s tend to use sentence fragments in their texts and don't use a lot of punctuation. If your Facebook ad copy reflects their texting style, you might see your results improve.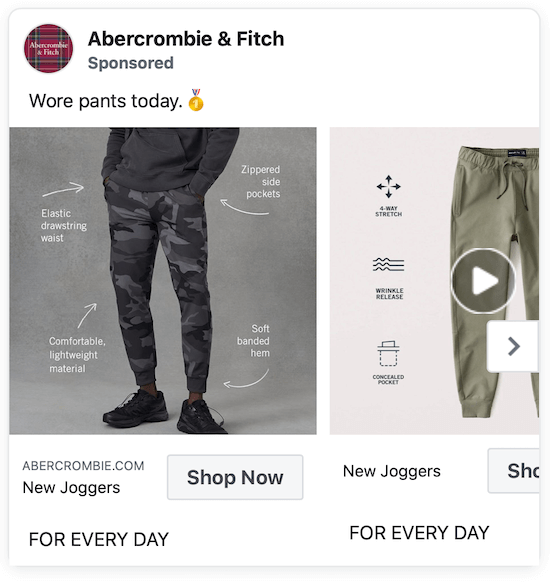 Of course, if it would feel too off-brand to defy the basic rules of grammar or drop punctuation, don't do it. However, if your brand has a more casual vibe, try experimenting with this technique.
#3: Use Shorter Video Creative
I know I sound like a broken record when I say that all marketing is moving toward video but it's true. The second you bring motion into your Facebook ads, people pay attention.
When you create video, keep these two points in mind.
First, don't overthink production quality. The videos you create for your Facebook ads don't need to have a high production value and look like a commercial you could air on TV. In fact, videos taken with your smartphone can be super-effective because they'll more closely mimic the content people typically see in the feed. The key to video is offering high-value content.
Get Your FREE Course: Web3 for Beginners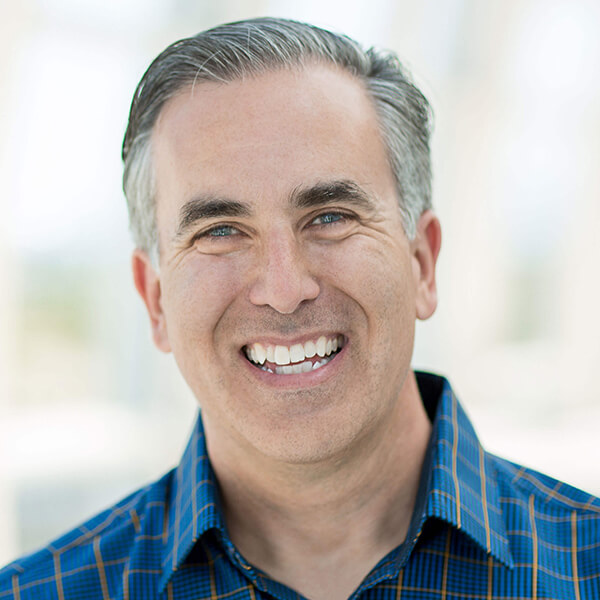 Curious about Web3, but don't know where to start or who to trust?

Introducing Web3 for Beginners, a course taught by Michael Stelzner, the founder of Social Media Examiner.

Learn the basics of Web3 and apply it to your business with this FREE comprehensive course.
CLICK HERE TO GET FREE ACCESS
Second, keep your videos short. Often, businesses are intimidated by the prospect of creating video, thinking they need a 3-minute or longer scripted video that's polished and professional. One way to make the process easier is to simply create shorter videos. You may be surprised at how much content you can fit into a 20- or 30-second video and how effective it can be in your ads.
Read this article to learn how to use short video to turn prospects into customers.
#4: Use Casual Imagery
I can't talk about video without also talking about the static imagery you use in your Facebook ads. As with video, your static images don't have to look like they were taken at a professional shoot. What often works best on Facebook and Instagram are images that feel more authentic and casual.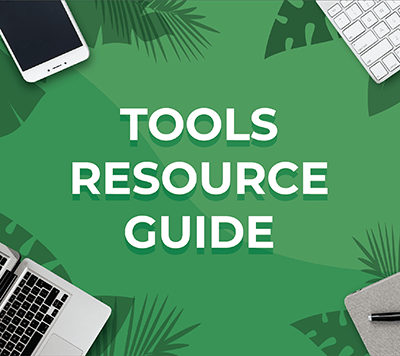 Looking for something to make your life easier?
Discover the tools we recommend to drive engagement, save you time, and boost sales across your entire marketing funnel or business.
Whether you need help planning content, organizing social posts, or developing your strategy, you'll find something for every situation.
FIND YOUR NEXT FAVORITE TOOL
For instance, the photo used in this Shutterfly ad looks like something you might see from your friends and family in the news feed.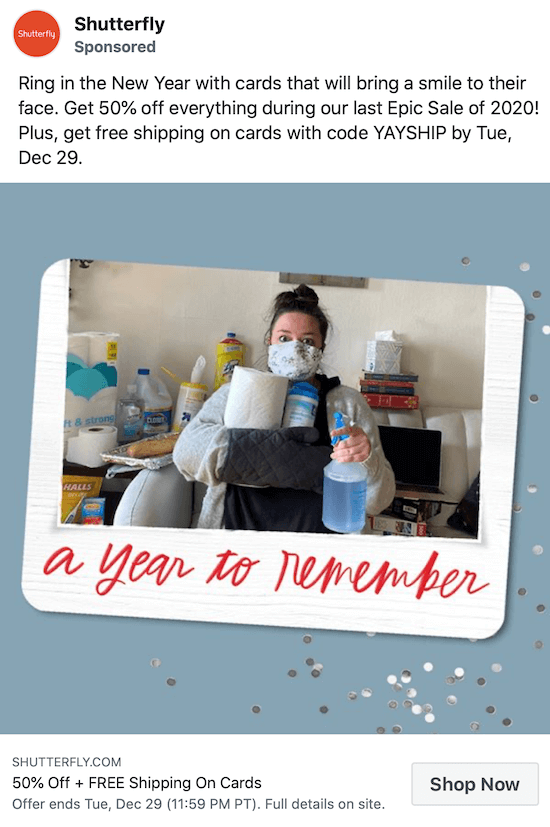 I recommend that you focus on relaxing your ad imagery just a smidge and see what kind of impact that has.
#5: Test Different Facebook Ad Copy Lengths
For this trend, I want to debunk the idea of a "golden length" of Facebook ad copy—a magic number of characters or sentences that will get you the results you're after. The truth is that you always want to test your ad copy length to find out what performs best with your audience. Experimenting with different lengths is where you get ahead—or fall behind—as an advertiser.
I recommend testing a short version of your copy that's one to two sentences; something that's short and snappy.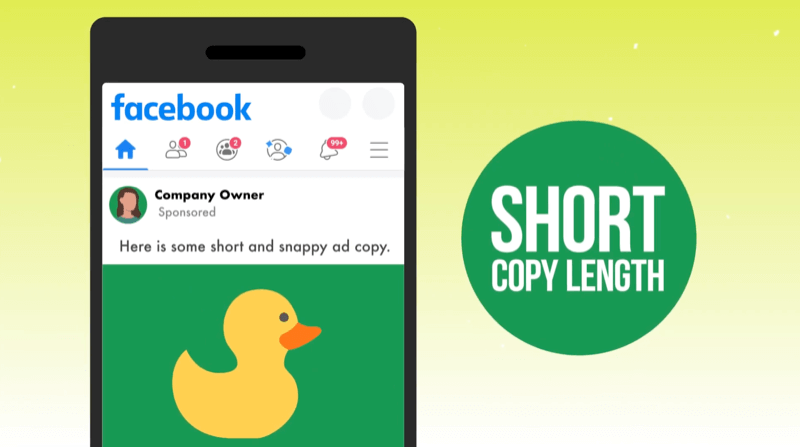 Also test a medium copy length of three to four sentences.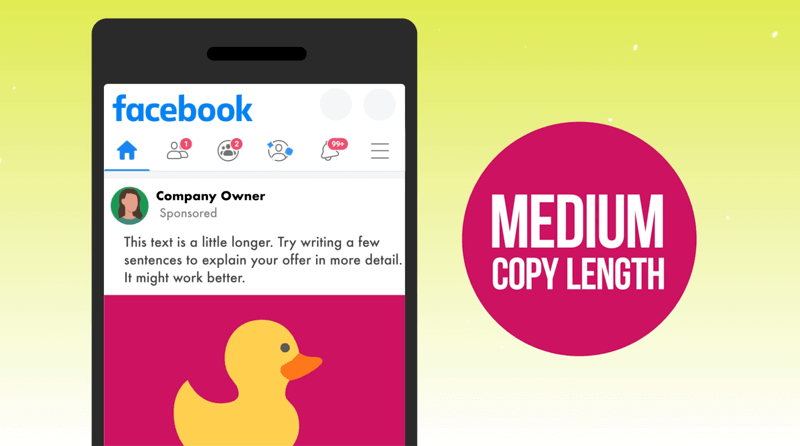 And finally, test a longer version of your copy. It could be a couple of paragraphs or more—as long as it takes to tell the story.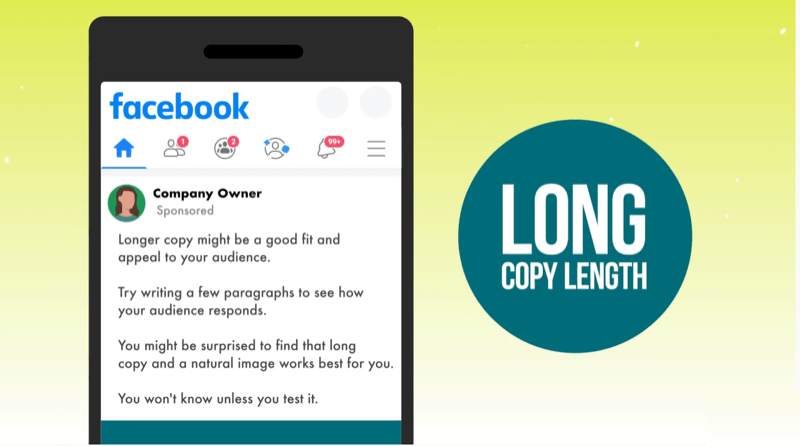 Read this article to learn learn how to write Facebook ad copy that improves your conversions.
Bonus: Experiment With Emojis and Reels-Like Content in Your Facebook Ads
I also have two fun tactics you may want to try with your Facebook and Instagram ads.
The first is using emojis. My business has had a lot of success with incorporating emojis into our ad copy and images (on occasion). Don't be afraid to go wild with emojis and see what your audience likes. You might be surprised to find that they absolutely love emojis and maybe even particular ones from your brand.
Also try experimenting with Instagram Reels–style content in your Instagram story ads. This type of shorter video content is more dynamic and fun and it's going to be the next big trend in ad creation in 2021.
Read this article to learn how to create Instagram reels for business.
Conclusion
Facebook advertising best practices are changing and staying on top of these trends will get you a better return on your ad spend in 2021. These include matching your Facebook ads to typical news feed posts, writing more informal ad copy, using short video, choosing more authentic images, and testing different ad copy lengths. In addition, try experimenting with emojis and Reels-like content to see if your audience is receptive to them.
What do you think? Which of these tactics will you try in your own Facebook advertising in the coming year? Share your thoughts in the comments below.
More articles on Facebook ads:
Get Your FREE Course: Web3 for Beginners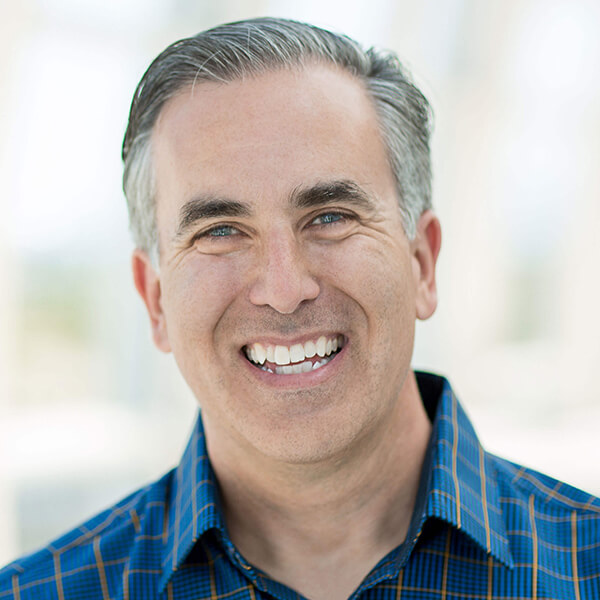 Curious about Web3, but don't know where to start or who to trust?

Introducing Web3 for Beginners, a course taught by Michael Stelzner, the founder of Social Media Examiner.

Learn the basics of Web3 and apply it to your business with this FREE comprehensive course.
CLICK HERE TO GET FREE ACCESS