Wondering how to generate qualified leads with Facebook ads? Looking for a system that works?
In this article, you'll learn how to develop a custom strategy that's unique to your business. Find out why you shouldn't follow a cookie-cutter template and how to approach and nurture your audience so they become buyers.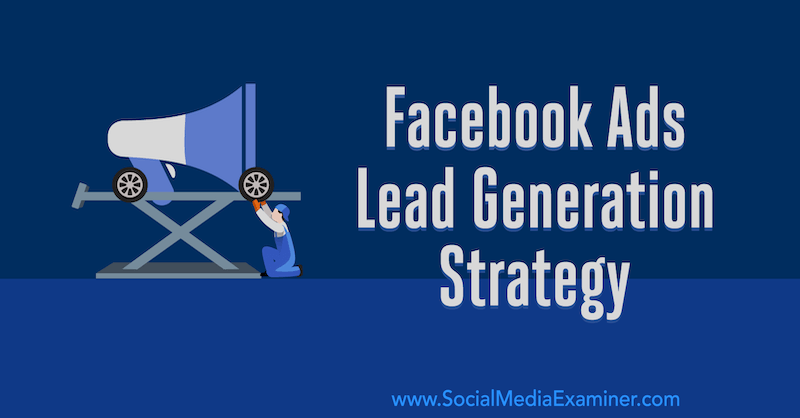 To learn how to develop a lead generation system based on your product and ideal customer, read the article below for an easy-to-follow walkthrough or watch this video:
#1: Build a Lead Generation System Around Your Unique Customer Experience
Amid a sea of gurus and funnels being taught for lead generation, it's hard to know what strategy is right for your business. One of the biggest mistakes you can make is trying to replicate someone else's exact lead generation strategy because their audience may be very different from yours.
You need a strategy that fits your unique business, customers, and offer. So rather than try to follow a template, think of your customer journey and lead generation strategy as an experience. Focus on the experience that your potential customer needs to have to become a paying customer.
When determining what your lead generation strategy will be, ask yourself these questions:
Would my audience participate and engage with this? Will they attend my live webinar, participate in my challenge, consume my PDF opt-in, or watch my video series?
Does this attract my buyers? For example, if you take someone through a lead generation strategy of a challenge and it requires a lot of steps and information over a 5-day period, at the end of it, you'll have an overwhelmed audience and they most likely won't be ready or willing to buy your offer.
Your strategy should be designed to set people up to become buyers, so think through what they need to know and how you can get them ready to buy.
I recommend interviewing your ideal customer. Your goal should be to know your ideal customer better than they know themselves. This knowledge will allow you to create an experience and messaging that attracts your audience better than your competitors.
Design an Asset or Experience to Deliver Your Offer and Sell to Your Audience
There are a couple of core lead generation strategies and assets that almost always work for businesses. And within them, you can create details and customizations for your audience.
One of them is webinars. Webinars are great for selling digital products ranging from $300 to $2,000 and for getting applications and sales calls for high-ticket products or services. You can attract leads via a webinar, build a relationship, and then pitch them your offer.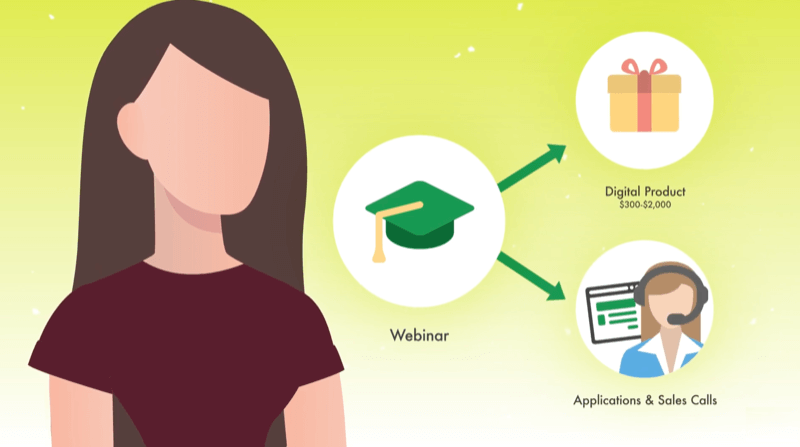 Details such as the topic and length of the webinar should be customized to your audience. If you're targeting busy moms, they're not going to sit through a 90-minute webinar. But if you're targeting business owners who want a lot of detail, they might sit through a 90-minute webinar.
#2: Determine How Many Steps to Build Into the Nurturing Phase
If you're targeting businesses, is your ideal customer a beginning business owner or more experienced? Do they have a lot of time? Are they willing to trade time for money? How do you solve their number-one problem within your lead generation strategy?
🌟 Ready to Supercharge Your Social Marketing Strategy? 🌟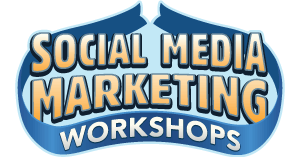 Struggling with your social marketing? You're not alone. The solution? The Social Media Marketing Workshops!

During these live 2 hour deep-dive workshops, you'll discover what's working now on Instagram, Facebook, TikTok, YouTube, and LinkedIn. Skyrocket your engagement, broaden your reach, and amplify your sales.

Become the marketing hero your company and clients need—without leaving your home!
🔥 Save $670 on an All-Access Ticket! Sale Ends Tuesday! 🔥
GET YOUR TICKETS NOW
If you're targeting consumers, they often need extra touchpoints to build enough trust for them to buy, so work those into your lead generation strategy. This might be extra videos before your webinar, testimonials, or authority-building content within your lead generation. This is where tying your brand awareness into your lead generation can be very impactful.
Another detail to look at is how much nurturing needs to happen before you present your offer. How many steps there are in your lead generation strategy will depend on how much nurturing your lead needs, which is dependent on how much your offer is and how much of a barrier to entry it is to buy that offer.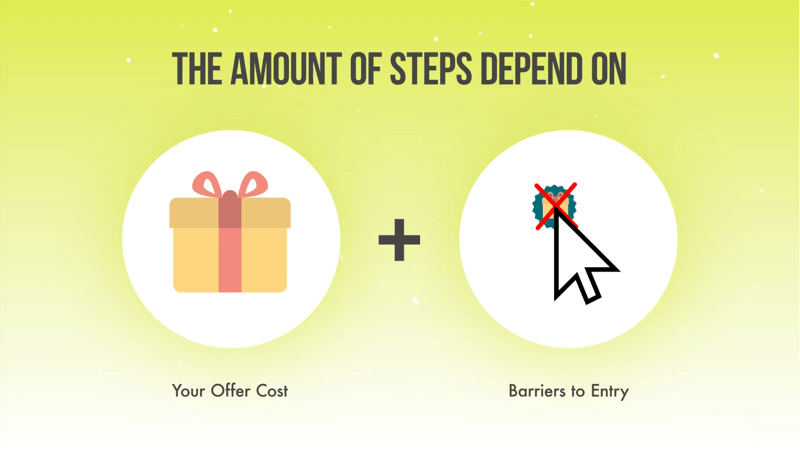 If you're selling a high-end service, your audience might need a lot of touchpoints. They might need to watch a video, sign up for a webinar, be in an email sequence, and then be pitched your offer. But if you're selling a low-priced digital product ($300 or less), your audience might not need many touchpoints before they'll become a buyer.
It's crucial to focus on the experience you're creating and consider your audience because it sets the foundation for success. Without this foundation in place, it doesn't matter how warm your audience is and how much strategic targeting you're doing.
#3: Create Warm Audiences to Target With Facebook Ads
If you're getting traffic to your website or have people watching your videos and engaging with you on social media, you have a warm audience you can target in your lead generation.
To create that audience in Facebook, open Ads Manager and click the Business Tools button at the top left of the page. On the fly-out menu, scroll down and select Audiences.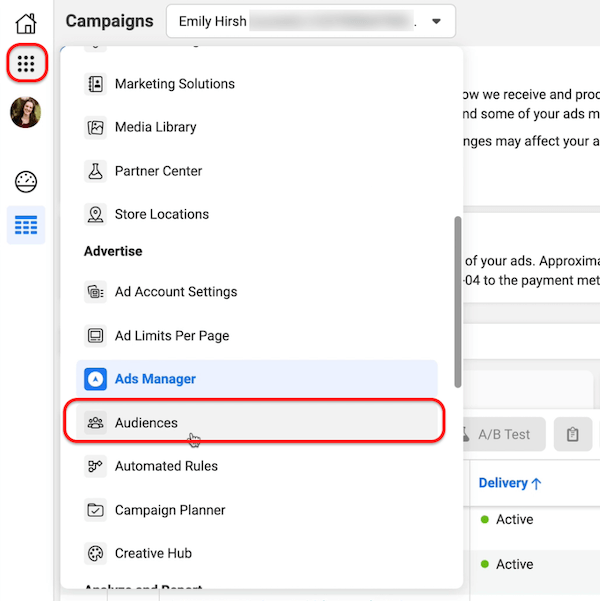 Once you're on the Audience page, click the Create Audience drop-down menu and choose Custom Audience.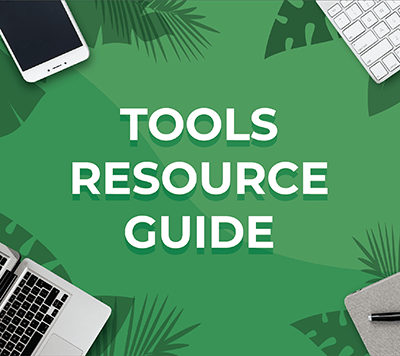 Looking for something to make your life easier?
Discover the tools we recommend to drive engagement, save you time, and boost sales across your entire marketing funnel or business.
Whether you need help planning content, organizing social posts, or developing your strategy, you'll find something for every situation.
FIND YOUR NEXT FAVORITE TOOL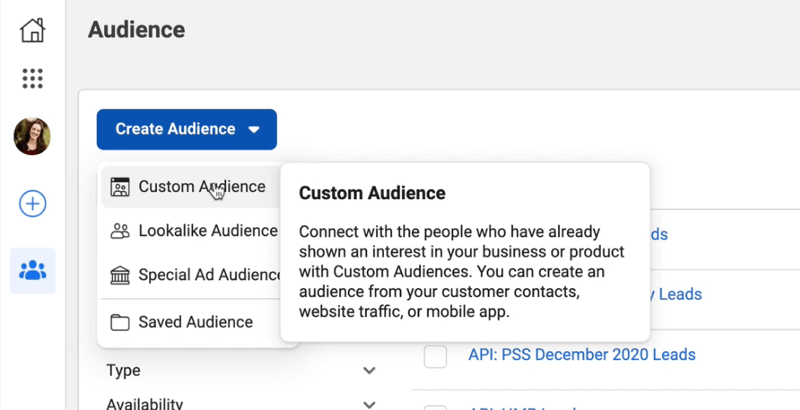 You'll see a number of options to choose from for the source of your custom audience. The main ones to focus on are Website, Video, Instagram Account, and Facebook Page.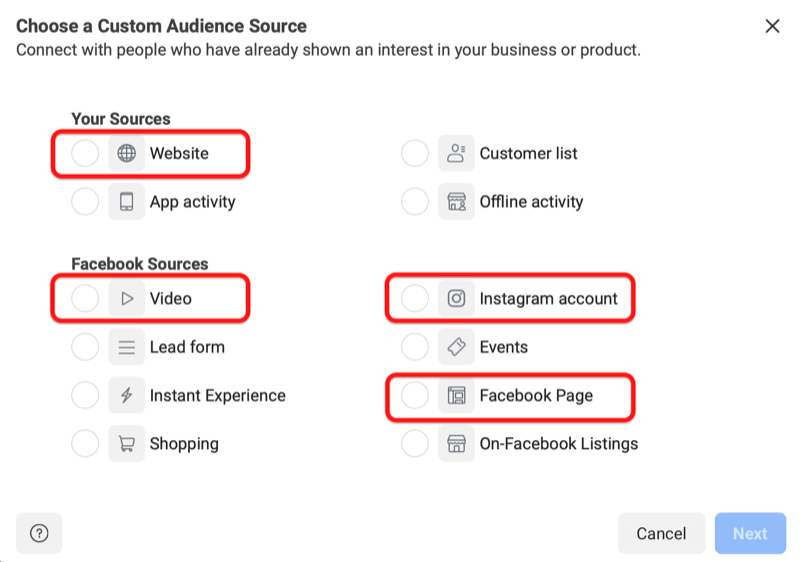 Once you create your warm audiences, you'll want to target them in addition to your cold audiences. You'll generally want to spend about 80% of your budget on cold traffic for lead generation and 20% for your warm traffic.
Now let's walk through how to set up a video engagement and website traffic custom audience.
Create a Video Engagement Custom Audience
To create a custom audience of people who have watched your Facebook videos, select Video as the custom audience source.
On the next page, select a content type from the Engagement drop-down list. Your options range from people who viewed at least 3 seconds of your video all the way to 95% of your video. I recommend choosing people who watched 25% of your video because anybody who watched less than that isn't really engaged.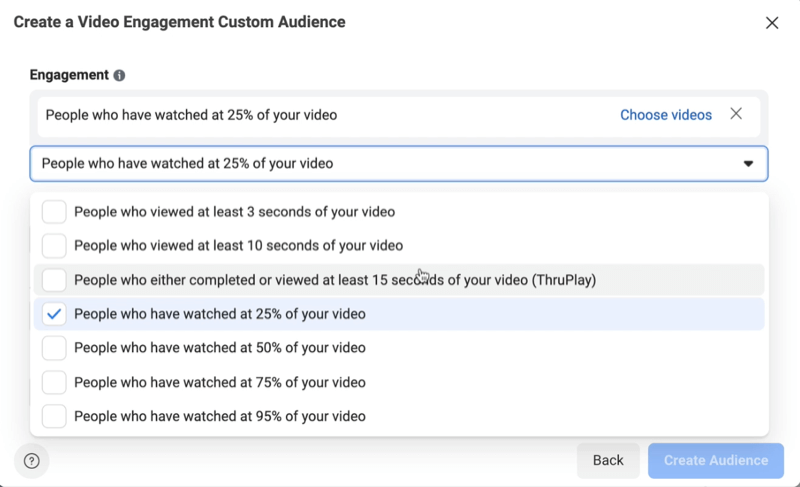 After you make your selection, click Choose Videos on the right.
In the next window, you can select any number of videos from your Facebook page. I recommend creating an audience of all of your content videos on Facebook of people who've watched at least 25%.
You can also create an audience of people who watched a specific video. Let's say you did a great Facebook Live video and put some budget behind it. Now you can create an audience of people who watched 25% or more of that video.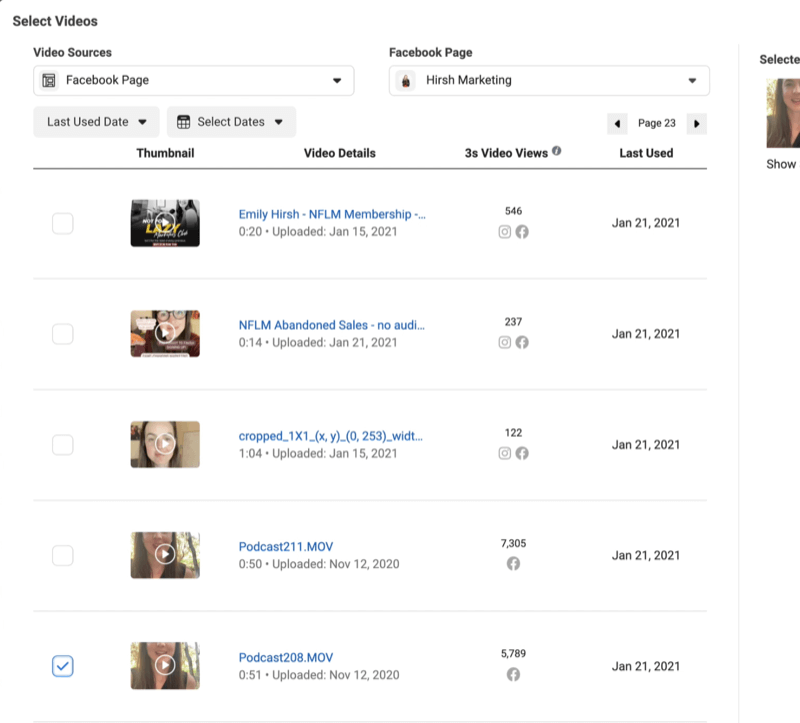 After you've selected your videos, choose a time period for retention of this audience. This is the number of days people will stay in your audience after engaging with your video. The maximum is 365 days. Typically, you can go with that because it's a valuable audience.
The last step is to name your audience and then click Create Audience.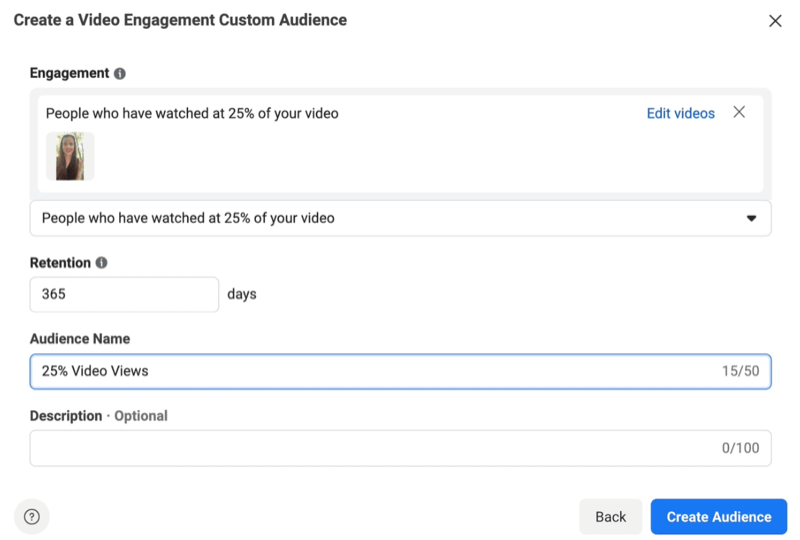 Facebook will now populate your custom audience. It usually takes a few hours to fully populate. Once it does, you'll be able to see the audience size in your Audience dashboard.

Your audience should be at least 1,000 people before using it for a retargeted ad. The smaller the audience, the faster you'll spend that budget and the ad will become ineffective. If your audience is smaller than 1,000, you can increase its size by getting more views on the videos you selected when creating that audience.
Create a Website Custom Audience
Another quality custom audience to create is based on your website traffic. You can get very creative and strategic with this type of audience. You can create an audience of anyone who's visited your website or specific pages such as your podcast or your blog.
When you create this audience, you'll be able to choose how recently people visited your website. I recommend creating an audience of people who visited in the last 180 days or 30 days. You can even go to 14 days if you have a lot of traffic. That will be a very hot targeted audience of people who just visited your website and now you can show them a strategic ad.
Conclusion
Your goal with a lead generation strategy is to get a lot of qualified leads but following a cookie-cutter template isn't the right approach. You need to develop a custom strategy for your business that's based on your product and ideal customer. Creating the right lead generation experience will help you set your audience up to become buyers.
Get More Facebook Ads Advice:
Get Your FREE Course: Web3 for Beginners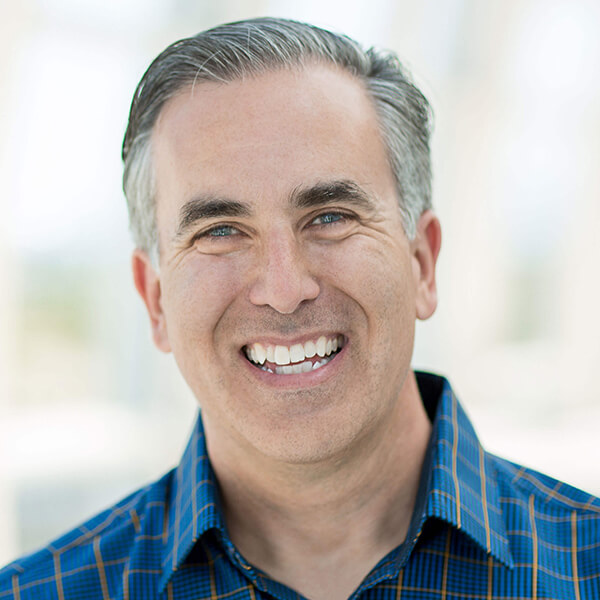 Curious about Web3, but don't know where to start or who to trust?

Introducing Web3 for Beginners, a course taught by Michael Stelzner, the founder of Social Media Examiner.

Learn the basics of Web3 and apply it to your business with this FREE comprehensive course.
CLICK HERE TO GET FREE ACCESS