Looking for a process to test Facebook ads? Wondering how to test Facebook ads without blowing your ad spend?
In this article, you'll discover a proven Facebook ad testing method designed for small budgets and discover which metrics will help you identify successful ad components.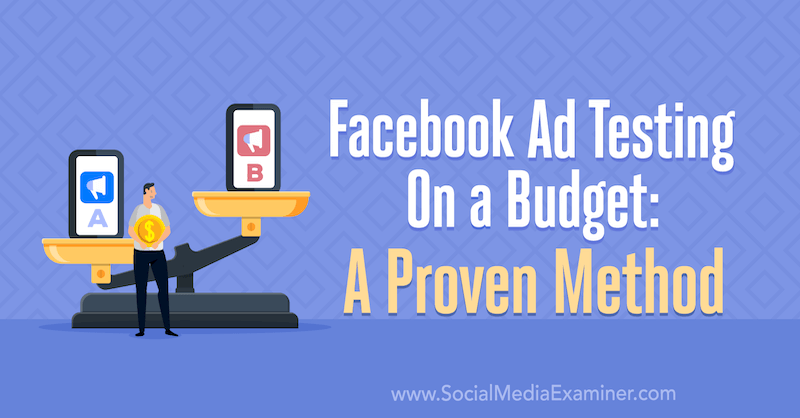 To learn how to test Facebook ads on a budget, read the article below for an easy-to-follow walkthrough or watch the video below.
#1: Focus Your Testing on 3 Facebook Ad Components
Many businesses think they can't be successful with Facebook and Instagram ads on a small budget. But with this testing method, you can typically get a really good ad with a budget of about $250-$500 for testing. And you should be able to complete all of your testing in a 7- to 10-day period.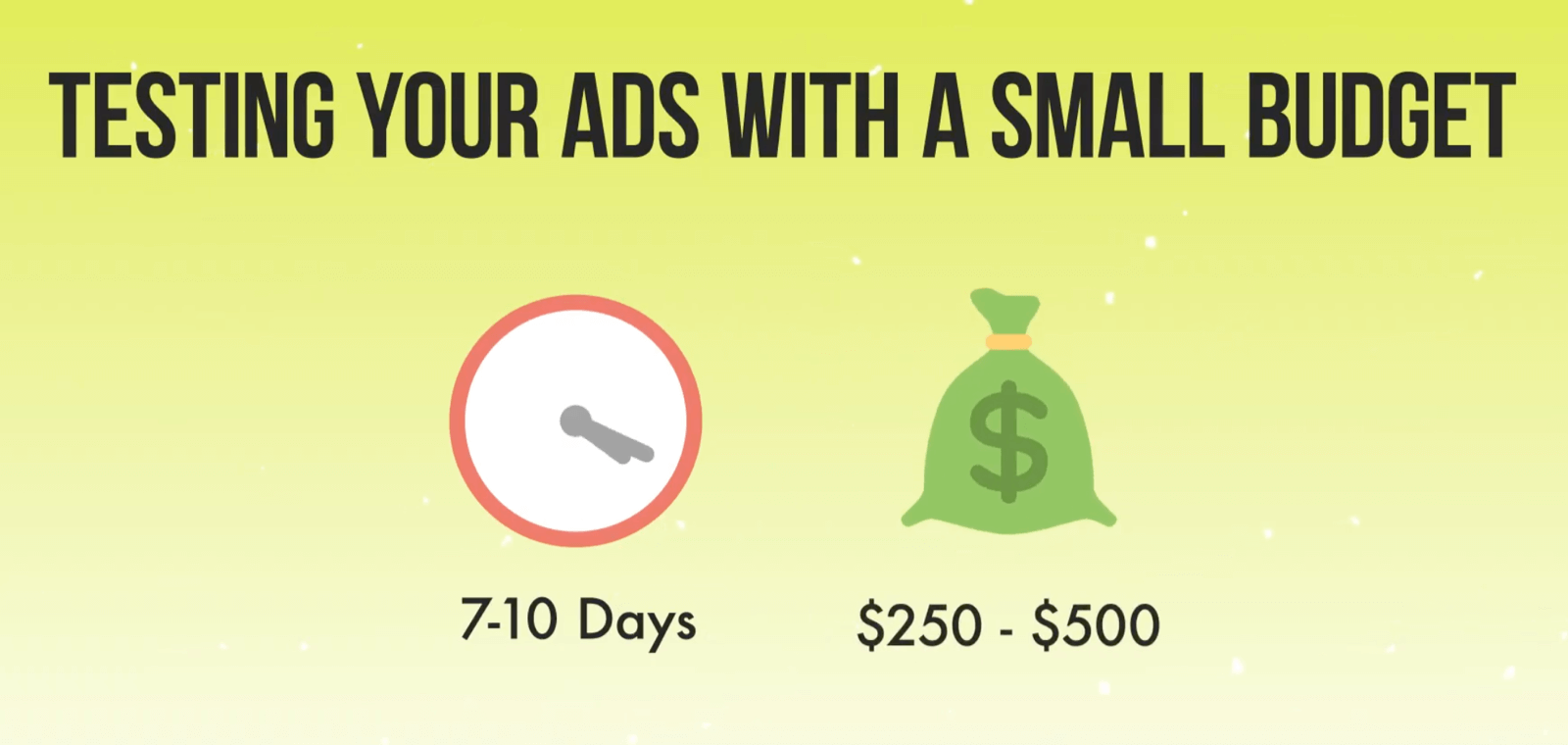 If you have a bigger budget, great! You can expand your testing timeline and budget. The caveat would be that if you have an eCommerce business, you might want to increase your timeline and testing budget quite a bit.
Of all the Facebook ad elements you could test, here are three that really move the needle on your ads.
Test Your Facebook Ad Copy
The first element to test is your Facebook ad copy. You want to test three lengths of ad copy. The first is short copy of one to two sentences, which could be a little punchy if you want. The second is medium length of three to four sentences, possibly a little longer. And the last copy length to test is long copy. This would be a couple of paragraphs or as long as it takes to tell the story.
Test Your Facebook Ad Visuals
The next Facebook ad element you want to test is visuals—images, GIFs, and videos, or any combination thereof.
For your first round of testing, test three to five visuals. If you can include video and GIFs, I highly recommend doing that. If you don't, it's okay to go with static imagery. You can go with something from your own library of visuals or choose from hundreds of thousands of free images that Facebook provides.
Test Your Facebook Ad Headlines
The headline is the third element you want to test. Headlines move the needle for your ads. I recommend that you test three to five headlines and see what works for you.
#2: Set Up Your Facebook Ad Tests
To orchestrate all of this testing, start with your ad copy, then your imagery, and then your headline tests.
When you test copy, make sure all of these tests have the same audience, budget, start time, visual, headline, and so on. The only thing that changes is the ad copy.
Get Everything You Need to Become A Better Marketer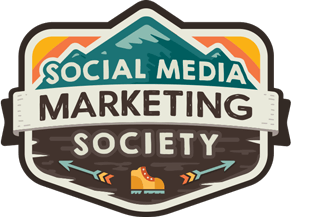 Looking for a one-stop-shop for marketing greatness? Try the Social Media Marketing Society to boost results and become a better marketer through deep-dive training and an always-on community of marketers. The path to better marketing begins in the Society.
START YOUR TRIAL TODAY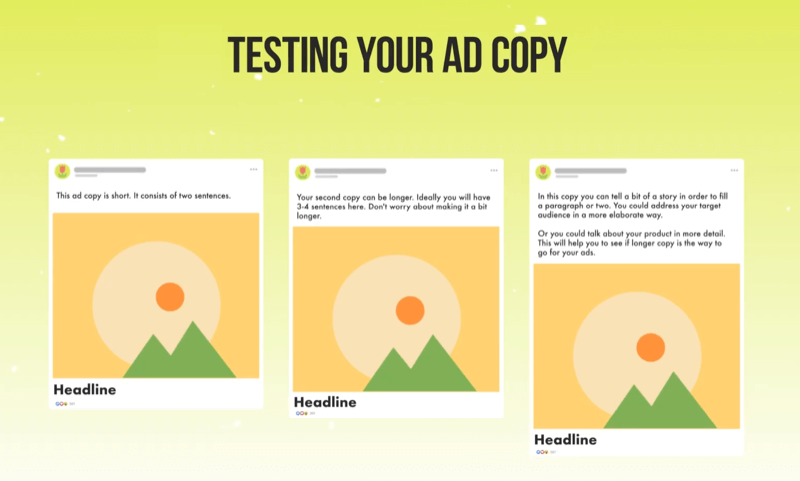 Put Google Analytics to Work for Your Business (Online Training)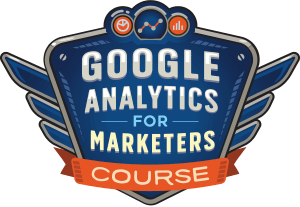 Ever thought, "there's got to be a better way" when it comes to tracking your marketing activities? Are you forced to make decisions based on limited data? With the right training, you can use Google Analytics to measure all of your marketing efforts with certainty.
You'll stop the leaks in your ad spending, justify your marketing spend, gain the confidence you need to make better marketing decisions, and know what's working at every step of the customer journey. Let the world's leading analytics pro show you the way. Check out our new Google Analytics for Marketers course from your friends at Social Media Examiner.
CLICK TO LEARN MORE: ANALYTICS TRAINING
You might see results start coming in immediately but give these ads a few days to really optimize. After a few days, you'll start to see a clear winner. Make sure you have at least a few conversions on each ad set before you declare your winner.
Once you have a winner from your copy testing, move on to your image testing. For these tests, duplicate the ad that was the most effective in your copy testing and choose a combination of three to five images, videos, and GIFs. Let each of these ads run for a few days and see which one is the most effective.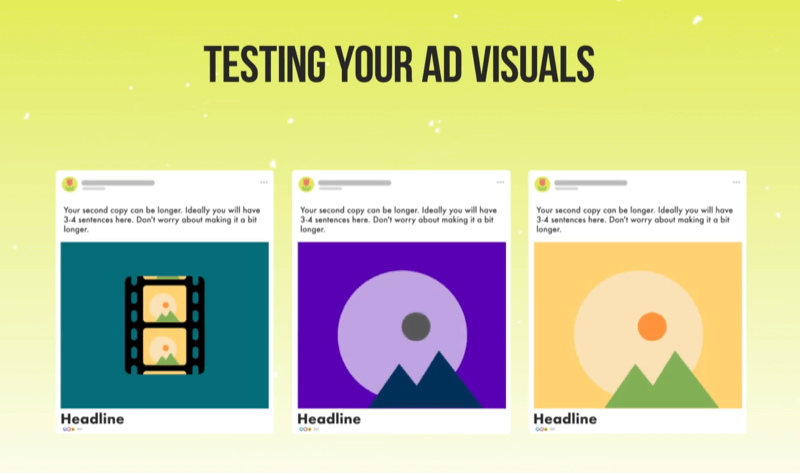 For your last test, test three to five headlines. Wait a few days and make sure there are at least a few conversions on each of your ad sets. By the end of that, you'll know which headline is most effective.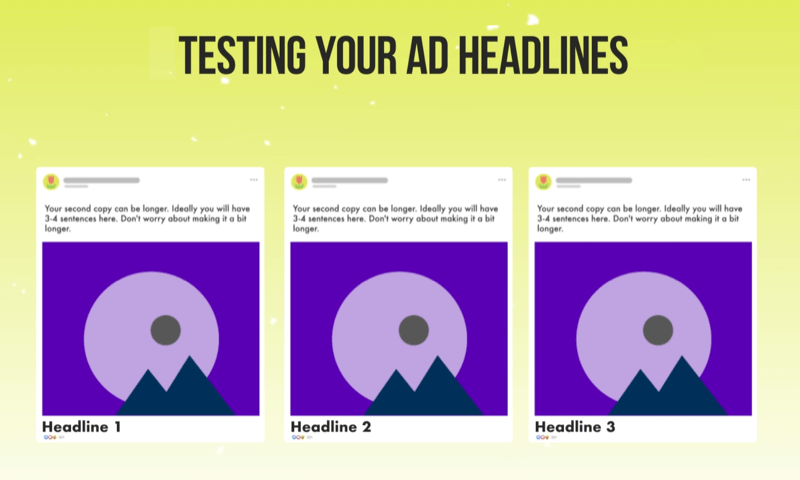 Although there are more ad components you could test beyond copy, visuals, and headlines, you should now have a very effective ad after these three tests.
To determine which ads are your winners for each test, focus on your cost per conversion. This could be a lead that's coming to your website, someone providing their email or phone number, or a purchase. Wherever you're getting the most value is where you want to declare your winners.
A few other key metrics to keep an eye on are outlined in this article on how to assess Facebook ad performance.
#3: Scale a Successful Facebook Ad
Once you've completed your testing and you have a great Facebook ad, what do you do with it?
You're probably eager to get this ad to new audiences, which is scaling your ad. Check out this article to learn vertical scaling and horizontal Facebook ad scaling methods that drive more leads and sales.
Also consider adding retargeting to bring people back to your sales pages and landing pages and encourage them to keep going down your funnel.
You might also want to warm up new audiences. Read this article to learn how to target cold audiences with Facebook ads.
Conclusion
You don't need a big budget to test Facebook ads. With a budget of $250-$500, this testing method will help you identify successful ad components that result in a winning ad. While there are other elements you could test, testing your ad copy, creative, and headlines will give you the bulk of your results and help ensure you don't leave any money on the table.
Once you determine the best combination of ad copy, creative, and headline, you can scale your winning ad to new audiences through vertical and horizontal techniques. Also consider retargeting audiences who already know you, as well as warming up cold audiences.
What do you think? Are you inspired to try this Facebook ad testing approach to find successful ads? Share your thoughts in the comments below.
More articles on Facebook ads: