Noticing declining numbers for your Facebook ads? Have you explored your targeting options in this privacy-restricted environment?
In this article, you'll learn important considerations for Facebook ad targeting and discover steps you can take to improve your results.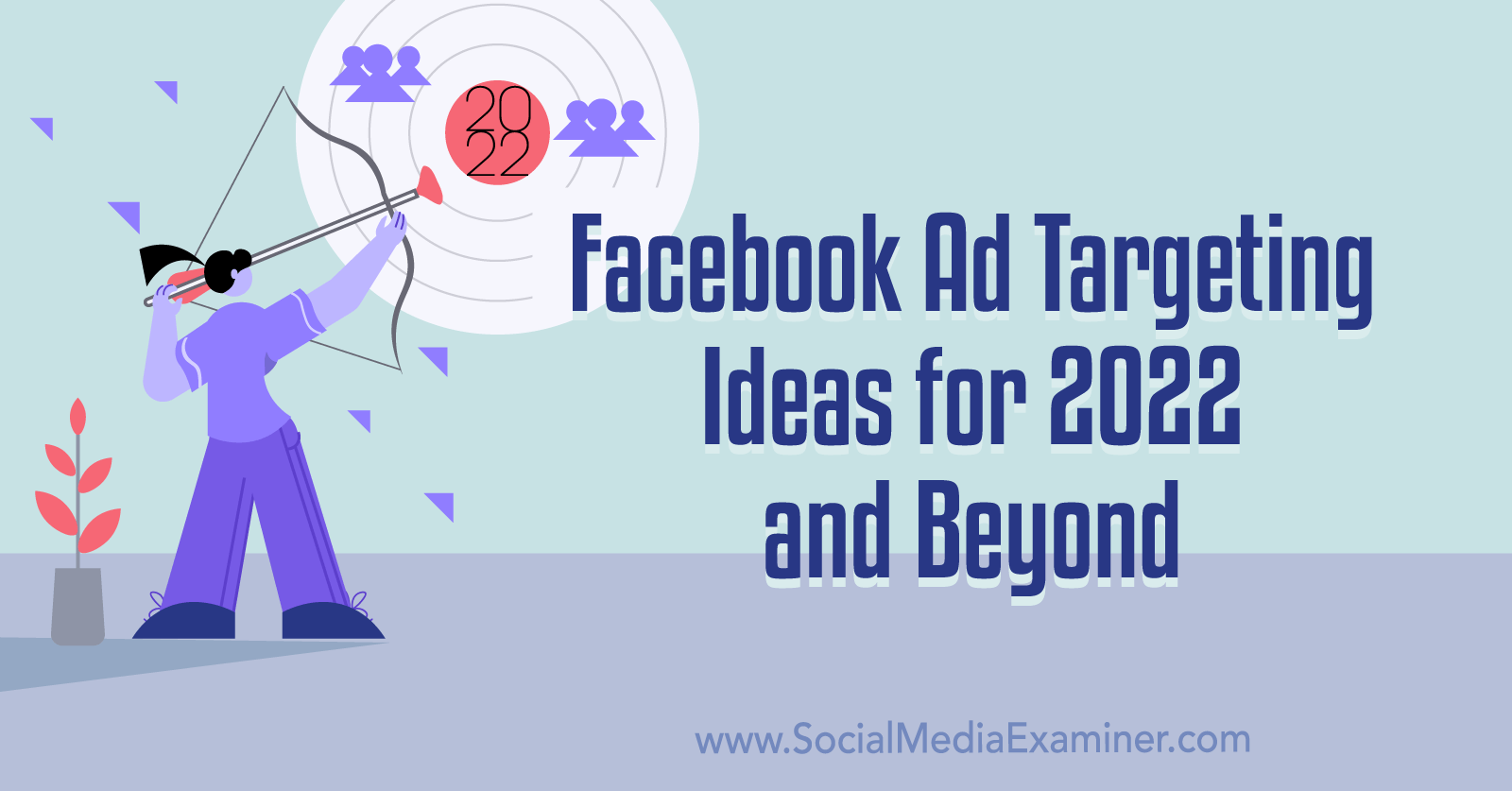 How 2021 Privacy Updates Impact Facebook Ads Targeting
Keeping track of Facebook advertising updates is practically a full-time job so you may have missed some key changes that began rolling out in mid-2021. Let's take a brief look at how and why these developments are likely to affect your advertising audiences.
In April 2021, Apple released iOS 14.5, an operating system that implemented strict privacy rules for apps. This iOS update required developers to begin using the AppTrackingTransparency framework, which lets users decide whether to allow apps to track their activity.
Shortly after iPhone and iPad users began adopting the new iOS, only 4% of U.S. users had chosen to allow app tracking. That means virtually all iOS users had opted out of letting Facebook and other apps track their activity. Because nearly 50% of smartphone users have an iPhone (according to Statista), this mass opt-out demanded drastic changes for Facebook ads.
To address these new privacy restrictions, Facebook has had to limit the capabilities of some of its advertising platform's most lucrative targeting options. Facebook began rolling out changes to advertisers' targeting, tracking, and reporting capabilities in July 2021.
As an advertiser, you're likely to notice that custom audiences related to off-Facebook data (i.e., app and website audiences) are much smaller than they once were. For example, you may have seen a warning like the one below if you attempted to retarget an audience of website visitors.

But these audiences aren't the only ones affected. Let's look at what to expect from these privacy-related changes and explore how to address audience issues in Facebook ads.
#1: How to Create Saved Audiences for Facebook Ads
Facebook stopped supporting its much-lauded Audience Insights tool in July 2021. Fortunately, the advertising platform offers some updated options for building saved audiences.
Facebook Insights
Do you want to get a better sense of your page's current audience before targeting new customers? Navigate to Facebook Business Suite and open Audience Insights for your page. There you can review the Current Audience tab to see basic demographics for your existing audience—including age, gender, and top locations.
Then click the Potential Audience tab (shown below) to learn more about the people you could reach by running ads on Facebook and Instagram.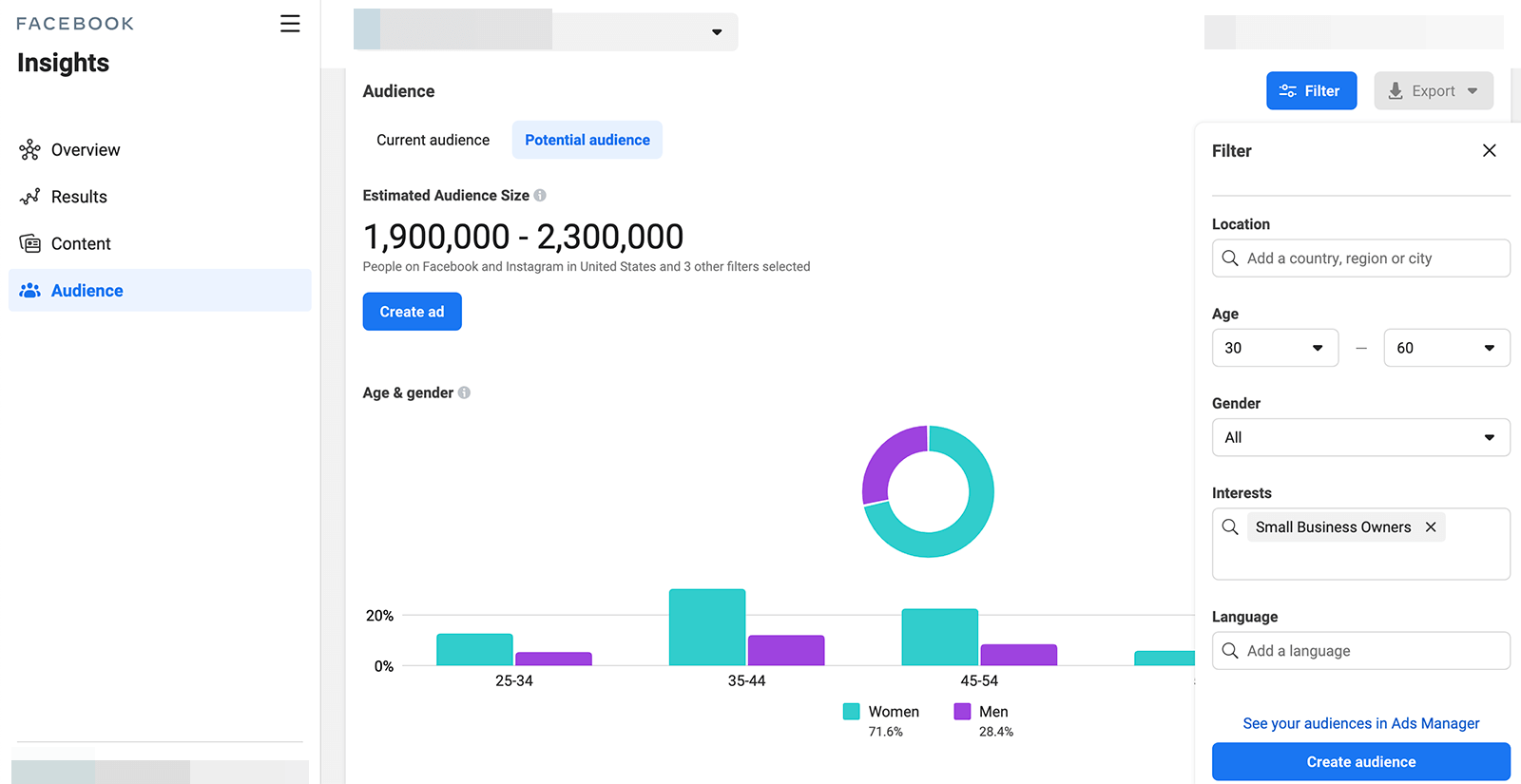 You can click the blue Filter button to narrow down your audience by age, gender, location, and language. You can also apply interest-based filters to connect with people who are most likely to fit your buyer persona.
Click the blue Create Audience button to save your targeting. Then you can access it in your list of Saved Audiences and use it in Facebook ad campaigns.
Facebook Ads Manager
To set up targeting directly in Facebook Ads Manager, navigate to Audiences. Then create a new saved audience using relevant demographic- and interest-based targeting.
Get Your FREE Course: Web3 for Beginners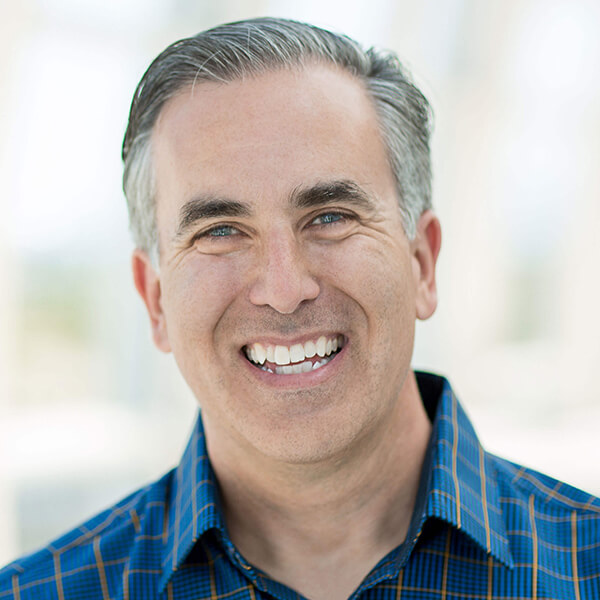 Curious about Web3, but don't know where to start or who to trust?

Introducing Web3 for Beginners, a course taught by Michael Stelzner, the founder of Social Media Examiner.

Learn the basics of Web3 and apply it to your business with this FREE comprehensive course.
CLICK HERE TO GET FREE ACCESS

To save time, you can bypass this step and create a saved audience directly in Ads Manager. You'll find this option at the ad set level of campaign creation.
For optimal performance, Facebook recommends using broad targeting. That means setting as few targeting parameters as possible so Facebook can deliver your ad to the people who are most likely to respond, given your audience and campaign goal. In general, broad targeting includes gender, age, and location only.
Although Facebook doesn't currently require broad targeting, the platform has announced a plan to remove some of its more sensitive detailed targeting options in January 2022. To find out if your detailed targeting parameters are included in this update, watch your Ads Manager account for prompts to revise your audiences.
Currently, Ads Manager also provides a multi-colored indicator to show how broad your audience is. The saved audience in the example below is too specific to generate results. Removing some of the parameters or expanding the geographic region can help you create a well-defined audience.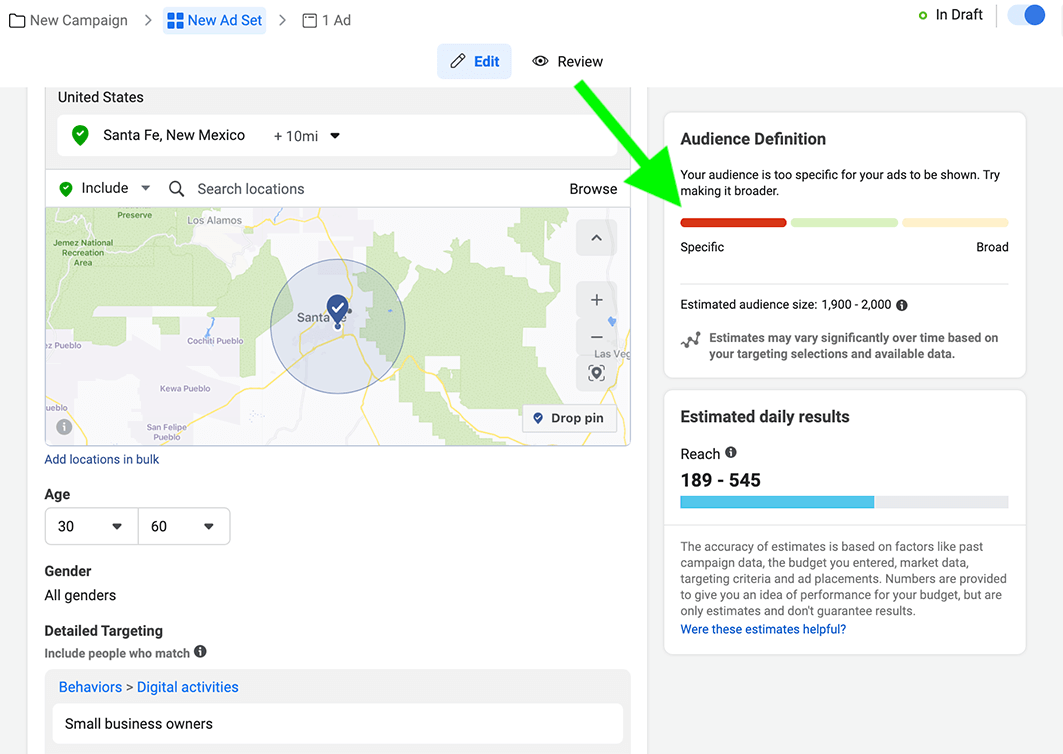 For even broader targeting, you can use Facebook's Detailed Targeting Expansion option. Selecting this option allows the platform to display your ads to people outside of your targeting parameters when it's likely to drive better results.
You can toggle this option on or off at the ad set level during campaign creation. Check the Detailed Targeting Expansion box to turn it on and reach a broader audience.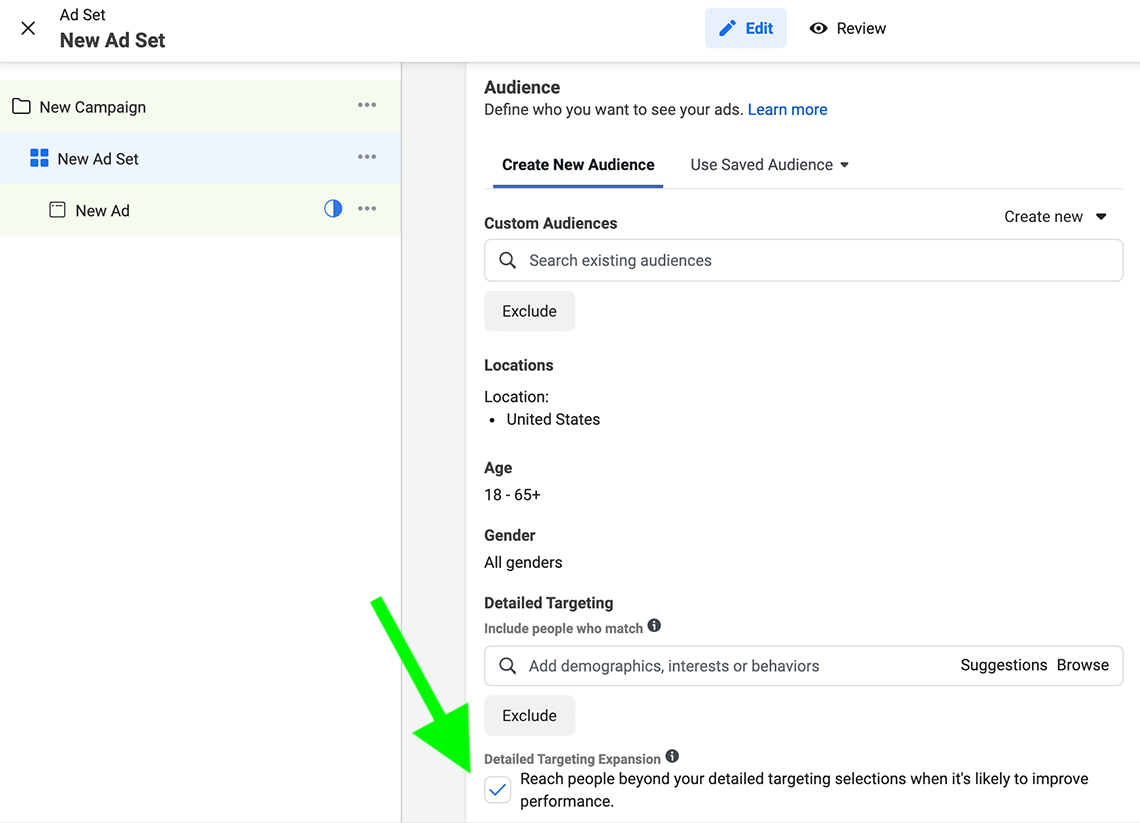 #2: How to Build Custom Audiences for Facebook Ads
Facebook Ads hasn't yet made substantial changes to the types of data sources you can use to build custom audiences. But privacy-related updates have altered how the platform populates many of these retargeting audiences and best practices for setting them up.
Web- and App-Based Audiences
To reach people who have visited your website or downloaded your mobile app, you can create custom audiences based on web data or app activity. But creating audiences based on website activity could mean that you can no longer track iOS 14.5 users.
Fortunately, there's a workaround. If you've installed the Facebook pixel or SDK and set up conversion events in Facebook Events Manager, you can build custom audiences of people who have completed one of those events. For example, you can retarget people who've signed up for a trial or added an item to their shopping cart.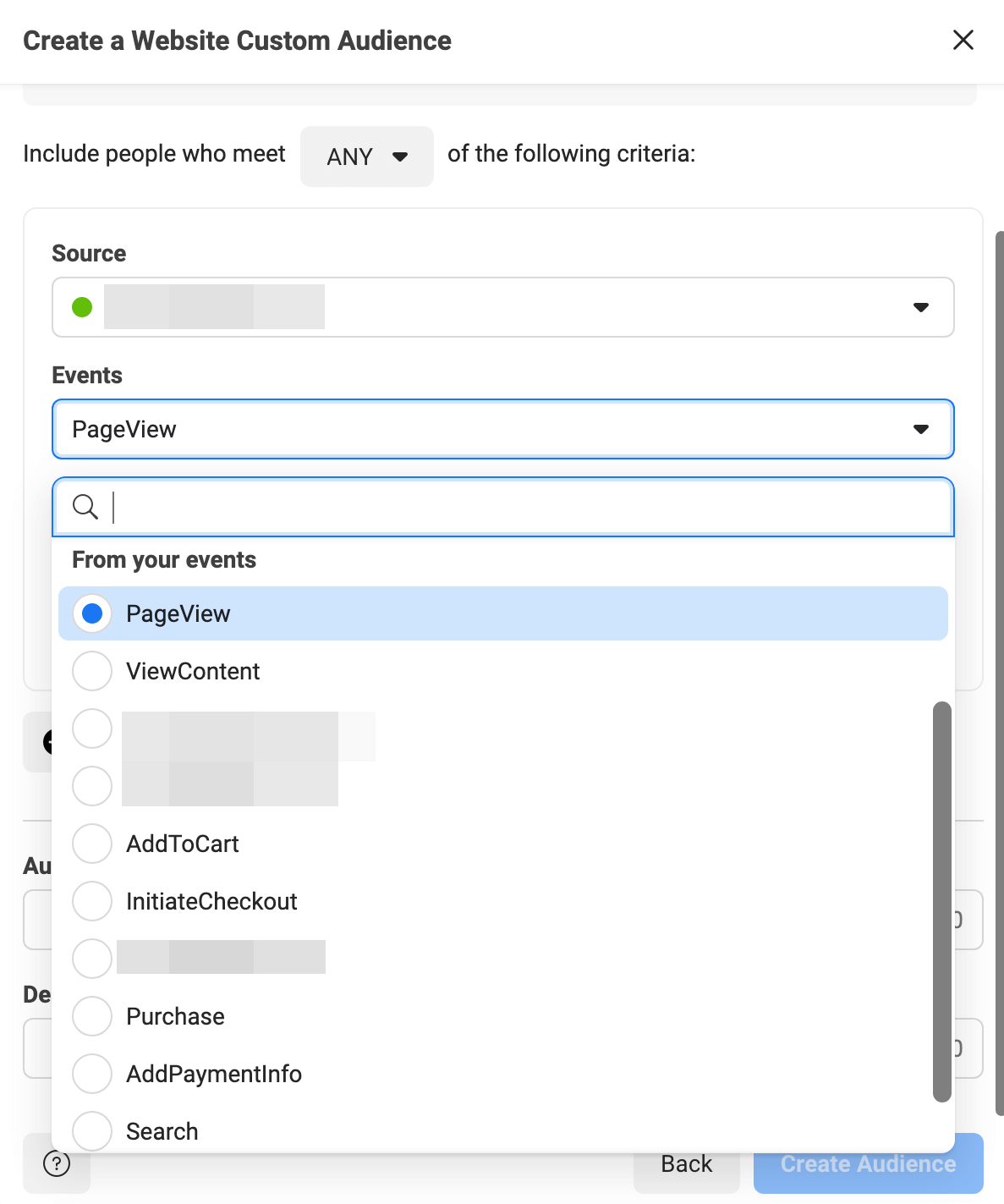 If you plan to build conversion event–based custom audiences for retargeting, create or update your audience at least a few days before you intend to launch your campaign. Once your estimated audience size updates from pending, you can add it to your ad set to review the projected reach and results.
Third-Party Data-Based Audiences
If you use an email or SMS marketing platform or a customer relationship management (CRM) tool, you may have a customer list that you can use for remarketing. When you upload it to Facebook Ads, the platform matches it with relevant Facebook users so you can remarket to your customers.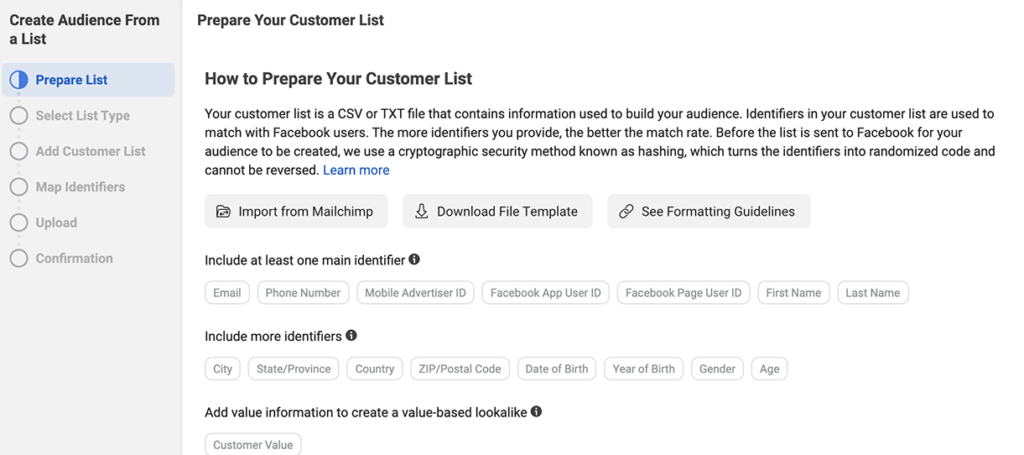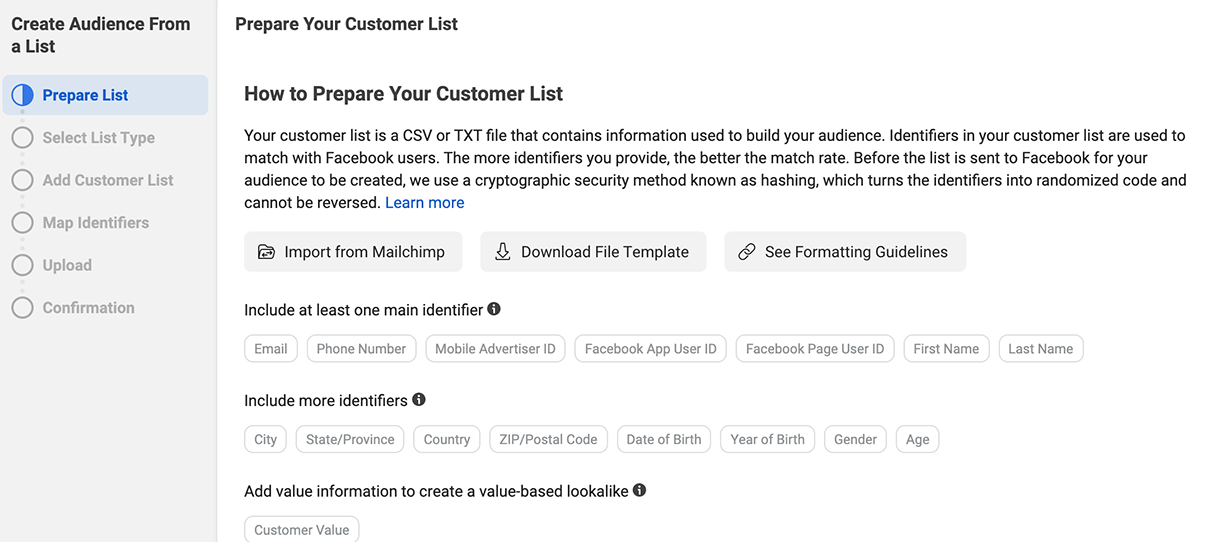 Although this process generally worked pretty seamlessly in the past, it now requires an extra step to accommodate iOS 14.5 privacy rules. Essentially, updates to Apple's Identifier for Advertisers (IDFA) may decrease the Mobile Advertiser ID match rate for Facebook.
Pro Tip: To increase the match rate for your customer list, upload as many data fields as you can. For instance, including identifiers like email addresses and phone numbers can increase the chance of successful matches, leading to more effective remarketing.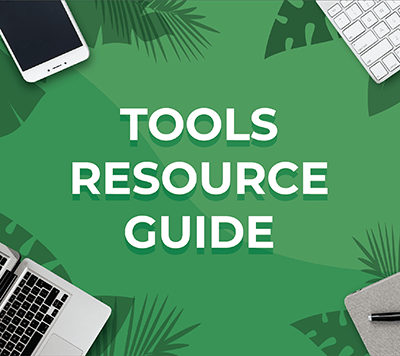 Looking for something to make your life easier?
Discover the tools we recommend to drive engagement, save you time, and boost sales across your entire marketing funnel or business.
Whether you need help planning content, organizing social posts, or developing your strategy, you'll find something for every situation.
FIND YOUR NEXT FAVORITE TOOL
Facebook Activity-Based Audiences
Of all the custom audience options, those that rely on Facebook's data sources have changed the least. That's because privacy updates related to iOS 14.5 focus on third-party tracking and data sharing, not the data that Facebook collects within its own app.
If your business already uses Facebook features like shopping, lead forms, or Instant Experiences, now could be a smart time to leverage that data. If you don't use them yet, this could be a great time to start. Using these features, you could build custom audiences and remarket to people who've:
Watched any or all of one or more videos you've uploaded to Facebook.
Filled out a lead form you developed for an ad campaign.
Interacted with an Instant Experience you developed for an ad campaign.
Viewed, saved, or purchased any products in your Facebook shop.
Engaged with, attended, or purchased a ticket for an event you hosted.
Followed, messaged, or engaged with your Facebook page.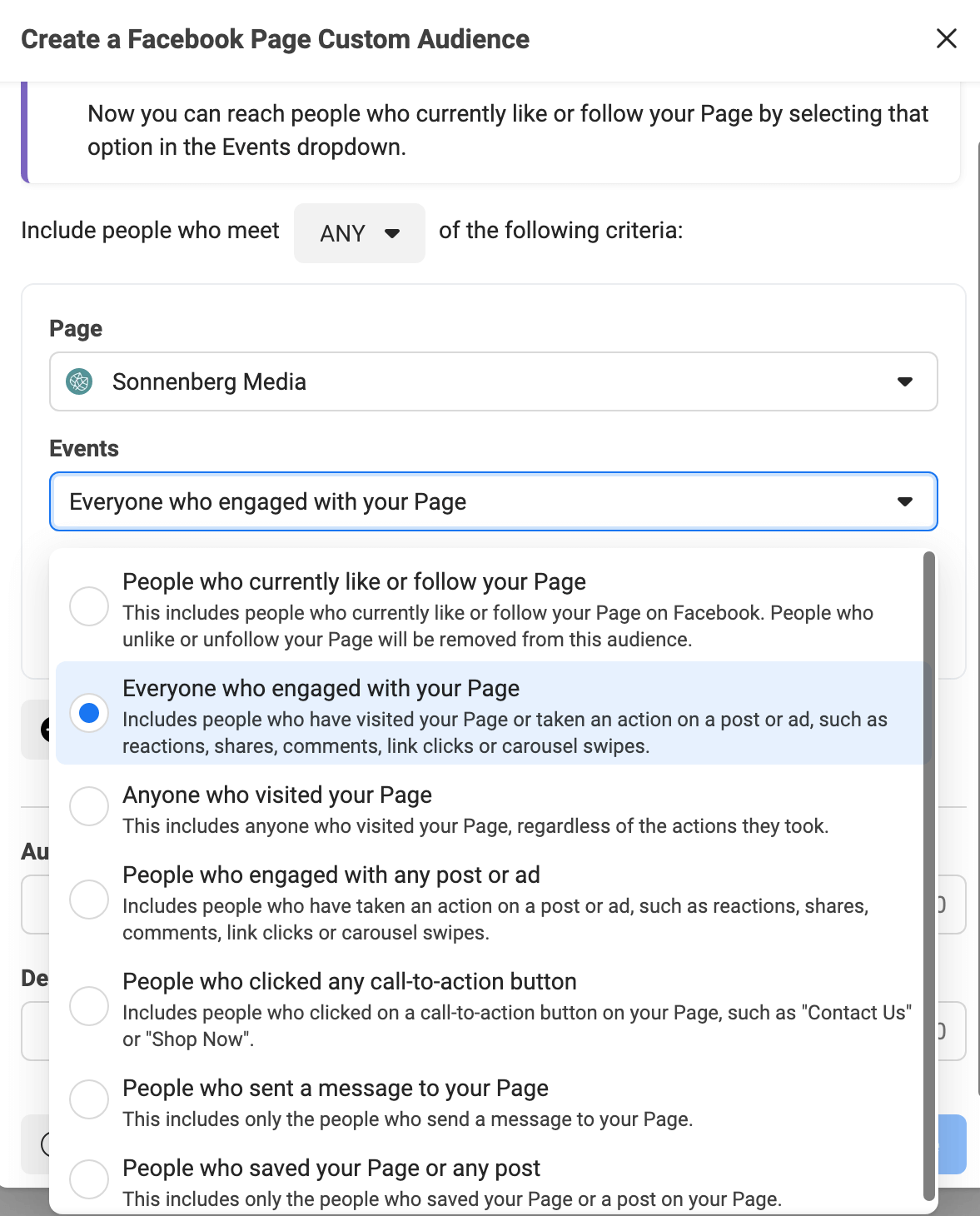 #3: How to Make Lookalike Audiences for Facebook Ads
When you want to connect with Facebook users who are similar to your customers or prospects, a lookalike audience is a smart choice. You can create several lookalike audiences for any data source, each with different levels of similarity to the original.
Retired Lookalike Audiences
Previously, Facebook Ads allowed advertisers to create lookalike audiences with location targeting. The platform no longer allows built-in location targeting for this audience type. Instead, you can only add geotargeting to the ad set during campaign setup.
If you're running a campaign that uses one of these pre-existing lookalike audiences, you can continue to use it as long as the campaign remains active. But you can't create new ad campaigns using these outdated audiences.
The Facebook Ads platform has automatically retired these audiences and created copies without geotargeting. In the Audiences tab of Ads Manager, you can see which audiences have been retired and find their replacements. To use these audiences effectively in new campaigns, take the time to add location targeting at the ad set level.


New Lookalike Audiences
When you create a new lookalike audience, you can choose a custom audience or your Facebook page as the data source. If you choose a web- or app-based custom audience data source, there's a good chance your seed audience will be smaller than usual, as Facebook won't include users who've opted out of tracking.
Although the total size of your lookalike audience won't change, it's important to know that changes to the data source may affect the makeup of your lookalike audience. To gauge any potential impact on your new lookalike audiences, you can create multiple different audiences of varying sizes to see what works best for your brand.
For optimal results, Facebook Ads now recommends creating lookalike audiences with value-based data sources. If your Facebook pixel tracks events with value—such as eCommerce purchases—you can create a value-based lookalike audience.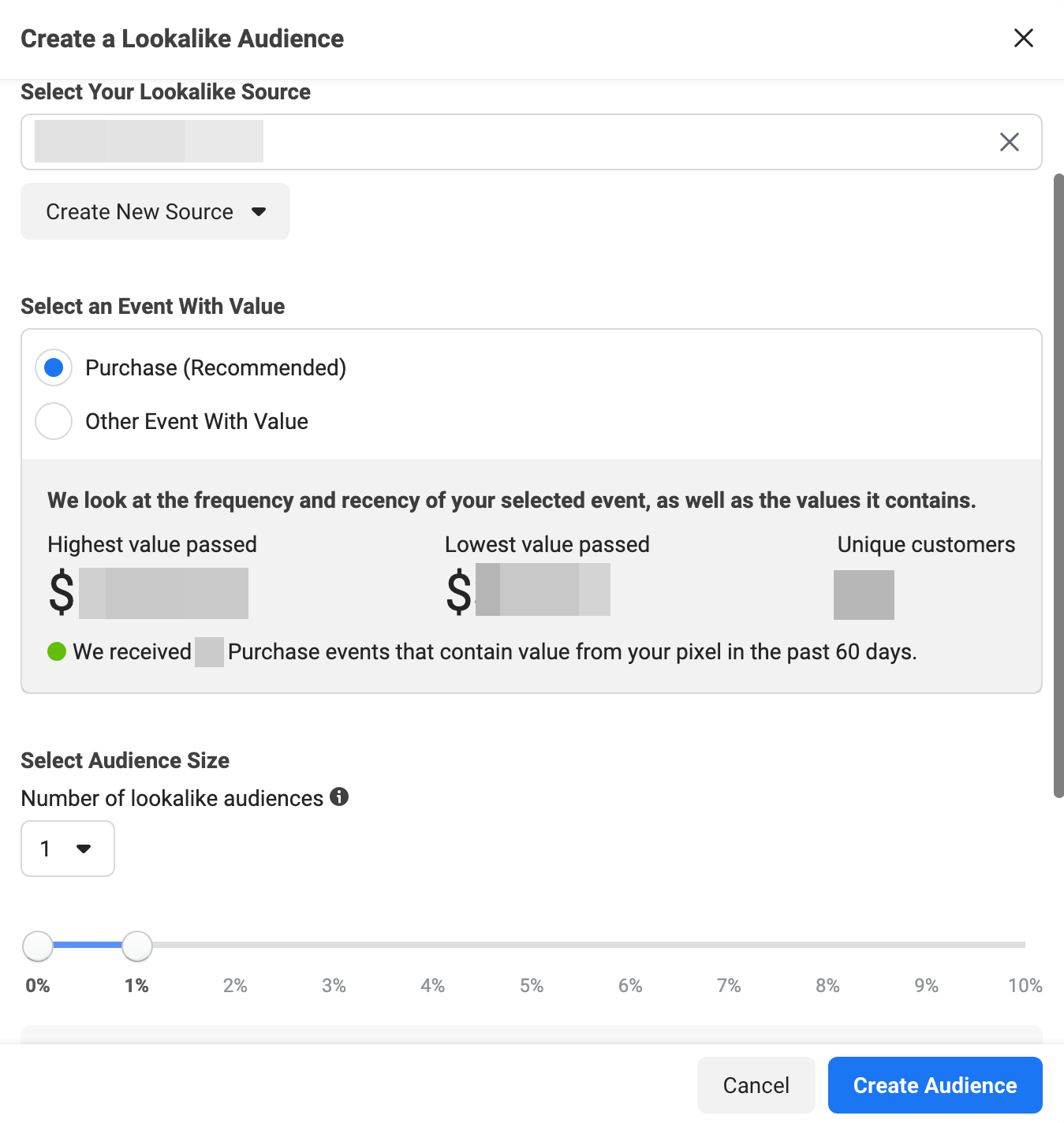 When you choose this option, you can create lookalike audiences based on your most valuable customers. As a result, you may be able to find similar high-value customers and increase your return on ad spend (ROAS).
It's also important to note that Facebook Ads may deliver your ad to people outside of your lookalike audience in some instances. If you optimize for a value, app, or conversion event, the platform may expand targeting if it's likely to drive more results.
#4: Pro Tips to Improve Campaign Performance
Building audiences that follow Facebook Ads' updated guidelines and use the platform's new targeting features can help you reach campaign goals. To increase your chance of success, take a few extra steps to ensure you're seeding and using these audiences effectively.
Verify Your Domain
Start by verifying your domain to confirm the connection between you, your business, and your website. This step also gives your Business Manager account the ability to configure conversion events.
To verify your domain, open your Business Manager settings and navigate to Domains in the Brand Safety menu. Click the blue Add button to add a new domain and follow the instructions for verifying it. The domain will show a green Verified status once you complete the process.

Configure Prioritized Conversion Events
Next, navigate to Events Manager to configure and prioritize conversion events. Facebook Ads allows you to configure and prioritize up to eight events, all of which you can use to target and report on iOS 14.5 users. You can also create campaigns around non-prioritized events but they won't reach iOS 14.5 users.
In Events Manager, select the pixel you want to configure and open the Aggregated Event Measurement tab. Click the blue Configure Web Events button to get started, and click the green Add Event button to begin configuring.
Use the drop-down menu to select standard events, and then drag and drop them in order of priority. The top event should be the one that's most relevant to your campaign goals.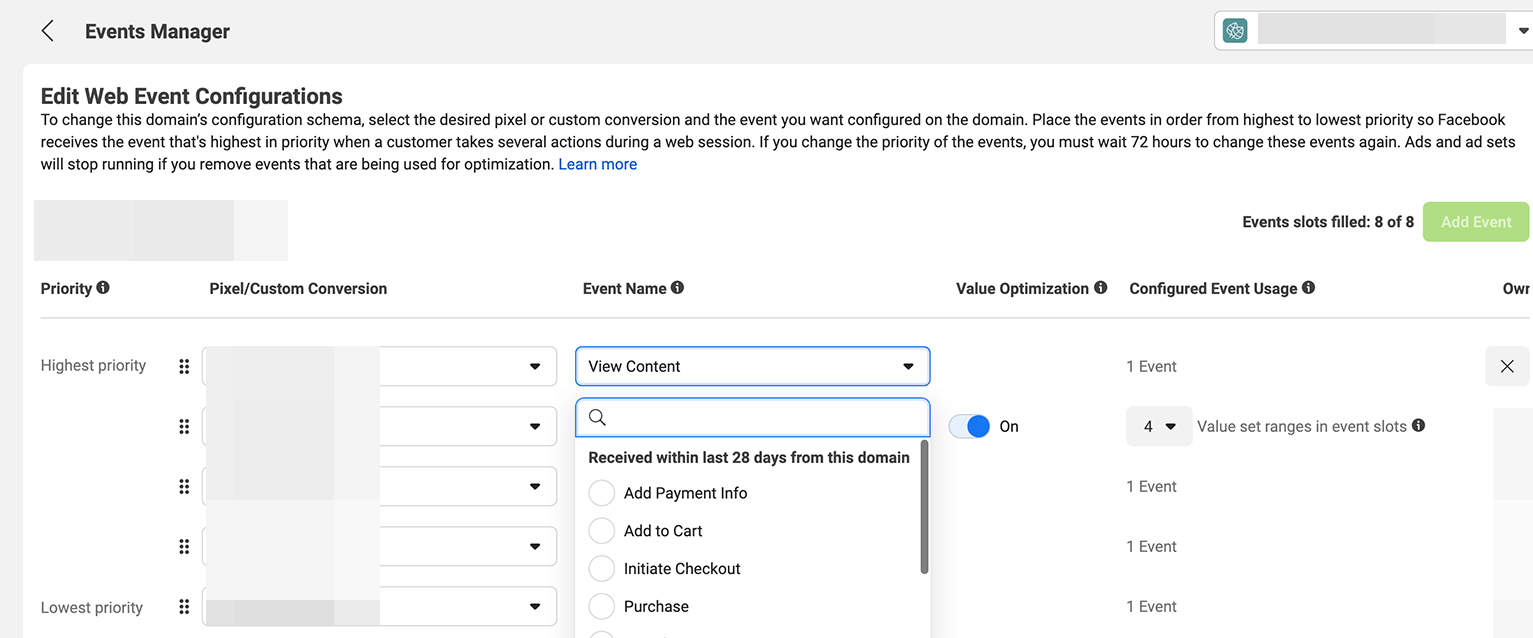 Alternatively, you can create and prioritize a custom conversion that's more relevant to your business.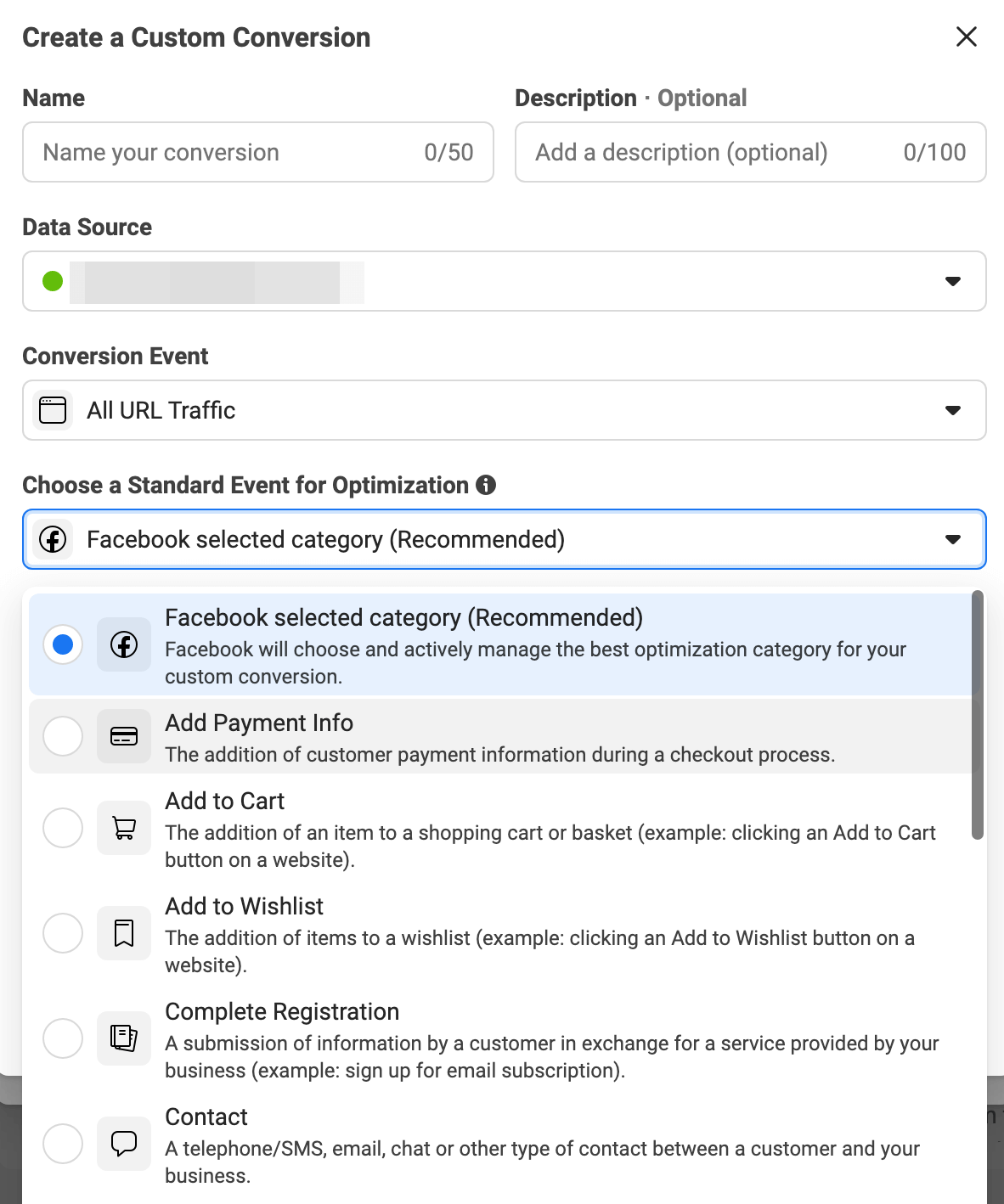 Once you configure and prioritize events, you can start using them with your campaigns. Look for them in conversion event and custom audience drop-downs, where you can use them to optimize conversion campaigns or build web-based audiences.
Split-Test Facebook Ads Audiences
Before July 2021, you may have had a reliable audience building and campaign creation workflow that didn't require extensive testing. Given the many recent and upcoming changes to Facebook Ads, it's more important than ever to consider testing different targeting options or testing ads against each other.
Ads Manager's built-in A/B testing tool makes it easy to experiment. To use it, open Ads Manager and click the gray A/B Test button. Choose the campaign and ad set you want to test and select Audience from the Variable drop-down menu.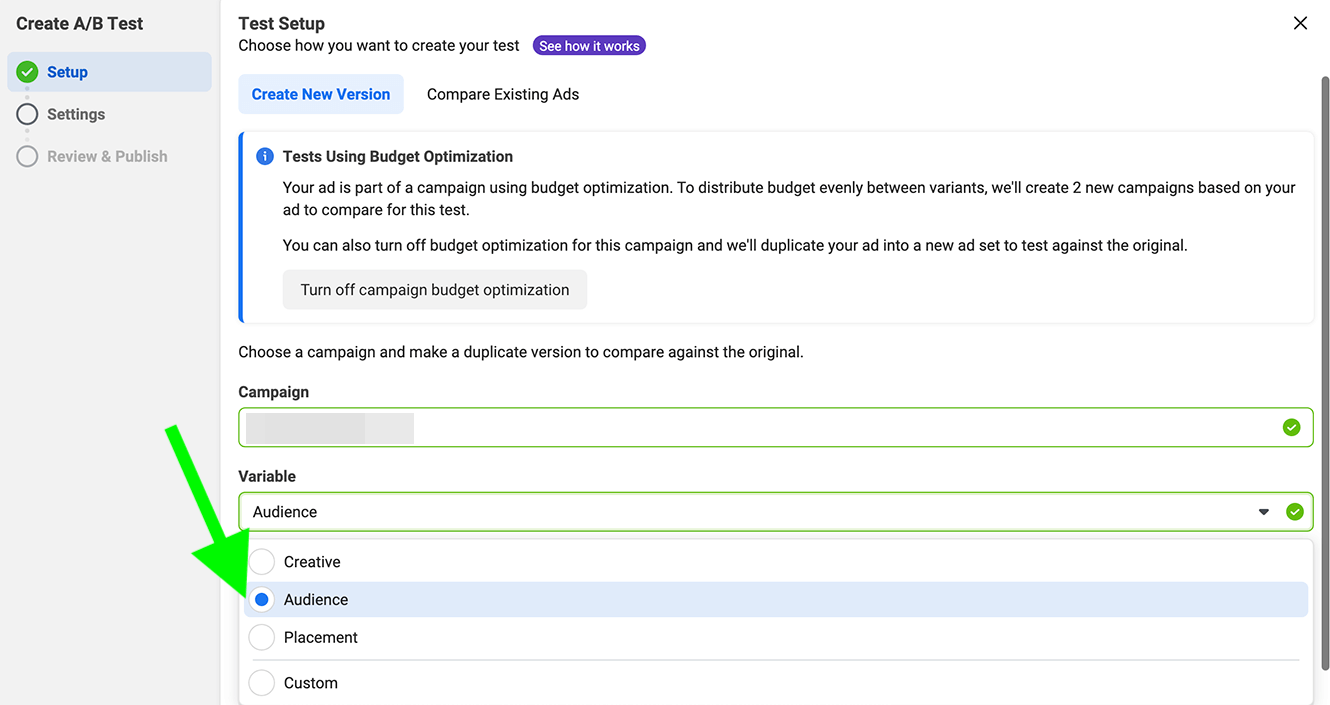 Then choose how long the test should run and which metric you want to use to determine the winner. When you publish the A/B test, Ads Manager will automatically duplicate the campaign and run it alongside the original. Once you determine which audience is most responsive, you can stop running the losing campaign and use what you learned to apply more effective audience targeting to future campaigns.
Conclusion
Whether you're creating Facebook ads campaigns for the holidays or fine-tuning a strategy for 2022, these privacy-related updates are likely to affect your planning. If possible, create audiences and campaigns in advance for more accurate estimates and save plenty of time for testing.
In the near future, your Facebook ad campaigns may require more manual adjustments and optimizations. But if you plan carefully, pay attention to the platform's recommendations, and watch campaign results closely, you'll have a much better chance of getting the results you want.
Get More Advice on Facebook Ads
Get Your FREE Course: Web3 for Beginners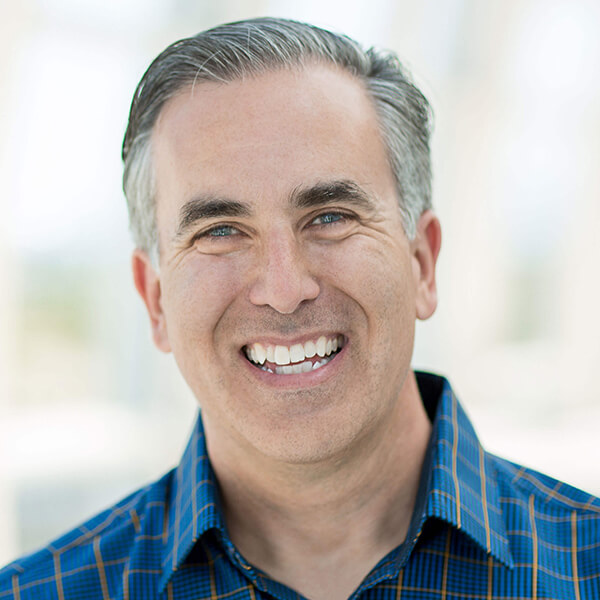 Curious about Web3, but don't know where to start or who to trust?

Introducing Web3 for Beginners, a course taught by Michael Stelzner, the founder of Social Media Examiner.

Learn the basics of Web3 and apply it to your business with this FREE comprehensive course.
CLICK HERE TO GET FREE ACCESS