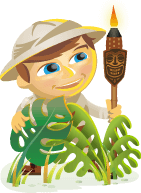 Are you looking for a competitive advantage?
Have you thought about creating experiences for your audience?
To learn how to create experiences and why they are essential to stand out in this noisy world, I interview Robert Rose.
More About This Show
The Social Media Marketing podcast is an on-demand talk radio show from Social Media Examiner. It's designed to help busy marketers and business owners discover what works with social media marketing.
In this episode I interview Robert Rose, chief strategy officer at the Content Marketing Institute. He's co-author of Managing Content Marketing and co-host of the This Old Marketing podcast. His latest book is called Experiences: The 7th Era of Marketing.
In this episode Robert will explore how creating experiences can help you stand out in a noisy world.
You'll discover businesses doing experiences right, as well as how to get started creating experiences for your audience.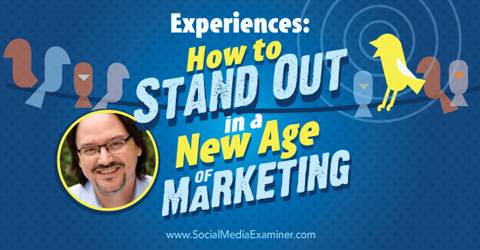 Share your feedback, read the show notes and get the links mentioned in this episode below.
Listen Now
Where to subscribe: Apple Podcast | Google Podcasts | Spotify | RSS
Here are some of the things you'll discover in this show:
Experiences
The book's premise
Robert says he and co-author Carla Johnson believe we're moving into a new era of marketing.
Marketing school textbooks (which stop around the mid-1990s) teach the five eras of marketing. All eras last about 20 years. According to Robert, we are now in the 6th era, which is relationship marketing. The Relationship Era was kicked off in the early 1990s with The One to One Future by Dr. Martha Rogers and Don Peppers, which gave birth to the CRM movement.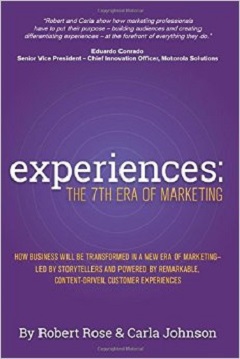 As we move into 2015, Robert explains, we are evolving into a new era. "Developing delightful, informative, useful experiences from marketing's lens is really the new way to formulate a marketing strategy going forward," he says.
Robert shares more about the evolution of the eras and how they inform this new one.
From the early 1990s and into the Internet era (the late 1990s and early 2000s) the goal was to figure out how to develop a database or a relationship with our consumer and deepen it through the use of data, as well as how to assemble richer data sets around the consumer to be able to deliver a better product or service to that consumer, using that relationship. This is what gave birth to the CRM movement as we know it today.
As this era progressed, and social media within it, relationship development between a brand and its consumers became more complex. These days, digital more broadly disrupts how we relate to consumers, since we now have to establish a relationship from that first meeting and beyond.
That expansion of marketing's responsibility for the full life cycle of the consumer, and the complexity brought on by all of the different channels, are creating a real evolution of marketing. We need to develop more compelling experiences to be able to delight those customers at various stages of their journey.
Listen to the show to discover more about the book.
What Robert means when he talks about experiences 
When a business creates a website or something with a physical dimension, such as a conference or a print magazine, it's creating an experience for its audience. The hope is to deliver value that's separate and discrete from the company's product or service.
Robert shares a few examples.
Kraft makes macaroni and cheese, as well as other products. However, Kraft's Food & Family magazine and Kraft's online recipes are experiences. They are value delivered to a consumer that's separate from the company's products.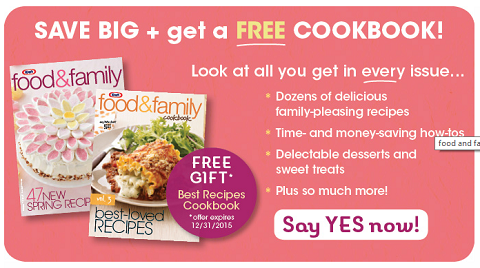 Another example would be a home cookware shop that teaches cooking classes as a means of providing a physical experience. The shop is trying to align its brand or a need or want, and is doing so by creating an experience for its customers.
An experience is a combination of the physical, the digital, content and everything that creates value for a consumer.
"We are classically trained as marketing people to describe value," Robert says. "The new muscle is to create value."
American Express OPEN Forum has nothing to do with credit cards, but has everything to do with giving an experience to small businesses to help them learn how to be better at what they do.
Listen to the show to learn whether an experience needs to include a physical component.
Why businesses should invest in experiences
"As Seth Godin says, experience is the only differentiator we have," Robert explains. "As we move into the next 5 years, where 3 billion more people are going to come online, our product or service is always at risk of being copied or commoditized. It's the experience we lay over the top of that product or service that differentiates us."
Uber and Lyft disrupted what it means to take a car from point A to point B by offering a better experience. Same with Airbnb and the vacation industry. Something as fundamental as changing your business approach or something as small as starting a blog delivers value to consumers.
Indium is a soldering company that has 27 different blogs on soldering by individual product people. Each blog delights a different customer niche. Brian Clark just launched more than 10 podcasts at the same time, and each one serves a different community.
"It's the idea of becoming a little bit famous," Robert adds. "We don't have to become global to become a successful, going-forward business."
Listen to the show to discover the power of having a discrete and finite audience.
Businesses doing experiences right
Robert says HubSpot is probably his favorite example of a formerly very small company (now a big company) that used experiences to drive business. Brian Halligan and Dharmesh Shah started HubSpot at MIT, and created an entire category called inbound marketing. They wrote a book, created a blog and spoke about it at every conference they could find.
They basically created a center of gravity, an experience around the idea of inbound, and then let HubSpot bloom within it. The company started with three or four people and has now gone public.
Also, Robert says, look at what LEGO is doing, not only with an amusement park, but also with movies. Everything they do is creating value aimed at selling bricks.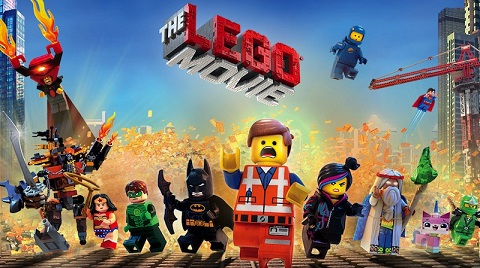 "What I love so much about LEGO is when they did The LEGO Movie, they didn't say, 'Here's our universe of toys. Make a movie with that.' They said, 'Hollywood, you make the movie you want to make, and we'll make the toys to match.' And that's the difference."
They're changing the business to suit content's purpose, instead of changing content to suit business's purpose.
Listen to the show to hear how Coca Cola is a media brand, instead of just a product brand.
How to get started creating experiences
Although it's easier and less expensive to create experiences digitally, the idea of print is really coming back. It's an uncluttered space.
Robert shares his process for experience creation, whether it's for a marketing team of 1 or 100.
"I'll literally put up a picture of the idealized funnel," he explains, "everything from awareness to customer and beyond to loyalty and evangelism. And I'll say, 'Where does it hurt the most? Where right now do you have the biggest problem? Is it an awareness problem? A lead nurturing issue? A loyalty issue? Or are you trying to get customers to evangelize your story and do better word-of-mouth marketing?' Wherever is the biggest pain will be the least resistance to try something new and interesting."
Once you identify the biggest pain point, decide what value, separate and discrete from the product you offer, your customers need when they are in that stage of their journey. It could be better education, entertainment, how-to content, an event, networking with other customers, a community or something else. Once you figure out what that is, decide how to develop it as a product (as an experience) for that customer.
Marketers are trained to think medium first (an ad campaign, a TV campaign, a radio campaign, a website, a blog) and then story. Instead, decide what experience to create and then determine how it best expresses itself: a blog, a print magazine, a webinar series or all of the above.
Listen to the show to learn how the Social Media Marketing podcast is an example of creating an experience.
The story map
In this new age you need to go beyond the idea of marketing campaigns and tactics, and instead do something that will deliver and create value long-term. It's more of a product development process than a campaign management process.
At the heart of content creation management is the idea of story mapping.
Take the experience you want to create and map it against business objectives and a narrative.
"If we're going out tomorrow, we can't demand that we own this market," Robert explains. "We have to earn our way in through influencers, great content and thought leadership, so that narrative arc is going to take some time."
To figure out how to map the story for the product you're building, determine what success looks like and what the contribution to the business looks like at various intervals (at 1, 6, 9 and 18 months). Map it against everything you will have to do. Assign resources to it, promote and market it, and have people responsible for managing it over time.
You build a story map for one of two reasons. You have budget to do something and you need to map out execution of it. Or you need to map out some level of the execution of it to get an appropriate budget, so you can take it to market and roll it out.
A story map is a business case for a process or a product that will basically build value, if you invest in it and execute it correctly, for the foreseeable future.
Listen to the show to discover what popular startup methodologies Robert and his co-author Carla borrow from in the book.
Discovery of the Week
There's nothing more frustrating than getting a private Facebook message on your mobile phone that you can't get to, because you need to install Facebook Messenger.
If for whatever reason you don't want to install Messenger, there are two other ways to check Facebook messages on your mobile phone: Facebook Paper or the web browser.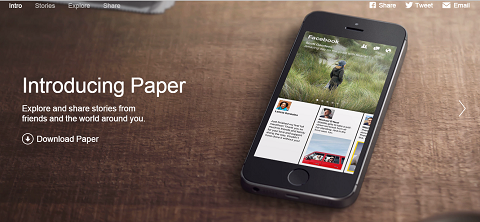 Facebook Paper, which came out more than a year ago, was meant to be a newspaper for your phone. In addition to the basic Facebook functions, like posting updates and viewing the news feed, you can send and receive messages from your mobile phone. Just download and log into the app to send and respond to private Facebook messages.
If you don't want to install Facebook Paper, just go to the web browser on your mobile phone. Go to Facebook.com and log in. Then check and send messages within the browser.
Listen to the show to learn more and let us know how checking messages on Facebook Paper and through the mobile web browser works for you.
Listen to the show!


.
Key takeaways mentioned in this episode: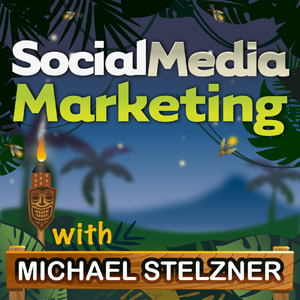 Ways to subscribe to the Social Media Marketing podcast:
How to Subscribe to this Podcast on an iPhone
Watch this quick video to learn how to subscribe on your iPhone:
.
What do you think? What are your thoughts on creating experiences? Please leave your comments below.