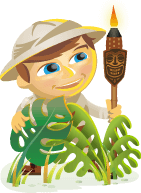 Is audience loyalty important to your business?
Are you wondering how you can increase your audience loyalty through engagement?
To learn the importance of engagement, I interview Danny Iny for this episode of the Social Media Marketing podcast.
More About This Show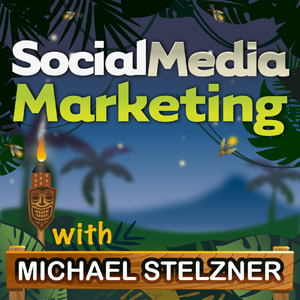 The Social Media Marketing podcast is a show from Social Media Examiner.
It's designed to help busy marketers and business owners discover what works with social media marketing.
The show format is on-demand talk radio (also known as podcasting).
In this episode, I interview Danny Iny, author of Engagement from Scratch! He is also the founder of Firepole Marketing (now Mirasee) and host of the Connect, Engage, Inspire podcast (now the Business Reimagined podcast) .
Danny shares his techniques for increasing engagement, which engenders loyalty in his audience.
You'll find out how to define engagement in your business, the benefits of it and how to get started.
Share your feedback, read the show notes and get the links mentioned in this episode below!
Listen Now
Where to subscribe: Apple Podcasts | Google Podcasts | Spotify | YouTube Music | YouTube | Amazon Music | RSS
Here are some of the things you'll discover in this show:
Engagement
From a writer to someone who specializes in engaging audiences
Danny shares that he has been writing since childhood, and started a copywriting business when he was young.
In 2006, he wrote his first book, Ordinary Miracles: Harness the Power of Writing to Get Your Point Across! In the book, he discusses his ideas about writing and how to write well. Although it's a great book, Danny didn't get the response he was looking for.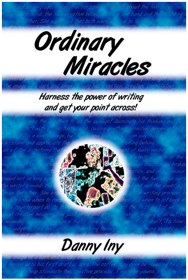 The lesson he learned is that when you write copy, it's not actually about the words. You need to understand the people you want to connect with, and understand what matters to them.
Danny's copywriting practice evolved over time into a marketing and strategy consultancy.
You'll hear what happened when he attended local networking sessions that made him want to create a training program.
Danny soon discovered that people who didn't have an audience wanted to know more about engagement; and therefore, he wanted to help them. He started to reach out to all of the experts who had built an engaged audience from nothing.
With their input and perspectives, his new book, Engagement from Scratch! was created.
Listen to the show to find out why it's important to be sensitive to other people's needs.
Definition of engagement
Since his latest book was published, Danny says that he has developed the insight that engagement is about the deep emotional investment that people have in what you are doing.
If you think about Apple's customers, they are members of the Apple tribe. The fact that they use Apple's products actually says something about who that person is. It's a piece of their identity.
Not only are these customers incredibly engaged, they are also invested in what Apple does. If the company were to betray the values they stand for, the response would be dramatic. They would feel like a friend had betrayed them.
Danny says that the best model for conceptualizing engagement is by increasing the feeling of commitment through rewards over time. When someone discovers you for the first time, there is no connection, relationship or engagement. You have to give them something to keep them coming back.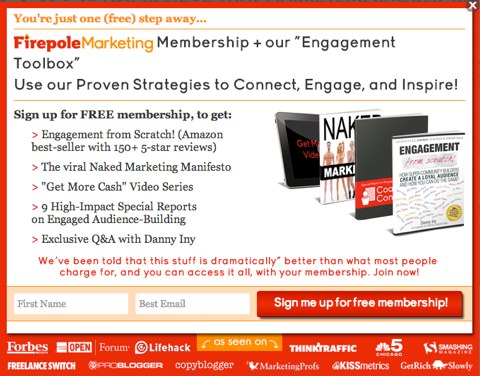 Make sure you give people an opportunity to provide you with their name and email address. Once they commit, you can reward them.
You'll find out another great way to get people to invest some of their time and attention, which will help you build a relationship with them. It's important to stand out from the competition, and one way to do this is to answer emails personally. This puts you in a whole different category.
To be a good email marketer, you need to have a double opt-in, a one-click Unsubscribe button and a high content-to-pitch ratio. You should offer a ton of value and ask for nothing in return.

Once you have built up a relationship with your subscribers, it's far easier to ask for something in return.
Listen to the show to find out how you can use a populated tweet to start a dialogue and get great responses.
The reward
Danny says that when people trust you, and you have earned their respect, it changes everything in your business. So when you have an offer, people buy from you. Your conversions go through the roof.
A great example is when Danny did a webinar about 18 months ago, when he was a lot less experienced. Although the information was good, he bombed the webinar. It shouldn't have converted by any means, yet it made five figures in sales.
The reason it did so well was that people knew and trusted Danny. They knew that whatever he was going to share was probably worth buying.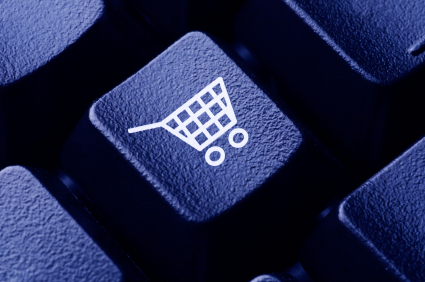 When you are in constant contact with your audience, you know what they want. It takes a ton of the guesswork away. They share it all with you.
You'll hear Danny explain what happened when Firepole Marketing went through a revamp, and why his audience was behind him, rather than complaining about the slightest fault.
Listen to the show to hear what happens when Danny promotes affiliates on his site.
Practical things you can do to start to improve your engagement
Danny says that you can do engagement from scratch if you have no audience, or have an audience but no engagement.
If you have an audience but lack engagement, the first thing he recommends you do is make sure that the emails you send out have your signatory on, so that subscribers can reply.

Danny makes sure that there is always somebody on his team who can check emails and send a personal reply. It's a way for the person who receives the email to get to know the person who sent it.
The second thing that you can do (and it's not just with email) is to end the message with a call to action. It doesn't always have to end with a "buy this" message. You'll discover the types of messages that you can include, which will encourage a response.
The bottom line is that engagement is about relationships, and they are bidirectional.
Listen to the show to find out why it's a special time in the history of this online world.
How to manage it all
Danny says that you have to start small. Some people don't understand why he spends a lot of his time every day answering emails, but he says it's what drives all of his sales. Last year alone, they had nearly $700,000 in sales.
You can send out an email once a week. Not every email has to ask for a reply at the bottom either. Maybe once in a while ask for a response and build it up gradually. Let the people on your team contribute too.
Although Danny interacts with many of his audience members, his team deals with the student-, customer- and audience-facing stuff. It's a great way for people get to know who Firepole Marketing is.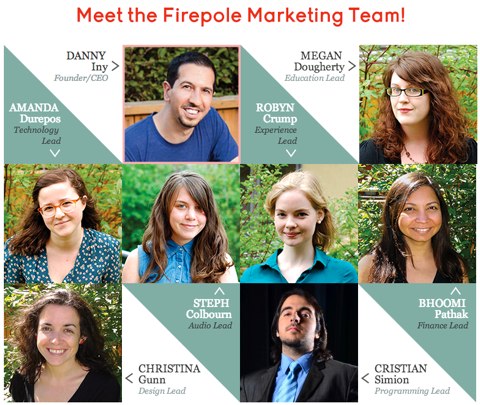 Listen to the show to discover why return on investment (ROI) doesn't exist without the I.
A successful engagement tip
Danny says there are two ways you can look at building engagement. There is wide and shallow, and narrow and deep.
Last summer, Danny and his team ran a Business Ignition Boot Camp, where 200 participants worked extensively with them for 6 weeks.
Although the course was free, the applicants had to fill out a 45-minute application. During the course, they received a ton of homework. Danny says that it was a phenomenal experience, and people are still evangelizing about it today. Not only are they customers forever, but they have brought in new customers too.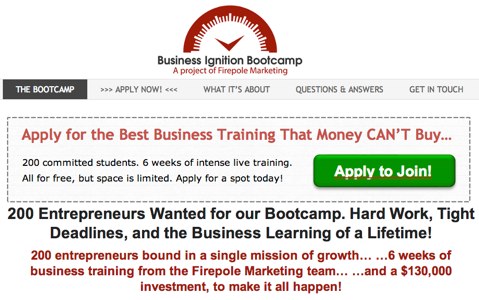 You'll hear about a scavenger hunt they did last year too, which will kick off again this month.
You don't have to blanket all of the people who follow you. Instead you can aim at the most engaged, in terms of their engagement with and investment in you. You need to think about what you can do with them that can bring them into the fold and make them part of your family.
Listen to the show to hear the importance of creating evangelists and why you can't pay for this kind of thing.
Discovery of the Week
I have recently discovered that ClicktoTweet has changed, and it's now even better.
When you first go to ClicktoTweet, it will ask you to log into Twitter. You can then generate your tweet. The result is a custom URL that you can embed or use as a forwarder.
With the new updates, you can track the results of the tweets that you shared. It shows you the number of clicks and how many were unique. It even shows you on a timeline which day got the most clicks. You can also see on a map which countries the clicks came from.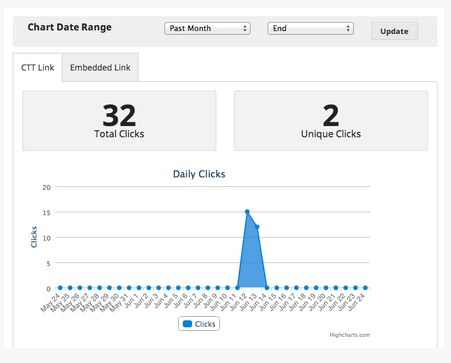 With this kind of data, you can do tweet-level analytics. It's exciting what you can do with this.
There is also a WordPress plugin option, and although I've not experimented with it yet, I have downloaded it and read the code. It allows you to create a clickable box on your blog. You'll hear an example of how you can use this to drive traffic back to your blog.
There is also another plugin in the WordPress.org plugins directory called Click To Tweet by Todaymade. I don't think these are from the same organization; however, this plugin creates a really nice box with text in it.
If you think creatively, you can come up with some innovative uses for it.
Call in and leave your social media–related questions for us and we may include them in a future show.
Listen to the show to learn more and let us know how this works for you.
Other Show Mentions
This week's podcast is sponsored by Social Media Marketing World 2014.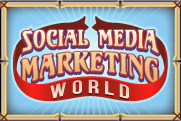 Social Media Marketing World 2014 is our physical mega-conference, which is set to return to San Diego, California on March 26, 27 and 28.
The buzz around this conference is amazing. If you look at our hashtag #smmw14, you will see all of the people who are excited about attending this conference.
The conference features more than 80 sessions in four major tracks: social tactics, social strategy, community management and content marketing.
A major part of this conference is about networking. Some of the exciting networking opportunities we have planned include the opening night party on a naval aircraft carrier, early morning walking and running groups, dedicated networking ambassadors, major networking time after keynotes and during lunches, special interest groups and so much more!
Be sure to check it out.
Key takeaways mentioned in this episode:
Ways to subscribe to the Social Media Marketing podcast:

What do you think? What are your thoughts on creating a loyal audience through engagement? Please leave your comments below.