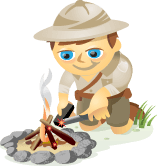 Most bloggers quickly discover that posts that contain lists are popular.
Unfortunately, list posts usually require a lot of work to write and are rarely updated after they're published.
What if there was an easy way to create list posts and keep them up to date?
List.ly can help you do this. Plus List.ly offers you a welcome bit of social interaction.
Create a Community-Driven List Post
List.ly is a collaborative list-building tool. You create the initial list on the List.ly website and you can embed it as part of your blog post. Embedding means that it appears as if it's in your blog post, but it still resides on List.ly.
What's cool is that your community can then add and/or vote for items on the list. This can be a useful tool to engage with your community and discover more about their interests.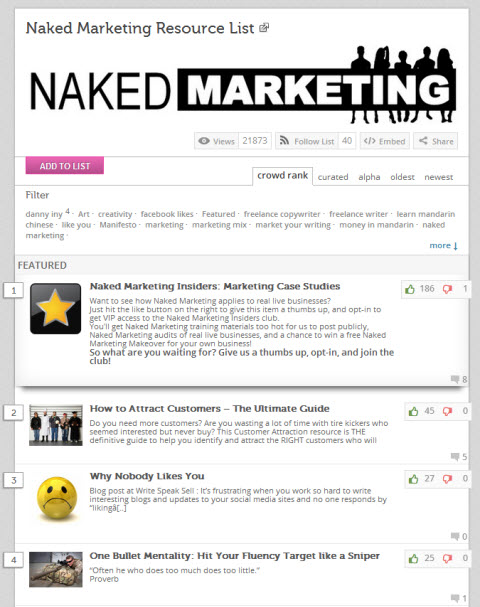 Because your list is available on the List.ly website, when visitors to List.ly are interested in your list, they can choose to display it on their website as well.
Why not brand your list and include a link back to your website? This can be a great promotional tool and potential source of traffic to your website.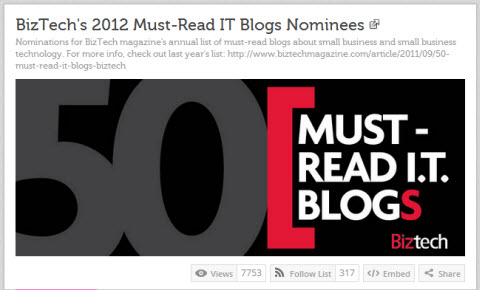 Create Your First Dynamic List!
To create your first list within List.ly, go to the List.ly website and select the option for New List.
Enter the title of the list and give it a description. When your list is displayed, both of these appear across the top of the list.
Below the description field, click on Advanced Options. There are a few options that are important to set up.
Headline Image—this allows you to upload an image that's displayed at the top of the list. This is a great way to promote your business, so upload an image that represents your brand. The maximum image size is 600 x 150 pixels, giving you plenty of space to make a statement.
Credits—specify the website address that this list links to. You could specify the home page of your website or you may want to set up a landing page so you can track any traffic coming from List.ly. Either way, make sure you configure this so you don't lose traffic.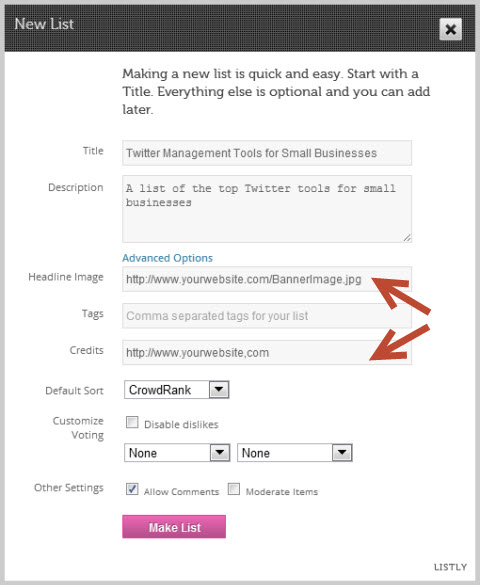 In addition to these options, you might also want to consider customizing your voting options. By default, List.ly captures who likes or dislikes an item, but you can also choose to collect additional feedback such as who uses an item, who has heard of an item or who wants to know more about an item.
Create the List Items
When you're adding items to the list, you either specify the website address of the item or simply give the item a name.
3 Days of World-Class Training—Zero Travel!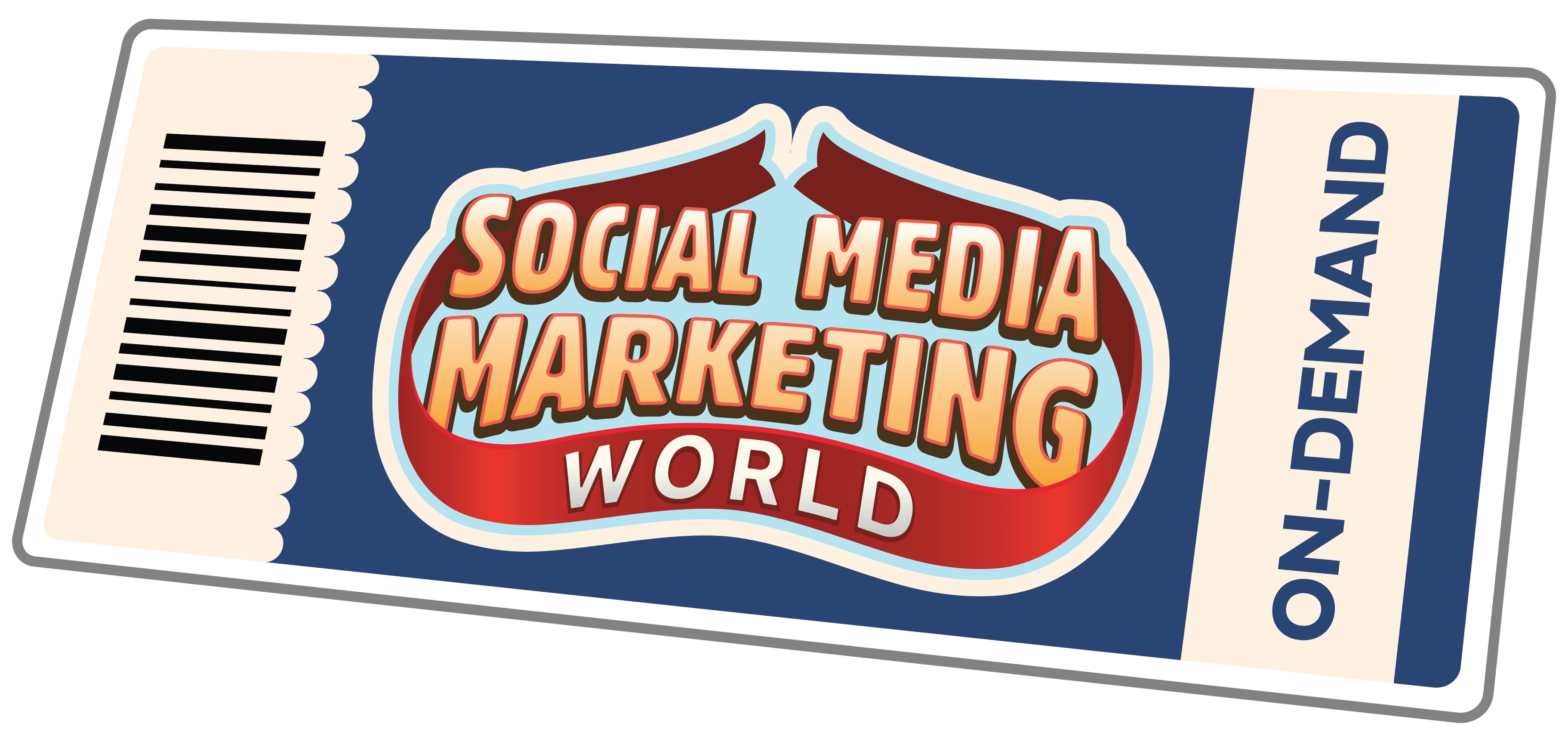 Travel to Social Media Marketing World off the table? Get all of the great content at a fraction of the price with an On-Demand ticket.

That's full access to recordings of every keynote, workshop, and session—the ones people travel thousands of miles to see. Don't wait. Get your On-Demand ticket and enjoy actionable content that you can watch anytime, anywhere.
GET YOUR ON-DEMAND TICKET NOW
By specifying the website address, List.ly tries to retrieve relevant information from the website such as an image, description and tags.
One drawback is that if there's no suitable image found, you're not given the option to upload your own image at this point. You're able to do this after the item has been added to the list, but this functionality should really be part of the initial list creation.
Here's an example of a newly created list without a banner image. As the items have just been added, the items are listed in no particular order. However, you can change the initial order of the items by going to the Curated tab and dragging the items up or down.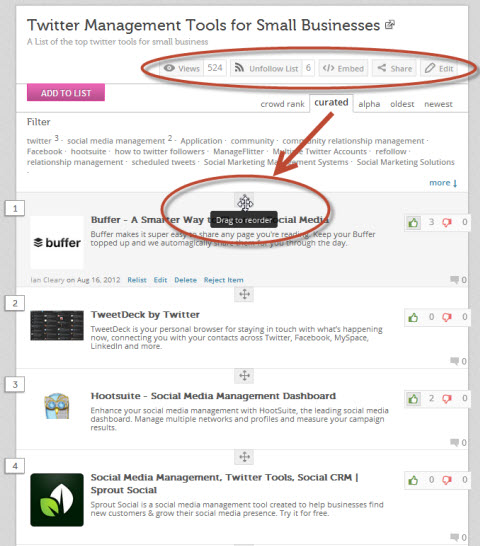 Once the list is created, anyone can choose to view, interact or even update the list.
For example, people can indicate if they like (thumbs up) or dislike (thumbs down) an item. By default, the item with the highest number of likes appears at the top of the list, but you can also choose to view the list in alphabetical order, oldest/newest first and so on.
Users can comment on an item, add a new item to the list, follow the list, share the list or even embed it within their own website. At the top of every list, you have the following options:
Views—this shows the number of times this list was displayed to users. This is a total count, which includes views on the List.ly website, your website and any other websites this list is on. This is not a count of unique views. So, for example, if one person views the list 10 times, it's counted as 10 views.
Follow List—this gives you the option to follow the list and get updates relevant to the list.
Embed—this is where you get the embed code to display the list within your website.
Share—this allows you to share the list out to your social networks.
Install it on Your Blog
To embed the list on your blog, select the Embed option at the top of the list.
Choose the Embed option that matches your blog so that you get the right embed code. If your blog runs on WordPress, you also have to install the List.ly WordPress plugin.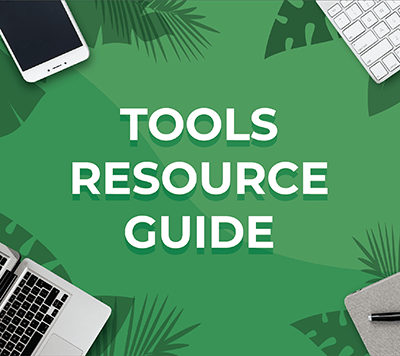 Looking for something to make your life easier?
Discover the tools we recommend to drive engagement, save you time, and boost sales across your entire marketing funnel or business.
Whether you need help planning content, organizing social posts, or developing your strategy, you'll find something for every situation.
FIND YOUR NEXT FAVORITE TOOL
Next, you can choose the layout style for your list—Full, Short or Gallery. Not all of the options are available for each embed type.
The Full and Short styles are very similar. The only difference is that the description of each item is not displayed in the Short layout. This is minimal format suitable in cases where space is limited.
The Gallery layout is visually more appealing; however, the downside is that the list order isn't as obvious. So if it's a list of the "Top 10 Most Popular Twitter Tools," then maybe the Full or Short styles would work better.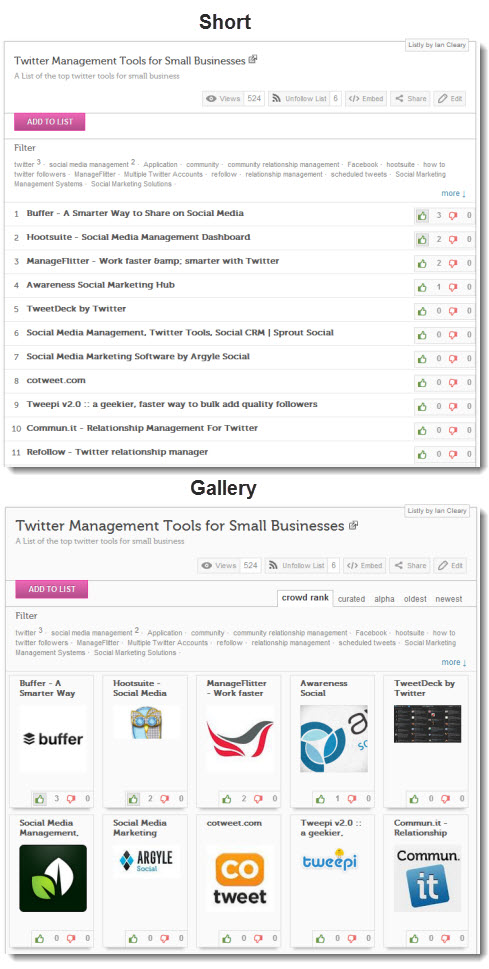 Great Features of List.ly
The list automatically adjusts for a mobile device. As mobile is increasingly important, this is a great feature.
List.ly hasn't rolled this out to everyone yet, but they will support a featured item in a list. This is highlighted at the top of a list. When someone then votes for a featured item, you can integrate it with AWeber to encourage a user to become a subscriber.
This is a great feature that helps increase subscriptions through the list. There is plenty of other potential for this type of functionality.
For example, if you had a list of the top 10 social media guides, you could collect the name and email address of anyone who votes on any particular guide.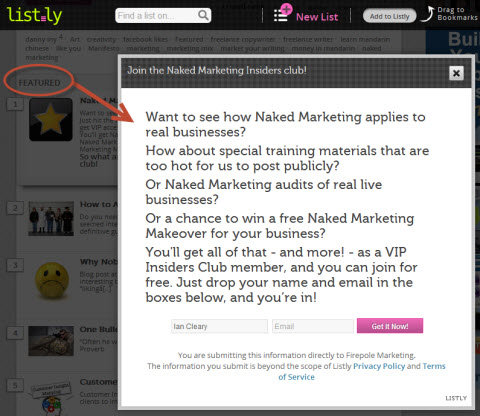 Danny Inny from Mirasee (formerly Firepole Marketing) said,
"I thought List.ly was great—it let me give free rein to my audience to contribute, create, and rank, and brought the conversation to a whole new level."
It's easy to set up and allows people to vote on items. To vote, you must connect to Twitter or Facebook. This is good because it reduces invalid votes.
By having a list that is shareable and embeddable on other blogs, you're going to get some benefit from a search engine optimization point of view. Each time it is embedded on another site, that's a link back to your site. Search engines also prefer fresh content, so if your list gets updated it's more likely to do better in search results.
You create a collaborative list that can be added to and voted on by other members of the community. A collaborative list developed by the community is more likely to get updated and shared out.
It's great that you can include a nice big banner image at the top of the list that promotes your brand when the list is embedded on other blogs.
The lists can include a variety of content and are not just designed for text. For example, a list of videos can allow users to view the video within the list.
Room for Improvement
While the tool has some really cool features, there are some improvements that could be added to List.ly to give you more control over your list and make this a really useful list blogging tool.
Configurable embed feature—at present, this allows your list to be displayed on your website and other websites. However, you currently cannot restrict who embeds the list on their site or disable this feature completely. This would be very useful if, for example, you wanted to stop competitors from embedding your list on their website.
List size—you cannot stop people from adding items to your list. So, for example, you may want to create a list of your favorite WordPress plugins. In this case, you wouldn't be able to set up a list that didn't allow any additions.
There is a moderation option that lets the owner decide which items make it onto the list, but these items are still displayed at the bottom of the list so everyone can see the items awaiting moderation. It would be better if you could choose to hide these items until the decision has been made.
Link back to your site—At the moment, you can set up one link back to your website. However, it's not easy to see this link, so many people won't click it.
This is important because you want people to see the list on other websites to come back to your website and not back to List.ly.
The title of the list and/or branded image displayed at the top of the list should be a clickable link to bring you back to your website.

Analytics—a much better analytics module should be available to the list owner. For example, it would be useful to see how many unique people saw the list and a graph displaying statistics related to views and votes.
Private list—it would be great to be able to create a private list so you can restrict it to relevant groups.
There is very limited help available on the site. Some of the features are not explained sufficiently. For example, there is a point score for each user, but no explanation of how these are calculated or the benefit of them.
The Verdict
It's clear that List.ly has a lot of potential.
It's not going to be a complete replacement, as there are some lists that are just not suitable for List.ly, such as personal opinions or lists that are not fluid and instead reflect the situation at a certain point in time. In these cases, you may not want anyone to add to or vote for items on the list.
So while this product has some great features, there are still some improvements that would make List.ly even better.
But in its current form, it's a very useful tool to build collaborative lists and is certainly worth trying out.
What do you think? Why don't you set up a list and give it a try? Please leave your questions and comments in the box below.
Get Your FREE Course: Web3 for Beginners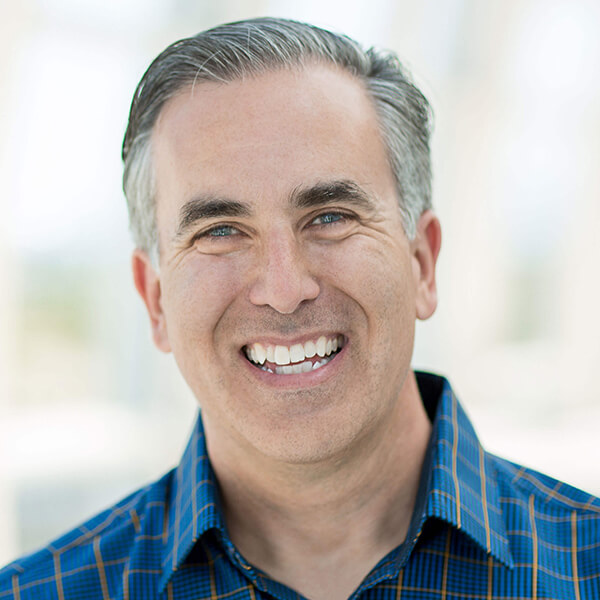 Curious about Web3, but don't know where to start or who to trust?

Introducing Web3 for Beginners, a course taught by Michael Stelzner, the founder of Social Media Examiner.

Learn the basics of Web3 and apply it to your business with this FREE comprehensive course.
CLICK HERE TO GET FREE ACCESS