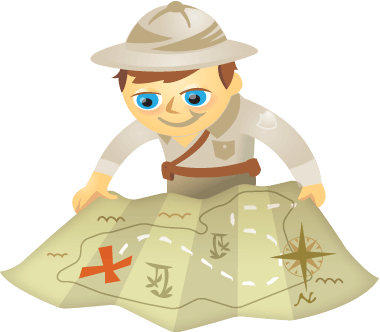 Is there anything from your online past that you would not want people to see?
Do you want to start cleaning up your online identity?
Your digital footprint is everything that shows up when people search for you online.
From images to comments and blog posts, this collective first impression can make or break your online reputation.
In this article, I share 5 tips for making sure your online presence reflects well on your brand or business.
#1: Check Your Facebook Privacy Settings
If you use your personal Facebook profile to promote your business, things from your personal life can become public very quickly. To maintain your privacy, it's important to have your Facebook account set to friends only.
You may think that your account is already on lockdown, but Facebook privacy settings change often. Follow these steps to ensure your profile is ready for potential clients to see.
Specify the audience for future posts
As the default, all Facebook posts are set to Public, so before delving into the past, make sure you privacy-proof your future.
In the privacy settings of your Facebook profile, you can edit the Who can see my stuff? section to choose who'll see your posts. The choices are Public, Friends, Only Me or Custom.
Social Media Marketing Society (Ongoing Online Training)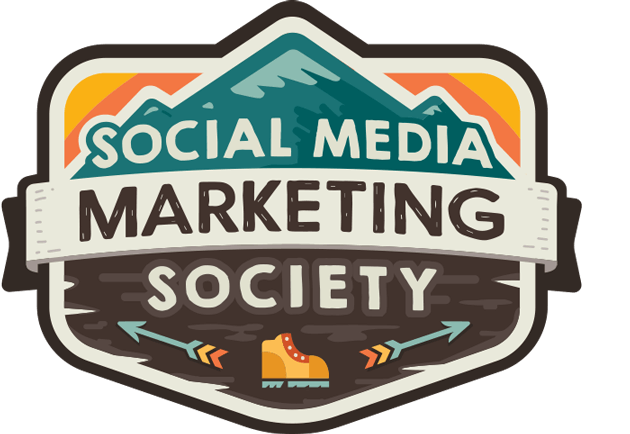 Want to gain marketing confidence and accelerate your career? Try the Society to discover new marketing ideas, improve your results, get support, and become indispensable. Join us for ongoing training, insight from pros, and a community of supportive marketers who understand you.
START YOUR TRIAL MEMBERSHIP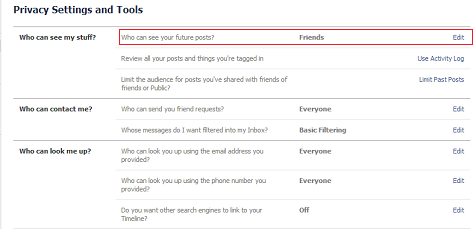 For extreme privacy, the best choice is Friends. If you've already accepted friend requests from both personal and business acquaintances, you can create a Custom list to filter who sees what and avoid any embarrassment.
Edit past actions with the activity log
The activity log lets you edit the privacy and visibility of any action that you've ever made with your Facebook account.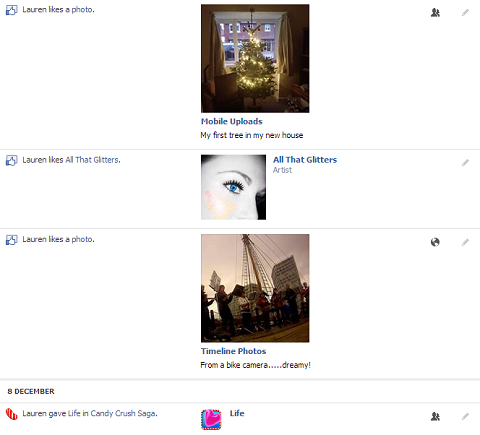 To open your activity log, click on Privacy Shortcuts, the Who can see my stuff? drop-down and then Activity Log.
As you review your actions, use the two drop-down options in each post to change its privacy and visibility settings.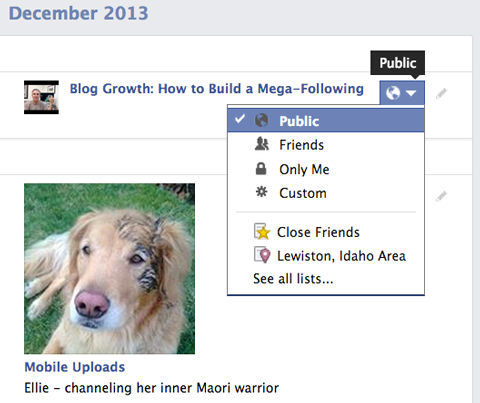 It's a drawn-out process, but well worth the time to know unwanted information isn't available on the Internet.
Change privacy settings of past posts
Facebook has also made it easier to change the privacy settings of your past posts without using activity log.
In Privacy Settings, choose Limit the Audience for Old Posts on Your Timeline to Now, and edit them all with one click of your mouse.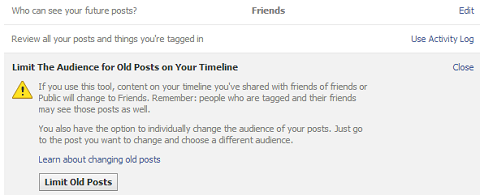 Take advantage of the tools Facebook has in place to help you present a professional identity.
#2: Search Yourself
Most of us don't know everything that's published about us online. In addition to the content we publish, friends and colleagues sometimes share about us, too. Are you sure everything out there is appropriate?
Put Google Analytics to Work for Your Business (Online Training)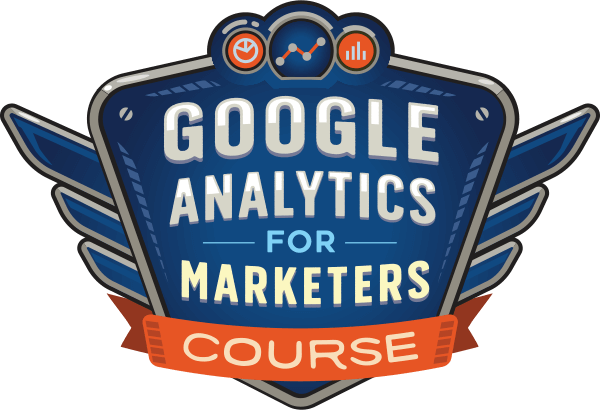 Ever thought, "there's got to be a better way" when it comes to tracking your marketing activities? Are you forced to make decisions based on limited data? With the right training, you can use Google Analytics to measure all of your marketing efforts with certainty.
You'll stop the leaks in your ad spending, justify your marketing spend, gain the confidence you need to make better marketing decisions, and know what's working at every step of the customer journey. Let the world's leading analytics pro show you the way. Check out our new Google Analytics for Marketers course from your friends at Social Media Examiner.
CLICK TO LEARN MORE: ANALYTICS TRAINING
Using multiple search engines, search for your name and see what comes up. A picture can speak a thousand words, so make sure you search for text and pictures.
If you find something that could damage your reputation, take steps to have it removed.
This is an easy fix if you know the person who's responsible for posting it. Ask them to take it down immediately.
However, if the content is on a site hosted by someone you don't know, contact the site owner or administrator with a request to remove it.
Deleted material may still appear in search results for a short time, but will disappear as Google updates its search results.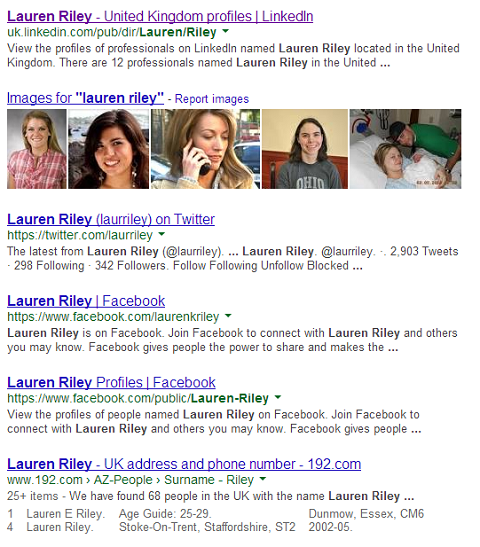 Make a self-search part of your regular reputation management and it's easy to stay on top of where and how you're mentioned online.
#3: Revise Your Personal Blog
While you're well-versed in presenting a professional appearance on your business blog, you need to remember that private blogs show up in search engine results, too.
If you have a personal blog you use to vent frustrations and make personal observations, go through your posts to edit them for language and delete anything that will hinder you professionally.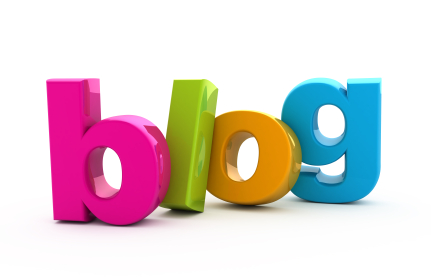 Your blog is a virtual shop window. Make sure your posts are put in front of potential clients for all the right reasons.
#4: Delete Abandoned Social Media Accounts
We all grow up, but that doesn't mean clients need to see the awkwardness. If you still have a MySpace or Bebo account lingering around, it's high time to delete it.
The high-angle MySpace selfies and teen-angsty blog posts were great for high school but won't do much for your business if they're found by the wrong people.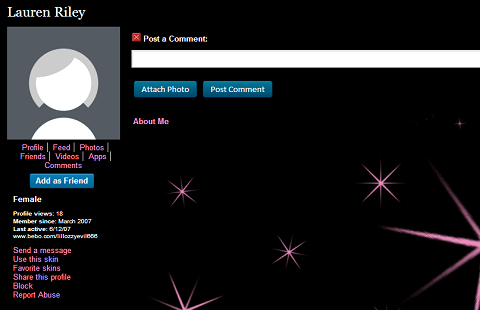 Delete dormant profiles on neglected social media networks to show yourself as a professional.
#5: Think Before You Post
Finally, when you're about to post an angry status or emotional tweet, make sure you'd be happy if a client saw your post and formed an opinion of you based on it.
Also remember that LinkedIn tends to come up first in a personal search engine query, so keep your LinkedIn profile strictly professional.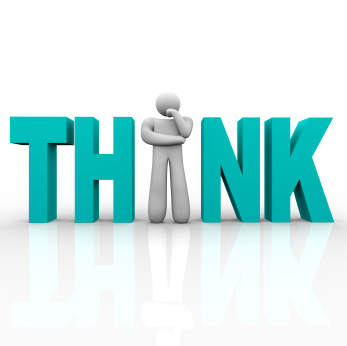 Don't publish offensive or incriminating posts. Share interesting information that paints you in an attractive light to potential clients and you'll increase the chances of contact with them.
Conclusion
Clients, colleagues and employers will form an opinion of you from browsing the first page of Google search results. Use the tips in this article to manage your reputation and ensure that everything that could possibly be found about you online is respectable and professional.
What do you think? Do you agree with cleaning up your digital footprint or should we be more open with the information we share? What tips can you share? Let me know in the comments below!