Get Access to All Our Web3 Training With Your All-Access Ticket!
It's true, attending the Crypto Business Conference is an investment.
But your future is worth it.
You'll be more successful after attending. To help you achieve an amazing return on investment, we recruit the best speakers and provide the best training available in the Web3 industry.
Get your ticket early to get the best deal, and ensure that you're on track to take your business to the next level with Web3.
Register Now!
Ticket Options:
All-Access
(Most Popular)

General Access

On-Demand

Access Keynotes

YES

Access ALL Sessions

YES

Access VIP Networking Parties

YES

Access VIP Networking Lounge

YES

Recordings of ALL Keynotes and Sessions

YES

Networking Plaza

YES

Retail Price

$1,997

$1,497

$797

Not Available
Not Available
Not Available

The Crypto Business Conference takes place in beautiful San Diego, California from October 9th to October 11th, 2022 at the San Diego Convention Center.
Invest in your business with an All-Access ticket
✓ $500 savings from our regular price!
✓ $749 per day of the event
✓ $4.10 a day for one year
Need to convince the Boss? We've got you covered! Click here for an email template.
Refunds: Please be aware of the following cancellation policy: If you cancel before July 31, 2022, you will receive a full refund. If you cancel between August 1, 2022, and August 31, 2022, you will be refunded 50% of your registration fee. If you cancel after August 31, 2022, you are not eligible for a refund. To request a refund, email [email protected] Only requests made by the original purchaser/registrant will be honored.
Is This Event Really Worth It?
Still skeptical? Here's what people had to say after attending our other conferences: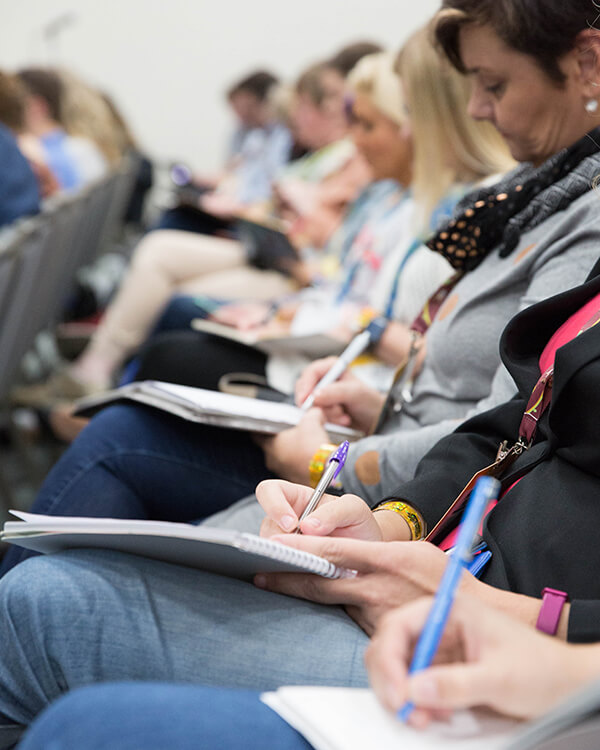 "I've learned more that directly helps our bottom line compared to any other event that I attend," – Shawna Allen.
"It practically paid for itself as soon as I implemented a fraction of what I learned," said Mitch Wilson.
"Unless you've been here, you can't know how incredibly life-changing it can be for your business. It is by far, bar none, the best content-driven conference I have ever been to. I can't say enough good things about it," said Sarah Brodie.
"The best thing that I've ever done professionally, and I love it," said Scott Duehlmeier.
"Everything has changed, and this is where you're going to get the latest, greatest information–the stuff that is hot right now. And you're not going to learn it anywhere else in the world," said Rita Balos.
"It's definitely worth it. The investment is going to pay off in spades. When you look at all the stuff you come away with and if you take full advantage of the opportunities, you make these lifelong connections. I've made a lot of friends here that I continue to pick their brains and vice versa, and it's a really rewarding experience," said Jared Lyman.
"Everyone is here who matters and who wants to learn and hang out with like-minded people. So, this is a good investment. Money and time. It's worth it," said Bea Ploe-Bokor.
Why Should You Attend?
Improve your know-how as pros train you in critical areas of Web3: NFTs, social tokens, and decentralized autonomous organizations.
Instead of guessing what you should or shouldn't do with Web3—which can slow you down and mean lost opportunities—you'll be able to fast-track your success and focus on hitting your big goals in 2022 and beyond.
Discover cutting-edge techniques that work from people who've gone before you and who have achieved proven results.
This could be what you've been missing to accelerate your business and career.
Commonly Asked Questions
Where and when is the conference?
Dates: October 9th to 11th, 2022
Location: The Crypto Business Conference takes place in San Diego, California at the San Diego Convention Center (111 W. Harbor Drive, San Diego, CA 92101).
If I purchased a General Access ticket, can I upgrade to an All-Access Ticket?
Yes. Simply purchase an All-Access Ticket at the current price and then email [email protected] to request a refund on your original General Access ticket.
Will session recordings be available?
If you purchase an All-Access ticket, you will receive recordings of every session and keynote at no added cost.
When should I plan to arrive?
We are still finalizing the schedule, but we recommend arriving by Sunday, October 9th in the afternoon if you have an All-Access ticket. If you have the General Access ticket the event will kick off first thing on Monday, October 10th in the morning. In all cases, we encourage you to stay as late as possible on Tuesday, October 11th, since the best networking happens after the event officially ends.
What if I still have questions?
Send an email to cbconference@socialmediaexaminer.com and we'll get back to you as quickly as we can. You can usually expect a response within one business day. Or call us at +1 858.748.7800 and one of our team members will help you.