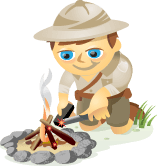 Google Buzz is important, not because it's the next big thing, but because it's from Google and is bolted onto one of the world's biggest email services, Google's Gmail.
When a service launches with millions of users right out of the gate, we need to take notice. That said, it's still the early days for Google Buzz. It might be a bit premature to be jumping on this bandwagon with both feet. So what should you do?
In this article I'll reveal what you need to know about Google Buzz.
The good news is Google Buzz is not particularly complicated or new. Google has used the most basic features from other popular platforms: friends and status updates.
You can post short messages, comment and "like" other people's messages, plus share links and photographs. All familiar stuff. Your initial friends will be from your Gmail address book and you can find other people with the usual searches for email address and name.