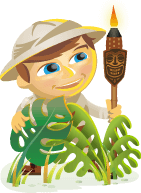 Do you use content to capture the attention of consumers?
Are you wondering how to reach out to a larger audience?
To learn about how any business can become a media outlet, I interview Michael Brito for this episode of the Social Media Marketing podcast.
More About This Show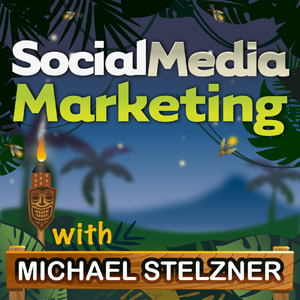 The Social Media Marketing podcast is a show from Social Media Examiner.
It's designed to help busy marketers and business owners discover what works with social media marketing.
The show format is on-demand talk radio (also known as podcasting).
In this episode, I interview Michael Brito, author of Smart Business, Social Business and his latest book, Your Brand: The Next Media Company.
Michael shares the reasons why your business should become a media outlet.
You'll learn the five characteristics behind a successful media company and how to get started.
Share your feedback, read the show notes and get the links mentioned in this episode below!
Listen Now
Where to subscribe: Apple Podcasts | Google Podcasts | Spotify | YouTube Music | YouTube | Amazon Music | RSS
Here are some of the things you'll discover in this show:
Becoming a Media Company
Why you should become "the media"
Historically the media has always captured the attention of consumers. Successful media companies produce great content and Michael says that brands need to think the same way.
If you think about traditional media companies such as Condé Nast, it has a very diverse story and narrative. No matter what the subject is, a consistent story is shared across paid, earned and owned media.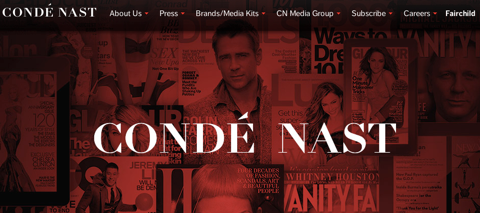 When you start to dissect what they do at Condé Nast, they are actually storytellers.
As a brand, you need to figure out what story you want to tell and then figure out how to tell it. It's not just for social platforms, but across every form of the customer experience. This can include paid advertising.
You have to think of every customer touch point for your business. Media companies are very good at having a consistent story across each touch point.
You'll hear how brands have a lot of power within their own companies to tell a story. You just need to figure out the right operational framework to make it come to life.
Listen to the show to find out what Forbes did that started to grab Michael's attention 3-4 years ago.
Businesses that have become media via their content and platform
Michael gives an example of a brand in the consumer space, B2B space and small business space.
A company that's in the consumer space is Red Bull. Red Bull is definitely a media company that has a very diverse narrative, and it's not about energy drinks. It's more to do with epic events and empowerment. It's another brand that is consistent across all channels.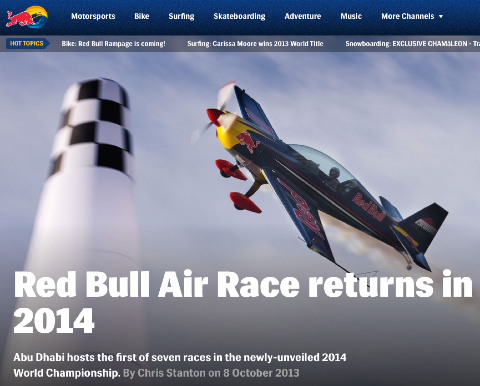 Red Bull has its own in-house media agency that creates compelling content day in and day out, with the consistent message, "Red Bull Gives You Wings."
When Red Bull helped Felix Baumgartner do a space dive, the brand was mentioned for months after the event. The story was told through visual content and long-form content, both paid and owned media.
You'll hear why Michael believes that brands should capitalize on long-form content.
Intel, a company in the B2B space, capitalized on its employees' passion for Intel's products. Today it's referred to as brand journalism. Consumers trust employees of a company, which especially helps when it comes to purchases.
The small business example is a company based in San Francisco called Visage that does enterprise mobility software. Its Chief Mobility Officer blog talks about enterprise mobility and not about the company. Some of the writers are on staff and others are outside contributors.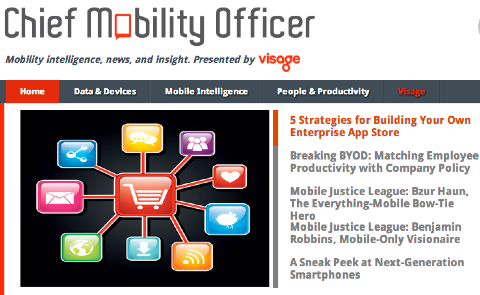 The story affects the way consumers view the brand. It's all value-added content to help non-consumers solve their problems. Michael says this is how brands need to think.
Listen to the show to find out why long form is so powerful for any brand or company.
What it takes to become a media company
After five months of research, which included Michael's own experience and several interviews from traditional media companies, Michael identified five characteristics.
Storytelling
Content
Relevance
Ubiquitous
Agile
Media companies have workflows that facilitate the entire content supply chain—from the initial idea to the time the story is produced, distributed and then integrated into paid or owned media. They have software, editors and proofers.
All of these controls make sure the story is consistent across all channels. It's what pumps and feeds the content engine every day.
Listen to the show to learn why HubSpot is a role model for businesses.
How to determine your focus
Michael states that there are several factors that brands should consider as they think about their narrative.
The first one is your brand's message and what the complete value proposition is. You'll discover why most companies fail on the social side.
A few other factors are the way the media perceives the brand and how they talk about the brand. You need to be aware of how people talk about your brand and make sure it's in line with what you want them to say.
Another important factor is search. You have to understand the way consumers search for your brand.
Michael talks about 10 inputs to determining your focus in his new book, Your Brand: The Next Media Company.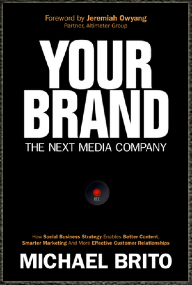 Once you understand all of the inputs, the right story will come to life. The next step is to figure out where you want to tell your stories.
Listen to the show to find out how you can have a different storyline for each platform.
Tips for small businesses that think it's beyond their reach
Michael says that the number-one point is to understand your audience. You need to know what their interests are other than your brand.
There are inexpensive tools available that can help you identify your audience's interests and understand their complete social graph. This allows you to provide more relevancy to your message.
A tool that Michael and his team use to deliver content strategies for clients is Demographics Pro. You can get a complete analysis of your Twitter followers for around $200.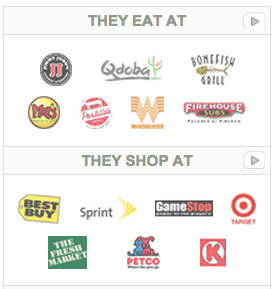 Another company is the Wisdom App, which does a very similar thing within Facebook.
Listen to the show to discover another app that you can use to gather intelligence.
Where to start if you want to become a media company
Michael states that first of all, your brand needs to define its content strategy. There are three points to consider and you'll hear him give an example for each.
What is it that you want to say?
How do you want to say it?
Where do you want to say it?
You can become a media company on all of the social channels you are already active on.
Listen to the show to find out why you don't need to develop a blog from scratch to become a media company.
Hire special people or use existing employees
The resource side is a huge challenge. A lot of businesses don't have the resources available to hire an agency.
There are platforms out there, including Contently and Ebyline, that have a network of journalists, bloggers and influencers. You need to write the creative brief and then hire writers to write the content on your behalf.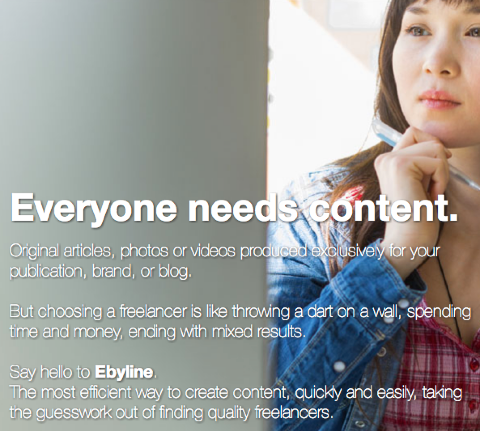 You'll find out who American Express OpenForum uses to create its content.
It's good for business to have a combination of employees and third-party journalists.
Listen to the show to find out how you can discover your best internal people for writing content.
This Week's Social Media Question
Jose Milgar, a graphic designer, asks, "I am about to launch my website called ProyectaPrint. A lot of my colleagues use Facebook to promote themselves as freelancers and I see a lot of local businesses that use Twitter to try to force-feed you their products and services. I am definitely thinking about using social networks to promote my services, but should I address my audience as my business name or my own name? In other words, should I interact with my audience as a business or as a person?"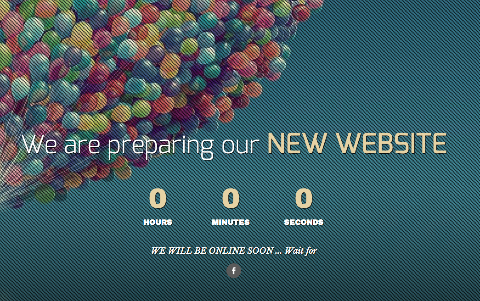 This is the very question I struggled with when I started Social Media Examiner. I had a Twitter account, which is @Mike_Stelzner, and I wasn't sure if I should set up another Twitter account for the brand. I had the same situation with Facebook too.
Since you have a business that transcends Jose the graphic designer and it's not just about you, it's about your business, I strongly recommend you consider both.
With both your business accounts for Twitter and Facebook, you can focus on the brand and business. In particular, the things that your prospects and clients will be interested in.
On your personal profiles, you can do a little bit of both. Sometimes people want to know the man behind the brand, and sometimes people want to connect with you as a human. It's very hard to connect with a brand, but it's very easy to connect with a person. You can even cross-promote between the two.
I think to have both is more work, but it's definitely worth it.
I hope you have found this helpful.
Call in and leave your social media–related questions for us and we may include them in a future show.
Listen to the show to learn more and let us know how this works for you.
Other Show Mentions
Social Media Marketing World 2014 is our physical mega-conference, which is set to return to San Diego, California on March 26, 27 and 28.
Join 60 experts (including Chris Brogan, Mari Smith, Michael Hyatt, Jay Baer, John Jantsch, Amy Porterfield, Mark Schaefer and experts from more than a dozen brands) as they help you master social media marketing at Social Media Marketing World 2014.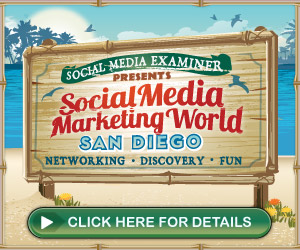 In April of this year, over 1100 marketers from 31 countries attended Social Media Marketing World 2013. You'll hear a clip from Neal Schaffer, who spoke at the conference this year, to give you a taste of what it's all about.
I strongly recommend that you check it out.
Key takeaways mentioned in this episode:
Ways to subscribe to the Social Media Marketing podcast:

What do you think? What are your thoughts on becoming a media company? Please leave your comments below.