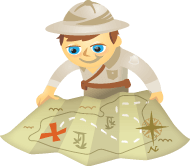 Would you like more traffic to your blog?
Are you looking for creative ways to use Pinterest to benefit your business blog?
Pinterest offers a robust path to help you build your blog.
You can use Pinterest to find content for your blog, grow your audience and increase your website traffic.
In this article, I'll show you 7 easy ways to use Pinterest to grow your business blog and engage further with your online audience.
#1: Create a Blog Think Tank
Are you constantly clipping articles, studies, posts and pictures and placing them in an idea folder—online or off? Pinterest is tailor-made for doing this quickly and easily online.
Create secret boards for your blog post ideas and use them as placeholders for images, videos, quotes, etc. that you want to blog about in the future. Curate boards for single posts, a series you're working on, even potential guest bloggers.