Quick links: Your Role and Schedule |Travel | Trainings | On-Site Staff Information | Attendee Communication | Resources | Security | Code of Conduct | Your Support Team
The success of ANY event is dependent on one key factor: THE PEOPLE
We can supply amazing content, a world class venue, state of the art presentations, valuable sponsor support, and all the ingredients of The Best Conference EVER…but all of that doesn't matter without YOU, the most valuable ingredient to the entire mix.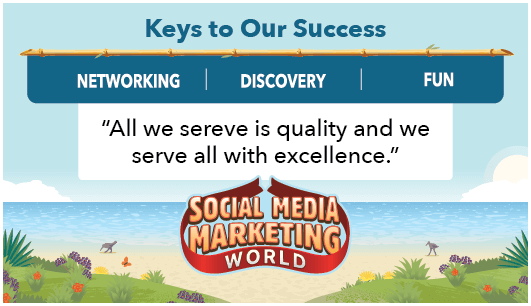 Our vision is undergirded by outstanding Customer Service and YOU are a major part of that. Even if you are just passing a guest, you can smile and make eye contact. Remember to THINK LIKE AN ATTENDEE (or Speaker, Sponsor, Vendor, or Staff), ACT LIKE STAFF (plan for key moments, know the event, and give Hi-5's), and BRING YOUR A-GAME (strive to be an Above and Beyond hero).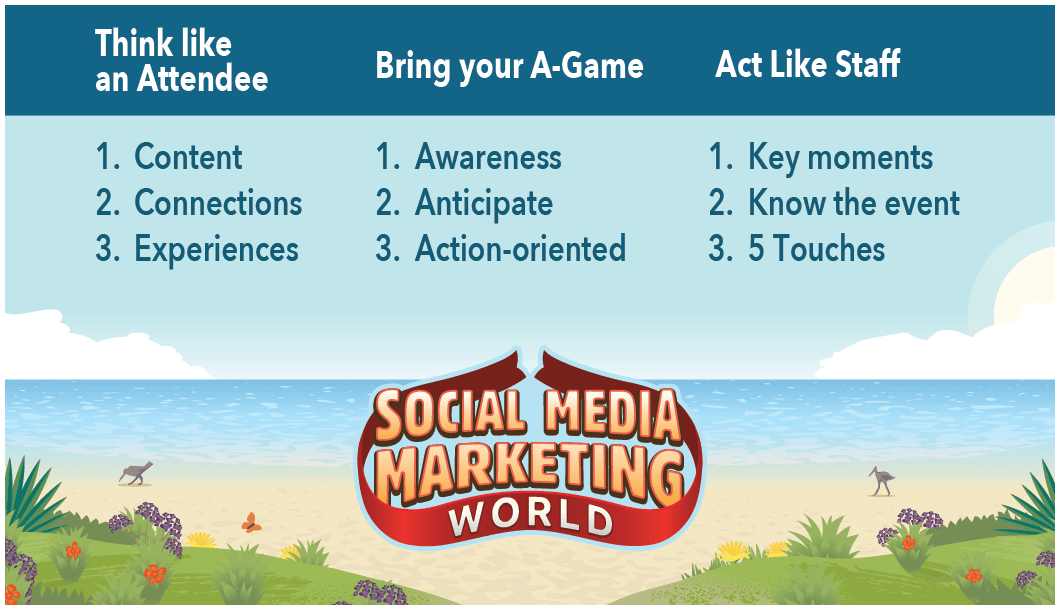 Another key factor of making this event a success is being a part of a supportive and high functioning team. We will all be working long hours, but please make sure to take care of yourself and your team members. If you need a break or see a team member that could use a little time, please let us know and we will send in a backup to help. Your safety and wellbeing are our top priority because without you, the event can't be a success. 
The key to great customer service is our actions. We encourage our team to be an "Above and Beyond Hero" by following our Never and Always service rules: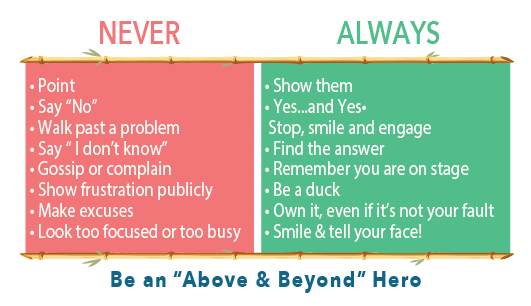 Your Role and Schedule
Your roles will be assigned to you by your supervisor. Contact them if you have any questions about what you will be doing on site.
If you are managing volunteers, you will be their role manager and have access to see their shifts and communicate with them in InitLive.
Don't hesitate to reach out if you have any questions.
div
Travel
Please refer to the SME travel policy for travel allowances. Contractors click here. Full-Time staff click here. Send your invoice to Alex for reimbursement. 
For travel from the airport to the hotel and back (only) you can use Lyft Ride Share. Enter the code EMPSMMW22 for a credit of up to $25 per ride. Types of vehicles are limited.
Hotel confirmations will be sent to all staff closer to the event.
div
Staff Trainings
Pre-Event and Onsite
Prior to arriving on-site, we ask that you complete the online SMMW22 Staff Training. In the training, we will highlight the event review the schedule, share our Service Vision, and provide some additional logistical information to best prepare you for your role at the event.
On-Site Staff/Volunteer Training
Saturday, March 12, 2022: All staff are required to attend our SME staff training, which will be followed by dinner at the San Diego Convention Center in Room 24BC. The training will be from 4:00-5:30pm followed immediately by dinner. 
The Leadership Team will have a mandatory lunch meeting beginning at noon, an invite will be sent with the details.
Sunday, March 13, 2022: For most staff, Sunday will be the main set up and training day. We ask that everyone be on property to assist where needed.  All staff are requested to attend the alumni and staff lunch at 12:00 pm. 
Staff and Volunteer Appreciation: Join Social Media Examiner Wednesday evening after the final keynote at 6:45pm for some pizza, salad, drinks, and to take our group photo and to celebrate our successes at SMMW22. Only available for staff and volunteers. First drink is on us, so we will see you in Room 28ABC. 
div
On-Site Staff Information
Staff Event Packet
CLICK HERE for the most recent Staff Event Packet dated March 9, 2022, which contains information a high level staff schedule, information on our dress code, your meals, trainings, etc… all in one place. 
Packing List
Here is a quick one-page packing list made just for you.
Staff Dress Code
Depending on your onsite role, you will be wearing either a SMMW logoed short sleeve shirt at all times (varying on color) or dressed in business attire. We recommend wearing white or natural undergarments if wearing the white staff shirt. As the convention center temperature may vary, we recommend bringing a white long sleeve to wear under your shirt.
Please wear dark or khaki pants (no jeans) and nice, comfortable shoes (nice tennis shoes are fine).
Please bring a nice warm jacket with you, as there will be outdoor staffing needs. Average March temperatures for San Diego are high-60's to mid 70's during the day and low-50's at night.
You will be provided a new t-shirt for each day you are working. You may keep your shirts at the conclusion of the conference or return them to Room TBD.
Covid Policy
To see our most updated information about our COVID-19 protocols for the event please visit our Health and Safety Page.
We will continue to monitor the changing COVID-19 guidelines established by the Center for Disease Control as well as the policies established by California State and San Diego County and will provide additional updates as the event nears. Thank you for your understanding.
Volunteer Office
The volunteer office will be located in Room 24 of the Convention Center. You are welcome to leave your personal items here but Social Media Examiner cannot be held responsible for watching your belongings.
Meals
Staff will be provided most meals. More details with locations and exact times will be shared as we get closer to the conference.
 
Breakfast
Lunch
Dinner
Saturday, March 12

On Own –

see travel policy

On Own –

see Travel Policy

Event Core Team: Lunch on Site

SME Team Dinner

SDCC Room 24BC

5:30 pm – 7:30 pm 

Sunday, March 13

Breakfast

Room 25

7:00 am – 9:00 am

Lunch – Staff & Alumni Volunteers 

Room 25 12:00 – 1:30 pm

Dinner

Room 25

6:00 pm – 8:00 pm

Monday, March 14

Breakfast

Room 25

6:30 am – 9:00 am

Voucher Provided

Concessions Ballroom 20ABC  Lobby

11:00am – 2:00pm

Dinner

Room 25

5:30 pm – 7:30 pm

Tuesday, March 15

Breakfast

Room 25

5:30 am – 8:30 am

Voucher Provided

Concessions Ballroom 20ABC Lobby

11:00 am – 2:00 pm

Dinner

Room 25

5:30 pm – 7:30 pm

Wednesday, March 16

Breakfast

Room 25A

6:30 am – 9 am

Voucher Provided

Concessions Ballroom 

20ABC Lobby

11:00 am – 2:00 pm

Staff and Volunteer Pizza Party

6:30 pm – 8pm

28ABC

Thursday, March 17

Celebration Breakfast 

(optional) 9:00 am

Marriott Marquis Marina Kitchen 

 

 
Networking Happy Hours:
Pre-Event – Sunday, March 13, 2022

(On Own) – Join the SME team as we kick-off the event at an informal happy hour at the Manchester Grand Hyatt at 8pm. (all invited, not mandatory)
Post Event – Wednesday, March 16, 2022

(On Own) – Join the SME team as we celebrate the end of a great event at the Manchester Grand Hyatt at 8pm. (all invited, not mandatory)
SDCC Food Options: 
We will be providing detailed options, locations and menus as we get closer to the event.
Attending Sessions
Once you are done with your assigned role/shift, you are welcome to attend sessions.
Please remember that when you are wearing your staff shirt, attendees will assume you are "working" whether you are or not.
div
Attendee Communication
We invite all of our staff to join our SMMW22 Facebook Community, just CLICK HERE and use the password SMEStaff. Start having great conversations, creating some meaningful connections, and begin making plans for March.  
div
Additional Resources
Attendee Portal
Another resource for event information is our Attendee Portal. If you can't find the answer to your question here, you most likely will find it there!
Get to know our Speakers
SMMW always attracts the best of the best and this year is no exception. Make sure to check out the list of our guest speakers along with their biographies. This is a great tool to help you plan which sessions you want to attend on your down time and to answer attendee questions about our event content.
Agenda
With so much going on, you will need to know the complete schedule. Click the link below to see the most recent Event Agenda:
Networking
A key component of SMMW is the fantastic Networking opportunities. Make sure you check out this link to plan catching up with old friends, meet new ones, and create connections.
div
Maps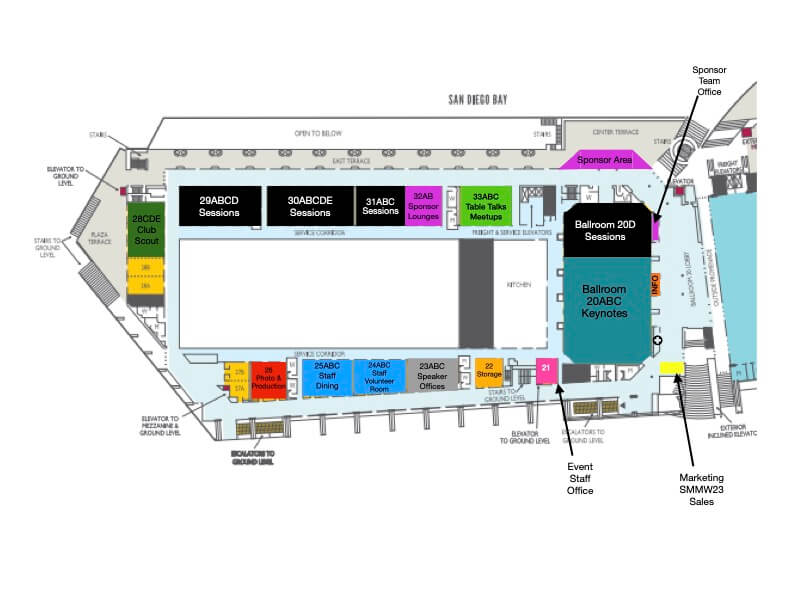 div
Security
Security Information
Please wear your name badge at ALL times.
We will have an overnight security guard on duty starting Saturday. However, we recommend high value items, i.e. laptops etc., be brought each morning and not be left overnight.
Security Reminders
Your safety is important to us. It's important to take the same precautions you do in your home.
When in your sleeping room, please use ALL locking devices (deadbolts and safety latches).
Utilize hotel room safes. If a safe is not available or will not accommodate your laptop computer, utilize a security locking cable or keep your computer with you at all times.
Please take your valuables (i.e. laptop, iPad, purse, etc.) and printed materials with you when you leave meeting rooms.
Please carry the name, address and telephone number of the hotel with you whenever you are away from the hotel.
To maintain the integrity of SMMW, please shred all event documents before leaving and please do not take them with you.
div
Code of Conduct
Please read the Social Media Marketing World Code of Conduct here.
It's important that all staff abide by the Code of Conduct, but also be able to observe violations and take those to the appropriate leaders. All issues of sexual harassment, inappropriate behavior, or personal safety/feeling threatened should be taken immediately to Lisa Jenkins or Mike Stelzner.
div
Creating Transformational Moments Together