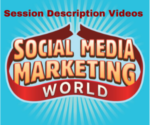 Want help finding the sessions you should attend?
Below are links to each day, click on the day to find the session you want to learn more about.
**If the session you wanted to see is not there it is because there is not a video for that session**
div
div
If you find a session you don't want to miss be sure to add it to your calendar in the app. If you need helping finding which sessions are on each day check out the detailed agenda.
Sunday, March 1, 2020
Times:
12:00pm – 1:30pm
How to Develop a Mindset That Will Empower You to Achieve Any Goal
By Cliff Ravenscraft

Topic: Business Mindset
How to Build a Digital Marketing Plan to Grow Your Business
By Rich Brooks

Topic: Digital Marketing
2:00pm – 3:30pm
The Influential Personal Brand: How to Turn Your Reputation into Revenue
By Rory Vaden

Topic: Personal Branding
3:50pm – 5:20pm
Visual Design for Non-Designers: How to Create Amazing Content for Your Business
By Donna Moritz
How to Write Copy That Sells Without Being "Salesy"
By Ray Edwards

Topic: Copywriting
Monday, March 2, 2020
Times:
10:30am – 11:15am
How to Create a LinkedIn Content Strategy That Attracts Your Ideal Prospect
By Viveka von Rosen

Topic: LinkedIn
How to Prove the ROI of Your Social Media Marketing
By Christopher Penn

Topic: Analytics
How to Get Your Videos Discovered on YouTube
By Tim Schmoyer

Topic: YouTube for Business
Advanced Instagram Stories: Techniques to Create Engaging Stories

By Sue B. Zimmerman
Topic: Instagram
How to Get More Leads and Sales With Your Facebook and Instagram Ads
By Rick Mulready

Topic: Facebook Advertising
11:35am – 12:20pm
How to Use Chat Marketing to Grow and Scale Your Business
By Mike Yan

Topic: Messenger Bots
Effective Organic Social Strategies for Driving More Foot Traffic
By Stacy Tuschl

Topic: Local Business Marketing
What Do They Want? How to Use Analytics to Draw in The Right People and Keep Them Happy
By Andy Crestodina

Topic: Analytics
5 YouTube Ad Tactics to Scale Any Business
By Brett Curry

Topic: YouTube for Business
How to Create Unforgettable Instagram Stories – Even When You're Busy
By Alex Beadon

Topic: Instagram
How to Design an Organic Video Strategy That Turns Your Ideal Audience Into Customers
By Ben Amos

Topic: Video Marketing
12:40pm – 1:25pm
10 YouTube Thumbnail Split Testing Strategies That Resulted in 300 Million Views
By Evan Carmichael
Topic: YouTube for Business
How to Create Videos People Will Watch to the Very End
By Nick Nimmin
Topic: Video Creation
Instagram Strategy: How to Create Content That Thrives on Instagram
By Jenn Herman
2:15pm – 3:00pm
How to Get Your Ideal Audience to Consistently Tweet About You and With You
By Chris Strub
Topic: Twitter

How to Get a Crap-Ton of Eyeballs With Video Ads That Brand and Sell
By Daniel Harmon
Topic: Video Marketing
Becoming Iconic: How to Move Your Social Media to the Ultimate Level of Distinction
By Scott McKain
Topic: Strategy
How to Creatively Engage Your Facebook Group to Keep People Coming Back
By Bella Vasta
Topic: Facebook Groups
3:20pm – 4:05pm
Advanced Cold Audience Facebook Ad Targeting: Step-by-Step
By Paul Ramondo
Topic: Facebook Ads
How to Multiply Your Webinar Conversions Using Messenger Bots
By Natasha Takahashi
Topic: Messenger Bots
The Fast, Easy, and Non-Sleazy Way to Generate Leads on LinkedIn
By John Nemo
Topic: LinkedIn
Organic Traffic is NOT Dead: How to Drive More Visitors to Your Content the Ultimate Strategy to Market Your Brand on YouTube
By Holly Homer
Topic: Content Marketing
4:25pm – 5:10pm
Getting Started With TikTok: Leveraging 15-Second Attention Spans
By Rachel Pedersen
Topic: Video Marketing
The Ultimate Facebook Ad Local Playbook to Drive Leads, Foot Traffic, and Revenue
By Dennis Yu
Topic: Local Business Marketing
How to Turn Your LinkedIn Page Into a Lead-Generating Machine
By Michaela Alexis
Your YouTube Rapid Growth Plan: How to Grow Your Audience and Profit
By Sean Cannell
Topic: YouTube for Business
How To Get Customers To Do Your Social Media Marketing For You
By Dan Gingiss

Topic: Customer Advocacy
Digital Empathy: How to Build a Social Media Community, Not Just a Following!
By Brian Fanzo

Topic: Influencer Marketing
Tuesday, March 3, 2020
Times:
8:30am-9:30am
How to Build a Brand on Instagram That Stands Out and Thrives
By Jasmine Star
Topic: Instagram Marketing

10:15am – 11:00am
How to Use Organic Facebook Content and Deliver Epic Results
By Mari Smith

Topic: Facebook Organic
How to Deliver Amazing Customer Service in Today's Digital World
By Shep Hyken

Topic: Customer Advocacy
How to Implement Results-Driven Marketing Tactics on Twitter
By Dan Knowlton

Topic: Twitter
How to Create Videos on The Go Like a Pro: Advanced Audio, Lighting, and Filming Tips
By Justin Brown
Topic: Video Creation
How to Use Facebook Ad Analytics to Improve Your Performance: A Deep Dive
By Andrea Vahl
Topic: Facebook Ads
How to Creatively Repurpose Content for Maximum Impact
By Melanie Deziel
11:20am – 12:05pm
How to Get Your Pinterest Pins to Appear in Pinterest and Google Search
By Peg Fitzpatrick

Topic: Pinterest
How to Maximize the ROI of Facebook Ads and Instagram Ads for Your Local Business
By Allie Bloyd

Topic: Local Business Marketing
12:25pm – 1:10pm
How to Capture Attention, Amplify Your Message, and Keep Your Audience Coming Back for More
By Jessika Phillips

Topic: Social Strategy
2:00pm – 2:45pm
Influencer Marketing Strategy: How to Maximize Your ROI
By Neal Schaffer
Topic: Strategy
Words That Sell ANYTHING! How to Write High Converting Facebook Ads
By Ken Moskowitz
Topic: Video Creation
How to Build a Bot That Isn't "Salesy" but Gets Subscribers Begging to Buy
By Mary Kathryn Johnson
Topic: Messenger Bots
How to Create LinkedIn Ads That Convert
By AJ Wilcox
Topic: LinkedIn
Prepare to Perform: Professional Secrets to Speaking On Camera With Clarity and Confidence
By Molly Mahoney
Topic: Video Creation
How to Use Instagram Ads at Every Stage of Your Sales Funnel to Generate More Leads and Sales
By Andrew Hubbard
Topic: Instagram
3:05pm – 3:50pm
How to Build a Facebook Ads Funnel That Converts Strangers Into Customers
By Charlie Lawrance
Topic: Facebook Ads
How to Drive More Traffic With Pinterest Video
By Jennifer Priest
Topic: Pinterest
How to Design Marketing Dashboards That Make You Smarter—With Google Data Studio
By Chris Mercer
Topic: Analytics
How to Create a Live Show: Tips, Tools, and Techniques to Succeed
By Ian Anderson Gray

Topic: Live Video
4:10pm – 4:55pm
How to Get Quality Leads With Messenger Bots: Tools, Rules, and Resources
By Kelly Noble Mirabella
Topic: Messenger Bots
The Video Sales Machine: How to Make a Video That Gets You Customers
By Owen Video
Topic: Video Marketing
Subscription Triggers: How to Convert Site Visitors Into Subscribers Who Become Superfans
By Pat Flynn
Topic: Strategy