Networking for Attendees
We understand making connections at Social Media Marketing World is important to you. In fact, 80% of past attendees have told us networking is a significant reason they attend the event.
It's our goal to help you find your tribe and make deep connections that last well beyond the conference.
We've developed several different opportunities – both online and at the event – to help you network easily and successfully.
Networking Opportunities
Whether you prefer to network at meals, online, or on the go, we've got plenty of networking opportunities for you to get the most out of Social Media Marketing World.
Online Networking
▼ Join a Pre-event Networking Group ▼

Meet your fellow attendees today by joining one of our networking groups. We offer several groups so you can network on the platforms where you regularly spend time.

Join the Social Media Marketing World 2018 LinkedIn Private Group: This is a great place to find attendees, ask questions and share information on the kind of people you are looking to meet. Click here to join.

Join the Slack Group: We use Slack to create niche conversations around topics and interest areas we know you care about. These "channels" are designed to help you focus your pre-event and on-site networking.

Follow these four steps to get started:

1. Use this LINK to sign up for our SMMW18-Group Slack page.
2. Look for an email invitation from Slack with a link to get started.
3. Create your profile in Slack.
4. Once you're all signed up in Slack, join the channels that interest you.

NOTE: If you are new to Slack we created three videos to help. 1) This one explains what is Slack. 2) This shows you how to get started on Slack. 3) Finally, this one explains Slack DM notifications.
On-site Networking

Here are some of the many ways you can make the most of the networking opportunities on-site at Social Media Marketing World.

▼ Attend our Wednesday and Thursday Night Networking Parties ▼

Exclusively for All-Access Tickets! Kick off Social Media Marketing World 2018 in style aboard a naval aircraft carrier, the USS Midway on Wednesday, February 28th, from 7 – 11 pm.

Thursday, March 1st take a walk on the wild side at our second-night networking event, Welcome to the Jungle party at Parq Event Center from 8:30 – 11:30 pm.
▼ Visit the Networking Embassy ▼

The Networking Embassy, located in the Networking Plaza, is the home of the Networking Team and where you come to find connections. We can help you connect with professionals who share your interests. We can also assist with questions about our Slack Networking Group or the event app.



▼ Attend Networking for Introverts Workshop ▼

Want to get the most out of the conference without losing all of your energy? Looking to manage the sea of people so you can find the few you really want to connect with?

Plan to attend this highly interactive workshop with Jillian Vorce and Mike Bruny – Conference Networking for Introverts – held on Wednesday to learn more about networking and to make a few connections before the evening party. Click here for more details.

▼ Network at MeetUps ▼

Looking to meet new people? Want to find people who have the same interest as you? Want to eat with others at the local restaurant/bars before, during and after Social Media Marketing World? Want to meet people before the USS Midway Networking Party? Want to exercise with other attendees? Try our

MeetUp & EatUp Signups.
▼ Join Lunchtime Table Talks ▼

Want to discuss specific social media topics with your peers? We'll be offering Table Talks in the Networking Plaza on Thursday and Friday at lunch. Grab your lunch and find a table of interest and connect with speakers and peers. 

Boxed lunches for All-Access ticket holders are included with your ticket. We will have boxed lunch options available for purchase for Marketer, Creator, and Community ticket holders.

Look for a topic that interests you or a type of person you want to meet. We'll have a table layout map and topics listed on-site at the Networking Plaza. These tables keep their topic all day long. Stop by anytime for additional meetup opportunities. Here's a partial list of tables:

Strategy/Tactics

 –Branding, Content Creation, Influencer Marketing, Social Media Management Tools, Social Media Strategy, Social Selling, Storytelling, etc.

Analytics

– Google Analytics and Measurement/ROI

Social Tactics 

– Blogging, Engagement, Community Development, Advertising, Podcasting, Social Management Tools, Mobile, Live Video, etc.

Social Platforms

 – Facebook, Instagram, Snapchat, Twitter, Pinterest, YouTube

Social Future – Trends, Virtual Reality/360, and Artificial Intelligence
Niche Interests – Agencies, Corporate Marketing, B2B, Big Brand Professionals, Small Business, Government, Media and Publishing, Non-profit, Education, Faith Based, Tourism, Food/Restaurants, etc

.

Creators – 

Podcasters, Bloggers, Video Marketers, etc.
▼ Network at the Power Networking Walks and Runs ▼

Guided by our Networking Team, all conference attendees are welcome on the 6am walks / runs on Thursday and Friday. This is a great way to get in a little exercise and connect with someone else in a low-stress environment. We'll leave from the Marriott lobby at 6am
Meet Your Networking Team
The Social Media Marketing World Networking Team is here to serve you both before and during the conference. Pre-event, you'll see the team on the Facebook Event page and in the groups.
The sole focus of our dedicated Networking Team, "The Blue Shirts," is to help you make meaningful connections. You'll find us at Registration on Wednesday and in the Networking Embassy on Thursday and Friday. We are here to help you!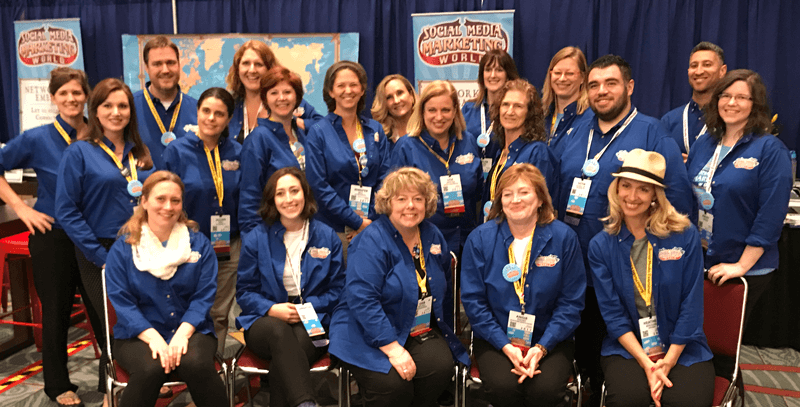 Jillian Vorce, Networking Ambassador | jillian@thejilliangroup.com

Mike Bruny, Networking Ambassador | ambassadorbruny@gmail.com

Deb Mitchell, Networking Coordinator | debmitchell@socialmediaexaminer.com