Networking for Attendees
We understand making connections at Social Media Marketing World is important to you. In fact, 80% of past attendees have told us networking is a significant reason they attend the event.
It's our goal to help you find your tribe and make deep connections that last well beyond the conference.
We've developed several different opportunities – both online and at the event – to help you network easily and successfully.
div
Networking Opportunities
Whether you prefer to network at meals, online, or on the go, we've got plenty of networking opportunities for you to get the most out of Social Media Marketing World.
Online Networking
We have four ways for you to start networking today. Jump into the conversations.
#1: Join our discussion groups: This year we have created a number of special Facebook discussion groups so you can connect with fellow attendees. Click here to see the groups available and start connecting today. We have many groups available today and will add a lot more over the next few weeks.
#2: Follow the event hashtag #SMMW19 on Twitter and Instagram: Share photos and connect with other attendees.
#3: Join the Social Media Marketing World 2019 Facebook Event Page: We provide tips and updates about Social Media Marketing World 2019 here; it's also a great place to network with other attendees. Go here.
#4: Follow the Twitter list of speakers: Follow what our speakers are talking about and start to engage with them now. Click here.
Meet Your Networking Team
The Social Media Marketing World Connections Crew is here to serve you both before and during the conference. Pre-event, you'll see the team in the Facebook groups and conference app.
The sole focus of our dedicated Connections Crew, "The Blue Shirts," is to help you make meaningful connections. You'll find us at Registration on Wednesday, at the Networking Party on Wednesday evening and in the Connections Corner on Thursday and Friday. We are here to help you! Look for us wearing our blue shirts!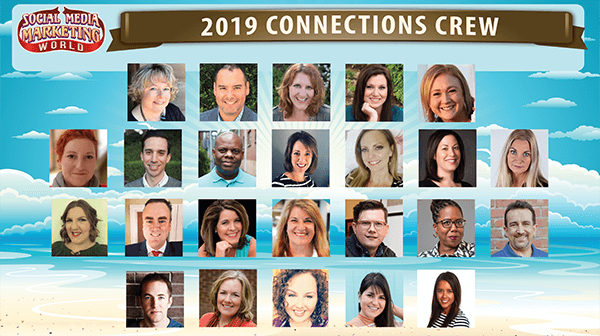 Onsite Networking
We've put together the most comprehensive in-person networking you will ever experience! Here's what we offer:
Networking Plaza: Want a place to meet other attendees? Open Wednesday evening (5:30-8:00pm) for the Opening Night Networking Party (All-Access attendees only) and all day Thursday (9:15am – 6pm) and Friday (9:30am-5pm), it's the social hub of the event. Join other attendees and hang out during the conference. The Networking Plaza is also the home of the Connections Corner, Table Talks, Sponsor booths, Live Stage, Food Court, and Content Stages A and B.
Connections Corner: This is home base for the Connections Crew, aka the SMMW networking team. Have a question about how to find your tribe? Need help with EatUps or Table Talks? Stop by and the Connections Crew can help you increase your chances of making the connections you want.
Conference App: The Whova conference app is a great tool for connecting with other #SMMW19 attendees and speakers. View profiles, arrange meetings, exchange contact info and more!
Opening-Night Networking Party
Exclusively for All-Access Tickets! Kick off Social Media Marketing World 2019 in style.
On March 20th, 2019, come to the Networking Plaza to network with the top social media pros.
TIME: 5:30-8:00pm
Enjoy a drink on us, make new friends, and spark conversations at our opening-night networking party.
This party is designed for networking. The moment you enter, you'll be handed our Networking Bingo card, which makes it very easy for you to quickly meet other people.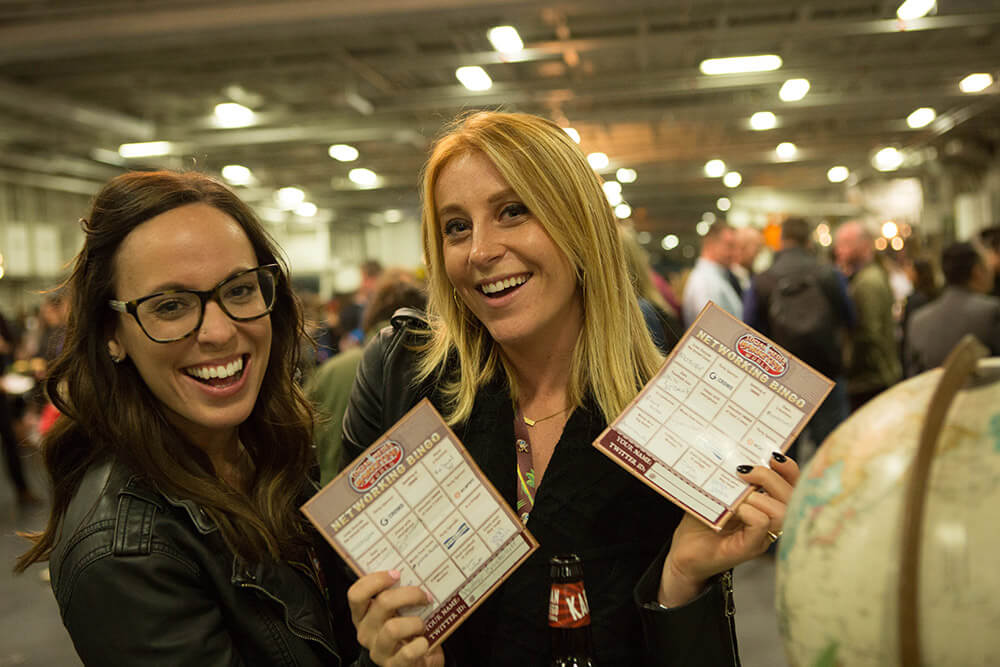 Second Night Networking Party – TOTALLY AWESOME 80's
Hey Bud, Let's Party!! (exclusively for All-Access Tickets). Grab some leg warmers and neon, slide into acid wash jeans and a muscle shirt, or pop the collar on your Izod and join us at our TOTALLY AWESOME 80's party, the second-night networking event at Social Media Marketing World 2019.
Whether you're a preppie, a material girl, or a big-haired rocker, meet your fellow marketing peeps at a party that celebrates the best decade yet – the 80's!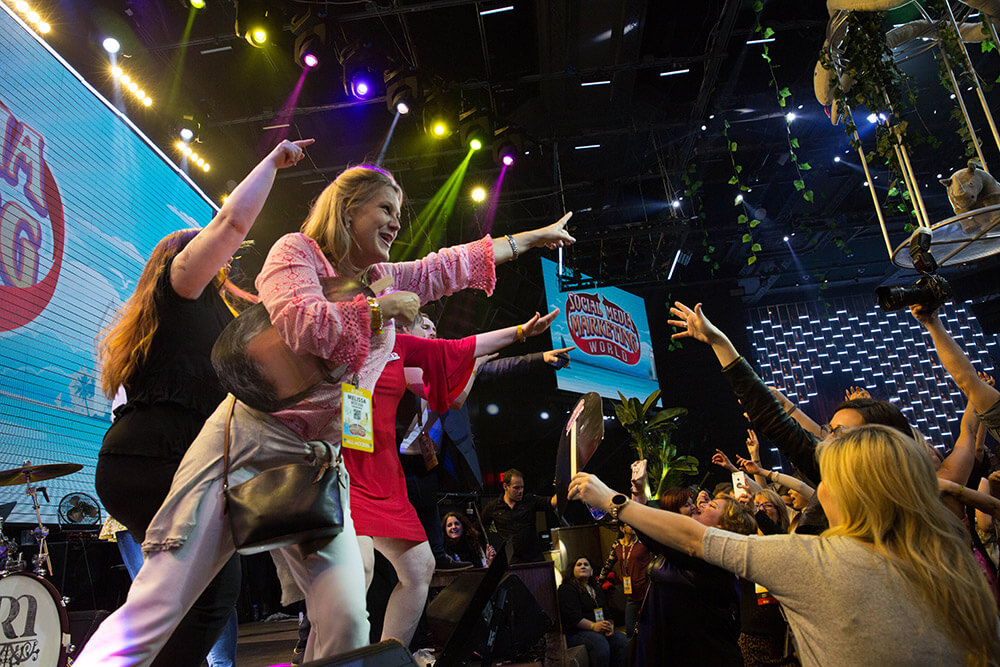 Grab a mic and sing along with our live band social karaoke to your favorite 80s tunes. You'll enjoy a bitchin' good time with speakers and attendees together.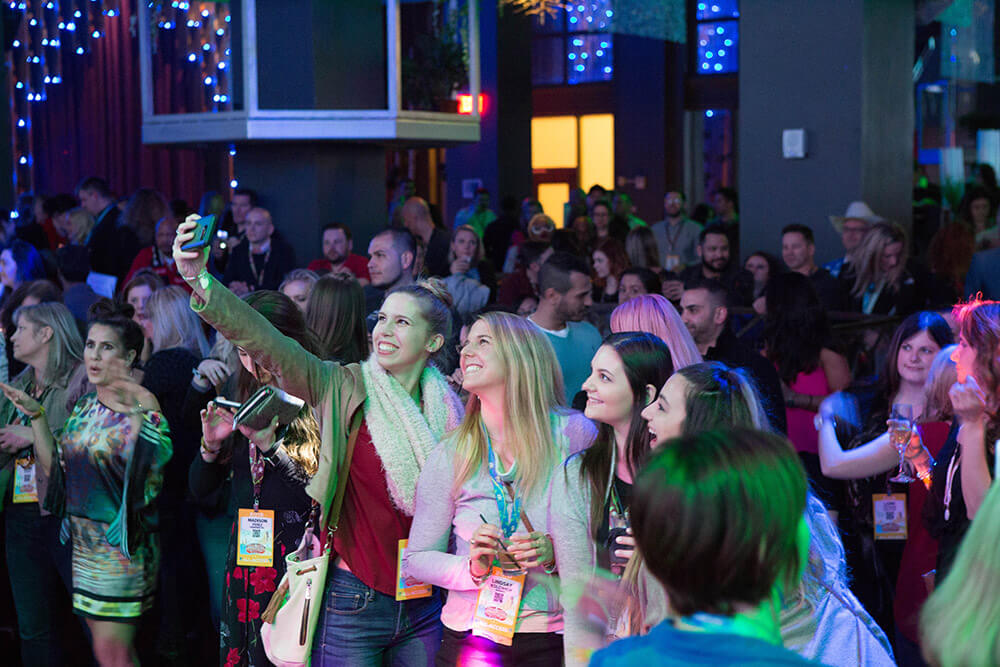 There's also space to chill out with marketing friends to enjoy cool games, conversation, and spirit-tasting that San Diego is famous for. It's so totally rad!
Join us as we take a step back in time to the Totally Awesome 80's! Thursday, March 21st, 2019, from 8:30pm – 11:30 pm at Parq Event Center. (Included with your All-Access registration to Social Media Marketing World.)
DON'T FORGET YOUR NAME BADGE AND WRISTBAND! Your All-Access name badge and wristband are requested for exclusive access to this event. ID is required for those drinking alcoholic beverages.
Shuttles depart to Parq every 15 minutes from event hotels from 8:15PM-11:45PM:

Blue Loop

: Hyatt and Hilton Bayfront

Red Loop

: Horton Grand, Kimpton Solamar, Omni and Marriott Gaslamp.
The last shuttle will depart from Parq at 11:45pm.
Events & Activities
EatUps & Activities: Connect with other #SMMW19 attendees over breakfast, lunch, brunch, dinner or drinks. Join a networking activity like a jog, coffee or adventure trip. Use our conference app to find an existing activity or even create your own! When in the app, click Community then "Social Activities or Meal Together" to view the events.
Official MeetUps at the Opening-Night Networking Party (sponsored by LoveHandles and Social Media Marketing Society): Open to All Access ticket holders only
During the party, join us at our Official MeetUps. These are a fun way to kick off SMMW19 with your tribe! We will have MeetUps for #First-Timers, #Solo, #Introverts, #Agencies, #Higher Education and more! Meet a few new connections and then go enjoy the party. Don't forget to play our popular Networking Bingo to win prizes. View the Agenda in Whova for up-to-date Official MeetUp times and topics.
Table Talks: Want to create connections over lunch? Grab your lunch and head to the Table Talks area in the Networking Plaza on Thursday and Friday. Find a table of interest for in-depth conversations with speakers and peers. If you're looking to chat about specific social media topics throughout the day, you're in luck! The tables will be available as meetup spots at the Wednesday Networking Party and all day Thursday and Friday. Stop by and chat with like-minded people about topics that interest you.
Movement, Wellness, and Recharge Lounge
Power Networking Walks: Meet Thursday and Friday at 6 am in the Manchester Grand Hyatt lobby, Omni San Diego lobby or Hilton Bayfront lobby. Join other early-risers and explore a bit of San Diego. This is a low-key way to make new connections!
Movement Classes: Meet Thursday and Friday at 6am in Hall G for early morning movement class to get relaxed for the day.
Wellness Wednesday: It's #WellnessWednesday at #SMMW19. It's no secret physical activity improves focus, energy and mood. Studies show physical activity keeps your brain in shape for:
Faster learning and absorption
Increased productivity
Reduced stress and anxiety of being away from home.
Join us in Hall G on Wednesday between 9:00am and 11:30am for a variety of classes to get your body moving. See: socialmediaexaminer.com/activities for the class schedule
Recharge Lounge & Quiet Zone:
Ready to step beyond the regular agenda? Literally. We've lined up a series of health and wellness activities designed to recharge, restore and refresh in the Recharge Lounge. View the activity schedule or just stop by the quiet zone to unplug while you recharge your devices.