MeetUp & EatUp Signups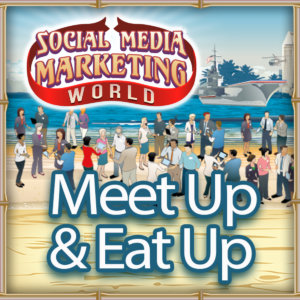 Looking to connect with other #SMMW18 attendees over lunch, brunch, or dinner? Need to connect with other attendees before the evening networking parties? Want to exercise with fellow attendees? Let us help!
MeetUp & EatUps happen when a group of 8-10 people meet for a meal at a nearby restaurant. Groups are typically organized by niche (social media managers, small business owners, etc.). We also have some pre-networking party MeetUps and Exercise MeetUps planned.
Our team helps organize the groups, you just need to find a MeetUp that works for you!
To Participate: Click on the orange button below and visit our Signup.com Group. You can do this on your desktop or on your phone. If you use your phone, we recommend you use their website (free) instead of purchasing the $1.99 signup.com app. Once in the #SMMW18 Group, you'll find a listing of MeetUps happening during #SMMW18. Simply find something of interest and sign-up for an open spot! Then meet your group once you arrive in San Diego…you'll find these groups are some of the best networking at #SMMW18!
To Host: Every group needs a host! It's easy to do. If you're willing to host the group you signed up for, please make a comment in your event and we will be in touch with details.
Looking for a restaurant? Use this guide to find a restaurant close to the San Diego Convention Center or hotels. Select "Seaport Village/District" or "Gaslamp Quarter" in the Neighborhood drop-down menu.
Find a MeetUp & EatUp Group Now
Want to start your own group or don't see your niche?
Fill out the form below and our MeetUp & EatUp Coordinators, Jill and Jessica will add your group and details to the MeetUp & EatUp listings.
Want to start your own MeetUp & EatUp group? Click here
Questions or need help? Contact our MeetUp & EatUp Coordinators.