MeetUps, EatUps & Activities 
Looking to connect with other #SMMW19 attendees? Here's how.
MEETUPS
Official MeetUps are scheduled on Wednesday during the Networking Party. Look for MeetUps for first-timers, solo attendees and more. View MeetUp in the SMMW Agenda on the event app.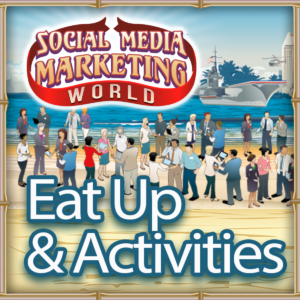 EATUPS
Want to meet others & talk over breakfast, lunch, brunch, dinner, or drinks? Attend an EatUp!
EatUps happen when a group of 8-10 attendees meet for drinks or a meal at a nearby restaurant. Groups are typically organized by niche (social media managers, first-timers, solopreneurs, agency, higher ed, small business owners, etc.).
Download the SMMW event app called Whova. Once in the app, go to the Community section at the bottom of the app. Under "Social Activities or Meal Together" you'll find existing EatUp groups. Don't see one you're interested in? Add your own! See the instructions below.
ACTIVITIES
Want to connect with others without food being involved? Find an Activity (or set up your own) in the Whova event app the same way you'd find or create an EatUp.
How to add an EatUp or Activity Instructions
1. Decide on a niche
2. Find a restaurant (or place), choose a date and time, and make a reservation
3. Create your EatUp or Activity in the Whova event app (watch this video to learn how & refer to the formatting below)
4. Interested attendees will join your EatUp or Activity using the Whova app
5.  Attend your EatUp/Activity
Tip: The SMMW Facebook Groups are the perfect place to find people who might be interested!
Looking for a restaurant? Use this guide to find a restaurant close to the San Diego Convention Center or hotels. Select "Seaport Village/District" or "Gaslamp Quarter" in the Neighborhood drop-down menu.
*Please note: EatUps and Activities are unofficial SMMW events and everyone is responsible for paying for their own meal/drinks/activity. EatUps and Activities are subject to SMMW staff editing & approval.
For businesses and brands, we offer paid sponsorships to connect you officially to #SMMW19 attendees during event hours. To become an official sponsor, visit Sponsorships or contact Emily Crume at [email protected]. You may host and list an activity during non-agenda hours, please make sure it is accessible to all attendees.
How to Format an EatUp or Activity in the Whova Event
When creating an EatUp or an Activity in the Whova event app, please follow this formatting in the title & description fields:
ACTIVITY TITLE: EatUp (or 'Activity') #YourNiche Dinner (or Breakfast/Lunch/Brunch/Drinks/Activity) – 8 spots*
DESCRIPTION: If you are interested in #Niche & want to meet other #Niche people, this is the EatUp (or 'Activity') for you! Add any details about your activity.
If you add an EatUp, you are responsible for making restaurant reservations. We recommend groups of 8.
If you add an Activity, you are responsible for setting the number of spots and making arrangements, if necessary, for the activity.
*When your event is full, please edit the title and add the word 'FULL' to the end of it.
———-
Have questions or need help? Contact our MeetUp & EatUp team at [email protected].