Attendees: Social Media Marketing World 2018

Welcome to the attendee portal! Here you will find up-to-date details to help you make the most out of your Social Media Marketing World experience. We recommend you bookmark this page.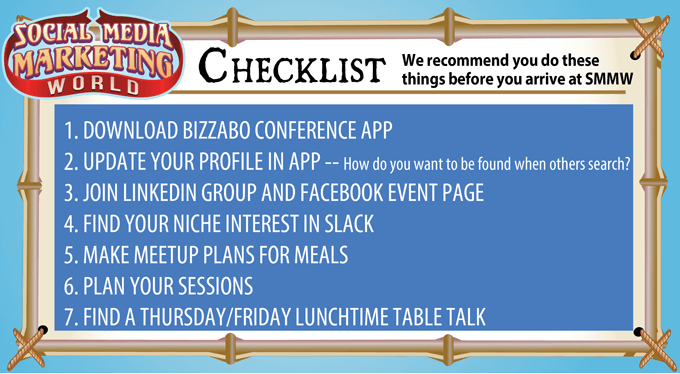 LINKS: APP | LINKEDIN GROUP | FACEBOOK | SLACK | MEETUP | SESSIONS | TABLE TALKS
Be sure to check back periodically as we add more exciting and important information leading up to the event.
Recent Updates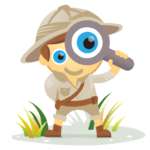 Scout's Tip #28: Wifi Usage At The Convention Center
There will be free WiFi in our event space at the San Diego Convention Center. The network is SMMWorld. Streaming and live video will not be permitted on the WiFi network. We discourage any live broadcasts of sessions, workshops and keynotes. (2/24/18)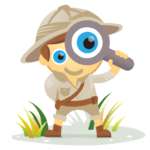 Scout's Tip #27: Use the Event Facebook Frame
Watch this video
to learn how to use our Facebook frame on your profile picture, stories and more.
(2/23/18)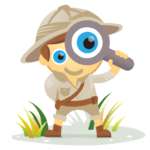 Scout's Tip #26: Never Eat Alone
Looking for your peers or a chance to discuss your burning question? Table Talks provide that opportunity and are open all day Thursday and Friday. At lunch, join your peers for a great discussion. See the schedule and topics
here.
  (2/22/18)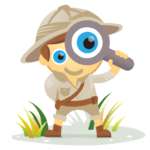 Scout's Tip #25: Get Help Planning Your Schedule
Having a hard time deciding which sessions to attend? Wondering which speakers or topics are best for your business? Visit the Content Concierge Cabana in the Networking Plaza and our team will help. (2/21/18)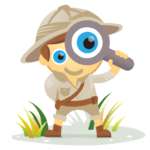 Scout's Tip #24: Join a Networking Walk/Run (or Yoga class)
Don't forget to pack your running shoes. Meet fellow runners and walkers in the Marriott Lobby at 6:00am. This is a great way to get in a little exercise and connect with someone else in a low-stress environment. If Yoga is more your style, go to the Marriott Fitness Center. (2/20/18)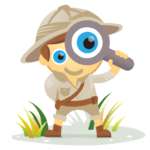 Scout's Tip #23: Connect With Our Sponsors
Check out what extras the sponsors are doing during the event.
Click here
to check them out. (2/19/18)