Do you want to know more about running ads on Amazon? Wondering what advertising options and services Amazon offers?
To explore what marketers need to know about advertising on Amazon, I interview Brett Curry on the Social Media Marketing Podcast.
Brett is CEO of OMG Commerce, an agency that specializes in Google and Amazon ads, and the host of the eCommerce Evolution podcast.
Brett explains why you should consider Amazon ads and what ad types you should try. He also shares best practices for running Amazon campaigns.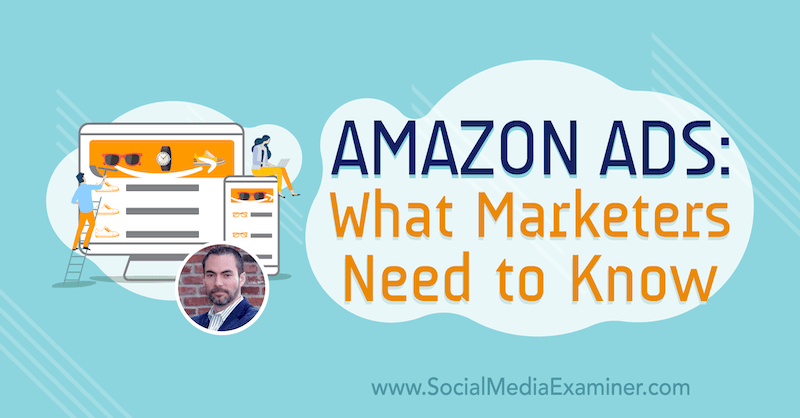 Why Marketers Should Consider Amazon Ads
Most people consider Amazon as only an online retailer. It's the place where they buy stuff online. However, it's also the number-three digital ad platform in the world behind Google at number one and Facebook at number two.
In 2018, Amazon generated a staggering $10 billion in ad revenue. At the time, forecasters thought the company would only generate $3 or $4 billion.
Ten billion dollars may seem small when compared to Google, which generates $136 billion in annual ad revenue, and Facebook at $55 billion. However, Brett has seen predictions that estimate Amazon's ad business will reach $23–$25 billion in revenue over the next 2–3 years.
Another reason to consider Amazon is the shift in product search behavior among consumers. In the past, search engines, primarily Google, got more product searches than any other sites. In 2014, 55% of all product searches began on a search engine and only 38% started on Amazon.
Over time, these numbers have shifted. Now only 30% of product searches begin on search engines and it's estimated that more than 52% begin on Amazon. The number of younger people ages 18–29 starting their product searches on Amazon reaches even higher.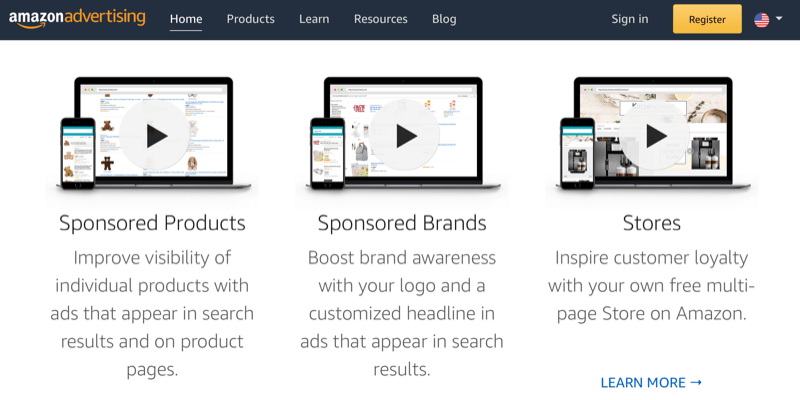 Search is how most people discover new products on Amazon. Occasionally, some will find products through a lightning deal or Prime Day specials, but search still dominates.
The Conference You've Been Waiting For
As a small business marketer, you can probably only pick one or two events to attend each year. Get an unbeatable conference experience and expert training at Social Media Marketing World in sunny San Diego, California—from your friends at Social Media Examiner.
🔥 As a valued reader, you can save $750 if you act now! Sale Ends Tuesday! 🔥
CLICK HERE TO LEARN MORE
A related result of this uptick in product searches is that Amazon has a wealth of buyer and shopping data that can be leveraged for advertising, both on and off of the site. Amazon knows what we're shopping for, when we're in the market for it, and what we've purchased in the past. This is especially true for the buying behaviors of Amazon Prime members, which Amazon tracks and knows exceptionally well.
Traditional Ad Options on Amazon
Amazon offers two traditional ad options for retailers through its ads platform: sponsored products and sponsored brands. Both are typically effective for driving immediate sales and delivering a high return on ad spend for products sold through Amazon. They work well because they pop up at the exact moment when someone is either early in their shopping journey or almost ready to purchase the products being promoted or something similar.
Sponsored products and sponsored brands are the two main ad units on Amazon and account for the majority of the ad spend on Amazon. Most advertisers spend their money on sponsored products, with sponsored brands being a distant second.
Sponsored Products
Sponsored products are the top returned results of product searches done in either the Amazon app or through the website. These ad units can look like organic listings but are clearly marked as sponsored ads and function similarly to Google shopping ads.
Sponsored products run on a cost-per-click (CPC) basis where advertisers only pay when a user clicks on one of those ad units.

Sponsored Brands
Another primary ad unit on Amazon is called sponsored brands. These ads also run on a CPC basis and offer visibility for your products or services on Amazon.
When you run a product search query on Amazon, the search results will feature a banner at the top of the page that typically features three products from a related brand. Each unit can be made to look like an organic Amazon listing or branded with a headline and logo. Advertisers can then direct where they want a user to go after clicking on the products.
For instance, you can choose to link to a category page that looks like a standard Amazon search results page but exclusively showcases your brand. Sponsored traffic can also be directed to your Amazon storefront, which can have the look of a separate mini-website that also exclusively features your brand and all of your products.

Using Amazon DSP (Demand-Side Platform) Ads
Although Amazon prefers it, you don't necessarily have to be an Amazon retailer to benefit from the Amazon ads platform. There are a number of ways in which you can use Amazon to promote services or products, or run offers and coupons.
Amazon DSP (Demand-Side Platform) enables advertisers to leverage Amazon's wealth of buyer and shopper data and apply it to open ad exchanges. Then they can run highly targeted display ads based on an audience's Amazon shopping behavior. This includes data on purchase histories, product searches, visits to product pages without a purchase, likely next purchases, and much more.
With the exception of certain restricted products that are prohibited from being sold anywhere on Amazon, advertisers can also use Amazon DSP ads to send traffic away from Amazon and to their own sites, where customers can learn more about them or make a purchase. These links can easily be tracked with a Google UTM code or with Amazon's pixel, which can be used for website retargeting just like the Facebook pixel.
This is an advertising opportunity that a lot of people don't know about but it's growing extremely fast and has a lot of applications.
Where Amazon Display Ads Appear
Amazon's display ads might appear the next time someone is on an Amazon category page searching for something else, which triggers a reminder that they were looking for running shoes earlier. Ads for related products can appear on specific product pages, along the bottom or top of the page.
Amazon display ads might also appear on ESPN.com, CNN, or any site that's part of the Google display network since the Google AdX exchange is part of the Amazon DSP offering. There are seven open ad exchanges that you can target when using Amazon DSP.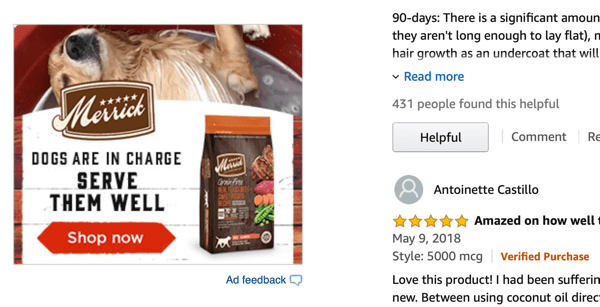 Amazon Display Ad Opportunities
Brett notes that a lot of upcoming and newly released movies are promoted on Amazon using Amazon's data. Production companies behind the latest Avengers movie could target those who have searched for anything Marvel-related, anything Captain America-related, Ironman-related, or other superhero merchandise. These people are actively engaged in Marvel-related stuff on Amazon. It makes sense to hit them up with an ad for the new Avengers movie, point them to the trailer online, or redirect them to the movie premier website where they can buy tickets.
Similarly, a travel brand like an airline or hotel chain could target people buying luggage or specific travel-related items on Amazon. Ads for marketing products or conferences can be targeted to people buying marketing books. Vegan, cruelty-free items can be marketed to people shopping for vegan cookbooks.
While the possibilities are endless, whatever product you choose to base your ad targeting around must have at least 5,000 unique monthly visitors before Amazon will build an audience around it. You can build a collection and combine several products that would, together, meet this threshold.
Amazon's Price per Ad Unit
Whether the Amazon display ads show up on Amazon.com or the open exchanges, they're all priced based on a cost-per-mille (CPM), or cost-per-impression, model. Amazon will calculate the CPC and return on ad spend based on the conversion value divided by the cost but advertisers are paying for impressions.
Depending on the audience being targeted, some CPMs can be really low. For ads being displayed on an open exchange and targeting broader, in-market audiences, CPMs can be as low as $2–$4. Retargeting audiences on Amazon.com yields a much higher CPM of sometimes $10–$15, all the way up to $30. However, the conversion rates and click-through rates are just as high on retargeting ads on Amazon.com.
Accessing Amazon Ad Services
There are multiple ways to access Amazon's advertising services. You can go directly to the Amazon Marketing Group or go through Amazon DSP, which offers a self-serve model.
However, Amazon's advertising services typically require pretty hefty minimums. At the time of this recording, they're looking for a committed ad spend of $15K–$35K per month before you can have access to this service or tool.
Another option is to hire an agency like Brett's, OMG Commerce, to run Amazon DSP ads for your brand. There's certainly a volume benefit when working with an agency. All of the clients combined meet or exceed Amazon's required committed ad spend and the agency acts as the middleman in setting up campaigns for each client.
Attention Agency Owners, Brand Marketers, and Consultants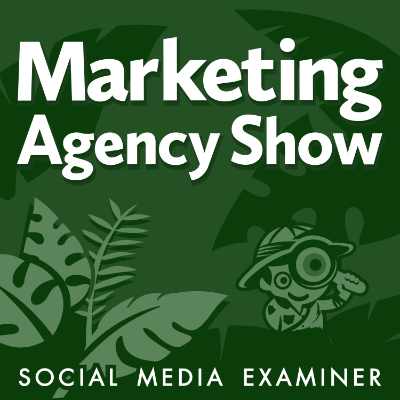 Introducing the Marketing Agency Show–our newest podcast designed to explore the struggles of agency marketers.

Join show host and agency owner, Brooke Sellas, as she interviews agency marketers and digs deep into their biggest challenges. Explore topics like navigating rough economic times, leveraging AI, service diversification, client acquisition, and much more.

Just pull up your favorite podcast app, search for Marketing Agency Show and start listening. Or click the button below for more information.
CLICK HERE FOR THE DETAILS
While Brett's agency doesn't implement specific minimums per additional client, all agencies set their own minimums based on those set by Amazon. Whether minimums are imposed depends on the philosophy of the individual agency.
Retargeting Ad Options on Amazon
Brett uses the example of one of his clients, a running shoe company, to show how advertisers can leverage Amazon DSP. The primary way in which they use Amazon DSP is to build an audience of people who have visited specific product listings on Amazon but haven't purchased. His company will then use Amazon's data to run retargeting ads to this audience that will run on Amazon.com or other sites.
A majority of Amazon advertisers run retargeting ads aimed at driving customers to go back to Amazon to make a purchase. That is where Amazon ads are most effective.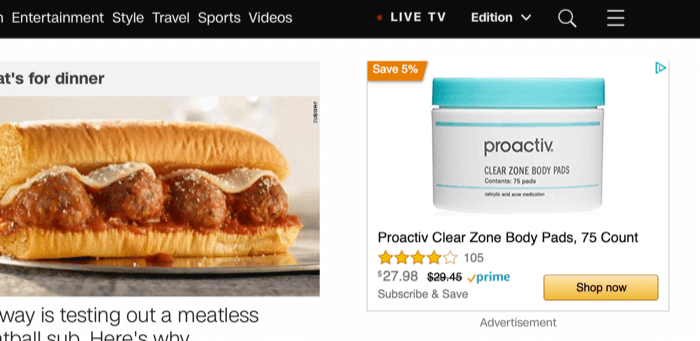 Loyalty Audience Retargeting for Amazon Retailers
Advertisers can use Amazon data to build an audience of people who have purchased from them in the past and are likely to buy from them again. Then, they can run loyalty campaigns based on recency.
For the running shoe company, this could mean targeting people who bought running shoes from them but haven't purchased the sandals or hiking boots. We know they're already a buyer. They already know the brand and hopefully like and trust it. The loyalty campaigns simply show them another product that they could purchase. The company can then run ads along the lines of, "Hey, you loved our running shoes. Here's our hiking shoe. You should consider it as well."
The retargeting flows can be built based on people who viewed the product in the last 10 days, 7 days, or even as recent as 3 days. Amazon also offers 30-, 60-, and 90-day audiences depending on the purchase cycle for the particular product. Amazon retargeting can even go as far as back as 365-day audiences for seasonal items. Typically, the more recent the audience, the more effective the campaign will be. In Brett's experience, a 60- or 90-day audience works well for loyalty campaigns.
Another effective way to use loyalty campaigns on Amazon is to advertise consumable products that are repurchased regularly such as air filters for a home. Since air filters should be replaced every 60 days, you can target a 60-day or 90-day audience, exclude your 30-day audience, and serve ads that remind people it's time to buy new air filters again. You can show them the product they've bought in the past and suggest that they should buy it again.
Amazon Competitor Audience Retargeting
Another type of targeting option offered by Amazon is the ability to target your competitors. You can build an audience of people who have checked out your competitors' products on Amazon but haven't purchased.
Plug in the exact Amazon standard identification numbers (ASINs), which function as SKUs to the Amazon DSP platform, and either build a list of people who are in the market for a competing product but haven't yet made a purchase, or a list of those who have purchased from a competitor in the past and might be in the market again. Then reach them with your product.
As you can imagine, a competitor can have millions of ASINs or SKUs, and intelligently picking the right products can be challenging. Amazon offers a number of ways to do this. The first is to put your ASINs into the system and allow Amazon to automatically build a highly targeted audience based on similar or related products. The second way is to plug in your top competitor's ASINs to do the same thing.

While competitor audience targeting doesn't convert as well as true retargeting audiences, it's a powerful way to reach highly qualified prospects and is unique to Amazon. Google ads and Facebook ads have some roundabout ways of targeting competitors' audiences, but nothing as precise as Amazon's.
Brett notes that his company used Amazon's competitor audience targeting with toy sellers around the holidays and with home and bedding products, and both campaigns performed very well.
Build an audience around products that are similar or at least in the same class as the ones you're advertising. If you're selling expensive organic dog food, it doesn't make sense to remarket to customers of brands selling discount or bargain dog food brands. They won't be your ideal buyers. In this case, you should target your ads based on other competing organic dog food brands that are similar to yours.
Amazon In-Market Audience Targeting
Amazon offers another slightly "higher in the funnel" audience option called in-market audiences. As the name suggests, in-market audiences capture those who are actively shopping for categories of products. Amazon breaks these down into broad, pre-defined categories. To illustrate, a toy manufacturer could build an audience of people who are shopping for educational toys for kids ages 10–12.
There are as many in-market categories as there are product categories on Amazon. It's extremely detailed and there are probably thousands to choose from. Amazon has a tool available to help you refine your list. Searching for "organic dog food" will return a list of related categories that you can use for in-market audiences.
In-market audience ad targeting works well during peak buying times like holiday shopping, Prime Day, or other seasonal events like promoting outdoor products in the springtime. Like other Amazon ads, these could appear on Amazon.com, any Amazon-owned site like IMDb.com or Twitch, or anywhere else across seven different open ad exchanges on the web.
Amazon Search-Based Audience Targeting
There's a new, powerful targeting option coming to Amazon that's based on what people are actually searching for on the site. There currently isn't a lot of information around this upcoming targeting option, as Amazon is still in the process of launching it. However, it's expected to function similarly to Google's custom intent audiences that are made up of people who have searched for specific things on Google. Advertisers can then target them across the Display Network, YouTube, and more.
With Amazon's search-based targeting, advertisers will be able to build an audience of people based on what they searched for on Amazon.
Best Practices and Insights on Amazon Ads
Start With Retargeting
If you're just getting started with Amazon ads, Brett recommends starting at the bottom of the funnel with testing retargeting ads and appeals. Make sure that's working for your brand before moving up in the funnel with competitor and in-market targeting ads.
Let the data inform your decisions and see what's actually converting. Then make decisions accordingly.
New Products and Options Coming to Amazon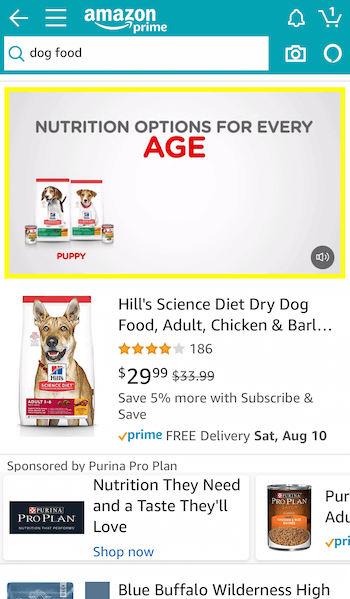 In some ways, Amazon is more advanced than other platforms; specifically with competitor targeting, which isn't available on any other platforms. Another unique ad product Amazon is currently developing is called video in search. The new ad format is only available on the Amazon mobile app and appears in product search results. The videos autoplay like an Instagram video in the feed.
There are other ways in which Amazon isn't as advanced as other platforms. If you compare search offerings to Google's, Amazon is arguably not as advanced. Amazon is beginning to expand into AI and machine learning to offer bid adjustments but isn't where Google and Facebook are when it comes to setting a target CPC or return on ad spend.
Amazon is growing incredibly fast and is far exceeding expectations. It will only continue to grow and as it does, more options will open up and become available to advertisers.
Pay attention to what's happening on the Amazon platform. It's going to impact all marketers to some degree over the coming years.
Discovery of the Week
Bye Bye Camera is a mobile app that removes humans from the photos you take with iOS devices. As the name suggests, this app makes people go "bye-bye."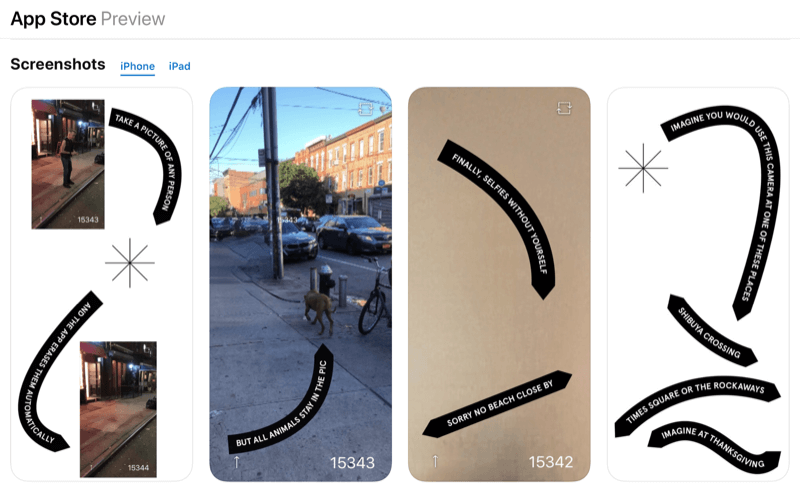 When you use the app to take or import a photo with people in it, the app goes through a process of detecting the humans and automatically removes them from the final image. It will then fill in the gap by recreating what was behind them, whether it's scenery, a building, or ambiance, without sacrificing the original quality or integrity of your photo. It will look like they were never there.
Bye Bye Camera is available for $2.99 on the App Store for iOS devices only.
Listen to the show to hear more about Bye Bye Camera.
Key Takeaways From This Episode:
What do you think? What are your thoughts about advertising on Amazon? Please share your comments below.
3 Days of World-Class Training—Zero Travel!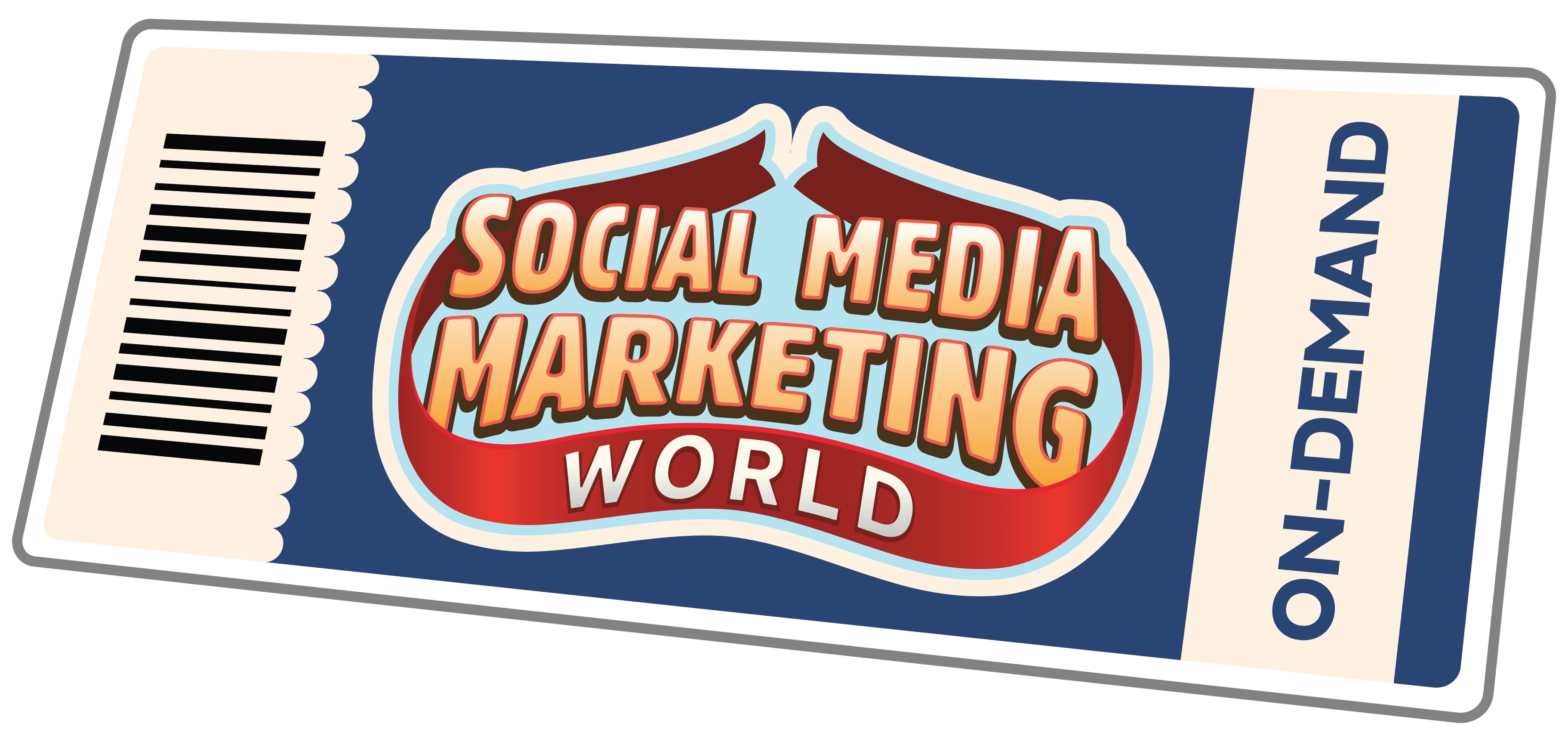 Travel to Social Media Marketing World off the table? Get all of the great content at a fraction of the price with an On-Demand ticket.

That's full access to recordings of every keynote, workshop, and session—the ones people travel thousands of miles to see. Don't wait. Get your On-Demand ticket and enjoy actionable content that you can watch anytime, anywhere.
GET YOUR ON-DEMAND TICKET NOW