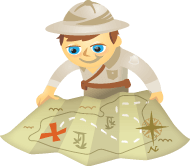 Wondering what your competitors' social media ads look like? Have you heard of the ad transparency tools for Facebook and Twitter?
In this article, you'll discover four ways social media marketers can use Facebook and Twitter ad transparency tools.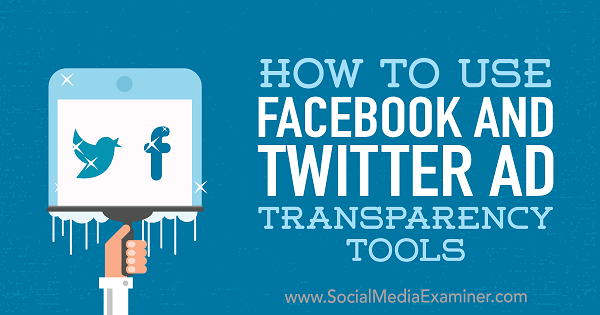 Access the Ad Transparency Tools on Facebook and Twitter
The ability for any user to see exactly what ads a Facebook page or Twitter account is running is particularly useful for marketers and businesses. There are four key ways that marketers can leverage the information from the ad transparency tools to their advantage. But first, you have to find the tools. Let's take a look at each one.
Open the Facebook Ad Transparency Tool
Facebook's Info and Ads tab allows any user to see all of the ads currently being run by any given page, regardless of whether that user is in the campaign's target audience.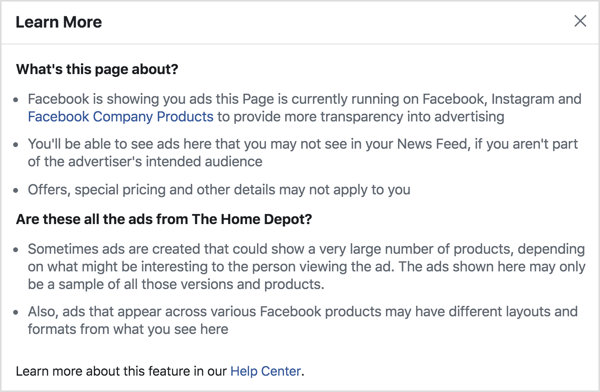 To see what ads a business is running, head over to their Facebook page. Then click the Info and Ads tab on the page's left navigation bar. Alternatively, on mobile, look for the Info and Ads button at the bottom-right corner of the header images.
Select a region from the drop-down menu and you'll see all of the ads the page is currently running, either globally or in a specific country.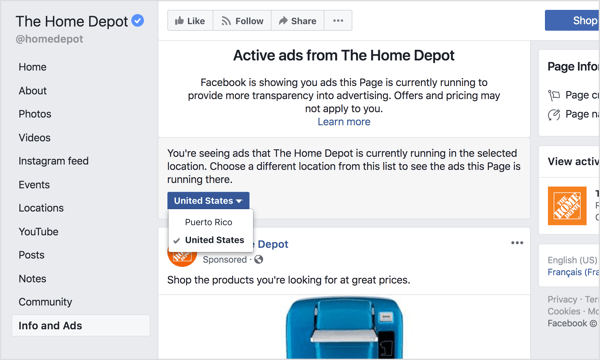 Click the View Ads button on the right side of the page to see more ads from pages related to the business.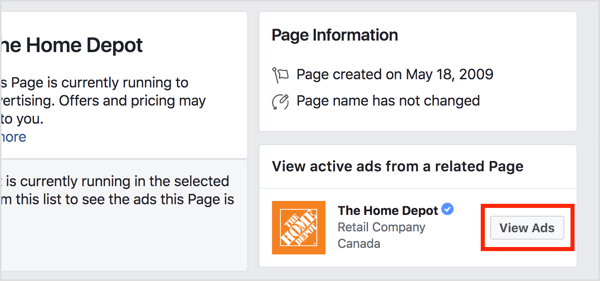 Open the Twitter Ad Transparency Tool
In addition to seeing all of the ads run by a specific username/account in the past 7 days, the Twitter Ads Transparency Center (ATC) also shows the current engagement in the form of favorites and retweets.
If an ad was suspended, you can still see it in the Ad Transparency Tool, along with an explanation of why it was suspended.
To view ads for a business, head over to the Twitter Ads Transparency Center. In the search box in the top-right corner, enter a business name or username, and select the profile you want to view from the list of accounts that populates.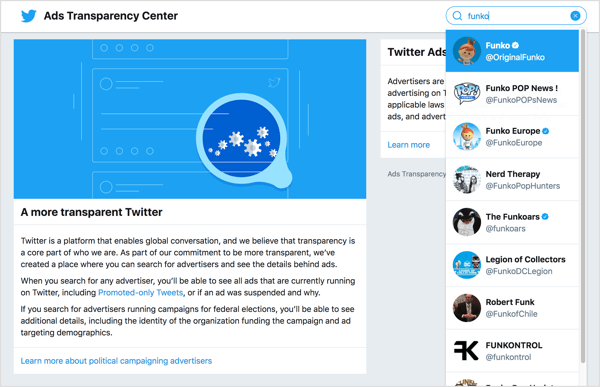 Twitter then reveals all of the tweets this account has promoted in the last 7 days. Click to see the landing page users are taken to.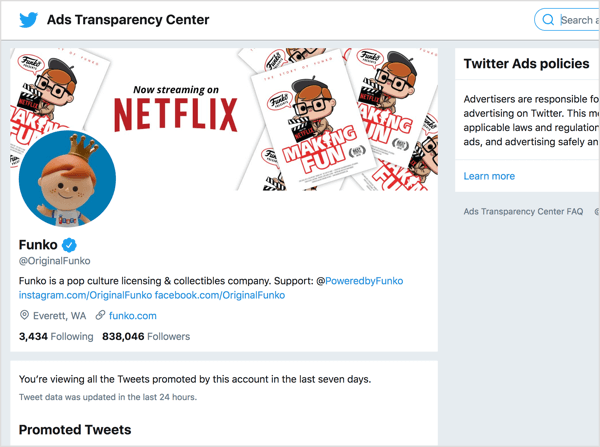 Now it's time to put these tools to use for your business. Here are four ideas to get you started.
#1: Research Competitor Campaigns and Consumer Markets
Competitor research will be the first thing that comes to mind when marketers hear about these new ad transparency tools. Being able to see all of the ad campaigns your competitors are running is invaluable.
When you view a competitor's advertisements in either tool, you can engage with those ads in the same way you'd engage with them in the news feed. You can click on the CTA and visit landing pages. On Facebook, you'll also see the entire visual component, even if it's a carousel ad or video ad. Note that in-stream video ads on Twitter aren't yet shown in the ATC.
Take a close look at your competition's ads to see any special offers they're running. Also, pay attention to the types of content they're using in their campaigns to see if a different video length or ad format could work better for you.
What is the goal of their campaign? Are they trying to attract clicks, drive purchases, or create awareness? Do their strategies or tactics vary between Facebook and Twitter? Note how the messaging tone, image, calls to action, and content differ from platform to platform.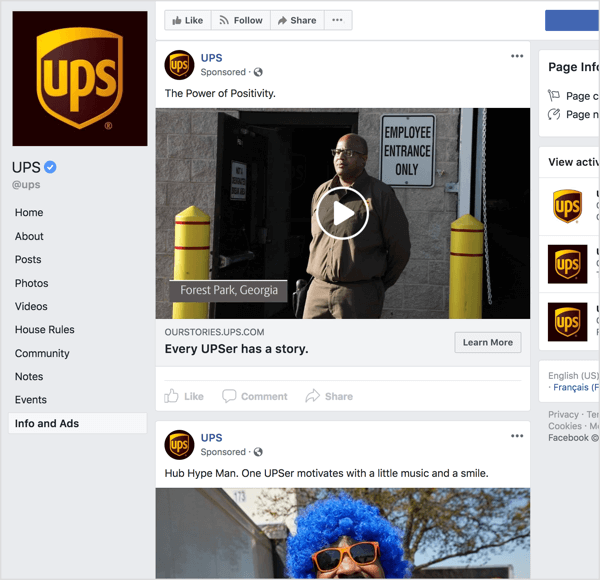 For example, if you look at the Facebook ads from UPS, it's clear they're using storytelling and emotional appeal to build brand awareness. UPS also runs more ads on Facebook than Twitter, where their single promoted tweet focuses instead on how they're leading innovation in the industry.
A word of caution: What works for your competition won't always work for you. Additionally, you may see ads in which they're testing a new approach or campaign tactic that turns out not to work so well.
Overall, look for long-term trends in what your competition is doing. If they maintain use of a certain strategy, ad format, or copywriting style, it could be for a good reason. Consider what they're doing as inspiration and adjust the approach to fit your brand.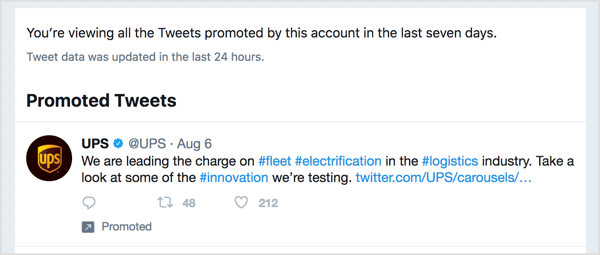 #2: Get Inspiration for Using New Ad Features
New social media ad features roll out all the time, particularly on Facebook. While it's exciting to get the new features, it's also sometimes difficult to determine best uses for these new features. When you're running ad campaigns, you don't want to blow through your budget trying to figure it out.
The ad transparency tools let you do a little homework right away. Look to big-name brands (which typically get the features first) like Home Depot, Target, or Airbnb to see how they're using new ad features. It's a good way to see what a feature does and how it's working without investing ad spend.
#3: Share Active Campaigns With Customers and Prospects
Ever see someone on Facebook post, "Hey, I saw an ad/offer for X but wasn't able to click on it in time, and now I can't find it again"?
Because users can engage with the ads in the transparency tools in the same way they would if the ad appeared in their news feed, customers and prospects now have an opportunity to begin a purchase or a signup they might have missed out on.
Tell your customers where to look for current ads on Facebook and Twitter.
#4: Share Active Campaign Collateral With Clients
A lot of business owners use an outside marketer to manage their social media ad campaigns, especially those that struggle with the advertising interfaces on Facebook and Twitter. Still, those clients want to see their ads and know what's being run.
Now clients can view the Info and Ads tab on their Facebook page and search for their username on the Twitter ATC to see all of their ads at once — quickly and without calling or emailing anyone.
Want more like this? Explore Facebook Ads for Business!
What do you think? Have you used the Facebook or Twitter ad transparency tools? Which use cases do you think are most valuable? Share your thoughts, knowledge, and experience in the comments below!