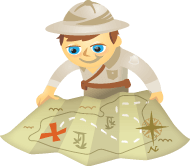 Does your business use Pinterest?
Want to get more exposure and engagement for your pins?
Marketing on Pinterest is an excellent way to showcase your business, engage current and potential customers and boost your bottom line.
In this article I'll share nine ways to improve your Pinterest marketing.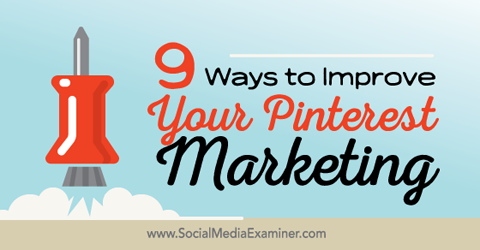 Listen to this article:
Where to subscribe: Apple Podcast | Google Podcasts | Spotify | RSS
#1: Build Customer Personas
To have an effective Pinterest plan, it is vital to understand your audience. When you know your followers, you are better able to create engaging Pinterest content that connects with them.
Etsy knows their customers like to do things themselves, and provides them with DIY tips and tricks to keep them happy and engaged. Etsy also shares gorgeous images of the top products people can find on the site.

What to know your audience better? Just ask. Do basic research by sending out surveys to your customers. Another option is to study your followers' profiles or review Pinterest analytics. Then create user personas based on the data.
When you understand who follows you and when, you are better able to provide them with tips and tricks that speak to them. This will definitely help you stand out from the competition.
#2: Serve Complementary Content
Followers look to you and your business for valuable information. Show you know your industry and develop powerful relationships with your clients.
For example, Bank of America provides excellent, relevant information to help their followers. They share useful money tips in a variety of categories, from educating kids about money and buying a home to planning weddings and travel. On Bank of America's Better Money Habits Pinterest account, there's something for everyone with money concerns.

If you provide your audience with helpful information, people are more likely to follow your Pinterest boards and engage with your content. Know what your clients want and need, and create content that helps them view you as a trusted resource. The result will be powerful relationships with loyal clients.
#3: Create Multiple Boards
A way to strengthen your brand presence is to vary the types of boards you create. That way, you speak to multiple facets of your audience and increase your reach.
Book Riot, a small book and blog community, has a strong Pinterest presence. They create multiple boards on a variety of topics to give their readers a huge selection of content. This sets them apart from other small brands and makes them a contender with larger ones.
Get Your FREE Course: Web3 for Beginners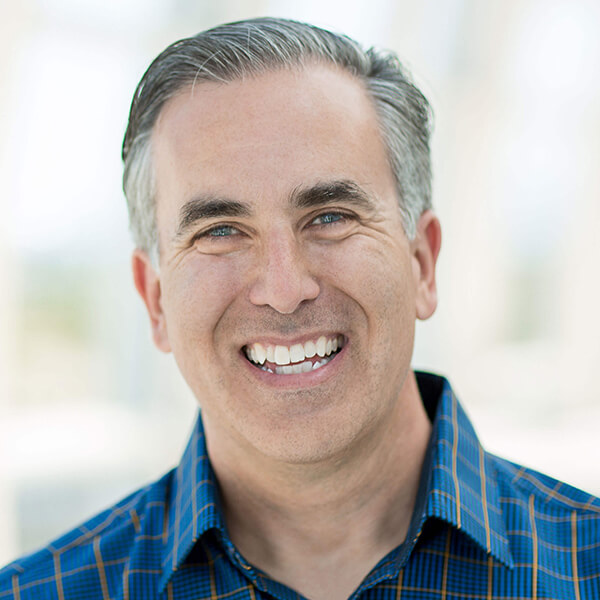 Curious about Web3, but don't know where to start or who to trust?

Introducing Web3 for Beginners, a course taught by Michael Stelzner, the founder of Social Media Examiner.

Learn the basics of Web3 and apply it to your business with this FREE comprehensive course.
CLICK HERE TO GET FREE ACCESS

Create multiple boards that offer different things for your audience, while remaining true to and strengthening your brand. More boards and topics will lead to an increase in followers.
#4: Run a Contest
Pinterest is excellent for increasing visibility, since the more a pin has been shared, the more people will see it. Create a Pinterest contest to increase sharing and attract new potential customers.
To enter Adagio Teas' "I Love Adagio Teas" contest on Pinterest, fans needed to create a board with 10 Adagio teas and share it with the company. Adagio gave a $10 gift certificate to those who created a board. Plus, every participant was in the drawing for the grand prize.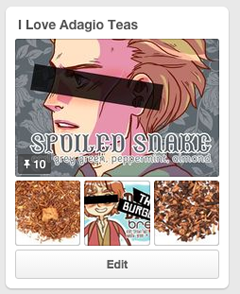 Launch a contest that encourages users to create a board featuring your product or service. It's a great way to encourage sharing, which may lead to new customers.
The more people know about your brand, the more likely they are to check it out. Remember, just as important as bringing in new customers is maintaining the ones you have.
#5: Share Your Story
Building trust is a great way to create and maintain a loyal client base. Use visuals on Pinterest to showcase your accomplishments.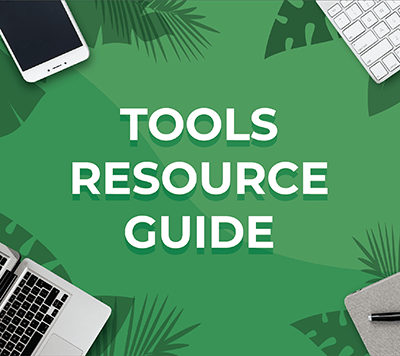 Looking for something to make your life easier?
Discover the tools we recommend to drive engagement, save you time, and boost sales across your entire marketing funnel or business.
Whether you need help planning content, organizing social posts, or developing your strategy, you'll find something for every situation.
FIND YOUR NEXT FAVORITE TOOL
The United Kingdom's conservation charity, National Trust, uses their Pinterest account to share images of historic and natural locations they have saved and improved. People are more likely to donate to National Trust after they see the good the organization does.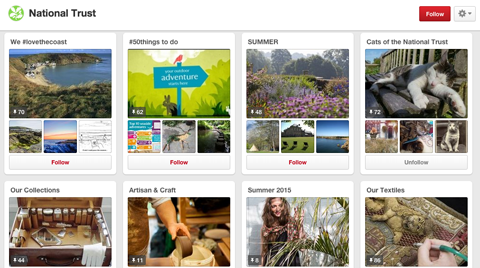 Whether you are a charity or not, show what your business does through photographs on Pinterest. Giving your followers a peek behind the scenes goes a long way to building a trusting relationship.
#6: Design Quality Pins
Pinterest provides an effective way for your business to drive traffic to your website. Create beautiful boards with quality images, so your followers can't help but click.
For example, BuzzFeed has a varied audience and boards to match. Their graphics are engaging and high-quality and address the topics people want to read more about.

Create boards with pins that lead to your blog, as well as product pages. Create fun boards with excellent pictures and interesting material that relate to different topics. The more boards and pins you create, the more likely your following and organic traffic will increase.
#7: Use Humor
Humor is an excellent way to engage with current and potential customers on Pinterest. Create a "funny" board or even a unique board with a humorous twist.
While Wayfair's "Holiday Gift Hiding Places" board offers people great hiding place ideas, it's also amusing for those who struggle to find places to hide presents from loved ones.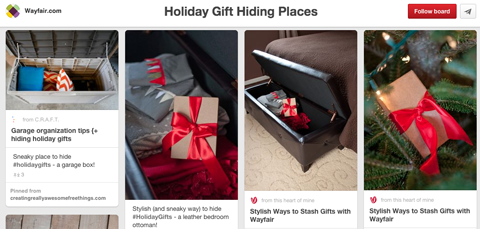 Brainstorm ideas and then create a specific funny board, a way to put a humorous twist on your content or both. When you utilize humor in your Pinterest marketing, especially funny material that speaks to your fans and followers, it grabs attention and improves clicks and engagement.
#8: Share User-Generated Images
Sharing real-life photos is very effective in engaging clients and building lasting relationships. This helps your followers feel like they are part of your business, and they are more likely to comment, pin and favorite.
Petplan Pet Insurance's Petplan Protected board showcases animals that are under the insurance. This encourages clients to send in content for user-generated pieces and increases their feeling of inclusion.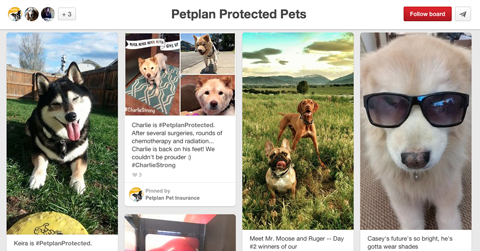 Share real-life photos from your company and encourage users to do the same. To get started, create a "behind the scenes" board and a user board, and go from there.
#9: Showcase Product Hacks
More than anything else, Pinterest is known as a place for DIY, tips and life hacks. Utilize the platform to show your audience tips and tricks that relate to your product.
Dreyer's Ice Cream offers helpful ideas that include great treats, holiday-inspired recipes and more.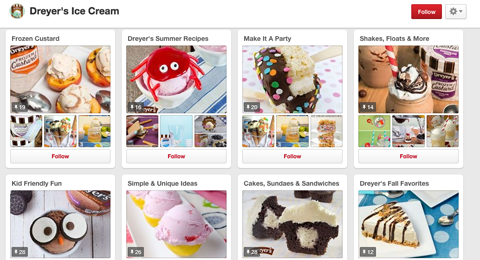 This is something you can do regardless of your industry. Just make sure it's relevant.
Come up with great tips to share. Then create and curate the content to go with it. Your customers will appreciate other uses for your products and will show it through likes and shares.
Final Thoughts
Pinterest marketing can be a valuable tool for your business. The visual media, combined with useful information, gives fans and followers a peek at who you are and what you know. This will help you develop trust, build and cultivate relationships, encourage engagement and help you grow your business.
What do you think? Do you use Pinterest to promote your business? What tricks work best for you? Please share your thoughts and tips in the comments.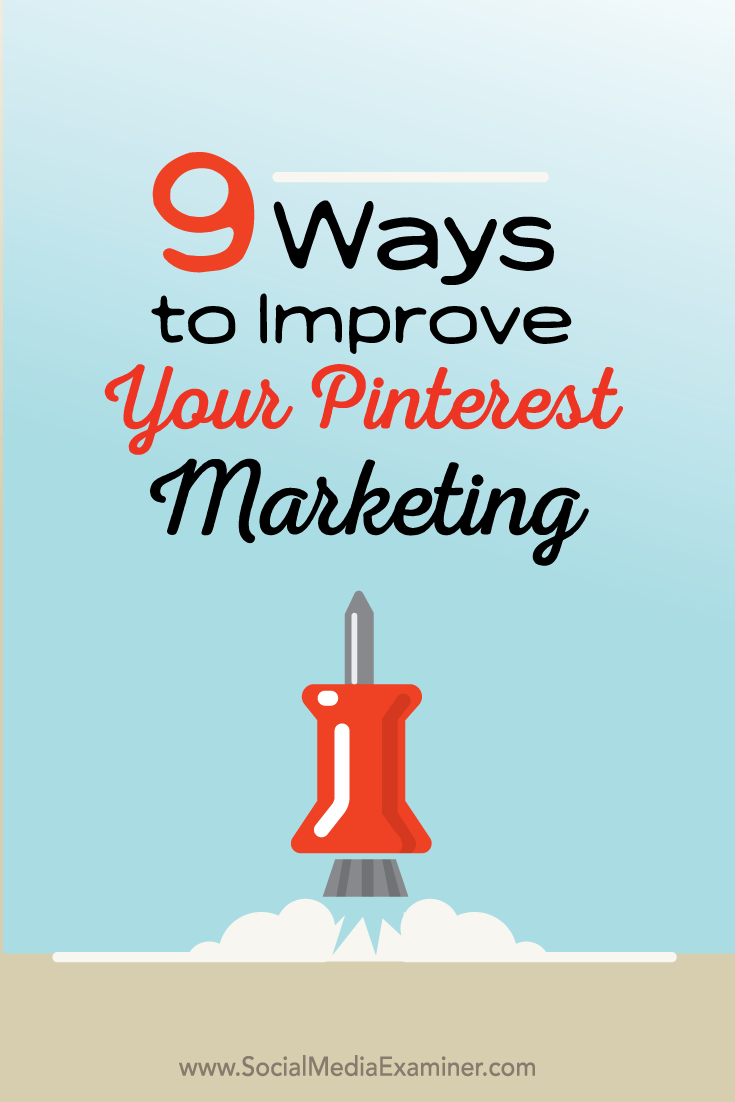 Get Your FREE Course: Web3 for Beginners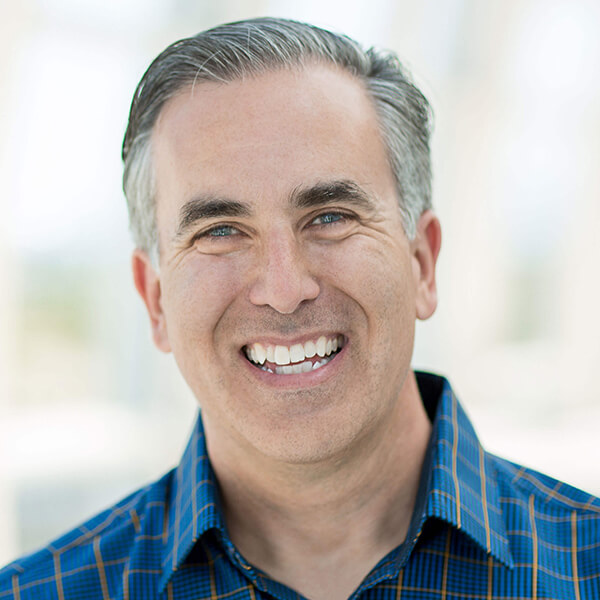 Curious about Web3, but don't know where to start or who to trust?

Introducing Web3 for Beginners, a course taught by Michael Stelzner, the founder of Social Media Examiner.

Learn the basics of Web3 and apply it to your business with this FREE comprehensive course.
CLICK HERE TO GET FREE ACCESS