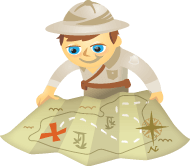 Do you run or help promote a local business?
Interested in taking advantage of the latest gaming craze?
Pokémon Go is close to topping the number of daily users on Twitter and average time spent on the Facebook app. That's why it's time for your business to capitalize on it.
In this article, you'll discover how you can boost your business's social media engagement with Pokémon Go.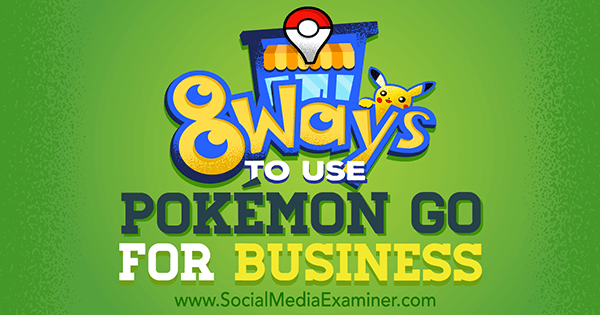 #1: Request a PokéStop for Your Business
Your first job is to use the Submit a Request form to get a PokéStop or Gym for your business. A PokéStop will show up on the Pokémon Go player's map as a place to congregate for special Pokémon, eggs, and other treats. They're noted by a blue cube on the map.
Editor's note: After publication, Social Media Examiner learned that Nintantic is "currently not accepting submissions for new PokéStops or Gyms." Whether this is a temporary or permanent change, you can still use tips #2 though #8.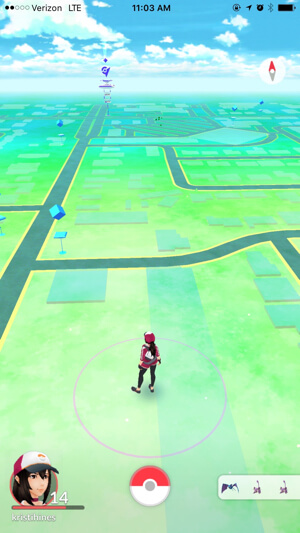 When users tap your PokéStop, they'll see the details you've provided for your business.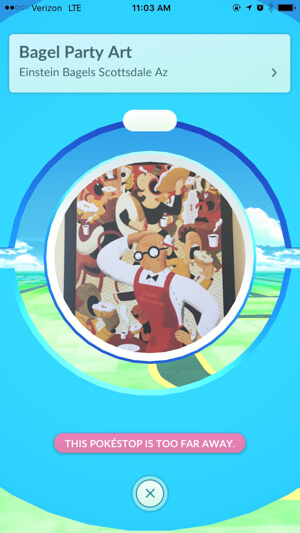 Gyms, on the other hand, are places where players go to battle other players with their Pokémon. These are usually reserved for parks, malls, and larger areas where people can congregate. Small businesses are more likely to get a PokéStop.
#2: Invite People to Play at Your Business
Your first step to boosting social media engagement via Pokémon Go is to get players to your business.
Use your social channels to invite people to come play at your location, like Monroe Bank & Trust. Better yet, turn it into a contest! Just be sure to follow the rules on each social network, like Facebook.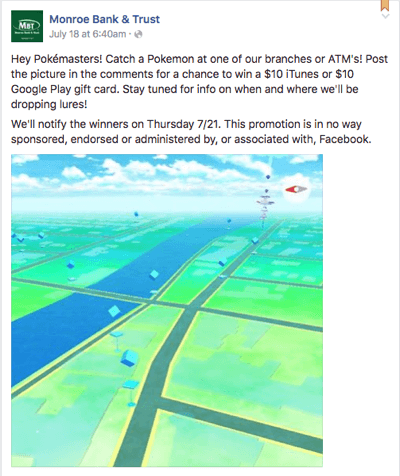 Just the invitation can open the door to more social engagement with your local audience and customers.
#3: Offer Free Wi-Fi and Charging Stations
If you want Pokémon Go players to play at your business, there are two vital things they'll need: Wi-Fi and charging stations. Use your social channels and window signage to let people know that you offer both so they'll feel welcome to play.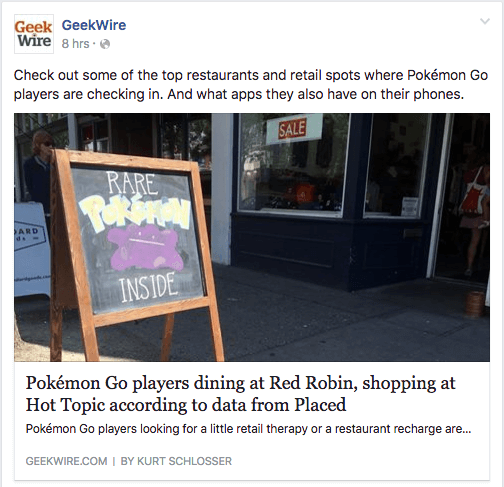 Next, make sure to add some extra signage around your business to encourage players to do some of the following.
#4: Ask Players to Tag Their Photos
To make sure your business gets some social exposure, ask players to share their favorite Pokémon photos taken at your business and tag your business when they do.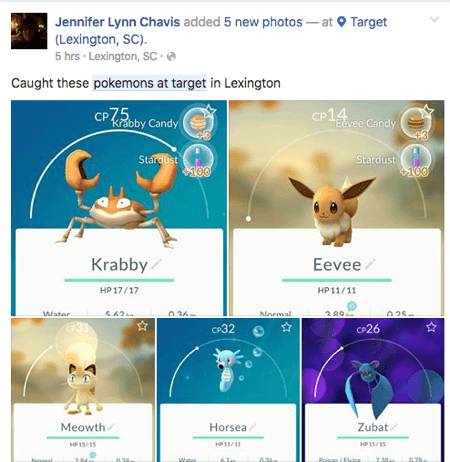 Depending on which social network they share to, they can either tag your business in the post or tag it as the location they were playing at. Either will give your business some social media engagement among the player's audience, and further if they share the post publicly.
Be sure to look for public mentions so you can thank players for coming and further engage with your customers and fans!
#5: Encourage Players to Check in While Playing
Another way to boost your social engagement (and local Facebook page credibility) is to encourage players to check in while playing. Hopefully the check-ins will either lead to more players coming to your business or new reviews on your Facebook page.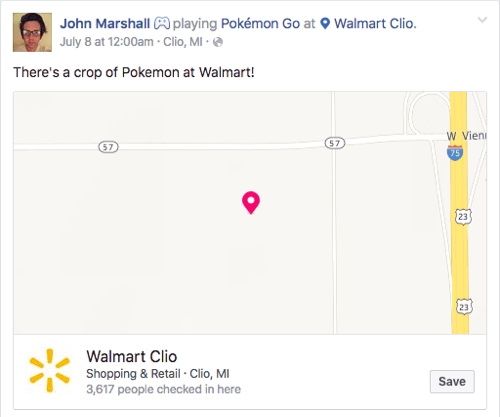 #6: Get Players to Take Pictures of Pokémon With Your Products
Another option is to incentivize customers to play Pokémon and share their pics on social media. Ask players to aim Pokémon on products they want to buy, and each photo they share with a product tagged with your business name will get them a special discount!
Be sure to start by showing your customers how to do it on your Facebook page, Instagram, and other social profiles.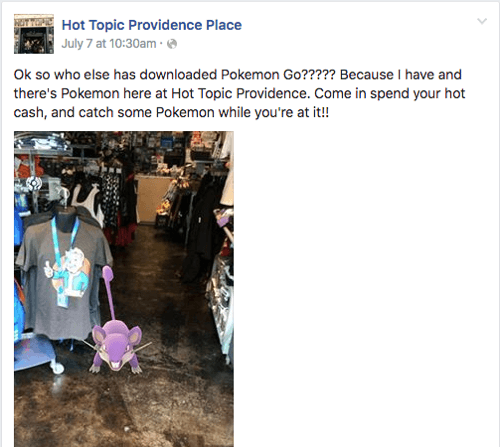 #7: Encourage Players to Share With Snapchat Memories
Snapchat isn't completely out of the loop when it comes to Pokémon Go, thanks to the new Memories feature. Although you can't get customers to add your custom geofilter to their snaps from Memories, you can encourage players to share snaps of catching Pokémon inside your business (using Memories and their camera roll).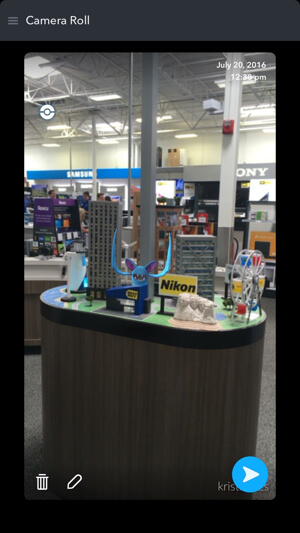 #8: Film Pokémon Players
This could go a number of ways. Your employees could film players (with their permission, of course) while they're "on the hunt" for some Pokémon. Or they could film players after they've successfully caught a special Pokémon and have them show off their Pokédex. Depending on the space, you could even have a drone fly over a large group of players congregating at a Gym.
Consider filming videos for live platforms like Facebook or Snapchat, or upload videos later to Facebook, Instagram, and so on.
In a "these results are not typical" kind of way, an animal shelter in Indiana came up with the idea to pair Pokémon Go players with shelter dogs so that players could play and walk the dogs at the same time. The idea was so creative that Facebook sent a team to film it and the video was featured on news outlets nationwide.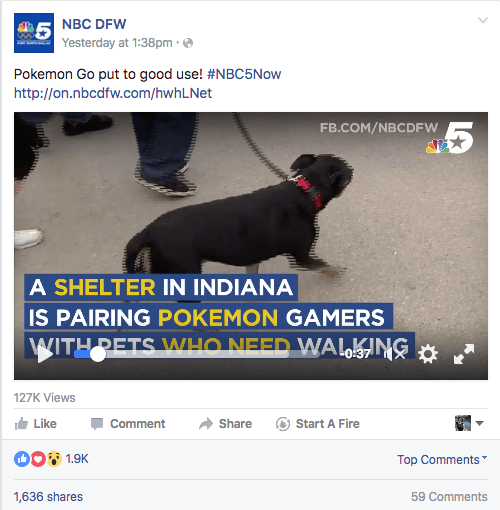 This has created a ton of social exposure for the shelter's Facebook page.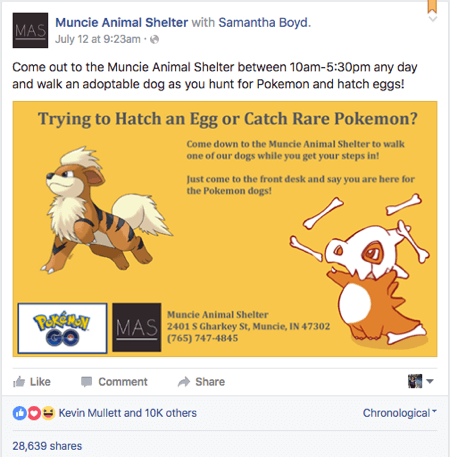 In Conclusion
Pokémon Go has announced plans to offer business advertising, and may close submission requests for PokéStops and Gyms once that becomes closer in availability. If you're not able to get a PokéStop at your business, you can still use the rest of the tactics above.
As you can see, Pokémon Go has a lot of potential for local businesses, non-profits, and even some potential for the right non-local businesses. It's all a matter of creating a great gameplay experience so players will want to give your business some social media props and sales!
What do you think? Are you using Pokémon Go to get customers and social engagement? If so, let us know how it's working in the comments!