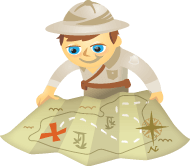 Is Facebook taking up all your time?
Interested in ways to maximize your workflow?
When you streamline your work and know exactly where to look for the right information, your job becomes easier.
In this article you'll discover eight ways to manage your Facebook marketing more effectively.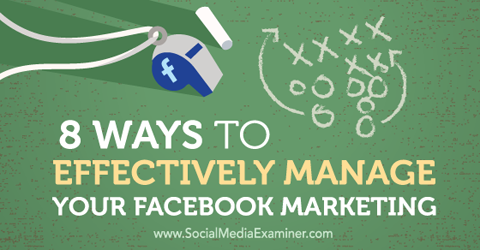 Listen to this article:
Where to subscribe: Apple Podcasts | Google Podcasts | Spotify | YouTube Music | YouTube | Amazon Music | RSS
#1: Maximize Page Notifications
You can get notifications for your page while you're on Facebook (click the world icon at the top of your page) or via email or text message.
To adjust your notification settings, go to the Settings area of your page and select Notifications in the left sidebar. If you have multiple Facebook pages, you'll manage each page's notifications differently depending on how actively you want to monitor it.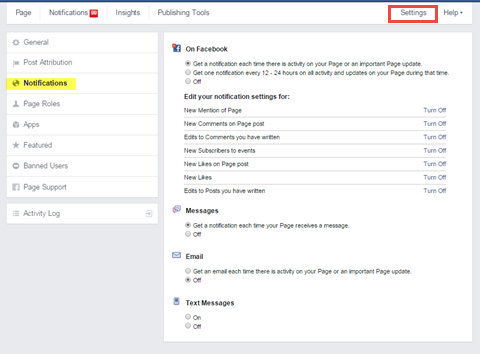 When you get notifications within Facebook, the information is more limited when you're logged in as your profile, but you do get some of the more important notifications that you specify. Click on a notification to get more information.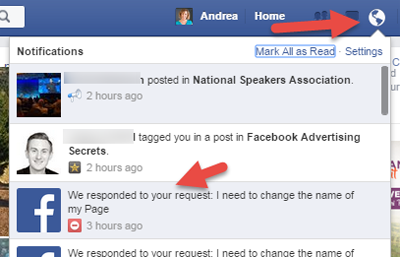 When you're logged in as your page, you're acting as your Facebook page on Facebook (which is a good idea for making comments on other pages). To log in as your page, click the down arrow in the upper-right corner and select the Use Facebook As option you want. Or click See More for more options.

Now the notifications symbol at the top of Facebook is specific for your page, and you can see new likes and messages.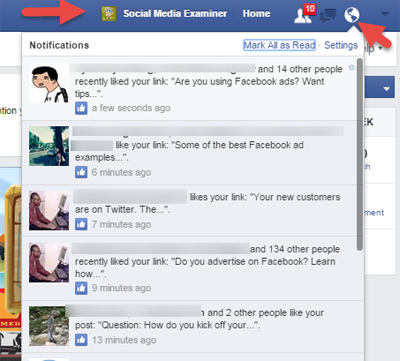 You also should check your notifications area regularly so you can see what's happening on your page at a glance each day. This is especially helpful because there may be activity on older posts.
#2: Set Your Post Attribution Correctly
Sometimes you may want to comment as your personal profile rather than your Facebook page. You can control this for each post individually or set a default preference in the Settings area.
To change your identity for the comment or the like on an individual post, click the icon in the lower-right corner of the post and select how you want to post from the drop-down menu.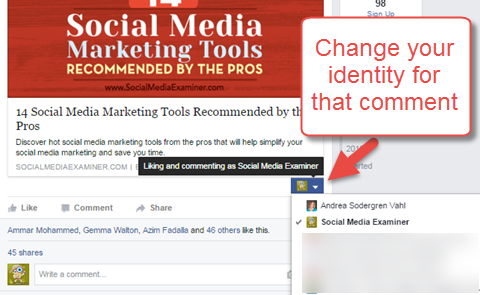 If you want to set your default preference for how you comment on your page, go to the Settings area of your page and select Post Attribution. This works well if you aren't doing as much posting on the page and want to comment more frequently as your personal profile.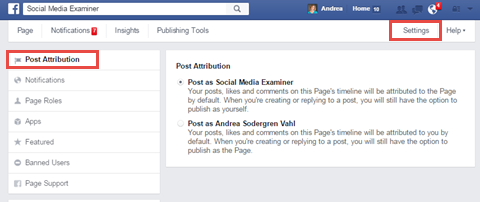 #3: Review Page Admin Access to Stay Secure
Reviewing the admins of your page is an important step toward making your page more secure. Make sure you're giving full admin control only to people you trust as full admins, because they have the power to remove the other admins or even delete your page.
If someone's Facebook account was hacked, your page could be at risk. If you're an admin of other pages that you no longer work with, it's a good idea to remove yourself as an admin to reduce your own liability.
To access the list of your admins, go to Settings and select Page Roles in the left sidebar. If you're a full admin of the page, click the X next to the admins who no longer need access.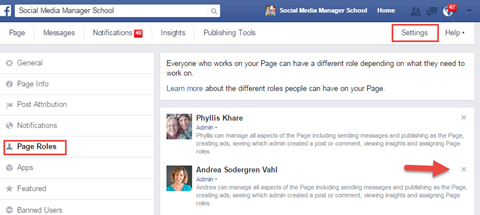 #4: Check Where You're Logged In
Another security risk is being logged into Facebook from multiple locations. You might be shocked to find out that some sessions are still active. It's a good idea to end the activity to protect your account and your Facebook page.
To find out what sessions are active, go to the Settings area on your personal profile, select Security in the left sidebar and click Where You're Logged In to see all of your sessions. Click End Activity next to the sessions you aren't using.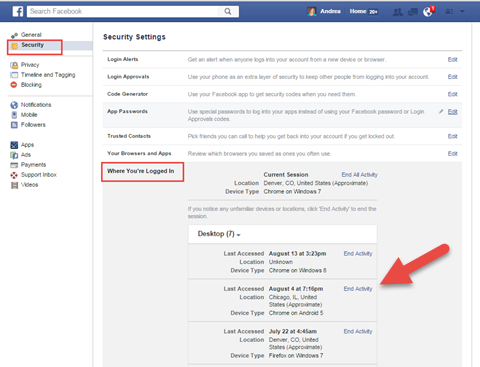 #5: Curate Content With the Save Feature
Finding good content to share is always a challenge, and sometimes you'll run across a good piece of content on Facebook that you want to share, but not right at that moment. Or maybe you don't have time to read the full article at that time but want to bookmark it.
The Save feature can help you batch your work and bookmark good posts to share later. All you need to do is to click the down arrow in the upper-right corner of the post and select Save Link.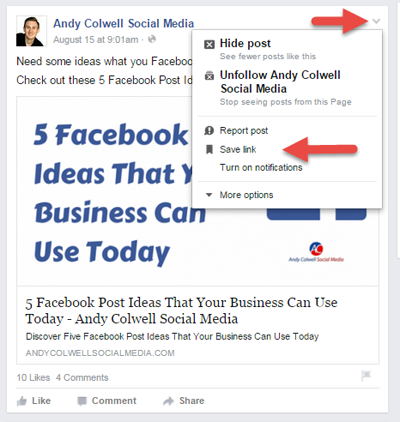 Then when you need to find good content to share, go to the Saved area on Facebook.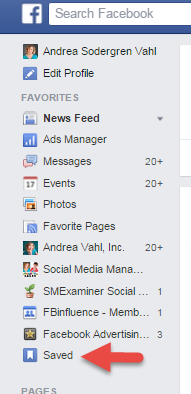 Click the Share button to share a link you've saved.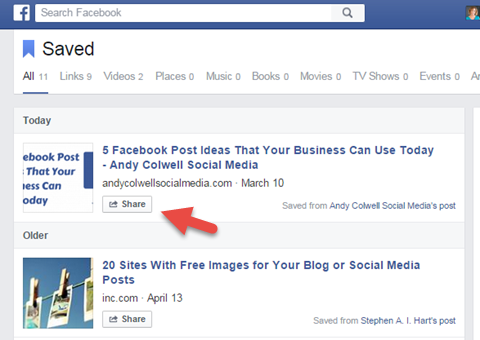 Here is a quick demo video of how to use the Saved area of Facebook.
 #6: Batch Your Work With Scheduled Posts
Scheduling your Facebook posts will save you time because you can batch your work. Facebook no longer punishes articles scheduled or shared from third-party tools like Hootsuite, Buffer, AgoraPulse or Post Planner, so if you use those tools regularly, then keep using them.
The native Facebook Scheduler will give all of your admins visibility into what posts are coming up, in one place.
You may even get creative with how you use the Drafts area to keep a lot of content in reserve for when you need it.
#7: Export Facebook Insights for a Deeper Dive
Many page owners only look at the Insights that Facebook provides and don't dive deeper to see what types of posts are bringing in the most engagement over a long period.
To do a deep dive into Facebook Insights, download your Insights for 180 days or up to 500 posts from the Insights area. If you need to look at a longer period or you have a lot of posts, you may have to do two downloads and merge them.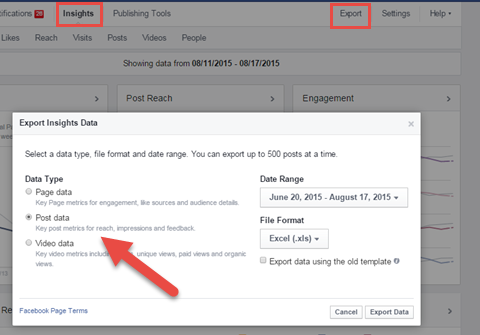 From there, you can massage the data so that you look at the clicks, likes and comments on each post as well as the link clicks, other clicks and photo views. This will give you a good picture of which posts over a long period have gotten more interaction.
You can also manually add notes about the posts to get a better picture of what's working.

#8: Review Support History
If you put in a request to Facebook Help, you can watch the progress of your support ticket through the Page Support area in your Settings. From here, you can reply to Facebook's support messages or reopen an issue if you feel it wasn't resolved.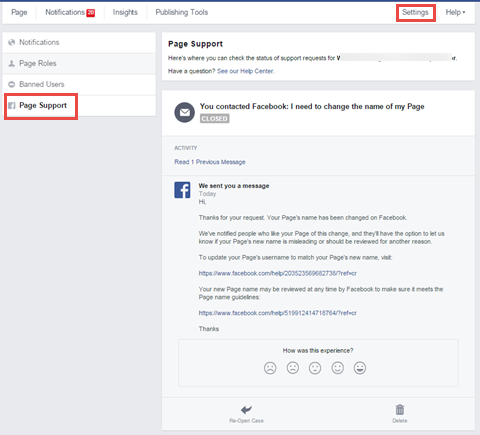 If the issue isn't captured there, check your personal profile Support Inbox to see the status of your message. Access the Support Inbox of your personal profile by clicking the down arrow in the upper-right corner and selecting Support Inbox. Here you can see the responses from Facebook for your submitted issues.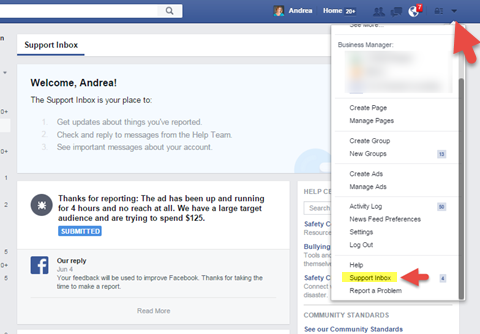 Conclusion
Even if you've been managing your Facebook page for a long time, there are always new changes that can help you be more efficient and give you a new way to do things. And when it's easier, Facebook is more fun!
What do you think? What Facebook tricks save you time or help you do your job better? Share your thoughts in the comments below!